Exploring Gaudi Park Güell in Barcelona city is a part of a complete experience of Barcelona experiences. The park is a UNESCO World Heritage site.
Many different designs of the Catalan architect Antoni Gaudí (along with his residence) are here.
Except for the remarkable Gaudi Buildings, one can see far more of the "Gaudi style" architecture and walk through his work.
Güell Park is a major touristic attraction, as it combines a charming hill with lots of trees and pathways for soft hiking, along with this Gaudi open museum.
We visited Gaudi Park Güell, and here is our story.
Walking Through Gaudi Park Güell
The great thing about Gaudi Park Güell is that it is a park. It is not the "standard" type of museum. Güell and Gaudí are the same things, and you will see that in every detail of the park.
Everything exhibited it is artistically detailed that you may find yourself getting absorbed deep inside the details of each work.

Shapes, columns, and walls do not follow any standard. They flow, and they are covered with colors and thousands of details.
Everything seems like a fairyland, both structural applicable and magical.
It is a feast of colors and happiness and of life itself.
It is the passion for nature of Gaudi; perhaps of the things he imagined through his room as a child seeing life dancing outside his window.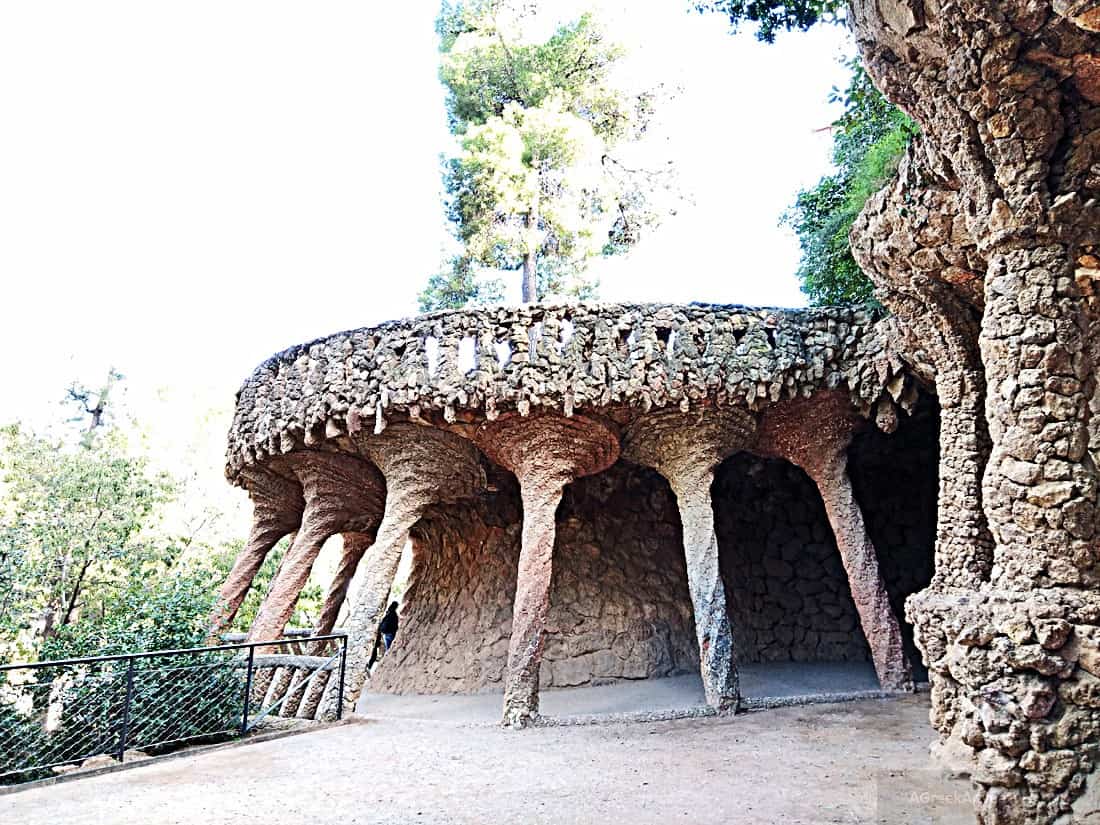 Allow yourself to be less severe and see his work as applied magic. These are the Gaudi Park Güell sectors.
Pro tip: book in advance to get skip-the-line tickets and don't waste time standing in line, as there are specific timeslotes where you can enter the whole area.
Entrance and Concierge Pavilions of Gaudi Park Güell
You will see these if you enter the Park from the roadside. However, the area entrance (and ticket control) is from the hill far above that area.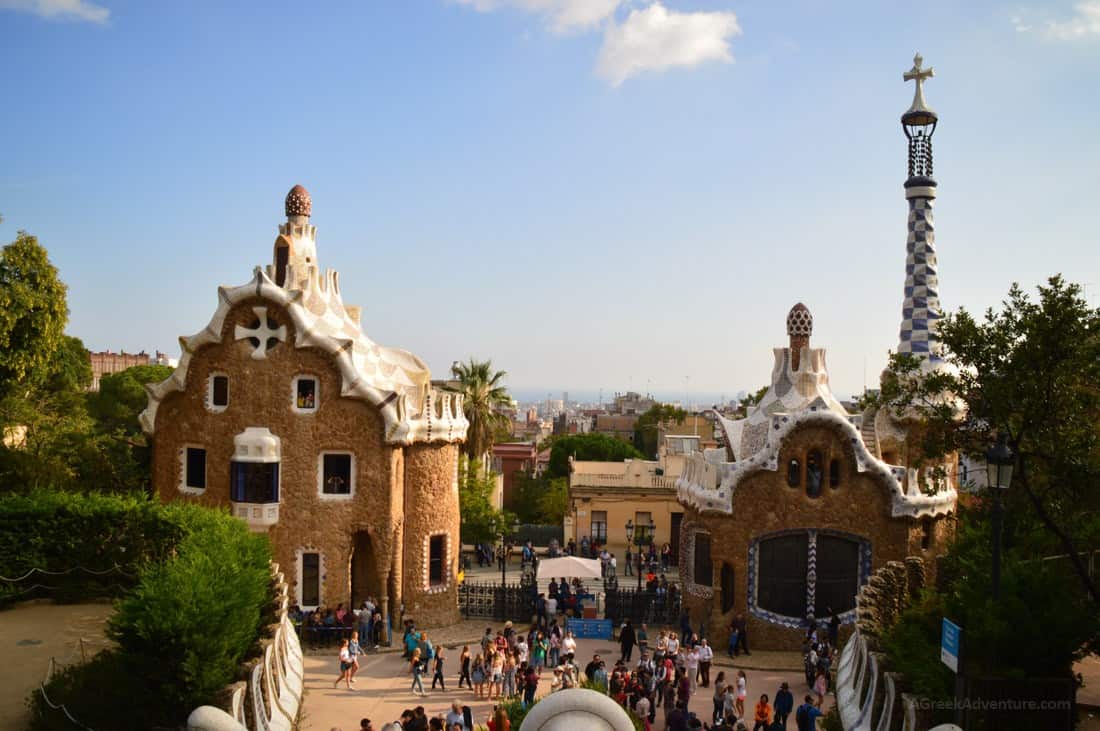 The Monumental Staircase
A stairs complex along with a lovely set of sculptures, functional benches, and flowers.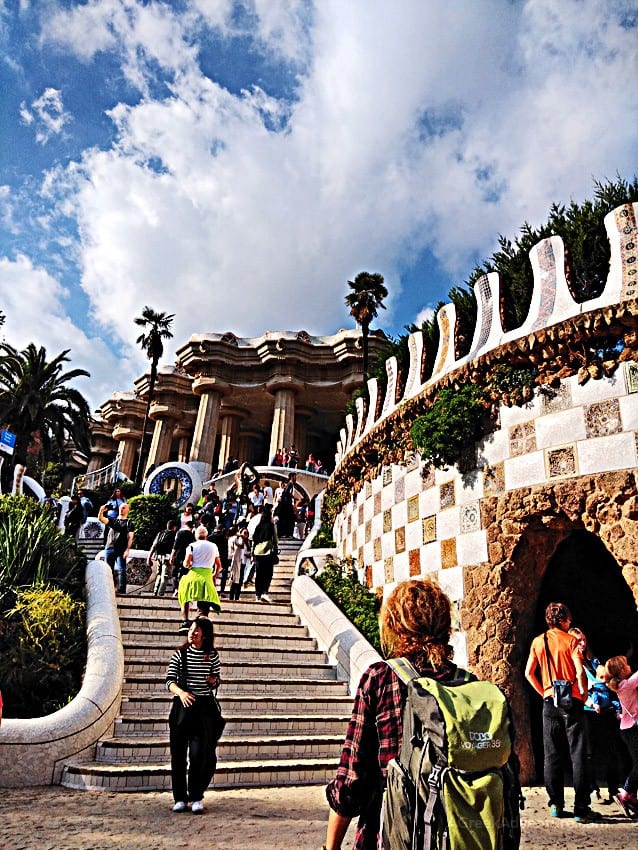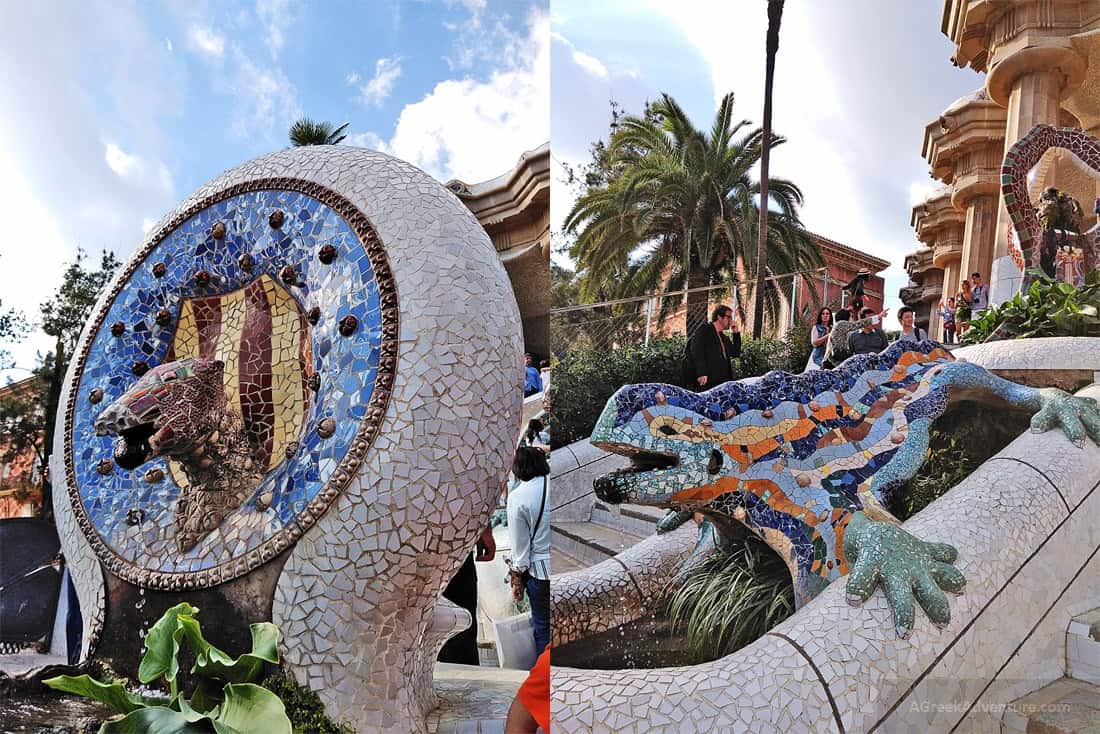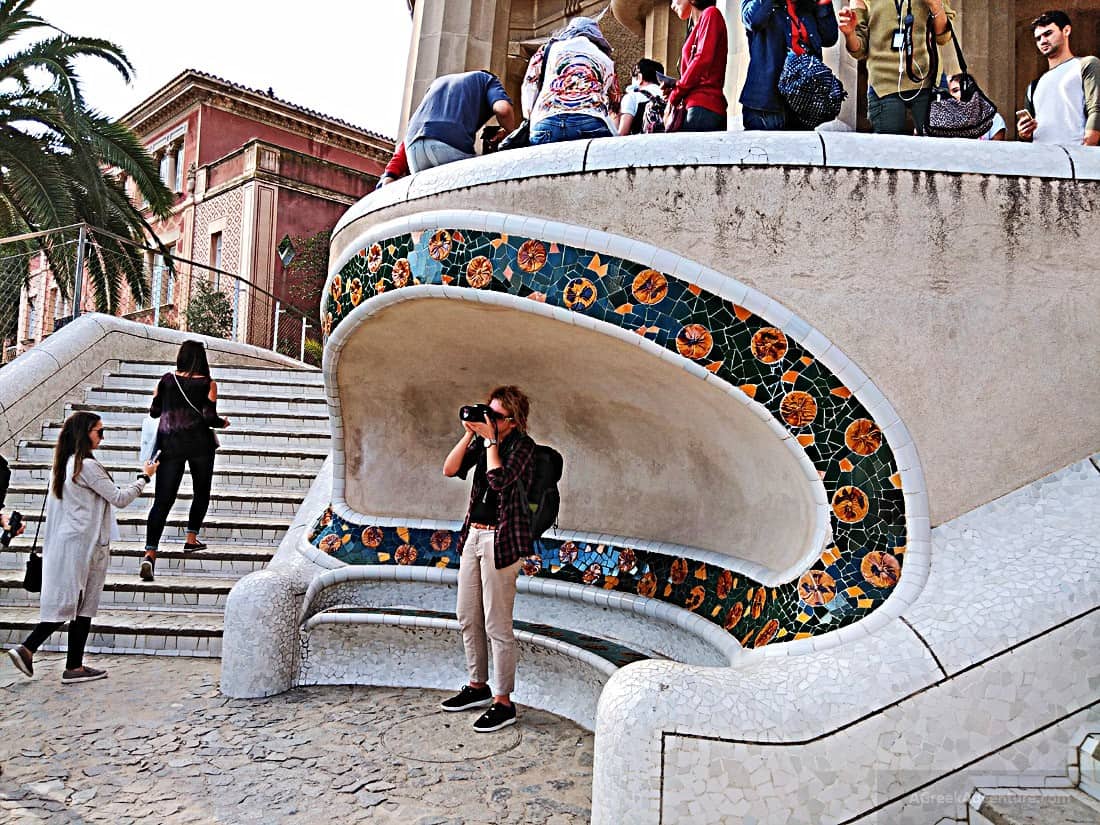 The Hypostyle Hall and its 86 sloping columns
All columns are inclined.
In that way, they support the load of the large terrace above. These columns and the vault are built in such a way that allows the rainwater to be collected in cisterns.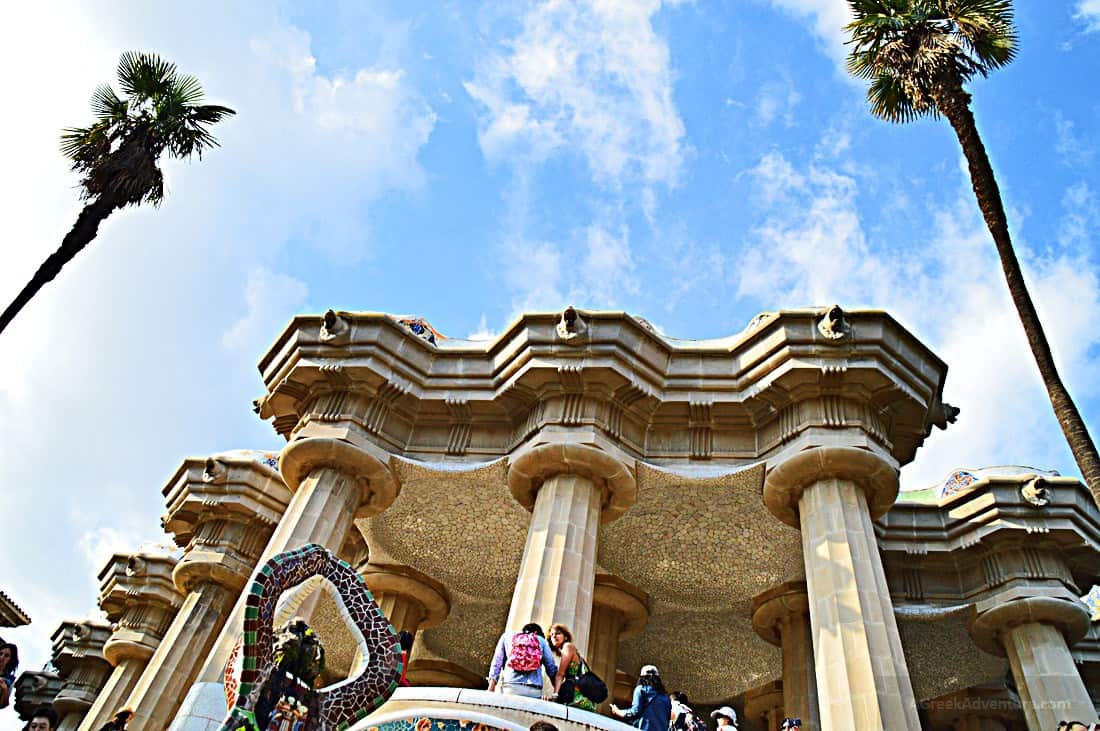 The cisterns are under the market.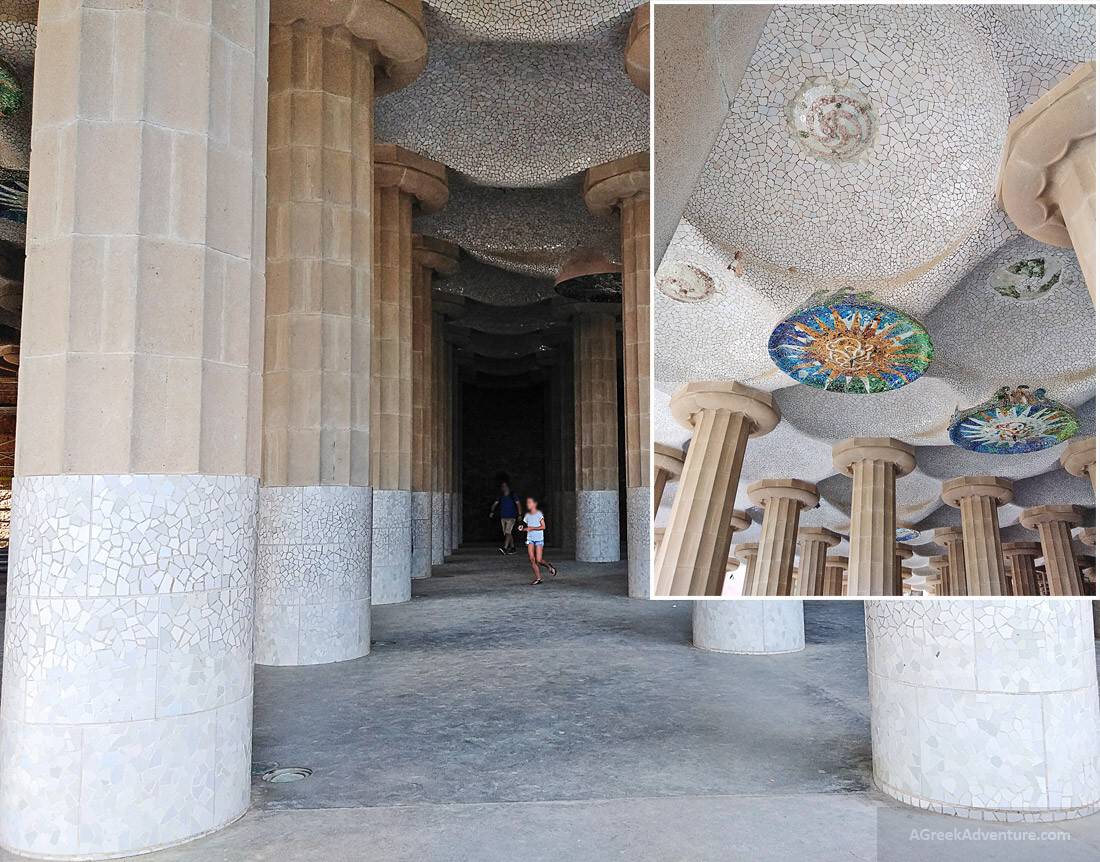 The Corrugated Bench & the mosaics of the Nature Square
At the time of our visit, there were construction works taking place at the Nature square.
The bench is one continuous curvy bench surrounding the Nature square covered with a mosaic style of decoration.
The bench is 110m long and is said to be the most extended undulating bench in the world. The decoration technique used is called "Trencadis."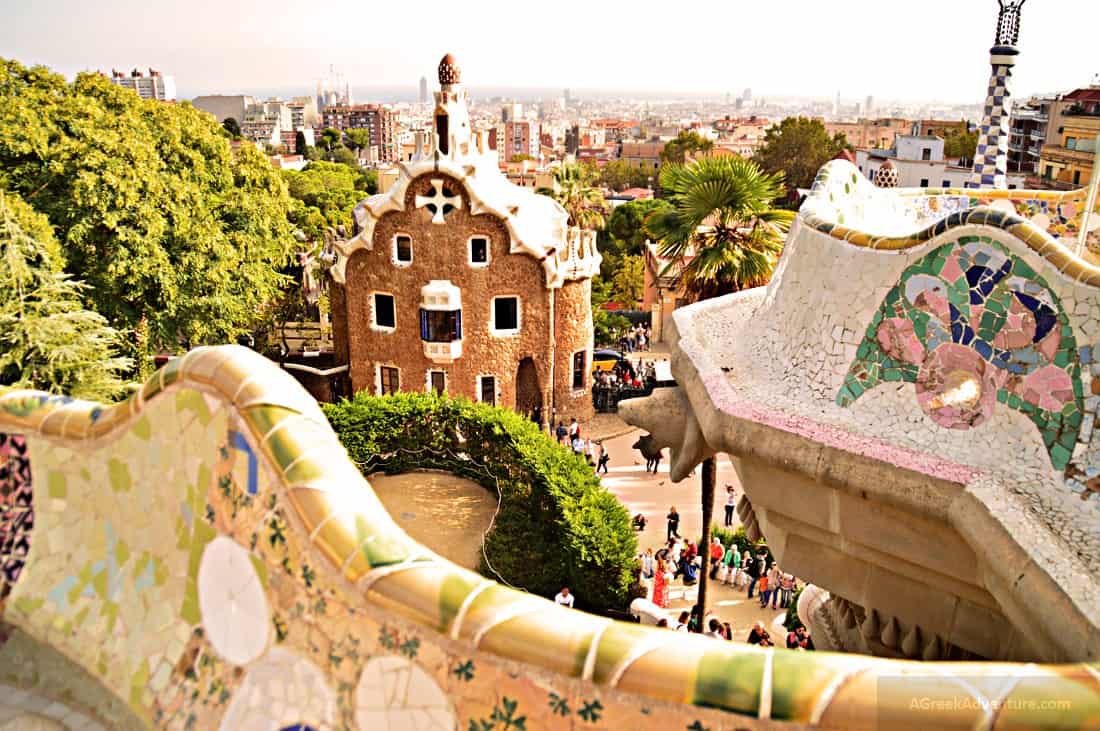 The Park and Calvary
It is a splendid way to walk the spiral paths that lead to the top of the hill. There you can enjoy a panoramic view of the city of Barcelona.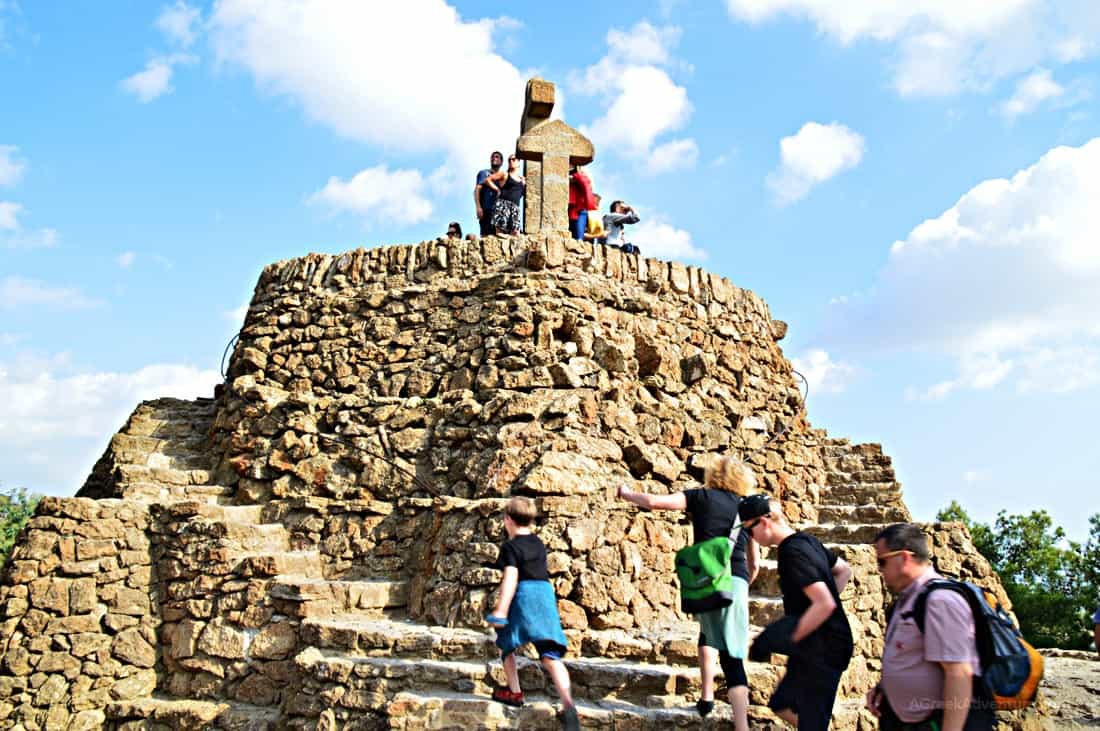 This area is outside the Monumental area.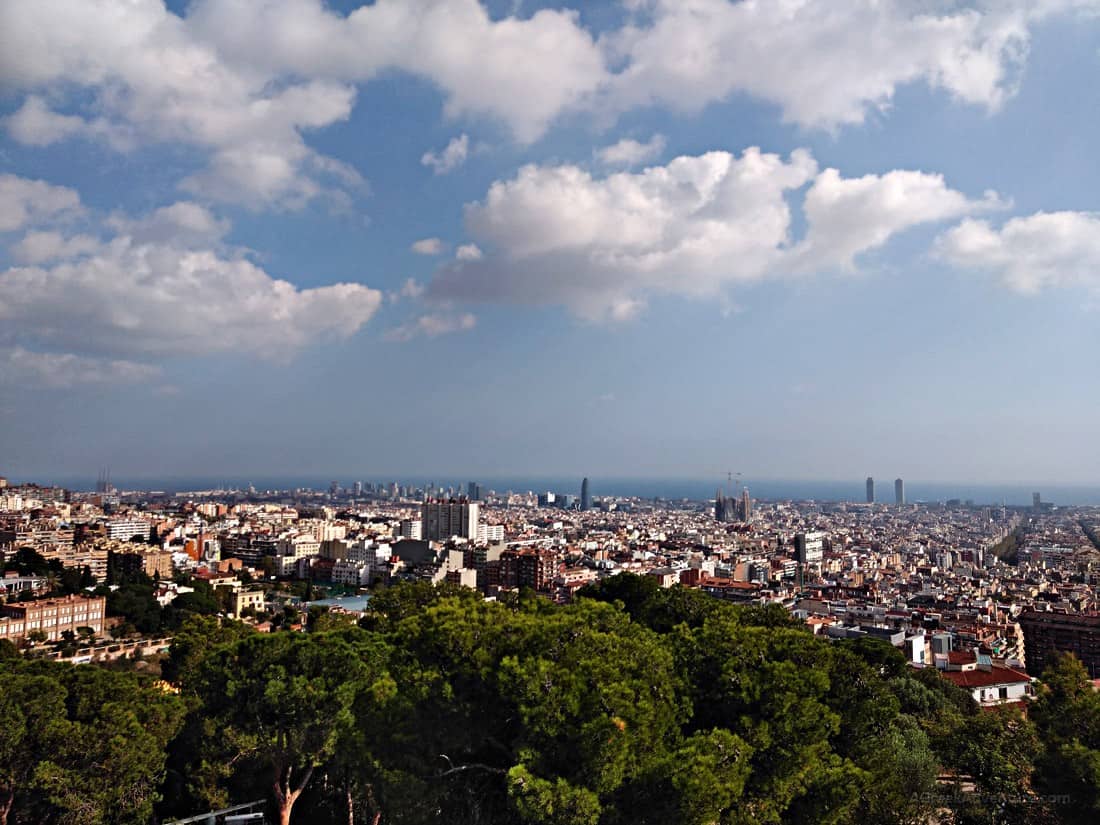 The Casa-Museu Gaudí
Would you live in a house like that?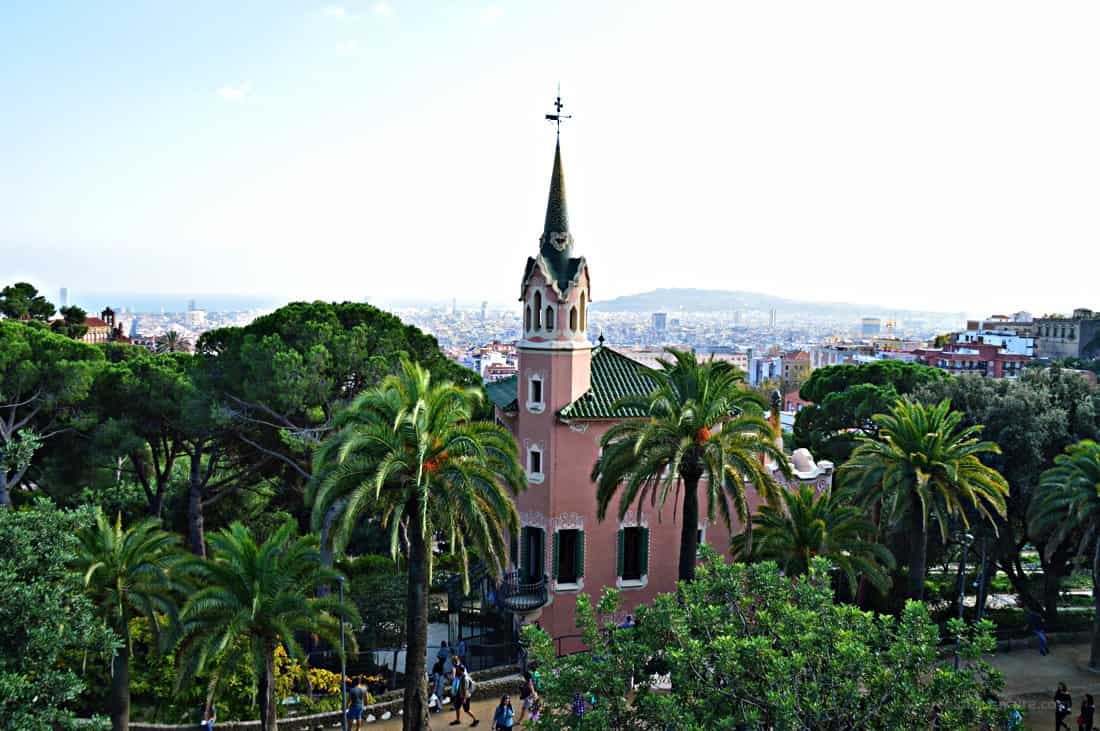 How would life be while walking under these arks?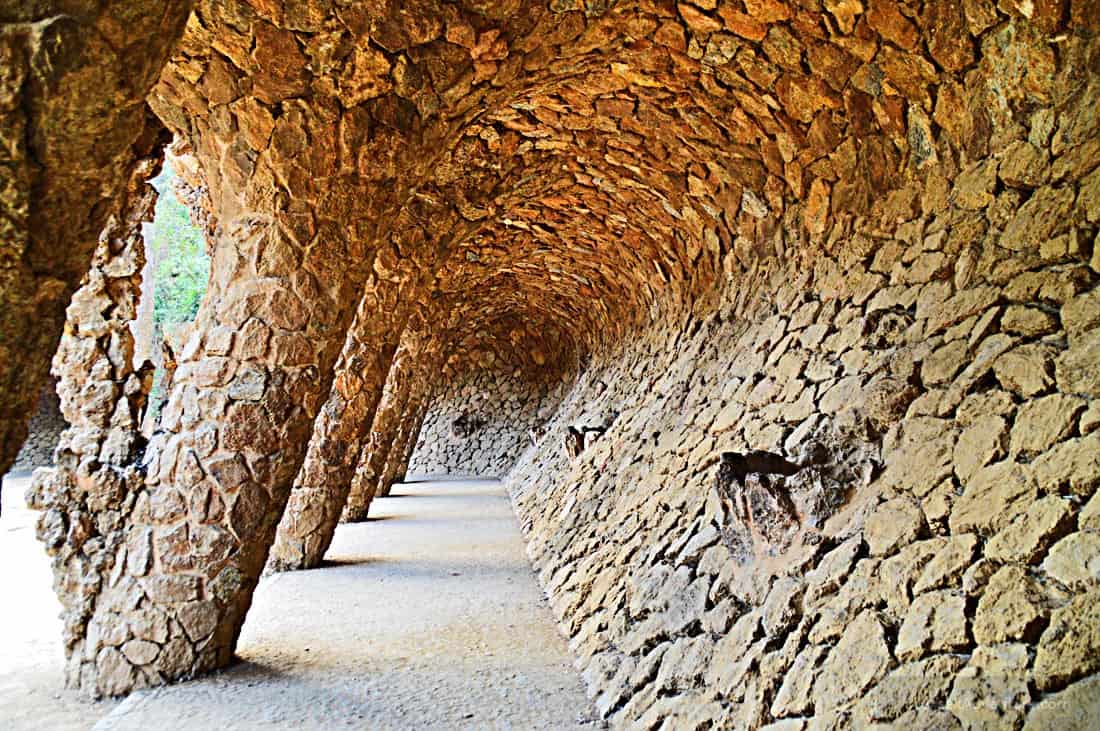 These stone columns look like tree trunks, right?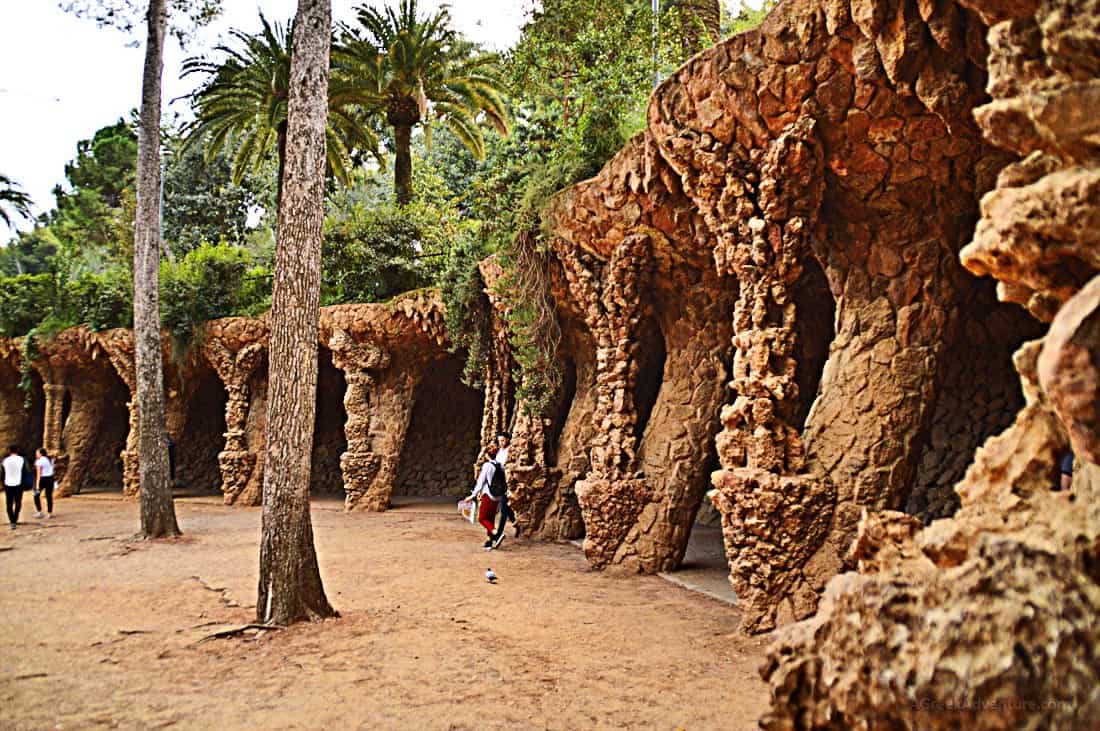 See what we mean? Simply magical. All his works resemble common natural forms, inspired by the things he saw outside his window.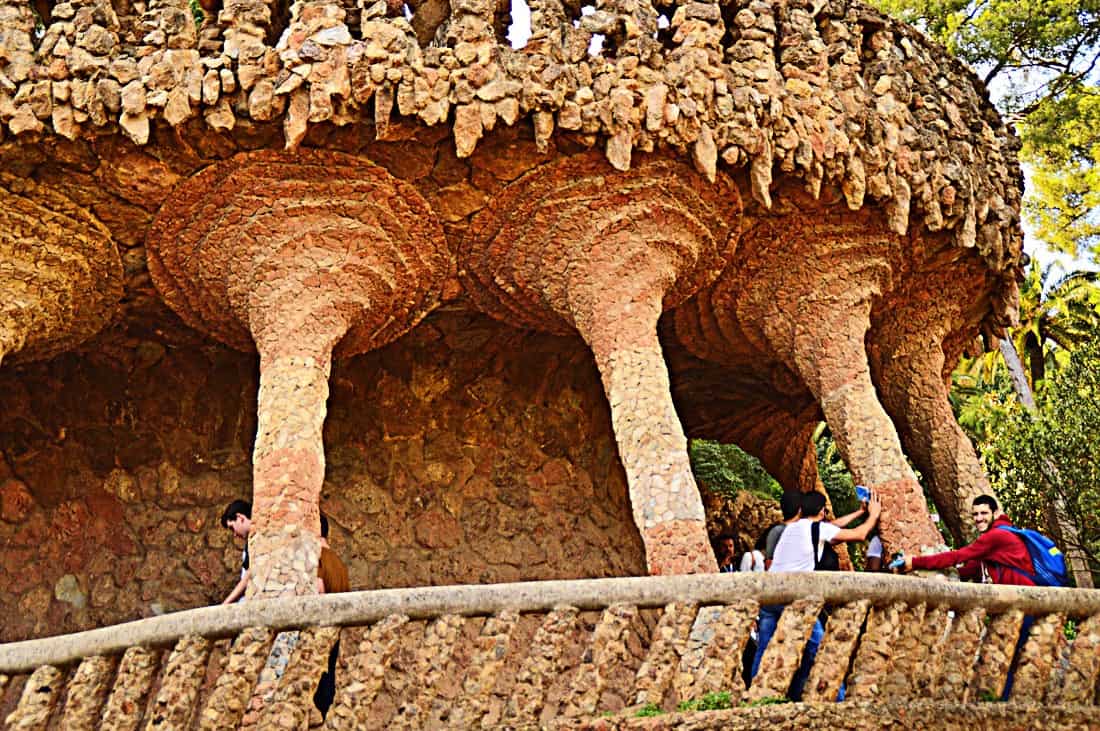 Now imagine walking through the park, and some guitar player was playing one of the most romantic and calming pieces of music.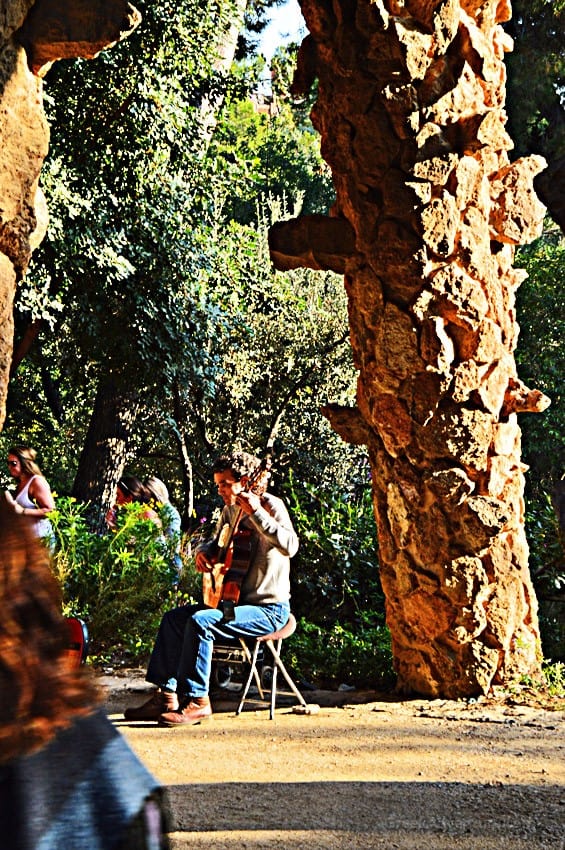 Park Guell and the works of Antoni Gaudí
Gaudi was born in the town of Reus at a farmhouse from where he observed nature. Nature would be his inspiration and would be depicted through his whole work.
He spent lots of time observing nature and -who knows- maybe imagining his future creations in his mind.
Gaudi was a child with fragile health and -as we learned- he spent his early youth observing from inside his room
He was a religious person. Gaudi moved to Park Güell around the age of 54.
Gaudi Park Güell started as a real estate project for which Gaudi was commissioned to deliver by Count Eusebi Güell I Bacigalupi.
That real estate business didn't go well.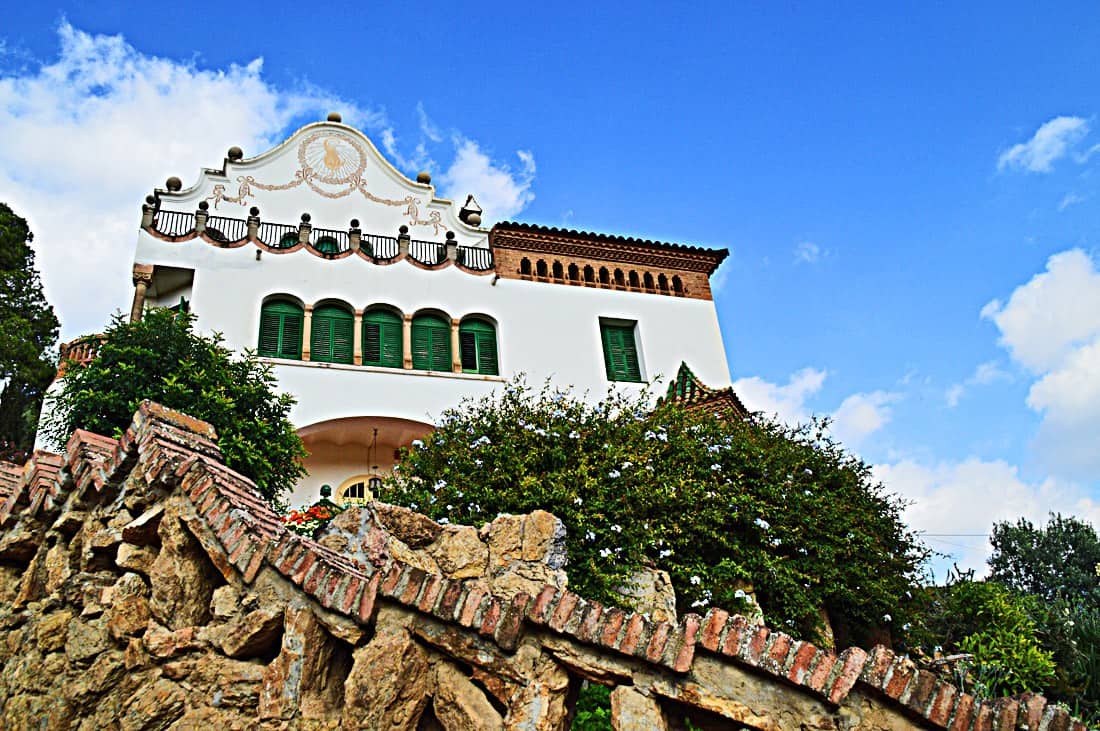 Later on, heirs of Eusebi Güell offered the whole Park to the City of Barcelona which opened it as a public park.
The concept behind Gaudi Park Güell was not a new one. It followed the overall idea of "Garden Cities" from England (end of the 19th century).
The whole concept was to build a small rational city in the countryside, so to balance between work, agriculture, and industry.
It seems like the Industrial Revolution showed rather early that this would be an issue in the future.
Gaudi's "right arm" was the architect Francesc Berenguer I Mestres. He had no diploma but designed lots of buildings, signed in the records under the name of others. He also designed the house of Gaudi, you see inside the park.
How to get to visit Gaudi's Park Güell
You get to Park Güell from the Alfons X metro station (metro L4). From there, take the BUS GÜELL. That is a quick, direct way to get to the Park.
You need a ticket, of course. The Park consists of 2 areas: The Monumental Core (for which you need a ticket) & the free access area which is open to all visitors at no charge.
The entrance fee is around 10 euros.
You can enter into the Monumental area every 30 minutes (staying inside as long as you like after that).
For example, if your ticket says the entrance is at 11.30, you need to be there at 11.30 sharp. Otherwise, you will enter at 12.00.
But the entrance is not allowed all day long. There are some significant intervals when you cannot enter.
Make use of this website to find every detail before your visit.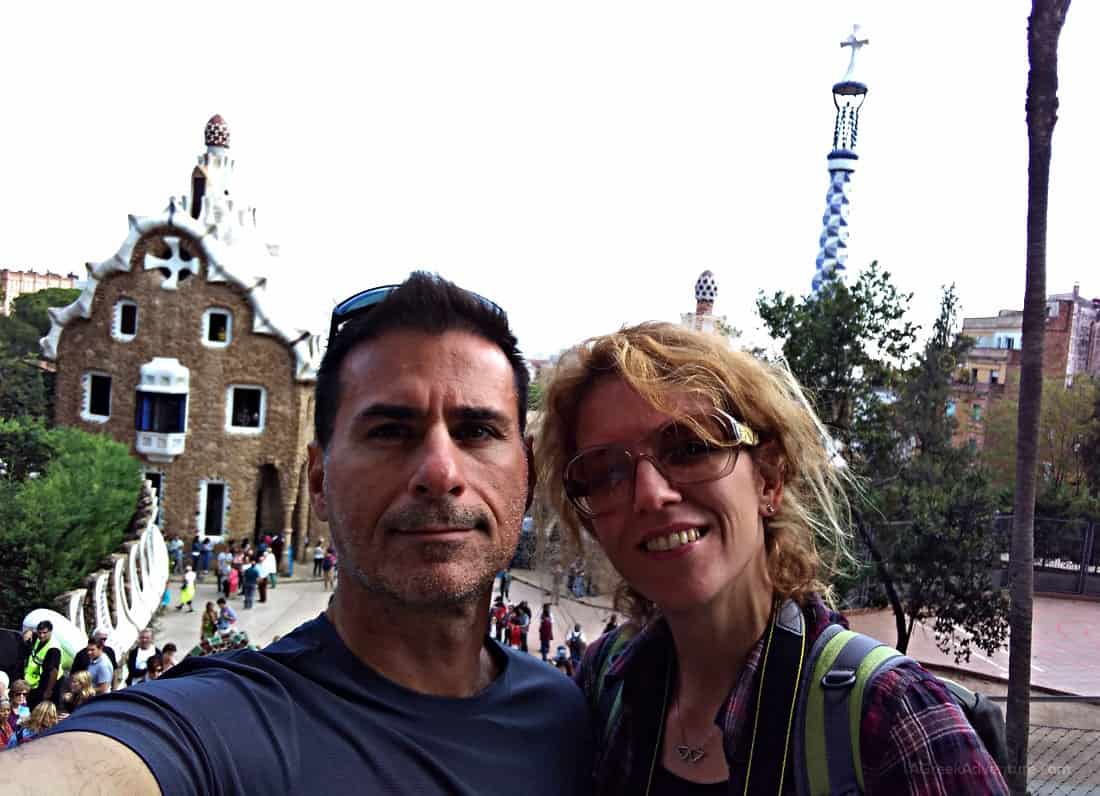 The work of Gaudi (not only for Sagrada Familia) is seen all over Barcelona, but in Gaudi Park Güell you see much of it in one place.
Make some notes for the things to experience and don't forget to read our other posts for Poble Espanyol, La Sagrada Familia & Barcelona, and Montserrat.
Enjoy.
Pin this.