Spring in Japan is a fantastic time indeed. It is when life begins to blossom. The nation is filled with beautiful plants, flowers, and luxurious growths at such a time. Our article presents the 19 Best Places to Visit in Japan in Spring.
Owing to the warming weather, the springtime is also full of life and pomp.
Many people get out in the open to pursue things they could not do when the temperatures in winter are unforgiving.
Best Places to Visit in Japan in Spring
You have no excuse at all not to pay a visit to the nation in springtime. We draft this article to offer you the guidance you need to make your experience more wholesome for your Japan travel plans. Choose the following for a Japan rail pass.
Here are the best Japanese destinations in Spring.
Mifuneyama Rakuen (Saga Prefecture)
Situated in Saga Prefecture, this park, created by the local feudal lord in 1945, is stunningly impressive. It is designed to resemble a Japanese painting that exudes some life and color.
In all, the park imbues some aura of freshness and openness. A walk in the facility gives you a sense of relaxation that the squeezed and congested urban lifestyles cannot.
During the spring, the cherry in the parks blossoms to add beauty and enthusiasm to the area. To make the most of the facility, arm yourself with a camera to capture memorable shots.
Ashikaga Flower Park
Like Mifuneyama Rakuen above, this one too is a park. So stunning and unusual is that it earned CNN's award as a top 10 dream destination worldwide.
Particularly making this park stand out in the spring is the wisteria blossom. This is a plant that exudes a breathtaking purplish hue when it blossoms.
It adds some smoothness and relaxation to the air at such times.
Even at night, when it is too dark, the pink flowers are still lit to make the entire area unforgettable.
Located not so far from here is the Nikko Toshogu Shrine, a UNESCO World Heritage site.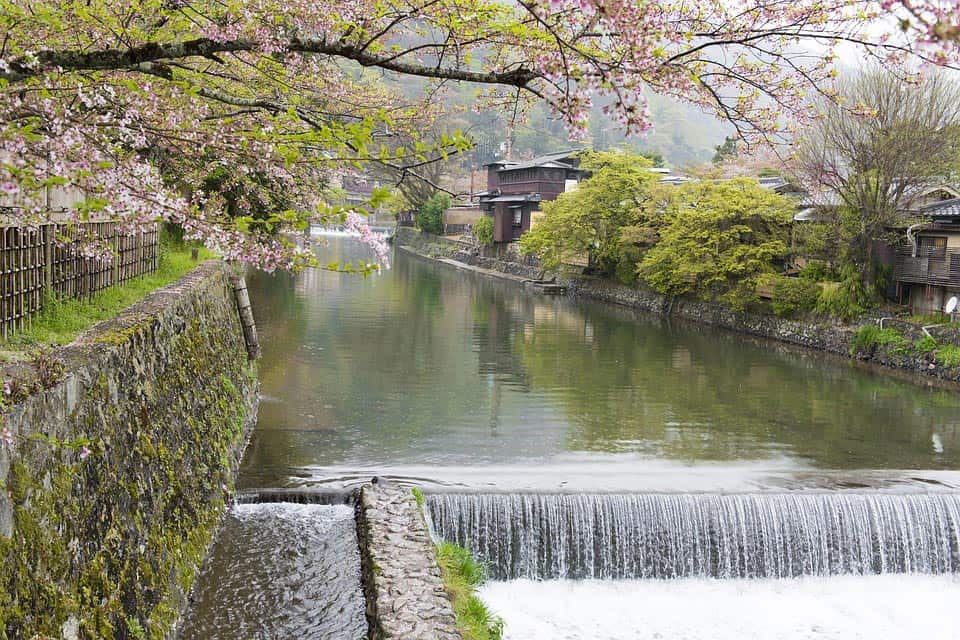 Why Visit Mother Farm in Chiba Prefecture?
This is a famous sight-seeing sight. Located in Chiba Prefecture, the sire is frequented mainly by Japanese elementary school students. Many transport networks and facilities also serve it.
You will only have to endure a two and a half hour drive from Tokyo by bus or train to get here. This is a place you want to get to if you love farming or anything related to agriculture.
From time to time during the springs, some shows are hosted to acquaint the visitors with farming and animal husbandry techniques. All these are fun-filled for the children!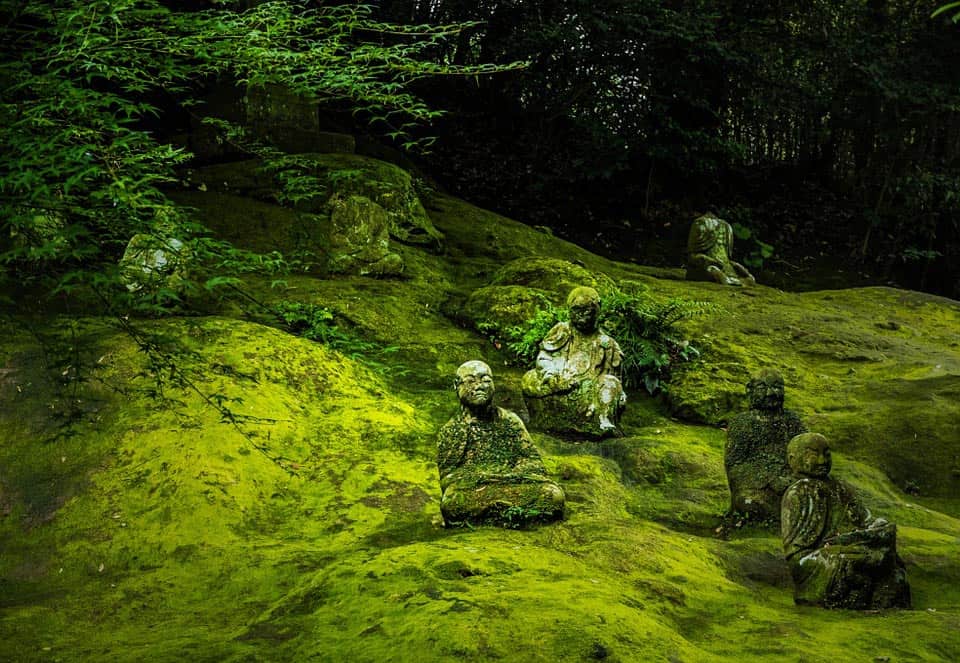 "Hotaruika" or Firefly squid (Toyama Prefecture)
From March through May, the whole of Toyama Prefecture is replete with "Hotaru Ika."
This is a small bioluminescent squid that is the size of a grown man's finger. It emits spectacularly glowing light.
When thousands of these firefly squids colonize an area, the amount of light they emit is enough to fill a whole field. The color in question is electric blue, which is truly unique.
For best shots, we suggest you arise early, around 2:30 am. If that cannot happen, you will have to stay up late.
During the day, the light from the sun does water down the ones that the squids emit.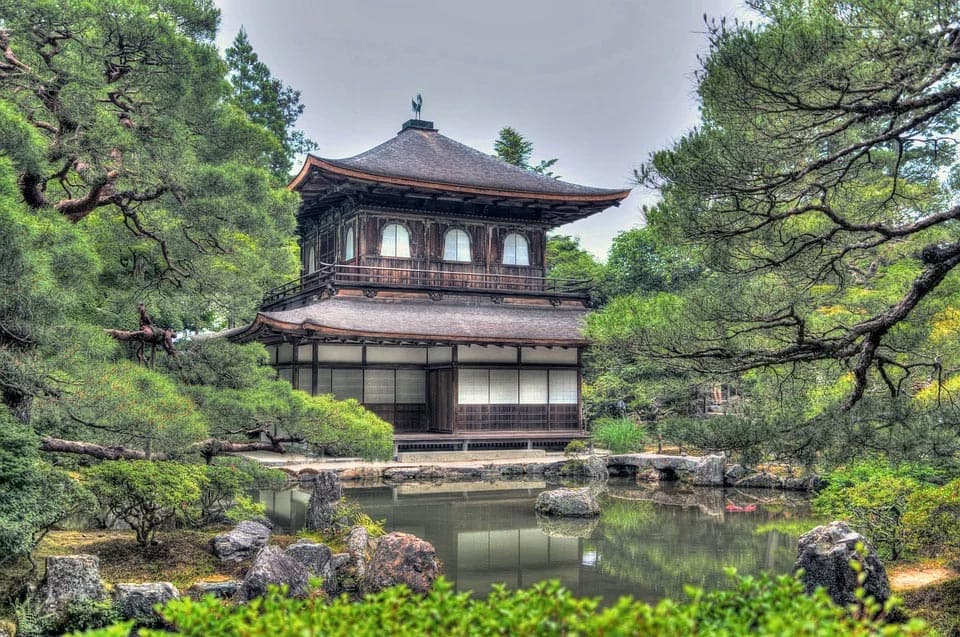 Kawachi Wisteria Garden (Fukuoka Prefecture)
If you still want more of the wisteria, you have the Kawachi Wisteria Garden, deep in Fukuoka Prefecture.
Like its Ashikaga Flower Park counterpart, it too has consistently ranked well in CNN's 'Most Beautiful Places' awards. As we speak, it is position 36!
It is subsequently not uncommon for the park to be quite crowded. Many have preferred the venue for their springtime hookups and other social engagements.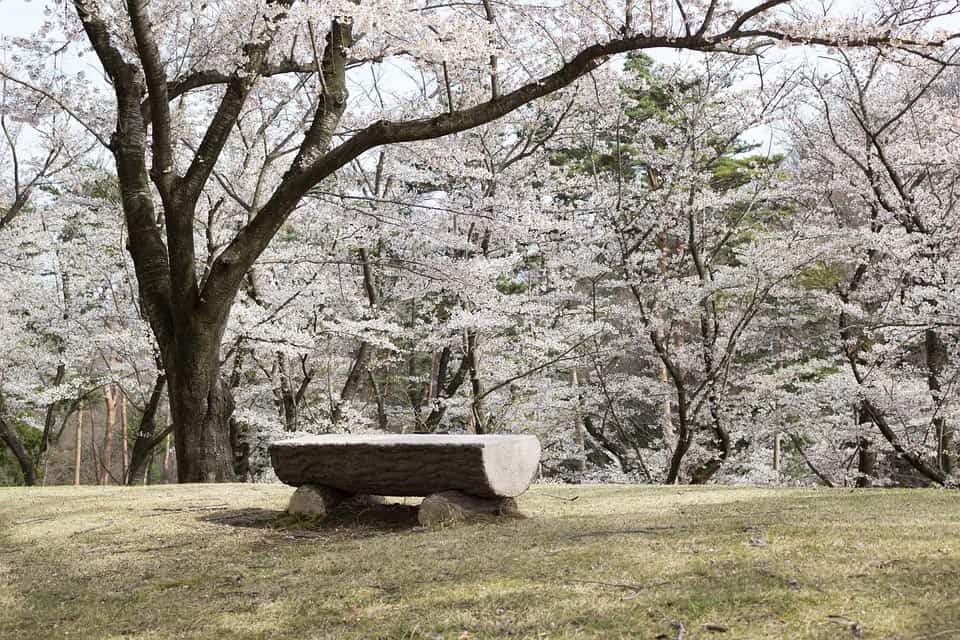 Nabegataki Falls (Kumamoto)
Love nature and physical features? We draw your attention to the Nabegataki Falls, located deep in the Kumamoto Prefecture. This is not your ordinary waterfall, not in the spring.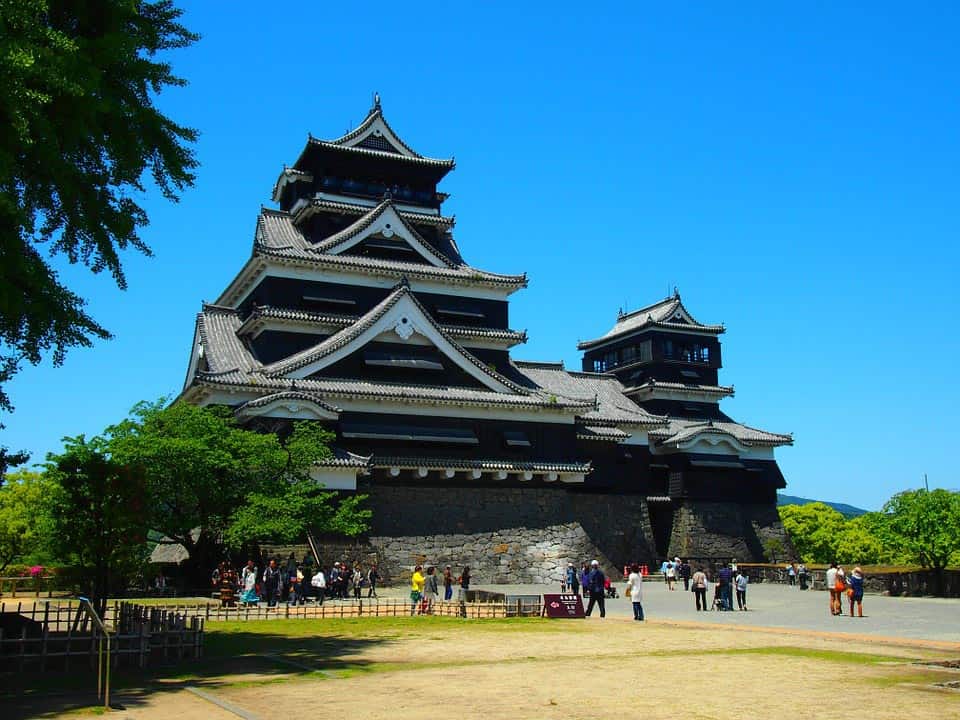 It is wholly lit up to add some sense of elegance to the adjacent area. The confluence of the lighting with the water droplets creates some reflecting shining colors that are amazing to behold.
In the springtime, the flow of water is at its fastest. This is often accompanied by rumbling sounds that tinkle the ears of the visitors.
Naruto Whirlpools (Tokushima)
Still, on matters of water, you have the Naruto Whirlpools that are far deep in the Tokushima Prefecture. This is a mass of water that rotates faster and creates fantastic images.
A meeting of colliding currents brings it about. A bridge traverses the Naruto area from which many visitors opt to take their views and shots.
These whirlpools become more prominent over time to create even more spectacular scenes. The breeze that originates from the ocean constantly bombards the area to ease off any stress.
Kyoto
Want to capture all that Japan has to offer in a single swoop? Visit Kyoto in Spring. This ancient Japanese city is an accumulation of all Japan embodies or stands for.
A walk through its ancient cities will usher you into a world of Shinto shrines, bamboo forests, wooden teahouses, and raked gravel Zen gardens. All these reminisce the good old days of Japanese civilization.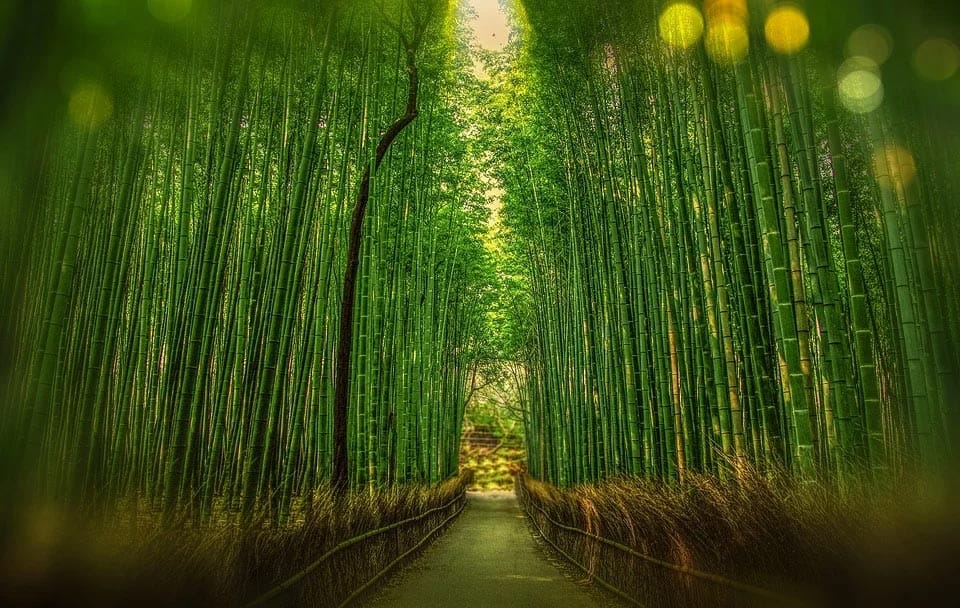 Then again, the area serves some excellent cuisines that are endemic to Japan and Japan alone. The graceful tea ceremonies and intricate feasts served on lacquered plates stand out.
Takayama
This small town is utterly gorgeous. It is situated right at the edge of what is famously hailed as the 'Japanese Alps.' Though less visited, it contains many attractions that are truly breathtaking to behold.
A historic center stands out among all the goodies that the area has to offer. This center is filled with bright red bridges, neatly shaped trees, colorful shrines, and traditional wooden houses.
Plan your itinerary well before many visitors arrive to prevent overcrowding. Do not forget to purchase plenty of delicious fruits from the various morning markets.
Hakone
Keen on experiencing Japan's highest peak? We invite you to Hakone during Spring in Japan. It is the home of Mount Fuji, which stands out as the tallest in Japan.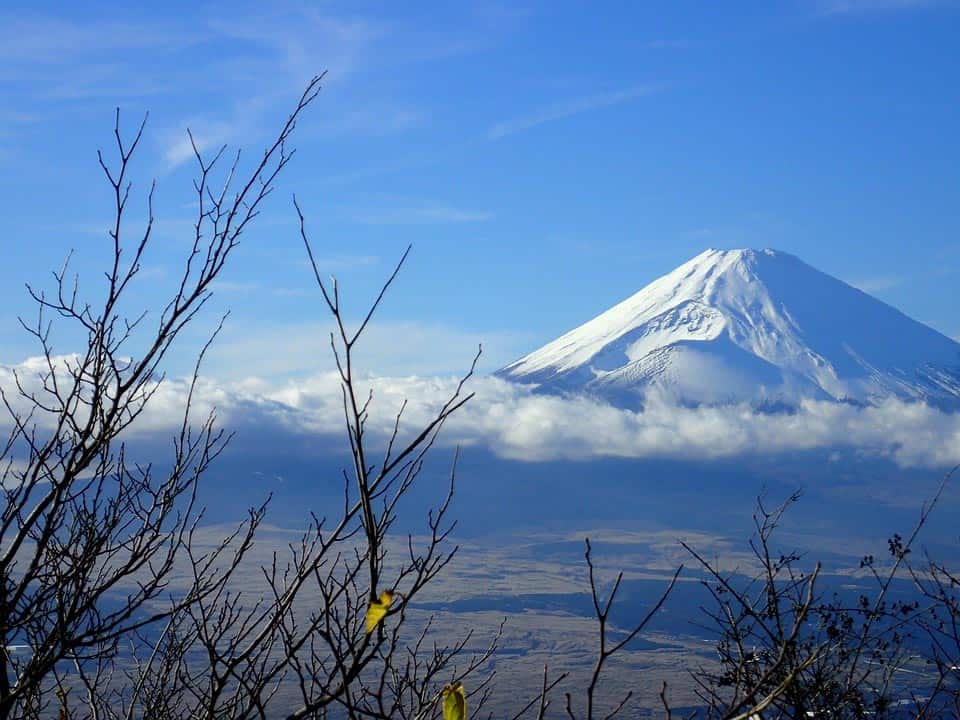 Though it is not the only place you can view the mountain, it beats all others because it is close to Japan's capital, Tokyo.
Over and above letting you view Mount Fuji unhindered, the area also contains many attractions that add to the value of a visit here. These are small markets, boutiques, and eateries.
Kanazawa
If you desire a quieter place to retreat to, consider breaking away to the Kanazawa. Though sufficiently large as one of Japan's premier cities, the site is far detached from the hustles and bustles of squeezed lifestyles.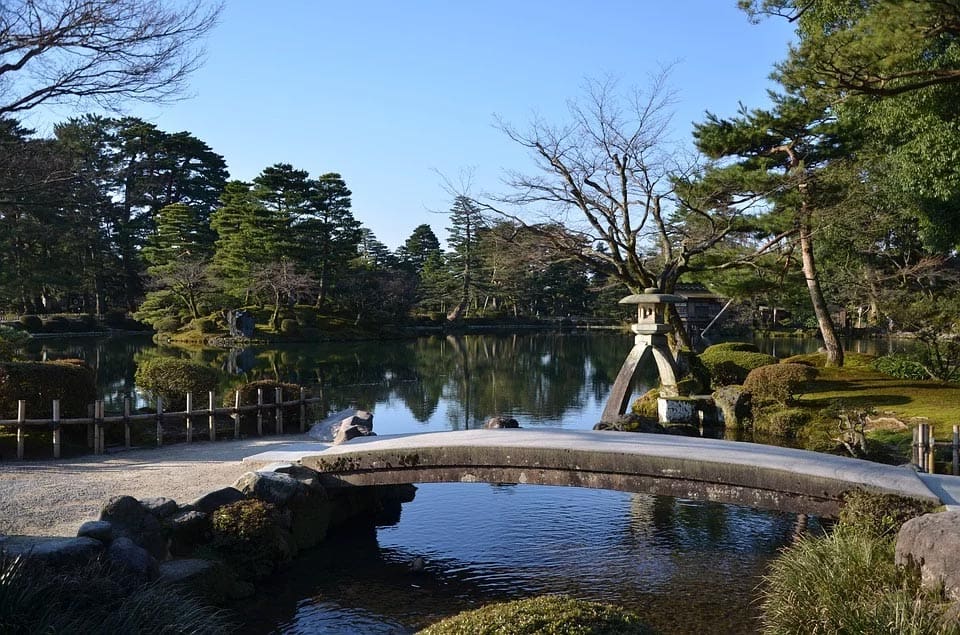 Some preserved wooden buildings throughout the city take you back to the 'good old days when the Japanese empire once dominated the Orient.
A stunning castle, beautiful gardens, and innumerable art museums are some of the attractions that await a would-be visitor here.
Tokyo
No visit to Japan can be complete without a stopover in Tokyo (read this post for Tokyo). Besides being the Japanese capital, the city also boasts many resources and vital installations.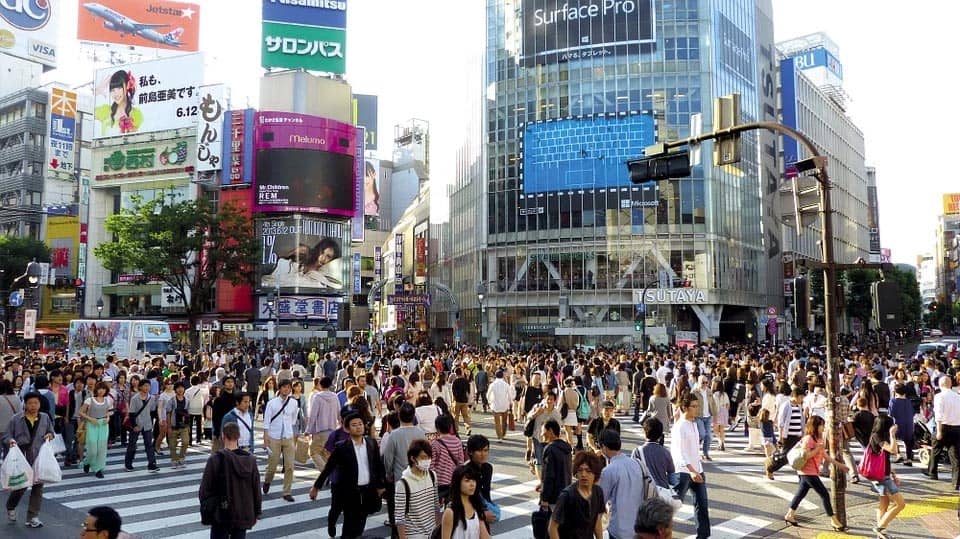 Among these are busy pedestrian crossings, breathtaking skyscrapers, noisy arcades, incredibly delicious restaurants, and crazy youth fashions, to name a few!
Life here is somewhat expensive. Be sure to equip yourself with plenty of money to afford any merchandise you might be interested in. If you love entertainment, pop into one of the nightclubs.
Koya-San
Every country has two sides, the modern or urban and the rural or traditional. If you want to tap into the latter side of Japan, Mount Koya, popularly called Koya-san, is the place to retreat. Spring is the best to visit Koya-San.
In the town is a sacred temple dried within the forest-covered mountains of Kansai. It is secluded and far detached from the mainstream. Local monks throng the place in the spring.
While here, we recommend that you have a bite of any of the local recipes. You will enjoy the many vegetarian recipes from strict Buddhist adherents.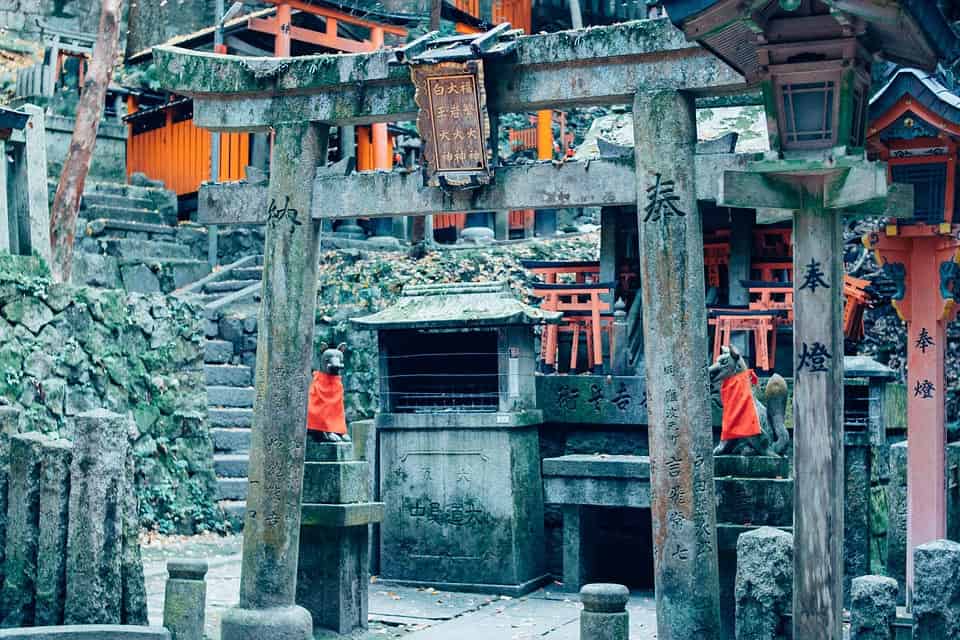 Nikko
Nikko is a town that is filled with temples. It also doubles up as a UNESCO World Heritage and is accessible within a 2-hour drive from downtown Tokyo.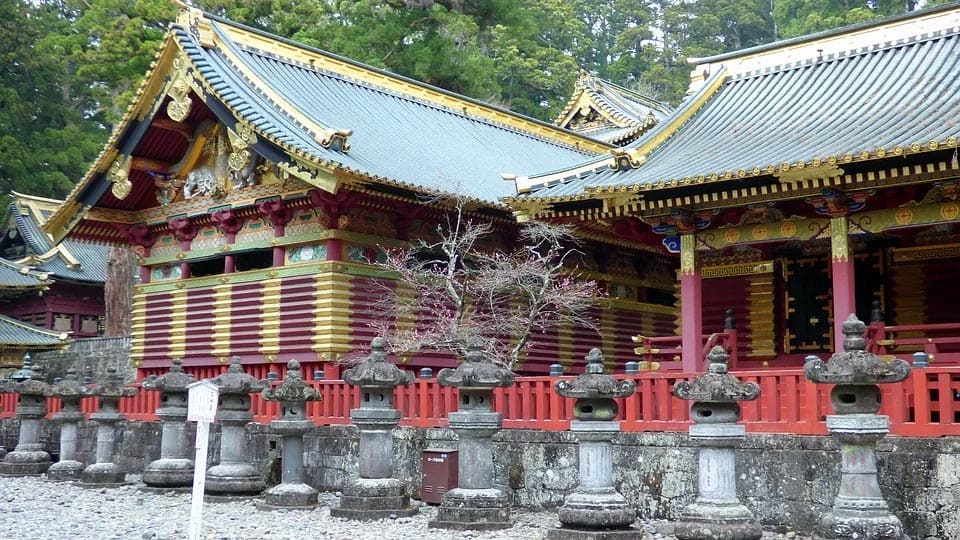 Some moss-covered stone lanterns and vermillion gates are scattered throughout the area, granting access to the numerous shrines and temples that dot the landscape.
Crowds can be overwhelming in winter. Make sure you come here early and then retreat to a quieter place to avoid the congestion.
Fuji Shiba-Sakura Festival
Do you love events and parties? Japan has got you well taken care of in the spring as well. One such is the Fuji Shiba-Sakura Festival. It occurs annually in spring and is held in Fujikawaguchiko, Minamitsuru Yamanashi.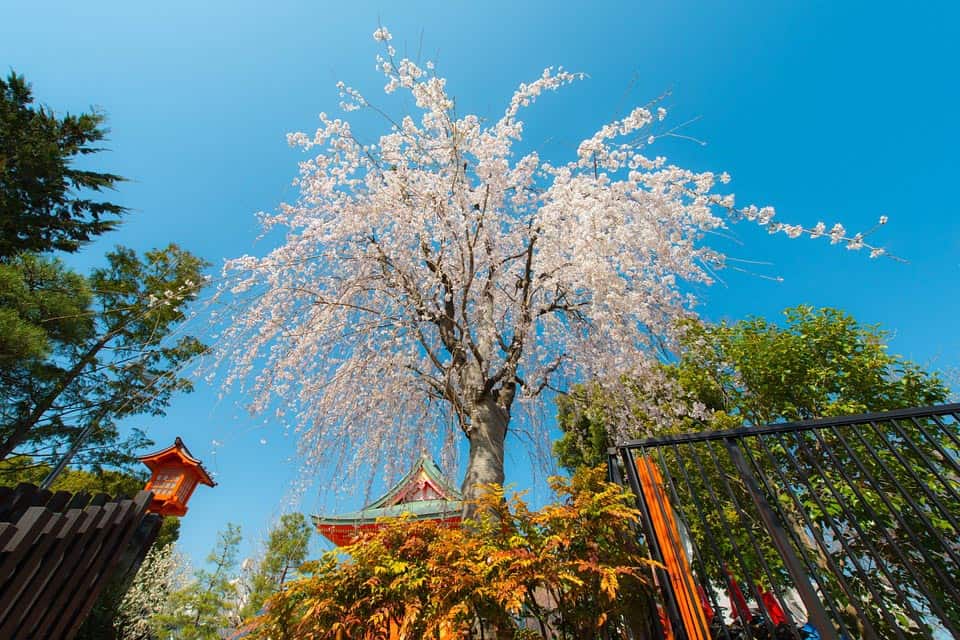 The event draws inspiration from the "moss phlox" flower that blossoms around such a time. While enjoying the festival, you will also get to behold the cherry blossom season.
Some shrewd gardeners have taken advantage of the event to cultivate their cherries spectacularly. They arrange them neatly to create impressive views and looks.
Hitachi Seaside Park
If you are a person who cherishes cool breezes and lovely ocean views, you also want to spend some of your time at the Hitachi Seaside Park.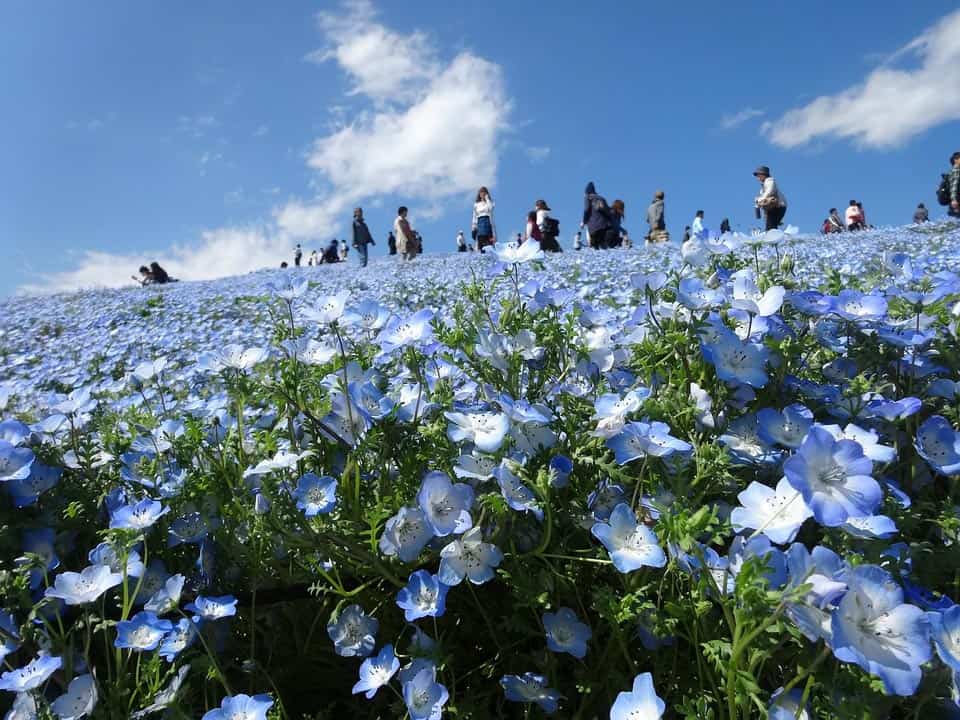 Located right next to the Sea of Japan, this area gives uncompromised views to anyone who wants to behold the sea found right beside it.
Its most popular attractions are the tulips that bloom from mid-April to early May. Being close to Tokyo, it is easily accessible via all means of public transportation.
If you like tulips, then the Huis Ten Bosch tulip festival in Nagasaki is a must.
Nara Yoshinoyama (Nara Prefecture)
Are you a hiker or at least aspiring to be one? Mount Yoshino in Nara Prefecture is waiting for you. Unlike Mount Fuji, this one has gentler slopes that are easier to take.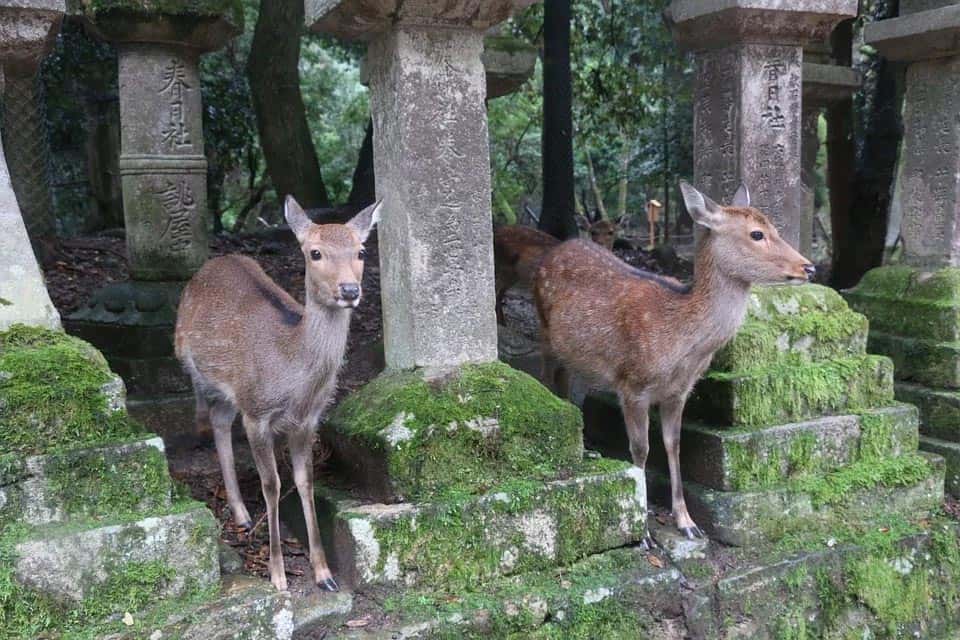 As such, there is almost no chance you will skid and fall off as you enjoy your hikes. Moreover, the springtime also sees numerous cherry blossoms that add some beauty and enthusiasm to the area.
And if you are tired of hiking up on your own, a ropeway exists, which you can use to tackle the tall mountains.
Sashimaki Moor Mizubasho (Akita Prefecture)
Just want to sightsee? Try your luck at the Sashimaki Moor Mizubasho in Akita Prefecture. The area is endowed with numerous Mizubasho plants that add some beauty and elegance to the region.
All these plants and flowers blossom to fill your air with an aura of beauty of breathtaking elegance. As they get tossed with the gentle winds and breezes, they give off a calming effect.
Located not so far from here is Lake Tazawa, which doubles as the deepest in Japan. Do spare some of your time to retreat here for the sake of beholding what it has to offer.
Huis Ten Bosch (Nagasaki Prefecture)
This is a theme park that straddles the coast of Nagasaki Prefecture. The park was designed to mimic the streets of Holland. Many people have often claimed that they feel they are in Amsterdam when here.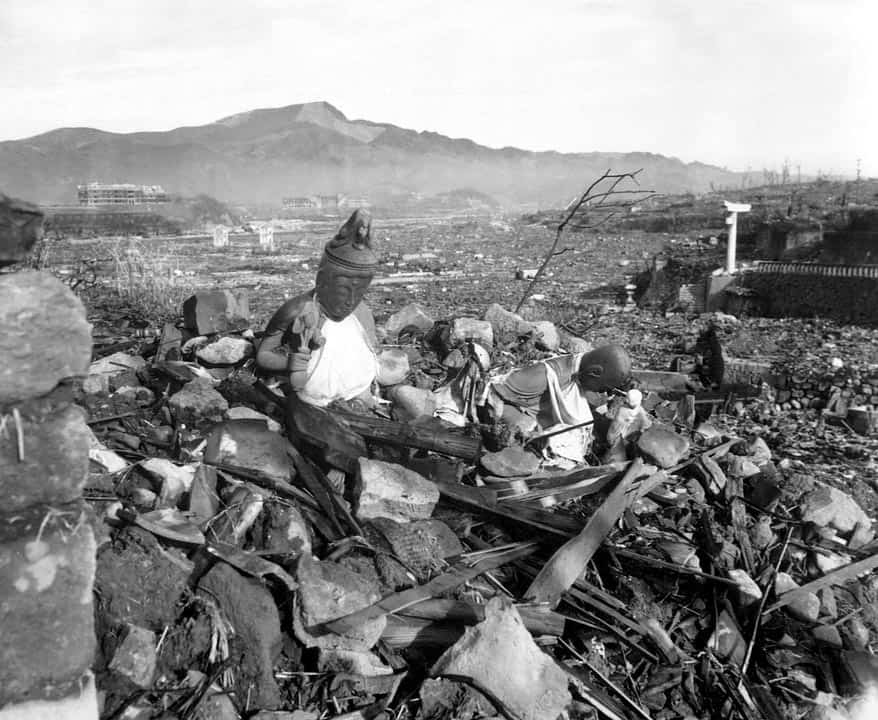 Besides the marvelous architecture, the park hosts numerous events that may pique the interests of any visitor.
Lastly, some tulips and roses also fill the park in the springtime. This is the best time to behold them one-on-one too.
Conclusion on Best Places to Visit in Japan in Spring
Though the beautiful nation of Japan has many things to offer to a would-be visitor in the springtime, none beats the cherry blossoms.
These spectacular plants add beauty and elegance to the entire landscape of Japan. Also of note is the fact that life in Japan is expensive.
Be ready to dig deeper in your pocket to make ends meet and afford your way in, out, and about.
Lastly, we now ask you to plan your trip as soon as possible.
Is there a way in which we can provide added support to you? Kindly let us know. You can also read about the 7 Best Outdoor Activities In Japan.