When it comes to traveling, there's no one-size-fits-all approach for everyone. Planning an itinerary will always depend on your personal interests and preferences. But while some people want to travel to explore the food and culture, there are those who want to experience exhilarating and adrenaline-pumping moments in a spirit of adventure.
This guide is perfect for you if you're in the latter camp. After all, there's nothing like making your next trip an adventure of a lifetime (or just one in a long series, if you want).
And if you want your friends and family to join you, don't sweat. There's no shortage of adventure ideas that are fit for whole groups of people.
Here's a quick list of the most adventurous things to do while you're traveling:
Scuba Diving
Scuba diving is one of the most enjoyable and adventurous activities to do. If your next destination is near the ocean, you should prepare yourself to explore its depths with some scuba diving. This activity doesn't really require you to be a swimmer or an expert in scuba. Even if you haven't experienced this activity yet before, a guide with a professional crew can teach you and help you get prepared on the spot.
Some facilities can assist you with your scuba diving journey. They will show you the techniques and everything you need to know to make it a safe yet thrilling experience, including wetsuit maintenance tips.
With scuba diving, you can easily get up close to many majestic sea creatures. You'll also find no shortage of reefs and underwater formations to explore, and even strange phenomena you won't get to see above water. If you get good at it, you can take it a step further with spearfishing or underwater photography. These ideas are a must-try even for people who've never learned how to swim on the surface.
Surfing
Another must-try activity on the water is surfing. If you've always wanted to know how it feels to balance on a board while riding the waves, it's time to experience it first-hand.
Many people are addicted to the adrenaline rush that they experience while surfing, so much so that there's an entire, persisting subculture around it. It may be time to conquer your fear of the waves and try this eye-opening experience.
It's typical for people to practice on the beach when they begin their surfing training. First-timers are always sent to beginner-friendly locations, as more experienced surfers prefer their own spaces. A typical training course involves trainees learning from pros the mechanics of surfing, essential tips and tricks, and how to stay safe in the water. Go online to find surfing lessons near you.
Paragliding
The previous two have been about water sports. But what if the open air is your thing?
In that case, you can try paragliding, instead. This is an amazing adventure for people who love to feel like flying. It's an activity that truly gives you a bird's-eye-view, granting you a perspective you won't find anywhere else.
Naturally, you need to conquer your fear of heights if you plan to try this activity. There are many destinations to choose from when doing paragliding. Whether you want to do it on a mountain, beach, or valley, there are all great spots to paraglide depending on your travel destination. Make sure to work with a crew to make the most out of this experience.
Caving
If you've always wanted to face your fears in secluded and dark places, it's time to go caving. While this may not be suitable for claustrophobes and people who hate bats, it's a great adventure idea for those who want to try something that tests your nerves while stretching your body's limits.
Caving requires you to walk, crawl, swim, climb, and shimmy through lightless, slippery, and hard-to-fathom spaces. It's best to go with a guided cave crawl or a tour through a popular caving site before going full-throttle.
Despite how daunting it sounds, people still attest to the wondrous things they can find in the earth's depths, like towering rock formations and eerily beautiful cave figures. It certainly is a challenging experience that will give you great memories and the perfect conversation starter at any function.
Rock Climbing
If you're eager to challenge yourself, go rock climbing on your next trip. Despite the physical exertion and endurance required, the rewards are incredible. In fact, you can cross it off your bucket list and never forget this unforgettable experience. You get to witness views that few people have ever seen if you reach the top of a cliff face.
You need to undergo rigorous physical training if you plan to pursue this activity. This may involve training to strengthen your core and build the necessary muscles to stay mobile on a vertical surface. Enrolling in a rock climbing course or having one-on-one training with a professional and licensed coach is also vital.
Besides that, you need to invest in the necessary gear to successfully pull off a climb. Shop for the best climbing shoes and apparel, for starters. Above all, you should research every location you choose for a rock climbing session to know if you're up to the task and if it's safe to do it.
River Paddleboarding
Another adventurous idea to do with the whole family is river paddleboarding. This is a great sport that requires you to balance on the board as you paddle your way through a natural or artificial water course. It's an activity that lets you cruise your way along your own path on the surface of the water.
Just make sure you pick a spot that's safe for you and have the right equipment. Certain paddleboarding spots offer rentals for all ages. So, give them a try on your next trip.
Ziplining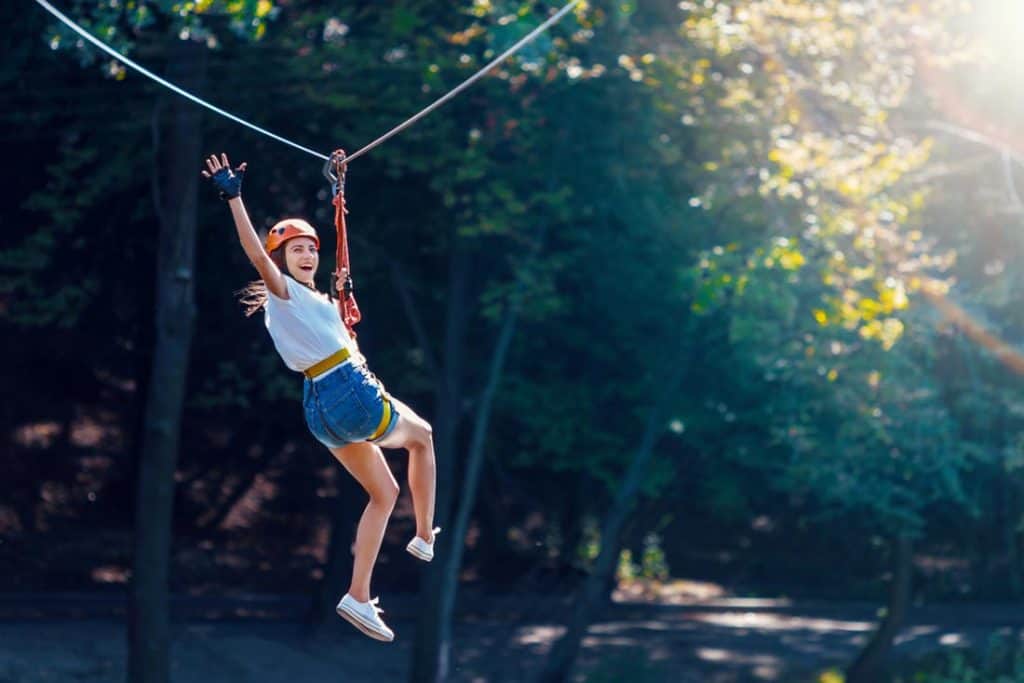 Zipline is an adrenaline-filled activity that is becoming increasingly popular around the world. You don't even have to go somewhere far to try it. A lot of indoor extreme sports facilities can emulate the environment for the ideal zipline ride.
But if you want the full experience, there are many zipline hotspots across the country and the globe to choose from. Make sure you do some research before you go to see if they're for you.
ATV Riding
So, you like taking rougher routes through places. If you haven't tried riding on an ATV before, then this is your sign to do it.
ATV stands for all-terrain vehicles. These are recreational rides designed for maneuvering through unpaved pathways, giving those who have a knack for steep slopes, long turns, and shifting roads a great choice for getting around.
Head off somewhere in the forest, wilderness, desert, or mountain on an ATV and find yourself in awe of nature from an off-road vantage point. The best part is this adventure idea is great for the entire family, too. Drive through rugged terrain together and pause at the best spots to take pictures.
Swim With Sharks
Don't let the movies fool you. If you're willing to try out a more exhilarating experience than any other item on this list, then this adventure idea is perfect.
It's not as life-threatening as it sounds. You won't be entirely exposed to them without protection, anyway. This adventure activity lets you put on diving gear and plunge into the depths inside a specially designed cage. From there, you get to be up close and personal with these underwater apex predators and find out how they really are outside the silver screen. Who knows? You might find them adorable in their own way.
Many places around the world offer this kind of adventure activity, and it's worth trying at least once. Gather up your courage ahead and plan this itinerary for your next trip. After all, how many people can boast about being a few feet away from sharks and surviving?
Skydiving
This isn't for the faint of heart, which is why you should have it on your bucket list. Experience the thrill of plummeting sharply several thousand feet in the air with this adventure idea.
Skydiving is a staple activity for those who enjoy extreme sports or want to conquer their fear of heights in the most extreme way. The freefall might be the scariest step of this experience. But once you're up above, you'll never regret experiencing this for yourself.
Check out skydiving companies near you and see for yourself.
Running
Some people travel not because they want to explore the place or learn about the culture. They're just there to put on their running gear, lace on their shoes, and join a marathon.
Many countries and cities have become popular places for running events. If you want something that keeps your feet on the ground while still getting you sweating, this is a great excuse to go on an adventure.
Try participating in races outside your comfort zone. Travel to a city or country during a race season and sign up. Don't be surprised to find other people not from around there joining you.
Remember that this activity requires a lot of endurance to pull off. So, make sure you undergo the proper training before taking on this adventure idea regularly.
Bungee Jumping
Last but not least, this adventure idea is great for those who love screaming at the top of their lungs.
Test how brave you really are by trying this adventure at least once in your life. There's nothing like the thrill of dropping quickly into a canyon floor or river only to be pulled away at the last second. Cross it off your to-do list and do it with friends and family who are as crazy as you.
Conclusion
This quick list is just the beginning. There's no shortage of exciting things to do when you travel. Just plan everything out, make your preparations, and explore. Start having adventures today.