A high lift jack is an essential part of your off-road recovery gear. Of course, you need more than that but, such is vital to have. This post will examine the gear you need and all about high lift jacks.
Being an overlander is extremely exciting because off-road adventures will give you a completely different feeling than a regular trip.
Instead of focusing on a particular destination, you get to experience the actual road. Besides, it's an excellent way to learn about different cultures and take some time off away from home.
But off-roading has its drawbacks – one of them being that you may have your vehicle getting stuck. Depending on the route you take, you may not always be on friendly, straight roads like you usually have between cities.
Some paths could have obstacles, in which case you need to know how to get out of such a situation. Several tools could help save your vehicle and get you back on the road.
Below, you can find details about these tools and get ready for your Overlanding adventure. If you plan camping, then do read these camping safety tips.
High Lift Jack
A high lift jack (also known as a hi-lift jack) is something that shouldn't be missing when you are on an off-road adventure. If you end up in a desperate situation where lifting your car is a must, then a high lift jack will be there to save the day.
This tool will have the power to lift your vehicle when you need to perform certain operations – such as changing a flat tire.
A high lift jack is very easy to operate.
You have to put this under your car and place the jack's foot under a secure anchor point on either the rock sliders or the bumper. After that, you have to take the long round lever and crank. No hydraulics are there to cause any failure.
It's effortless, and even if your Overlanding vehicle is a large, heavy one, you can rest assured you can easily lift it with a high lift jack.
You don't have to worry about the tool breaking either. It has a durable construction as it's made of steel and cast components.
This increases durability and will make sure you get out of every situation.
Even if you have large tires, you will use them if you pick the right tool.
This one is a great option to have in your off-road vehicle.
How to Use a High Lift Jack?
Watch the following video. It shows precisely how to use a hi-lift jack for different situations appropriately. A hi-lift jack is not only for lifting. Instead, you can use it for:
Lift a vehicle out of a hole or over something that obstructs your way
Lift your off-road vehicle to change a tire or inflate it
Along with a recovery strap, you pull your vehicle out of a tough situation
Secure your vehicle when it is damaged in order not to let it slip or even help the passengers get out fast
How to Lower a High Lift Jack?
This video is complementary to the one above. Many think that how difficult can it be to lower a hi-lift jack, right? So you do the "opposite" procedure.
That is not quite right, as lots of weight and resistance are involved. The video shows how to lift and lower a high lift jack in a way that prevents you from injuries or causing damage to your vehicle.
A Come Along Winch
Even though you can use a high lift jack as a come-along winch (we assume you watched the video), there are specialized tools for such cases too.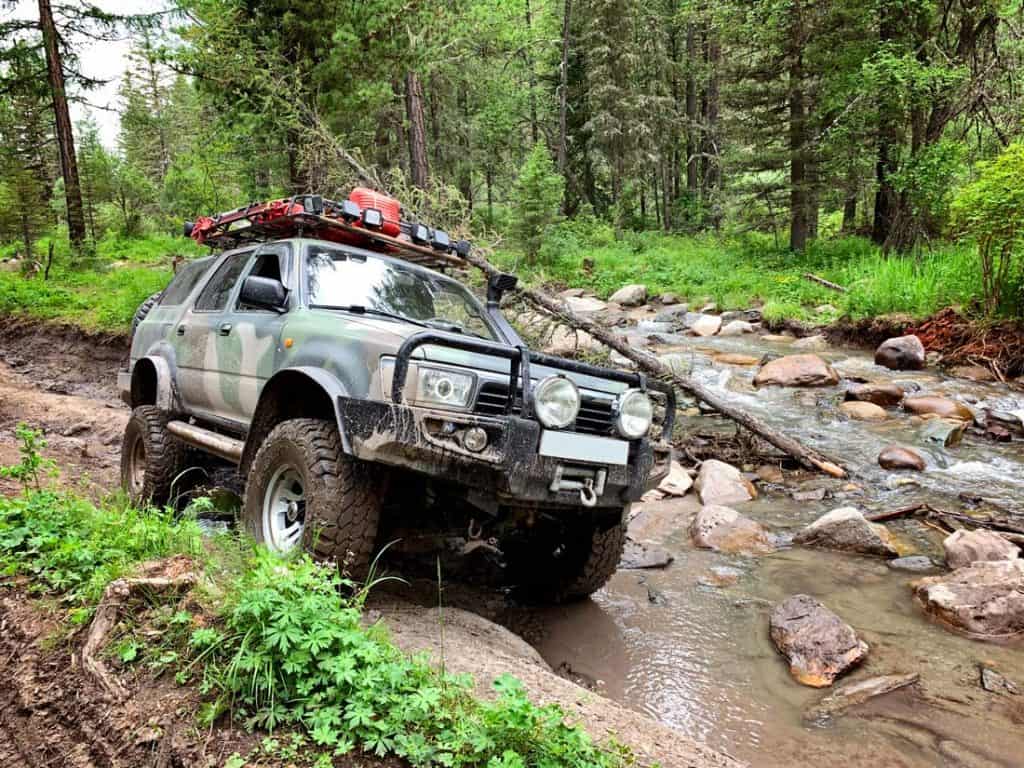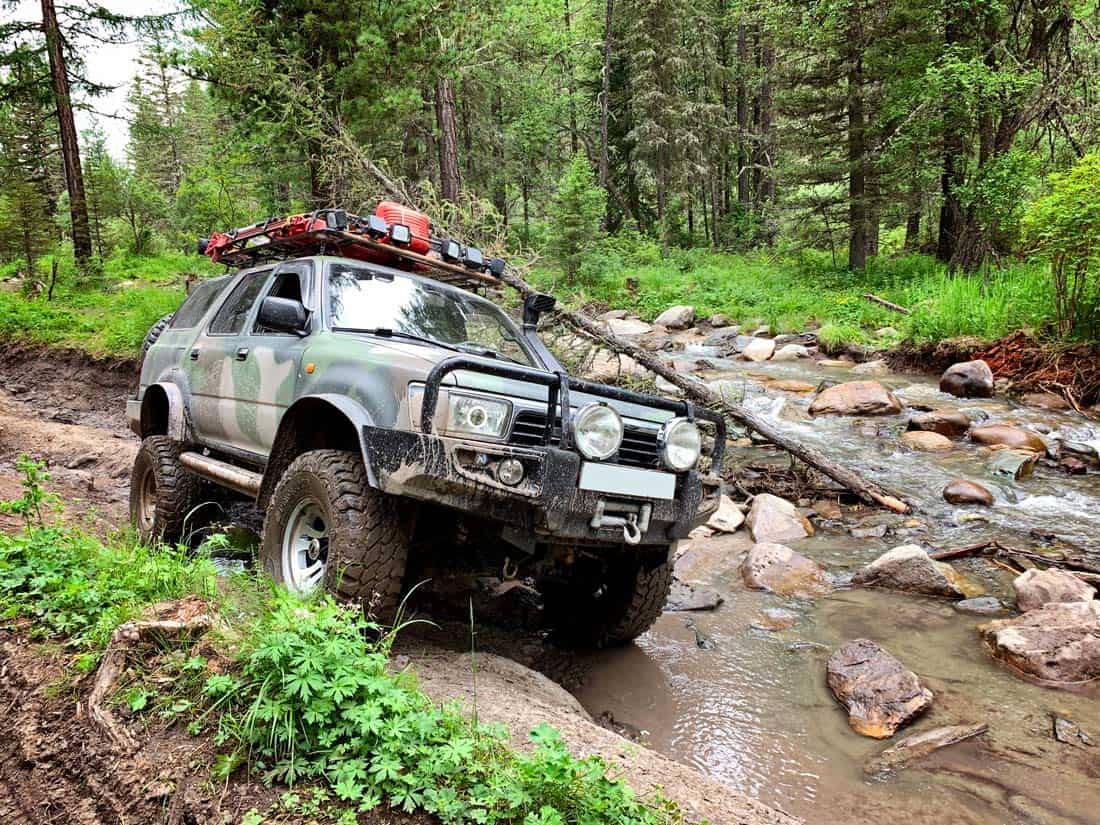 A winch is a tool that should be part of your recovery tools because it's key to recovering a stuck vehicle. The best come-along winch will be handy when you get stuck in mud in a remote area or just anywhere else, for that matter.
Of course, you need to consider a few things when buying a winch so that you can end up with the best product for your situation.
Larger winches are better if you need something fast and something that will handle the weight of the car.
The winch drum is also an important consideration. It would be best to go for a product with a winch drum with a minor working diameter, or else the ability to pull will be affected.
There are also different winches, respectively electric and hydraulic winches.
Electric winches are more common, and they represent a better option if you don't plan on using them all the time, or else they risk overheating.
If you don't want to spend too much money on an expensive winch, then a portable come-along winch will be a better alternative.
Our suggestion for a non-electric winch is this one.
Off-Road Recovery Strap
With a winch, you need a recovery strap. When your vehicle gets stuck, your main concern will be to use whatever tool you have to free it.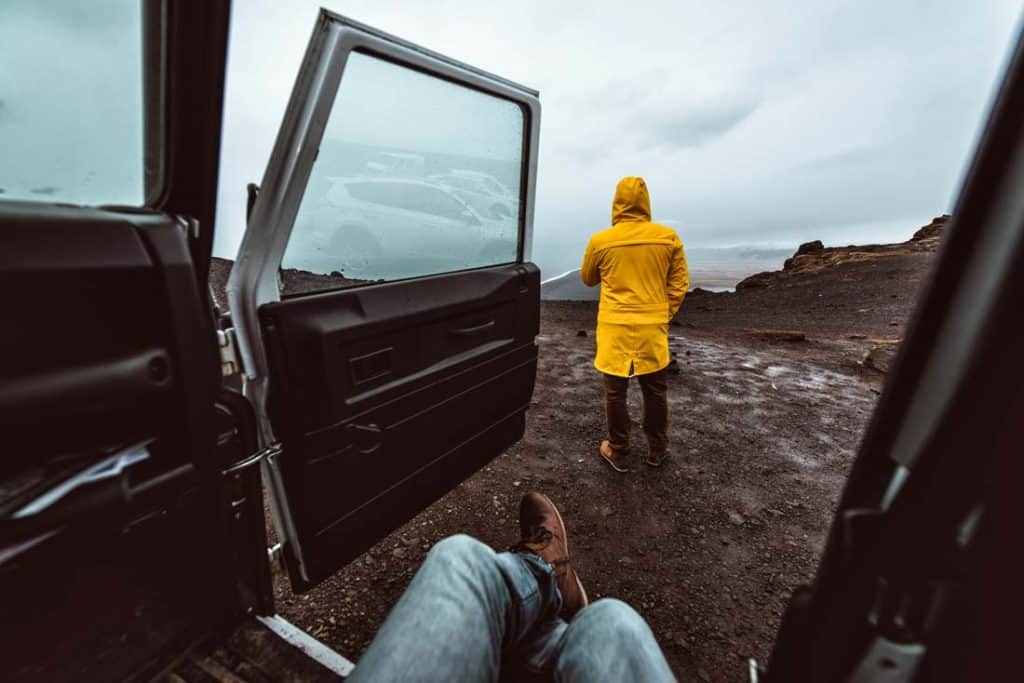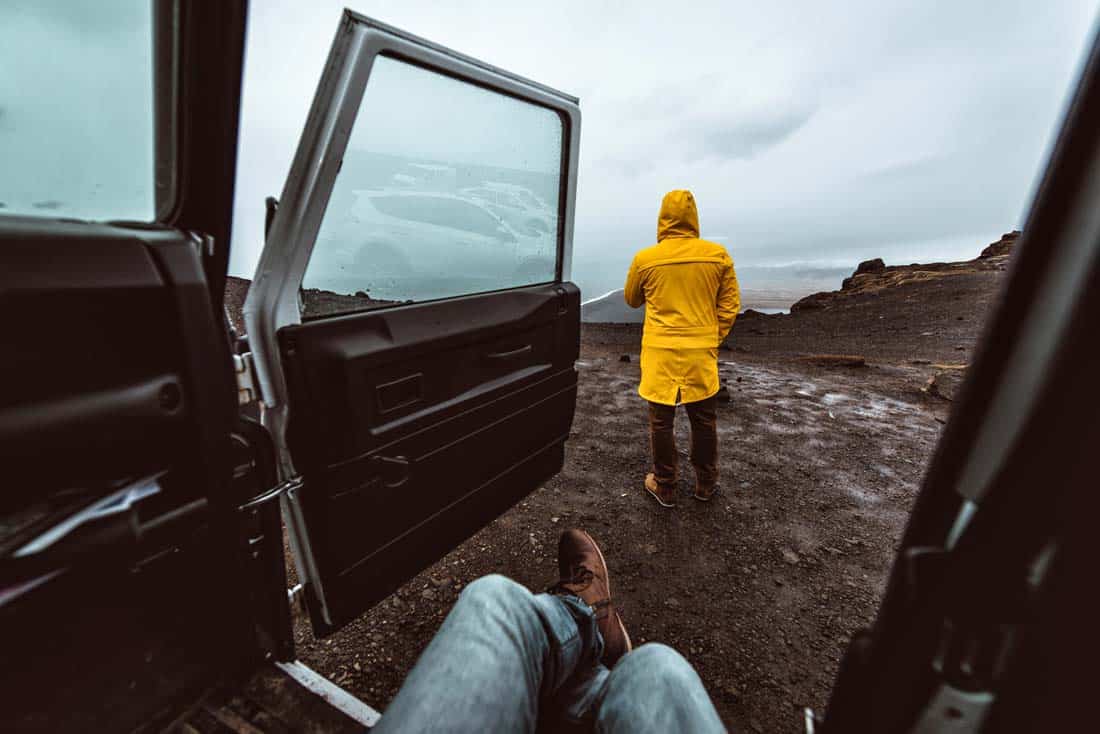 A strap will be one of the best items in this scenario because its construction and stretch will ensure that you can pull out the vehicle when you feel like it is barely moving.
Recovery straps are a little pricier compared to tow straps, and this is because they tend to be made from more expensive materials to stretch appropriately.
Nylon is also used for these straps. When it's in use, the material will be able to stretch between 2% and 30%, depending on how good it is.
It's essential to have enough stretching ability because it's the elasticity that helps tow the car, as it stores kinetic energy and releases it quickly. As a result, you'll be able to pull the vehicle out when it's stuck.
Thus, it would be best if you never went Overlanding without one or more straps.
You might never need them, but you'll have some peace of mind knowing they're in your trunk.
Here is a perfect one. It lifts 6,400 lbs Vertical, 5,100 Choker, 12,800 Basket Load Capacity.
Traction Mats
Ever seen in some movies where off-road is dipped in some hole or wet terrain, and the actors put branches, wood, or even rocks under them, so they don't spin while getting pulled?
In some situations, a car gets stuck in snow or sand, and when the driver tries to get out of this situation, it doesn't help because the wheels keep turning. It's a possible scenario when Overlanding since you'll be off-road.
Therefore, don't forget to add some traction mats to your set of tools, as they can be a great help when your vehicle is stuck.
Traction mats are flat mats you place behind or in front of your tires. They will help give you traction, and, as a result, you'll be able to pull your vehicle out of the spot where it got stuck.
They are straightforward to use, and once you find high quality, they should not be missing from your recovery kit.
A perfect set is this one. It is constructed of indestructible UV-stabilized thermoplastic rubber (TPR) joined by a galvanized steel core which is anti-rust.
Shovel
Believe it or not, but a shovel can be an essential part of every overlander's recovery kit. It can help you a lot, and you'll be thankful to have brought one with you.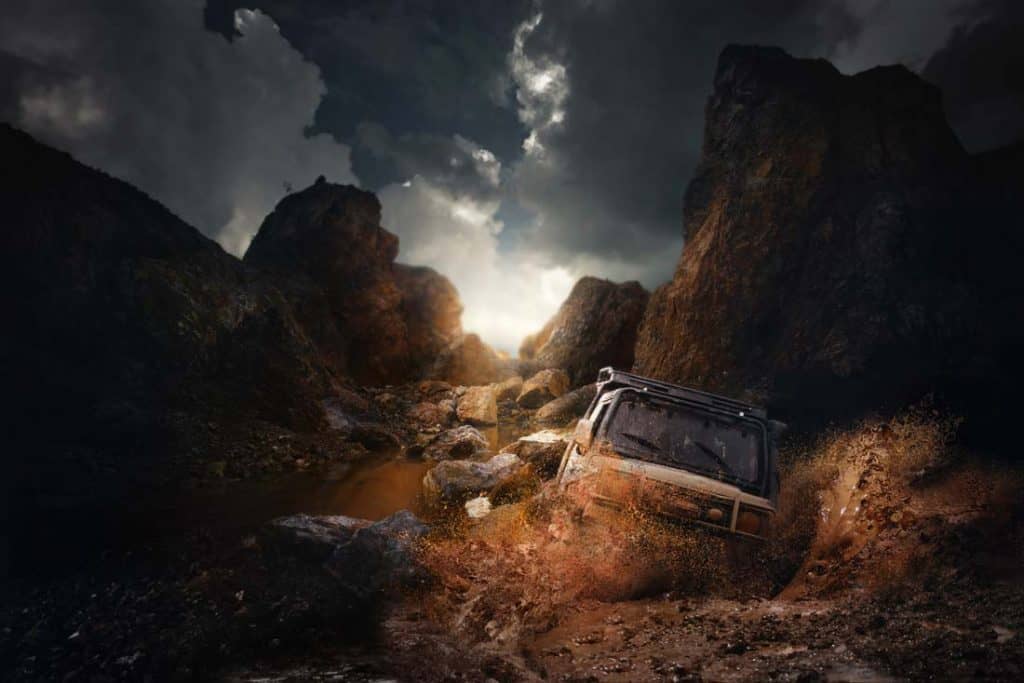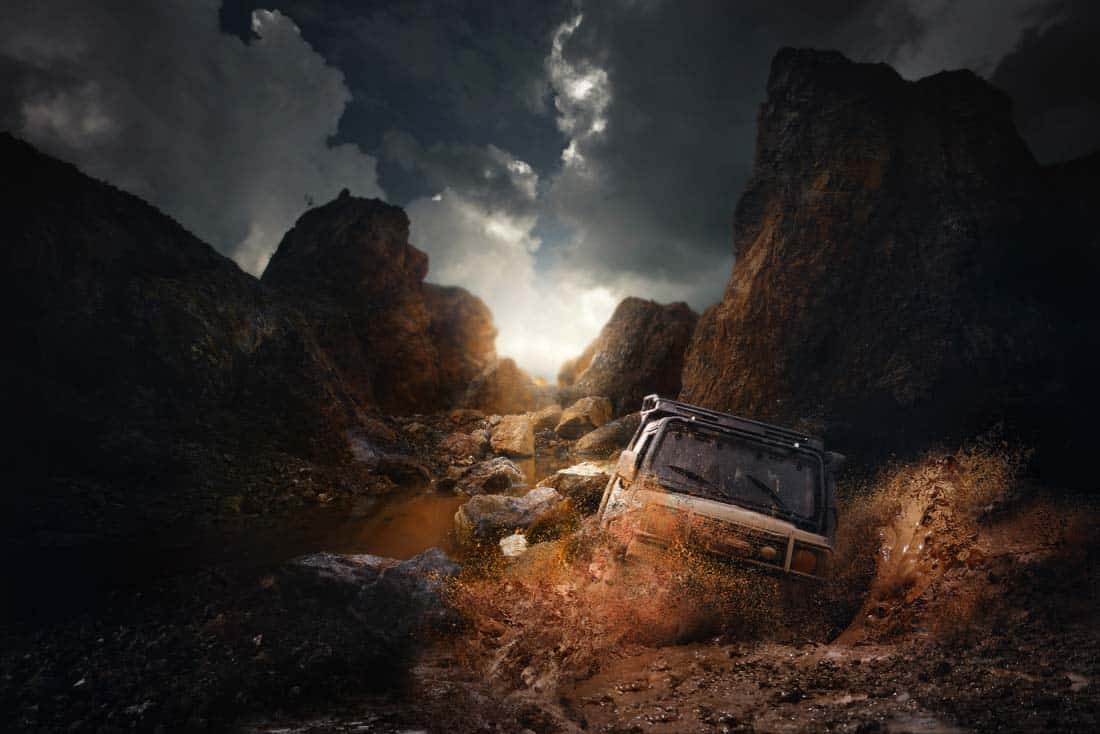 Shovels will let you dig in front of a tire in case you get stuck in the mud, and you need to take some strain off the winch. It's also great when it's snowing, and you need to make your way through snowdrifts.
You need to pick the right size for your shovel, and although small ones might work, a full-size one will be better if you are seriously stuck somewhere. You'll see that a shovel can make a recovery situation much easier to deal with.
This one is powerful and comes with many different options.
You can use it in its short version or expand it with its extension pole.
It comes with even more features. It acts as a fire starter, whistle, bottle opener, saw, hoe, fish scaler, and more.
Final Thoughts on Recovery Gear and High Lift Jacks
Going on off-road adventures is undoubtedly fun, but sometimes, the unpredictable can happen, and you might get stuck in the middle of nowhere.
What do you do then?
Well, you the recovery tools we mentioned above.
Go shopping for the best high lift jack you can get and some high-quality recovery gear, and make sure that it always accompanies you on your trips.