What is the best place to visit in Kathmandu Valley and Nepal when you have a few days? There is more than one! Trekking is not the solution, but flying is.
Are you in Nepal for a purpose other than visiting? Or, you may not have a long holiday for any reason.
Such circumstances can make you feel that you cannot explore Nepal because of the time barrier.
Also, read our post on the 9 best treks in Nepal, plus what you need to know for a Tibet Nepal tour and hiking in Nepal.
But, let me make it clear to you that being short of time cannot stop you from experiencing the flavor of Nepal.
There are a lot of things that you can do in Nepal and all the places to visit in Kathmandu valley within a short period.
In just three days, you can have a sight of Mount Everest and other high peaks with the help of Mountain Flight or Helicopter Tour, see the cultural heritage of Kathmandu and hike along Chisapani-Nagarkot route which is one of the hiking routes closest to Kathmandu.
You need to know about these activities, and the time they take to plan your short to Nepal and make it worthwhile.
You may exclude any of the activities on the list depending on your preferences in case you have a holiday shorter than three days.
The Best Place to Visit in Kathmandu Valley and Nepal
If your holiday is short but not as quick as three days, there are a lot of other activities that you can pursue in Nepal.
Meanwhile, let us familiarize you with the activities that you can have and all the details around them.
The Sight of Everest and other High Peaks
There are two ways of seeing Everest and other high peaks of the Himalaya: Mountain Flight to Everest region and Helicopter Tour to Everest Base Camp.
You can choose one among these depending on your choice of activities. I am going to describe them to you.
Mountain Flight (1 hour)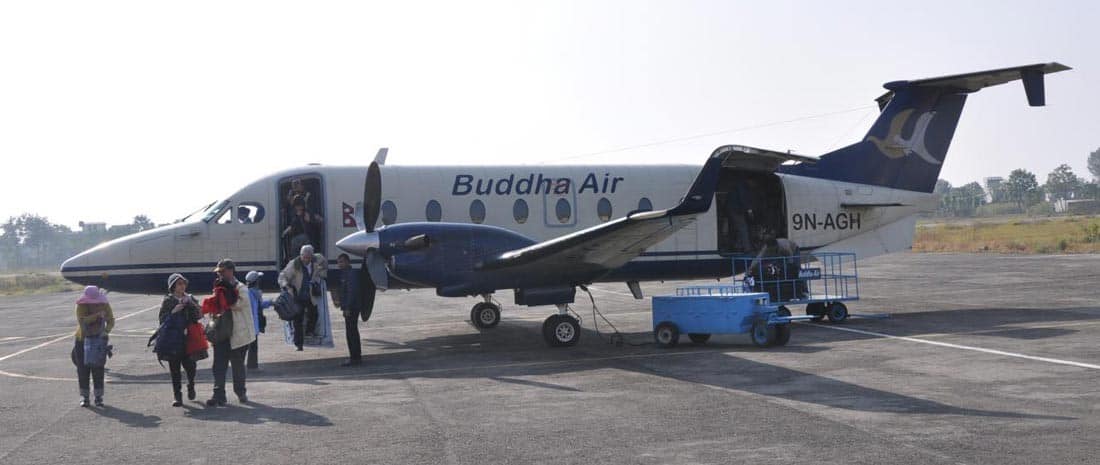 Mountain Flight to Everest region usually takes an hour and costs $ 200 per person.
You board an airplane from Kathmandu early in the morning. Usually, 6 am, before the formation of clouds so that the visibility is strong.
An hour of flight in the Everest region helps you witness high peaks of Himalaya, including Everest, Makalu, Cho Oyu and Lhotse, glaciers such as Khumbu, and lakes such as Chho Rolpa and Gokyo.
You will reach as far as Chamlang Peak in the Eastern part of the Everest region, and the airplane takes a turn from there to return to Kathmandu.
The Mountain Flight gets over with the airplane landing back in Kathmandu Valley.
In Mountain Flights, you will fly with trusted domestic flight service providers of Nepal, namely Buddha Air, Yeti Air, Simrik Air, and Shree Air.
Everyone gets a window seat so that they can have a clear view of the Mt Everest and other attractions, which is the sole purpose of the flight.
The air hostesses come to each of you, introducing you personally to the significant peaks.
Each of the passengers is invited into the cockpit of the airplane to see and take photographs of Everest and other peaks.
If you want to have a standing view of Everest and other peaks or want good photographs of Everest, Mountain Flights may not be appropriate.
In such a case, you can opt to Helicopter Tour to Everest Base Camp.
Helicopter Tour (4 hours)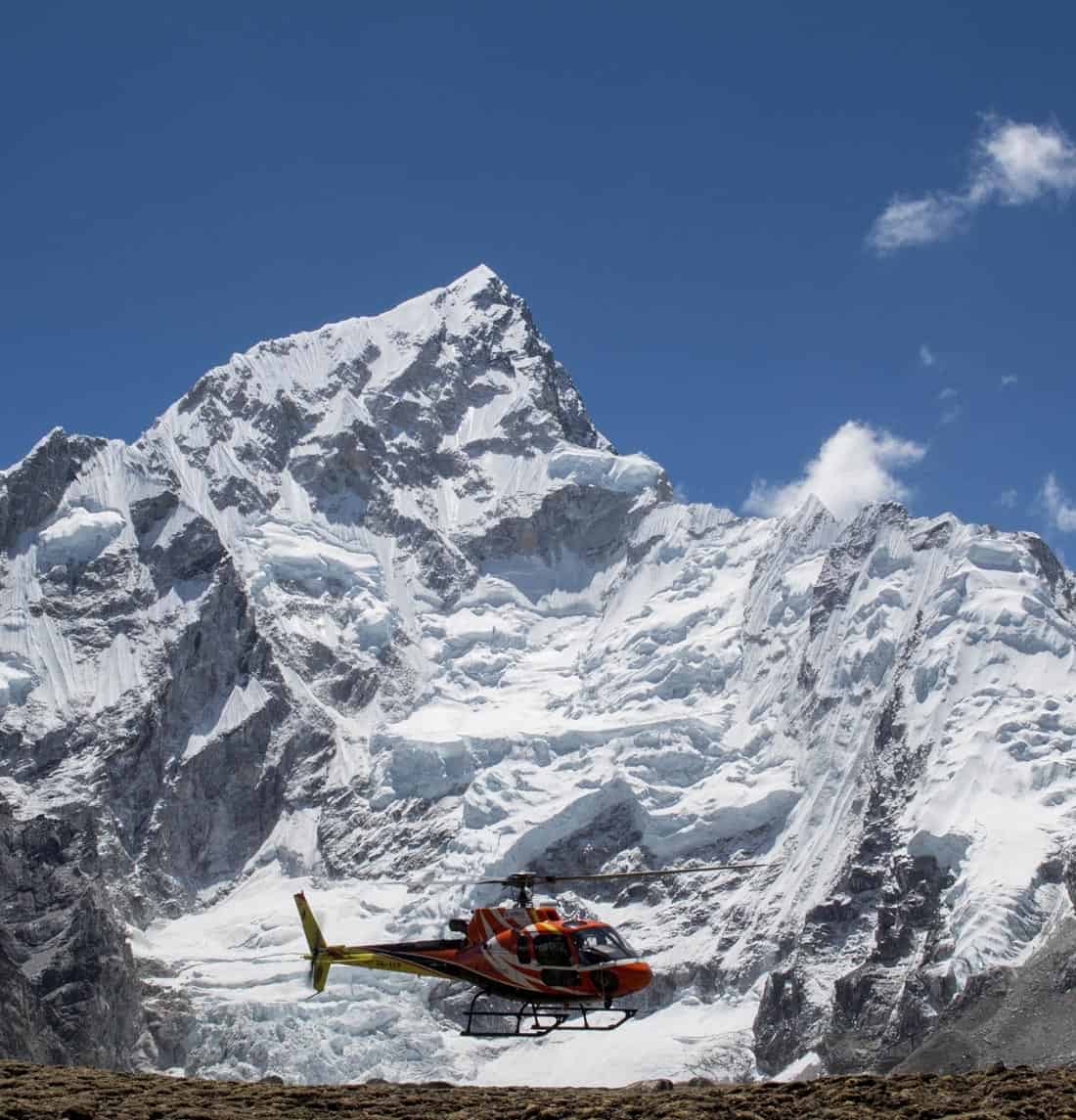 A helicopter tour can be an alternative to Mountain Flight. A helicopter tour to Everest Base Camp costs $1,000 per person.
The Everest Helicopter Tour is usually 4 hours long and takes-off early in the morning, considering the clarity of the sky in the morning.
In the Helicopter Tour package, you will land at Kala Pathar, Everest Base Camp, in an hour of take-off from Kathmandu.
On your way and back, you get the view of mountains, glaciers, and lakes as that in Mountain Flights.
You will have 10 minutes at the base camp during which you can have a relaxed view of Mt Everest and take photographs as well.
It might be surprising to you that you will have just 10 minutes.
Generally, people who go to the base camp by trekking get adapted to the high altitude throughout their way.
But, you have reached there without enough adaptation.
So 10 minutes is an ideal period considering your safety in the high altitude.
After that, you can enjoy your breakfast at Kongde View Resort or Hotel Everest View for 30 minutes before having a rest and then returning to Kathmandu.
With the help of Helicopter Tour, you can take a memorable long journey to Everest Base Camp, view Everest and other attractions, enjoy breakfast at one of the hotels at the highest altitude in the world, and return shortly.
You may choose one among Helicopter Tour and Mountain Flight depending on whether you want to land at the Everest Base Camp or not.
Your budget can also be a deciding factor here since Helicopter Tour is five times more expensive than Mountain Flight.
After enjoying one of these in the morning, you can proceed to visit the cultural heritage sites of Kathmandu for the rest of the day.
The Cultural Heritage of Kathmandu Valley (1 day)
Here is not one best place to visit in Kathmandu Valley but nine places, including Mt. Everest.
Kathmandu Valley, which comprises three ancient cities of Nepal–Kathmandu, Patan, and Bhaktapur, is rich in cultural heritage.
One can spend weeks thoroughly exploring the cultural riches of the valley. But, a lot can be explored within a single day.
A day of visit to the seven cultural sites listed by UNESCO in its World Heritage List can be a quick as well as a memorable experience.
You can start your visit to the sites after your Mountain Flight or Helicopter Tour in the morning.
Let's have a quick look at these sites along with a plan on how you can visit them in a single day, as they are indeed some of the best places to visit in Kathmandu valley.
Basantapur Durbar Square
Also known as Kathmandu Durbar Square, this place once used to be the ruling center of the Kings of Kantipur (the then Kathmandu) and eventually of the Kings of Nepal after the unification of Nepal. 'Durbar' is a Nepali word for the palace.
It is situated at the heart of Kathmandu and just 1.5 kilometers away from Thamel–the place of stay for most tourists. A 10-minute drive will take you there from Thamel.
Basantapur is the best place to start your exploration of cultural sites in Kathmandu valley.
Statues, temples, palaces, and courtyards make up this place.
Apart from the Kings' palace, the major attractions here are the temple of Kumari (the living Goddess of Nepal), Taleju Temple, Statue of Kal Bhairav, and Kasthamandap, among others.
It takes you approximately an hour to take a detour of this site.
Swayambhunath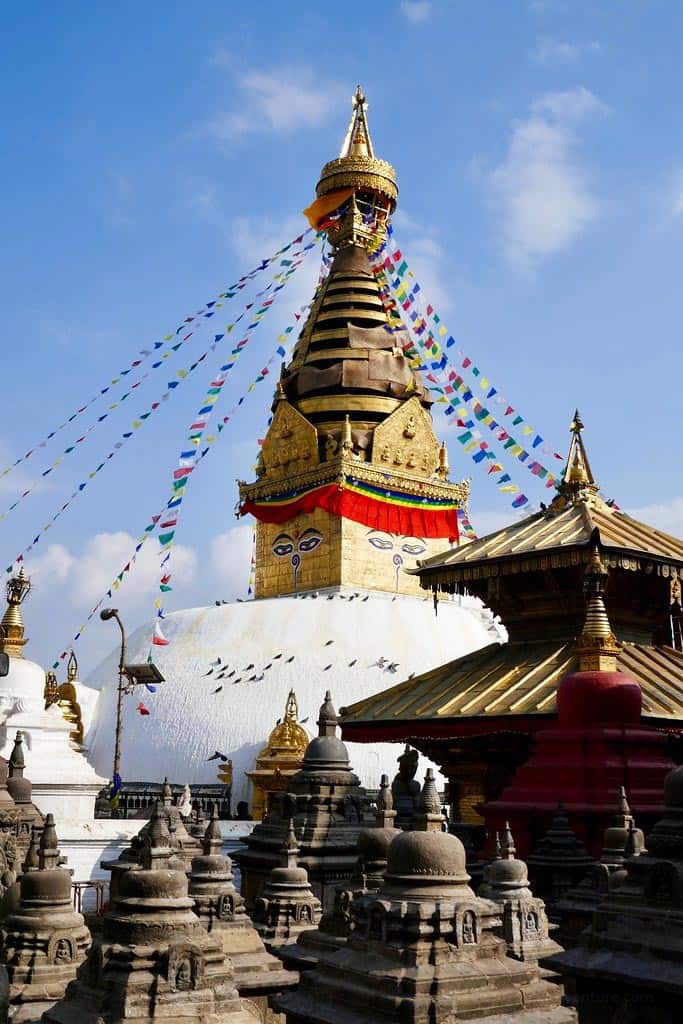 You will then be taken to the Swayambhunath temple, a significant shrine for both Hindus and Buddhists of Nepal and, for many, the best place to visit in Kathmandu valley.
A 15 minutes' drive from Basantapur Durbar Square takes you to this place. Situated at the top of a small hill, this temple provides you with a fascinating view of the Kathmandu valley.
You may love climbing the stairs to reach the temple. Spending half an hour in the temple area can provide you with ample experience of prayer wheels, Buddhist painting, and architecture, as well as other shrines around the temple.
Patan Durbar Square
Patan Durbar Square is 8.1 kilometers away from Swayambhunath and can be reached with the help of 25 minutes' drive from there.
Patan was once one of the three ancients Kingdoms of the valley, the others being Kantipur (Kathmandu) and Bhaktapur.
Detailed Newari architecture is the characteristic feature of this Square.
King's palace, Krishna Temple, Sundari Chowk, and Museum are the major attractions of this place.
After a visit for an hour, you need to head on to the third Durbar Square.
Bhaktapur Durbar Square
Bhaktapur Durbar Square is another significant heritage from the medieval age. After 30 minutes of drive from Patan, you reach Bhaktapur Durbar Square.
Nyatpol Temple, 55 Windowed Palace, along with various works representing Newari arts, can be seen in this area.
A visit to the Museum here can help you guess a lot about how people of the place lived in the past.
With the visit of the last Durbar Square, you can notice the differences in the art and architecture in the three Durbar Squares, which are so close to each other. That's the diversity of Nepal.
That's what makes your short visit worthwhile. After an hour spent in the Square, you will be driven to Changunarayan temple, which is also in Bhaktapur district.
Changunarayan Temple
Changunarayan, one of the oldest temples of the valley, is also situated in Bhaktapur district.
It is the temple of Vishnu, one of the three major gods Brahma, Vishnu, and Shiva in Hinduism. It is at a distance of 4 kilometers from Bhaktapur Durbar Square.
It usually takes 10 minutes to drive from the Square to this temple.
Situated at the top of a hill, the temple has one of the most beautiful architecture in the country.
The temple is believed to have been constructed in the 3rd century and was re-opened in 2016 after damaged by the 2015 earthquake.
The temple area is relatively small compared to the Durbar Squares, and half an hour is enough to gain experience of this temple.
Baudhanath
After the sight of Changunarayan, 45 minutes of the drive will take you to Baudhanath. You can take a walk around the 36-meter-high stupa (dome) while touching the player wheel.
The energetic environment around the stupa can be enjoyed within half an hour. You can spend your time collecting souvenirs around Baudhanath.
Baudhanath is an essential pilgrimage for Buddhists all around the world. You can see a lot of people of Tibetan origin around Baudhanath.
Half an hour of time spent at Baudha will provide you with enough experience to recall for a lifetime.
Pashupatinath Temple
Last but not least, you will be driven to Pashupatinath Temple, which is 2.2 kilometers away from Baudhanath.
It takes 10 minutes to reach Pashupatinath from Baudhanath. Pashupatinath is a holy temple for Hindus.
Pashupatinath is another name of Shiva–one of the three major gods in Hinduism.
Although non-Hindus are not allowed to enter the temple, several small temples and architectural wonders in the temple premises can engage you for about an hour.
The sun would have probably set by the time you reach Pashupatinath. Good. That is the perfect time to be here.
You can watch Pashulatinath Arati, praise to Lord Shiva, in the evening (6 pm in Winter and 7 pm in Summer).
You may also observe the Hindu ritual of cremation in Aryaghat that is on the bank of the Bagmati river, just by the side of Pashupatinath. People are burnt after death.
That might be new to you.
Several Shivalingas–a representative idol of Shiva–can be seen in the temple premises.
After about an hour at the temple, you will be driven back to your hotel. What a quick and yet memorable day it would be!
You and your team might stop anywhere for lunch during your visit to the cultural sites.
Experience hiking in Sundarijal-Chisapani-Nagarkot route
The hike can be completed in 2 days. Starting from Sundarjal, you will be guided to Chisapani via Mulkharka on the first day.
On the second day, the hike will continue from Chisapani to Nagarkot. The details about both of the days are explained below.
Please go through them to make your short visit more memorable.
Day 1 in Kathmandu Valley
You can be driven early in the morning to Sundarijal– a place in the southeastern part of Shivapuri National Park, Kathmandu.
The hike starts from Sundarijal with you being guided along the staircases that lead to a reservoir.
Pine and oak trees in the forest on the way to the reservoir provide a chilling environment for hikers.
You will know about various wild animals such as sloth bears, leopards, and porcupine, among others in the national park.
Numerous species of butterflies and chirping birds will make your walk amusing.
The path will lead you to a small suburb called Mulkharka, where you can stop to have lunch.
After finishing lunch, your destination can be Chisapani.
With the help of elevation, you attain at the Mulkharka-Chisapani track; you can catch a glimpse of the mountains of the Himalayas.
You will finally reach the destination of the day, Chisapani, following a tiring 5-6 hours of walk.
Be accommodated at Chisapani so that you can take enough rest to continue the hike for the next day.
You can take a walk around your place of stay to captivate the memories of this beautiful place.
Day 2 in Kathmandu Valley
Take the 7-hour-long hike after breakfast.
Bidding goodbye to the beautiful Chisapani, you will enter into a green forest.
You will have to walk uphill as well as downhill on your way to Nagarkot, which makes this part of the hike more comfortable compared to the Sundarijal-Chisapani hike, which was uphill.
Human settlements will be seen on your way to Nagarkot.
Finally, when you reach Nagarkot, you can have a mesmerizing view of the mountains from the famous view tower at Nagarkot.
You may stroll around the local market looking for a souvenir. Lunch at Nagarkot will be enjoyable.
You will be driven back to Kathmandu from Nagarkot at the end of the day, giving you lifetime memories in such a short period.
There is a diverse set of activities for you in Nepal. If you love bungee jumping, paragliding, or canyoning, they too do not take a long time.
A single day is enough if you are interested in them.
You may also want to visit places like Pokhara or Lumbini–the birthplace of Gautam Buddha.
Visiting them is also a matter of a day.
Plan a more personalized visit to Nepal, depending on your interests. A good tour company can help you with your queries to organize such a wonderful trip there and experiences the best place to visit in Kathmandu valley and Nepal.