New Zealand is ideal for hiking. We want to show you the best hikes in New Zealand, so you can plan ahead.
New Zealand is home to a beautiful range of sceneries ranging from mountains to cascading waterfalls as well as sandy beaches.
For a tourist or even a local person, the best way to see the gorgeous landscape of a country is through hiking? Also, read our post for the best places to visit in New Zealand.
Best Hikes in New Zealand: 10 Hiking Ideas
Well, New Zealand offers something for everyone.
Whether you want to go for short walks or for long ones that take up to three months, all you need to do is get your legs and boots ready for an excellent trek.
However, if you are a newbie, you need some suggestions on places to hike.
Here are some ideas. If you plan for hiking New Zealand during summertime, then these summer hiking tips are essential.
Guided tours are another excellent way to experience the best hikes in New Zealand. Follow this link for more than 350 guided tours. 
Check accommodation prices before hiking New Zealand, from here and here. Always get travel insurance! For a serious and useful list of travel resources, click here.
Best Hikes in Tongariro Crossing, NZ
The Tongariro National Park is by far the most beautiful hiking place in the world.
Extending up to 194 kilometers, your hike will take between six to eight hours. Most people prefer to hike here during the summer months.
Tongariro is a part of New Zealand's oldest national park. Trekkers enjoy the spectacular view of Mount Ngauruhoe.
Once you crest Summit Center, you can climb up the mountain if the weather permits. And later head down the ridge from Red Crater to enjoy basking at the neon turquoise.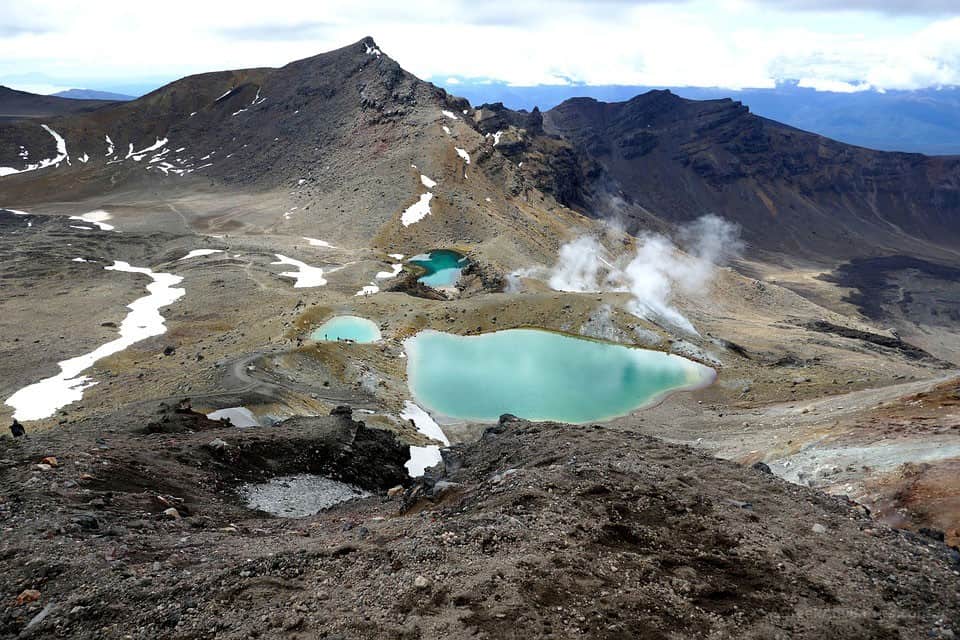 You can also choose to trek through lava fields to the Ketetahi trail-head on your way back to the starting point.
Best Hikes in Routeburn Track, NZ
It is located on the South Island. It is hosts glittering lakes, valleys, and soaring mountain peaks. New Zealand is praised because of the beautiful sceneries on this track.
You can easily access it from Queenstown.
If you are ready to trek for two to four days for 20 miles, then you should visit this track. It is opened from late October to early May.
Best Hike in New Zealand: Mount Alfred
This track is not very common, which makes it unique. It cuts through the native bush to merge out into a steep plane.
From here, you can access the summit and the ridge. The mountain is as high as 1000m, and it will take you close to 5-7 hours to complete hiking.
From the north, you can see the spectacular view of Earnslaw Glacier, and on the south, you are met by the gorgeous view of Lake Wakatipu.
Best Hike in Abel Tasman Coast Track, NZ
Do you want to enjoy the sun in some 30 miles of golden sand beaches and seeing the jade-colored oceans? Abel track offers you that and much more.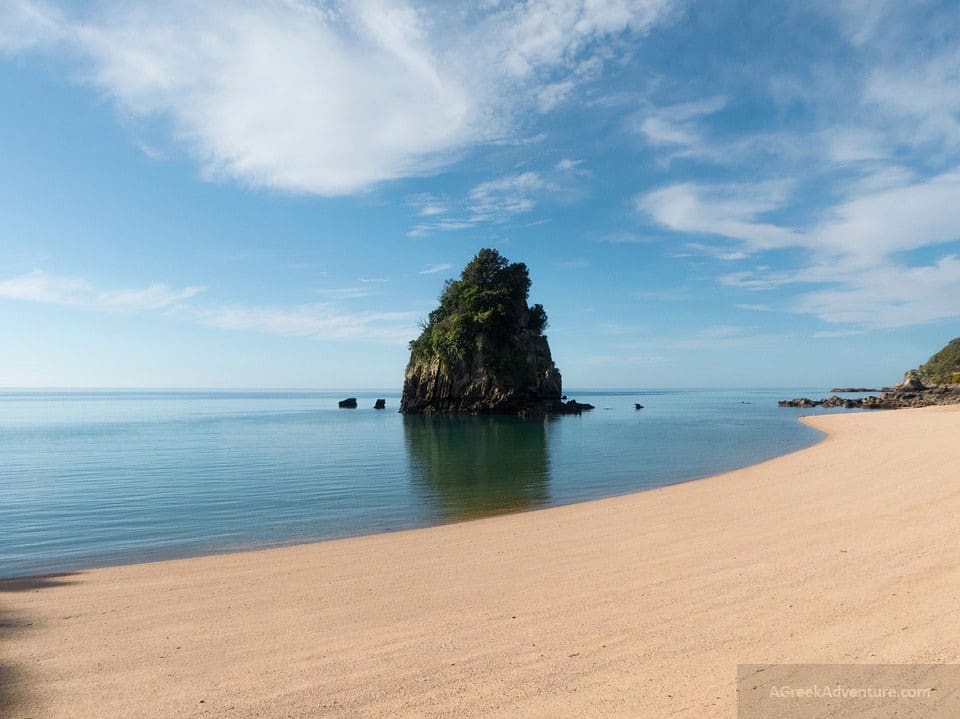 It is located at the top of the South Island, and it is about 37 miles.
The trekking takes three to five days, and it is one way. The track is opened all year so that you can bump at any time.
Trekkers go through Manuka groves, verdant fern as well as empty shores.
Tourists can spend their afternoon watching birds or seals swim, and also, if you love diving, you can do so into the tumbling surf.
Heaphy Track Hike in New Zealand
It occupies 82km of land, and it will take you about four days to trek. It is located on the west coast of the South Island.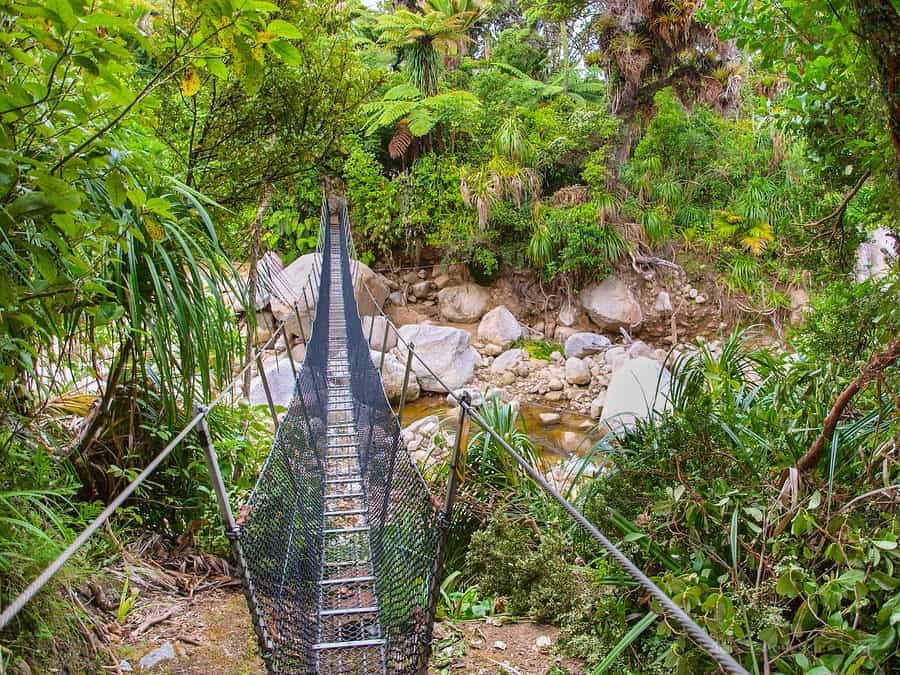 It cuts through expansive tussocks and lush forests. It is the best hiking place for people who prefer day trips since they can be coming back to the huts at night.
Abbey Caves Hiking in NZ
They are located at Whangarei town on the North Island.
Hikers enjoy walking in the ancient-looking fields and climbing the stepping stool as well as gliding into the throat of Organ Cave.
These caves are popularly known for displaying glowworms found in the hidden stream.
Trekkers also find their way to the Middle Cave to see the spectacular view of the glowworms streaked across the ceiling.
Mueller Hut Route in New Zealand
Ready for an overnight hike? Mueller Hut will give you an unforgettable experience.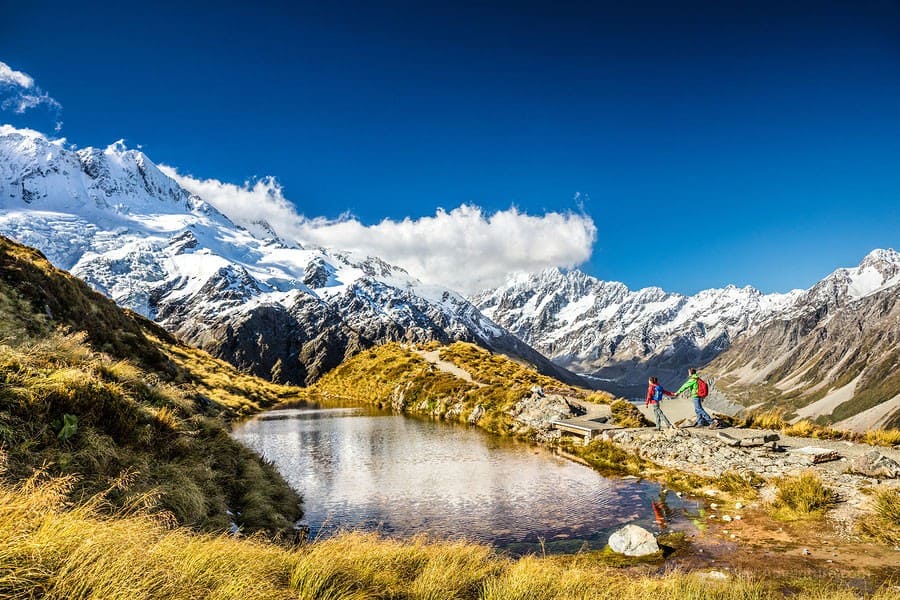 The hut is a spare red trekker's hut that is on the side of a scree slope on a high alpine plateau. With an elevation gain of 1050m, you can take about 6-8 hours to trek this hut completely.
Trekkers are involved in loads of steep and switchbacks, which gives them ample time to stop and admire the valley's braided river system.
You can see the incredible view of the surrounding glaciers. If you are not interested in hiking overnight, you can stay in the hut and enjoy the sunset.
The Rakiura Track Hike
This track is a 32-kilometer loop, and it will take you three days to hike. It is located on Stewart Island on the South Island.
You will enjoy sunning in the deserted sandy beaches of Stewart Island and hiking through the rugged forest.
Kiwi birds are also easy to spot here and are often on the beaches. It is opened all year long.
Roy's Peak New Zealand Hiking
It is one of the best walks in Kiwi from Wanaka. The trek is up and down and takes about 6 hours.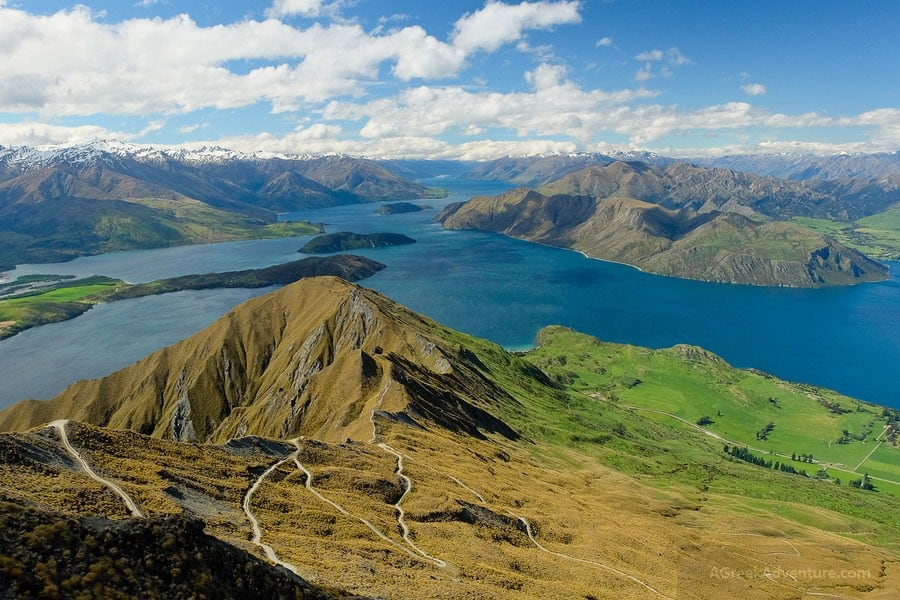 Trekkers walk on the eastern side of the mountain where they are exposed to breathe taking sceneries.
Remember to carry your sunscreen lotion, windproof clothes, and plenty of water since this peak is exposed to the sun.
The trail is very popular and receives so many visitors, so if you want to take the famous photo along the undulating ridge-line, you should be willing to cue.
Best Hike in New Zealand: Mount Victoria Loops
If you enjoy city hikes, then this is the best place for you. The loop offers 360-degree scenic views and is easily accessible from Wellington.
The walk takes about 21/2 hours trekking, and it is about 4.7 kilometers. There is a mountain bike skills area for bikers and great views of the city.
There are various paths along Southern Walkaway to choose from.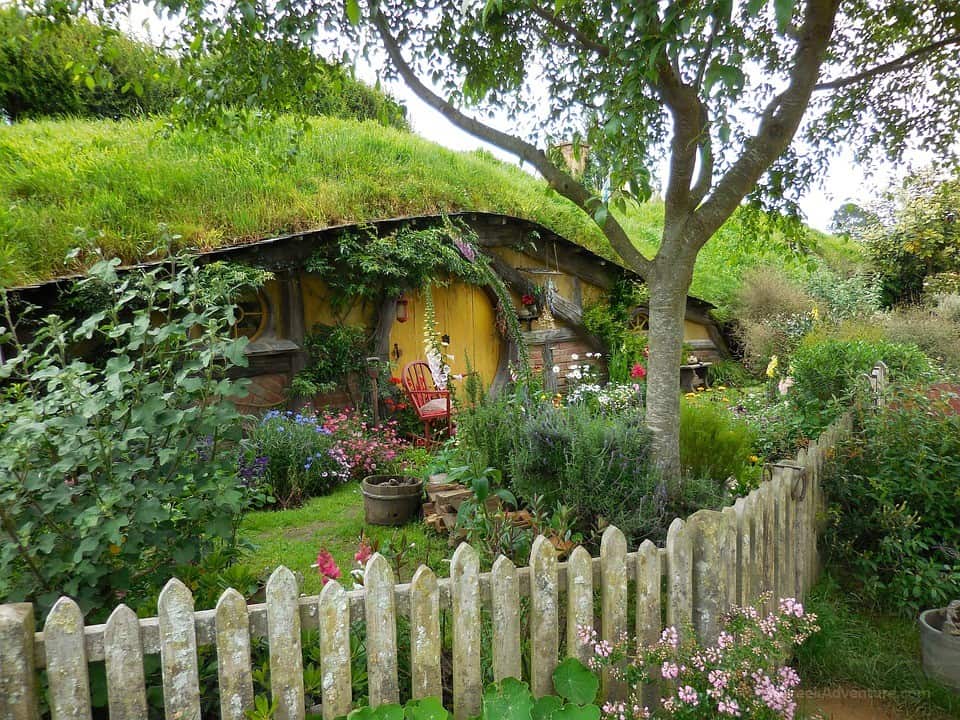 Trekkers are taken through a thick canopy where several Lord of the Rings scenes were filmed, and also at the summit, they can watch boats sailing from the harbor.
Doing the best hikes in New Zealand is the best way to stretch your legs and get fresh air after a long day(s) of travel.
There are more than the best hikes in New Zealand. The country is known for its natural beauty, so these walks will enable you to see the breathtaking sceneries and explore the vast wilderness.
There are plenty of other places that you can hike, but now that you have an idea, you are ready to explore this beautiful country.
Remember to plan your trip and book in advance and also check the local forecast.