Day two of after our kayaking Epidavros and now we are moving into sea kayaking Nafplio, Greece.
We had a beautiful sleep since the village of Lygourio is a rather quiet one.
We were to have our big trip that next morning.
The plan was to have a 5-hour sea kayaking trip in different places in the area.
So, we went to the harbor of Nafplio and started our sea kayaking exploration.
We paddled next to Bourtzi castle island and admired the Palamidi Castle on the other side of the mainland. People were watching us from the shore and waved.
The whole complete trip is around 6 to 7 nautical miles. It starts from Nafplio and ends up in Tolo.
A bit of tough weather was rising so after a short meeting in the sea we decided to change the location.
We got off, loaded the kayaks on the car and we moved to the Tolo area.
So instead of paddling all the way towards Tolo we skipped apart and started from Tolo towards another destination.
Sea Kayaking at Tolo area
Tolo is an amazingly picturesque area. It has a kind of gulf with different small islands. We were about to visit them with our sea kayaks.
Our goal was to paddle to Daskalio island. Which was on "the other side" of our location. Just outside the gulf, the weather became windier with bigger waves.
However, we were totally determined to land on Daskalio.
We paddled and huffed and puffed, and paddled some more.
We encountered a scale 4 Beaufort wind, which may be nice for windsurfing but becomes a bit challenging when you are inside a sea kayak and try to paddle!
But it was great! It was amazing.
Just us and the sea! George is a great instructor and has an eye on you constantly in order to help you optimize your paddling.
Finally, Daskalio was around the corner.
When we entered the Daskalio gulf the sea was very calm and the view was amazing.
People with boats or sea kayaks go and spend a night or two there under tents or under the open sky. It is a very beautiful, quiet & romantic place.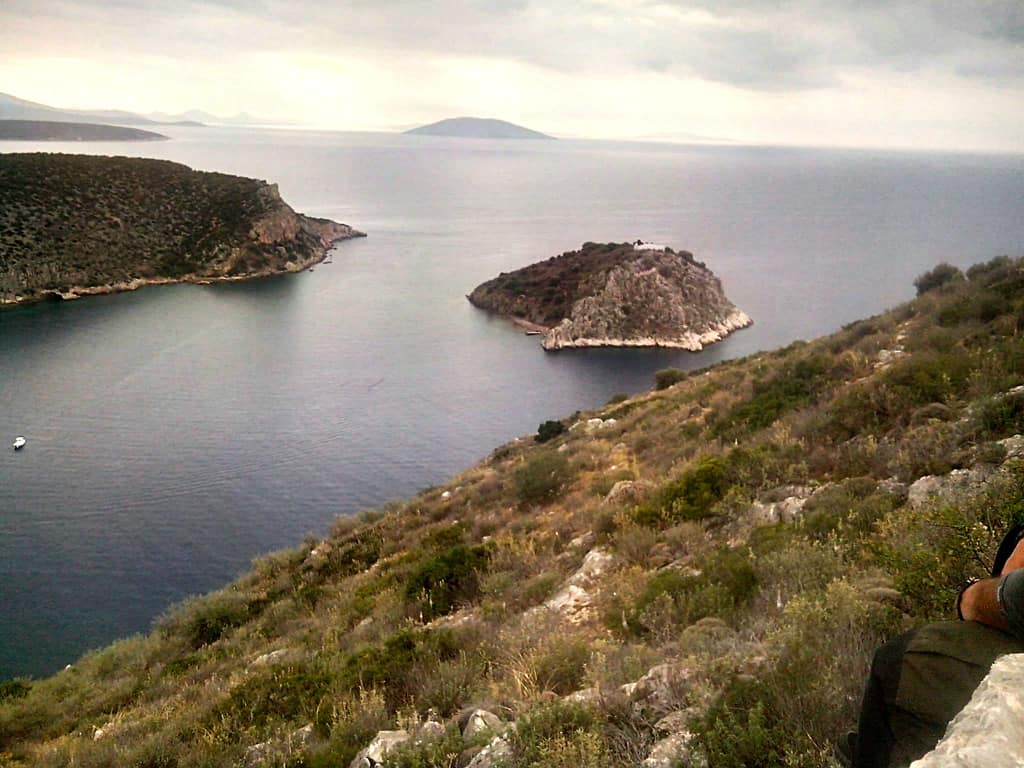 George had prepared snacks and beverages for this break and we honored them all! We also took the path leading at the top of Daskalio (10 minutes walk) to see the view from there.
A small chapel (Panagia Zoodohos Pigi) is also there but the interesting part was the view. Oh, that amazing view.
We stood there just gazing at the open sea from the top of the cliffs.
Time flew by, once more. We were in and out of the sea for almost for 5 hours.
It was time to return.
We paddled back. We encountered waves again, but this time we had the wind on our back and it took us far less time to return.
Entering the harbor of Tolo was another one of those moments that stuns you with its beauty.
A beautiful 2-day sea kayaking trip was coming to the end and we had one of the most beautiful adventures, while we learned a ton of things for the area and sea kayaking Nafplio and Tolo.
The area of Argolida, where Nafplio, Tolo, Epidavros and many more places are included, is one of extreme green plus the sea.
It is like you are located in the center of Peloponnese with access to different experiences, while (with minor exceptions) the area is not heavily "tourist" oriented.
"Divine" Ice Cream after Sea Kayaking Nafplio and Tolo
Even at local bakeries, you can enjoy much more quality in food pastry like cheese or spinach pies.
This expands to sweets and all kinds of food. Which brings us to ice cream!
We were not much hungry after George's snacks but we wanted some kind of treat for our sweet tooth.
Do not! I repeat.. Do not leave the area without trying "The Epidavros Ice Cream" in Lygourio!
It is homemade and the taste is orgasmic! It was our first summer ice cream.
Definitely try the flavors of Yogurt with Pomegranate and Chocolate Parfait! The first one is a mouth exploding combination, while the latter has nuts and berries in it, all from local producers.
This was a perfect closure for us. We left that place with a great taste in our tongue and in our minds, along with our relaxed -yet exercised- bodies.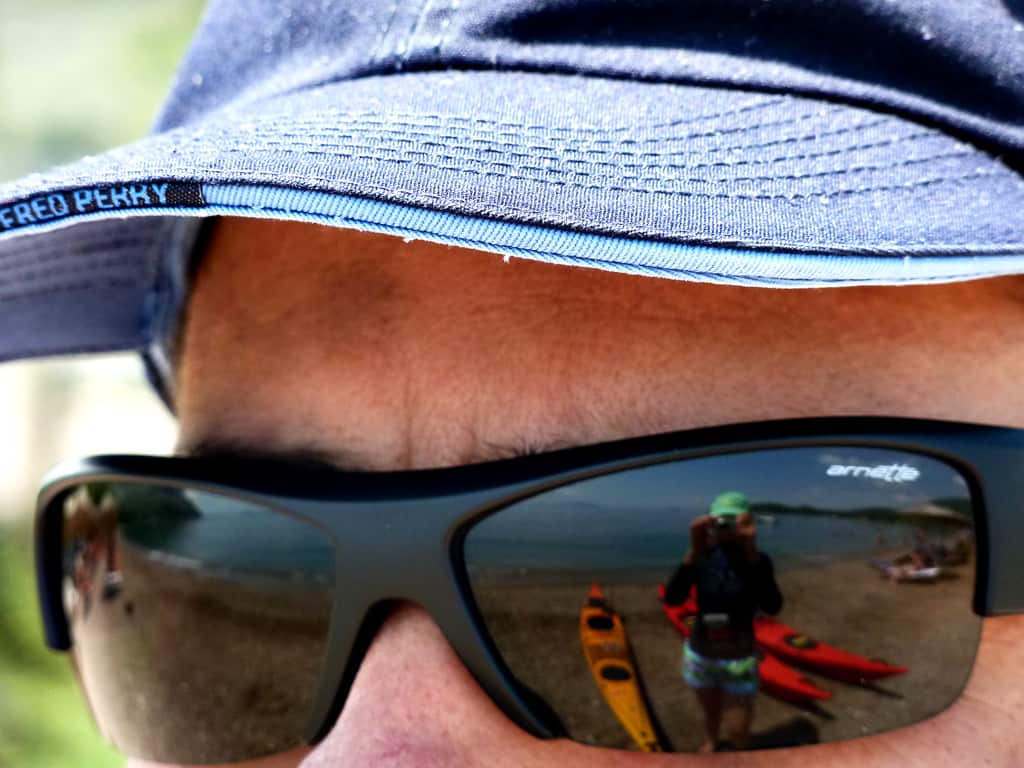 Definitely an experience to have.
We want to thank our host and sea kayak trainer, George Pavlopoulos of Sea Kayaking Argolida for his caring and interest to have a great time as all his guests have.
Feel free to contact him through the contact data (website, Facebook page) you see below.