We loved Chios Greece. The island has lots of outdoor activities, fantastic beaches, and great food.
Seven hours by ferry from Athens (or far shorter by airplane), and Chios Greece will reveal itself to the North Aegean traveler.
Things like the mastic tree and the roots of the Greek shipping industry have their origin weaved with this island.
Chios is not one of the mainstream destinations that are commonly found in various travel catalogs
Chios island is large, has tons of things to do, suitable for all kinds of travelers, and six days aren't enough!
You will not have the chance to get bored. Every day will be a different experience. If you go to Chios Greece, you can make plans for comfortably staying there for ten days.
Here is our "log" of things we did and saw.
The Villages of Chios Greece You Have to Visit
Our tribute to the island of Chios Greece starts with the three medieval Chios villages.
These are the well known Mesta, Olympi, and Pyrgi.
These three villages are Medieval villages. Mesta is exceptionally well preserved, while Olympi and Pyrgi have a mixed character of modern and medieval characteristics.
Mesta Village Chios, Greece
What was our first impression when we arrived in Mesta? It was like, "where is the entrance to the village?"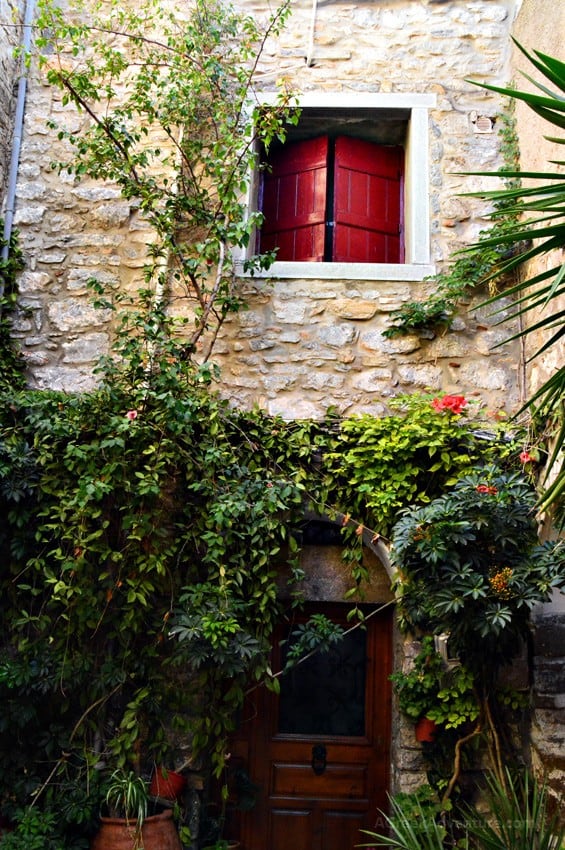 I mean, the whole village is built as a one-level fortress, so it has specific entry points which lock with iron gates (not anymore but they are there).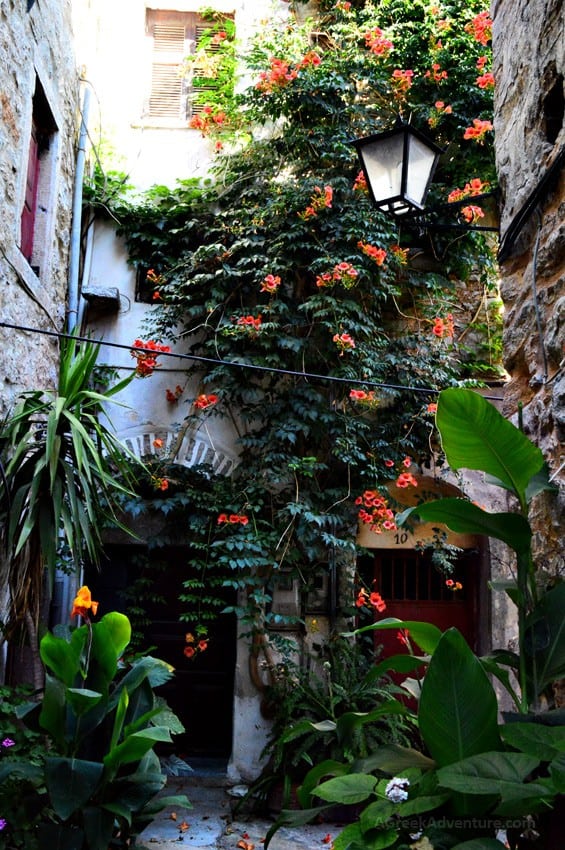 Visitors must try to get lost through its narrow pathways deliberately.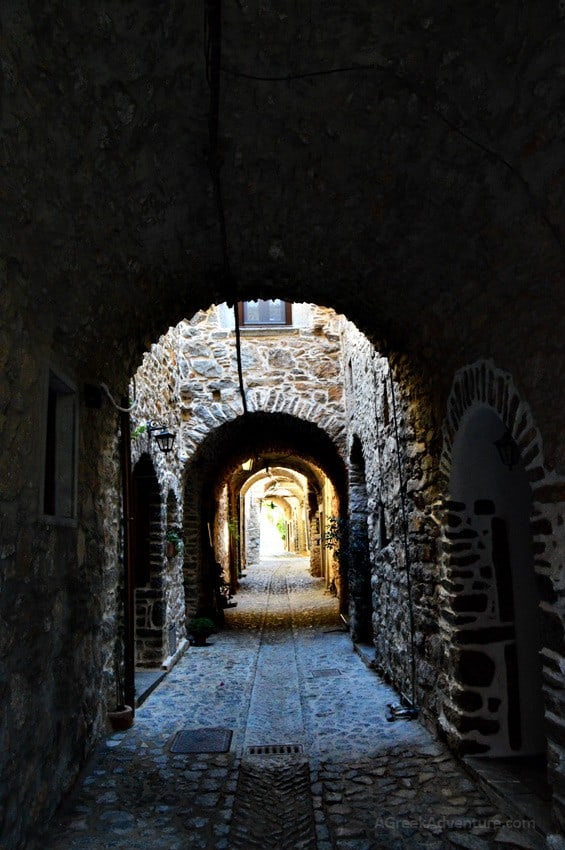 After a few minutes, you have the feeling of being lost in time and space.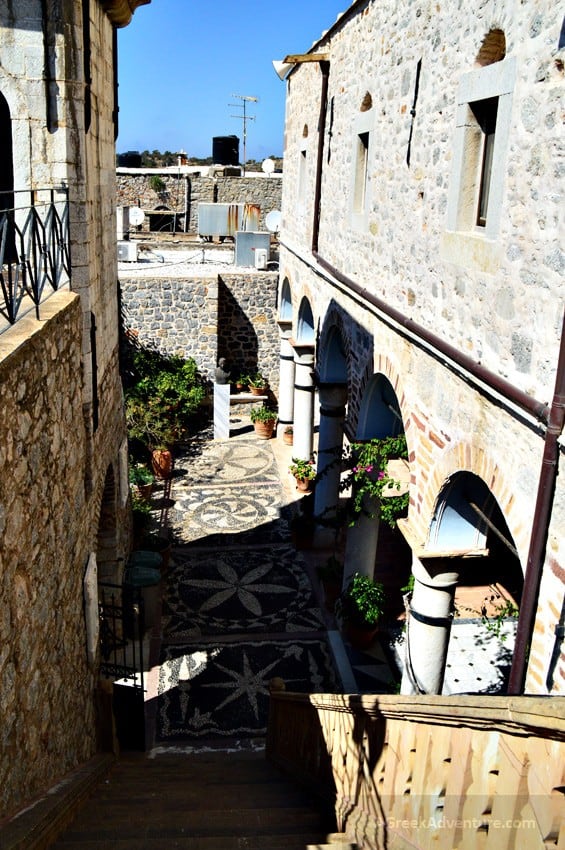 We tried that after leaving our luggage at Ergani studios.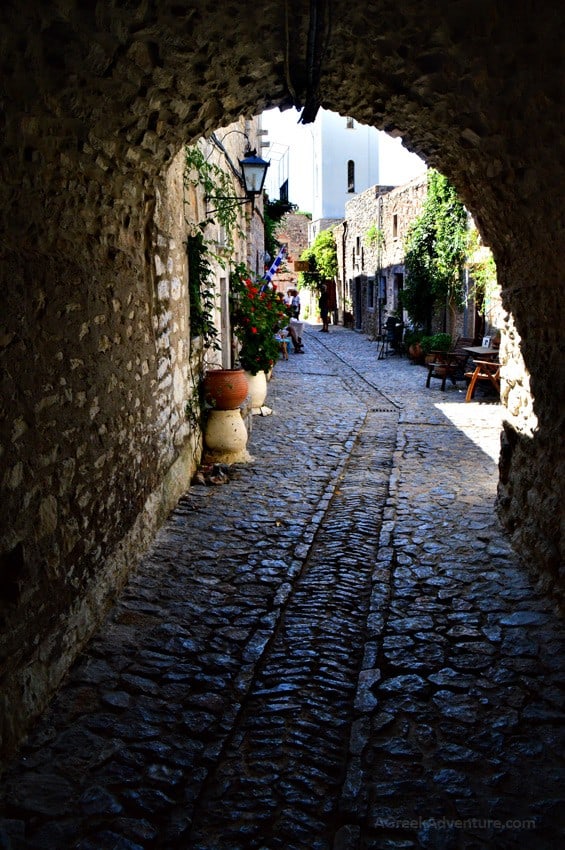 And that's just a portion of Mesta.
Also read: Medieval Rhodes Old Town Greece 2022
Olympi Village in Chios
If you remember, through another post of ours, Olympi is close to the Cave of Olympi.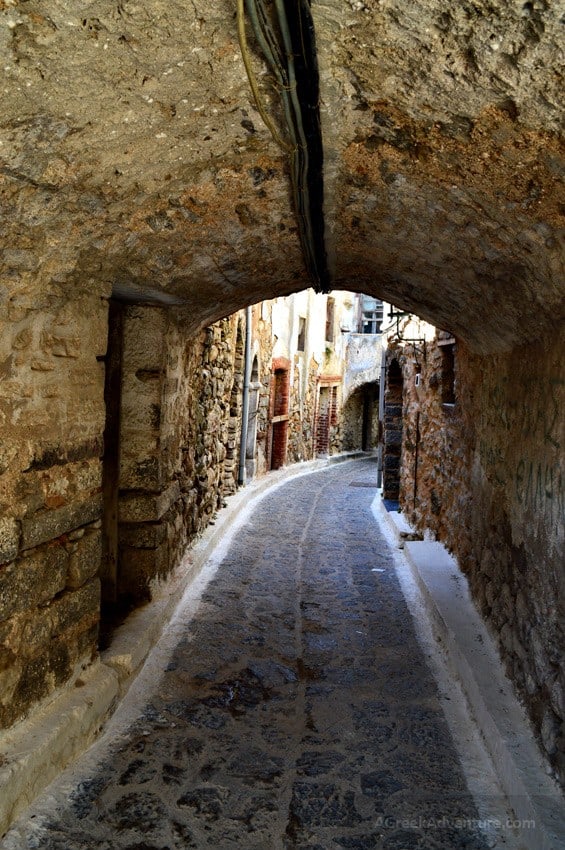 So, you can combine both. The village is also stone-built, but it has modern houses too.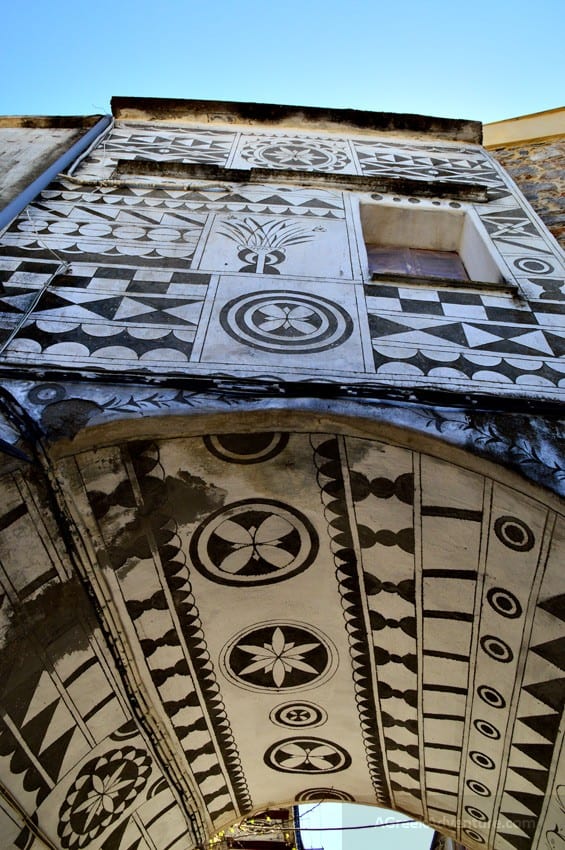 Do you see how houses connect in all medieval villages? In the end, they consist of a single fortress, so all enemies were doomed.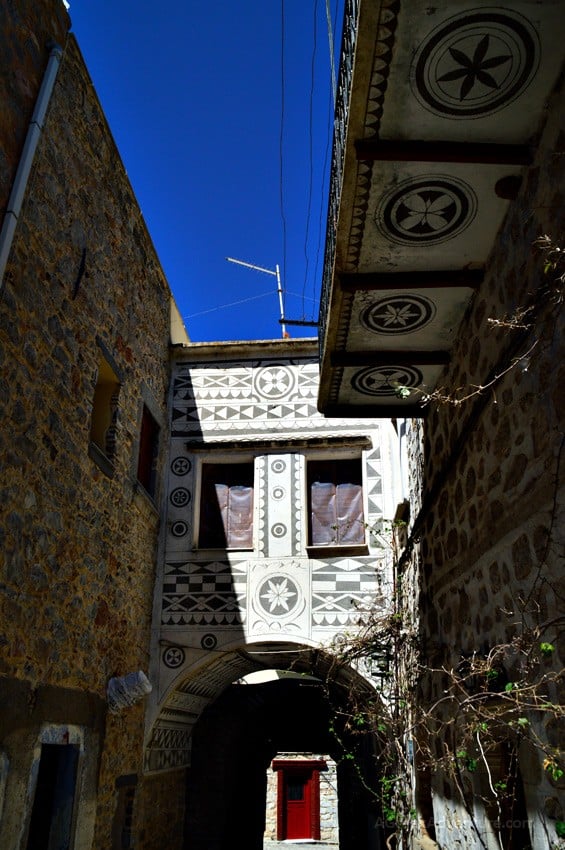 ,
Find some time to enjoy a refreshment under that shade.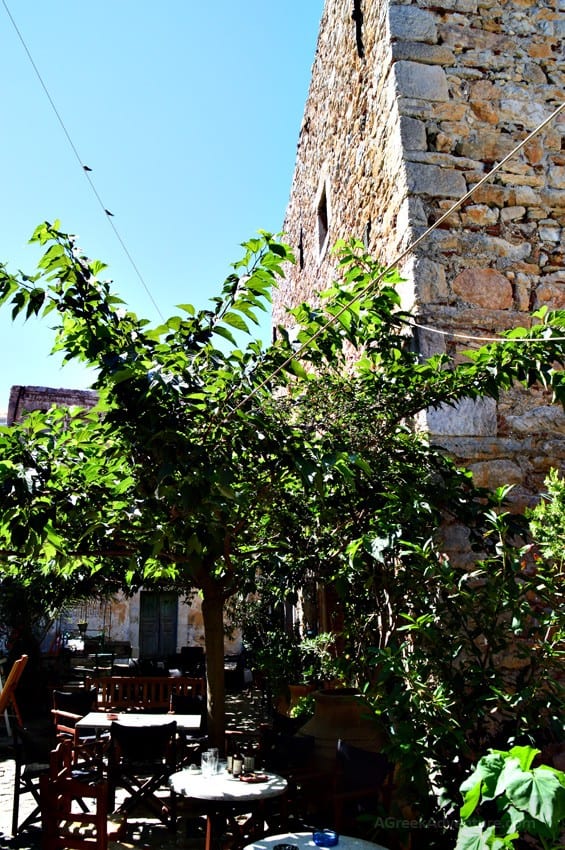 Moving out of Olympi, you need to drop by Pyrgi. The concept -regarding decoration- is the same, but it has more squares with lots of shade.
Pyrgi, Chios Greece
Here the modern element is dominant, but the locals kept this geometric style in many places.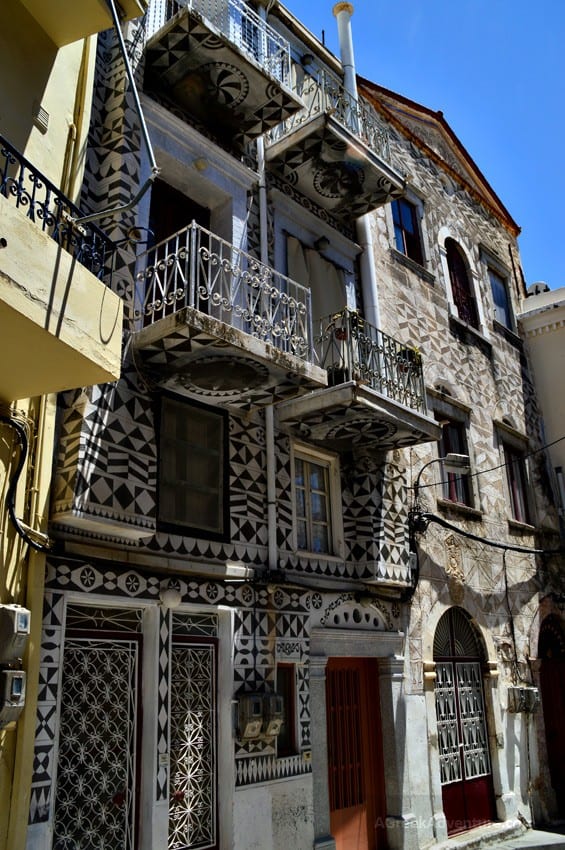 The whole village looks like it is in a transition from the old to the new.
Allow time for this square.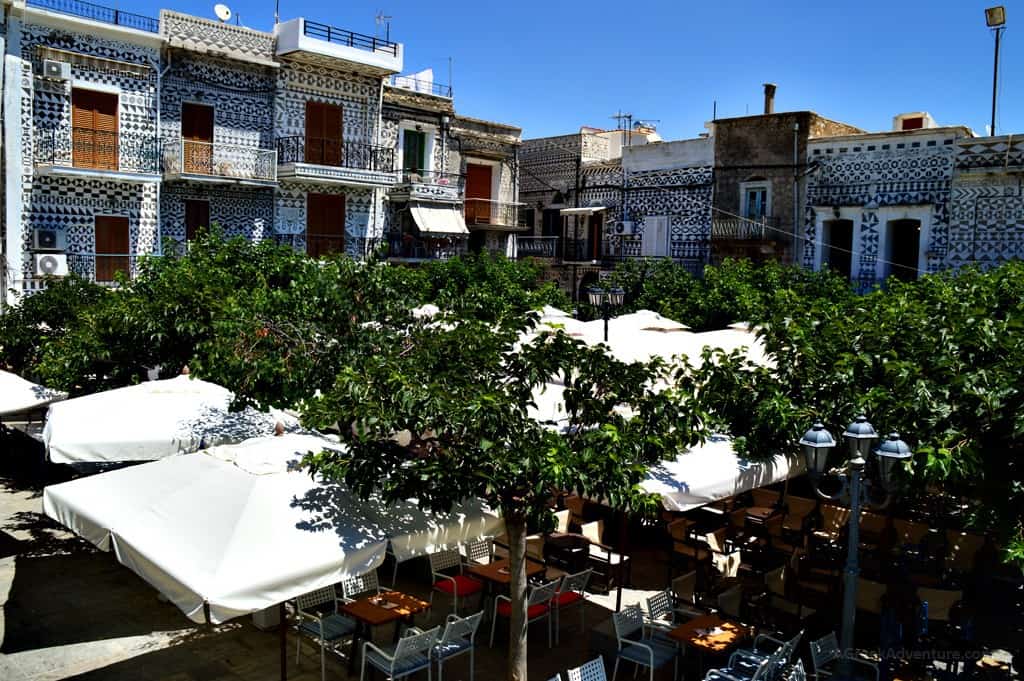 Old and modern, mix, and matched (?)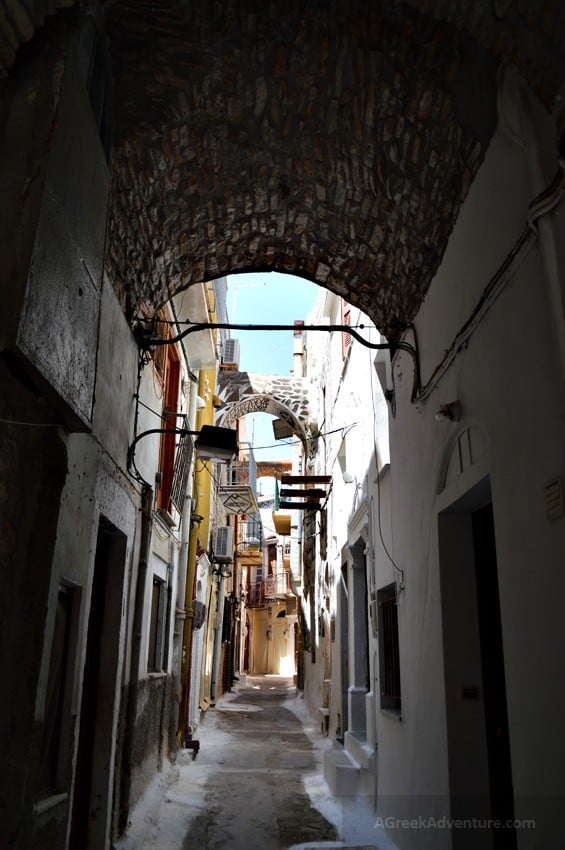 We spend lots of time going around and "getting lost" in these narrow pathways in all villages. But this is the way to explore and find small gems.
Volissos Village, Chios Greece
Volissos is a very serene and quiet village in the north part of Chios.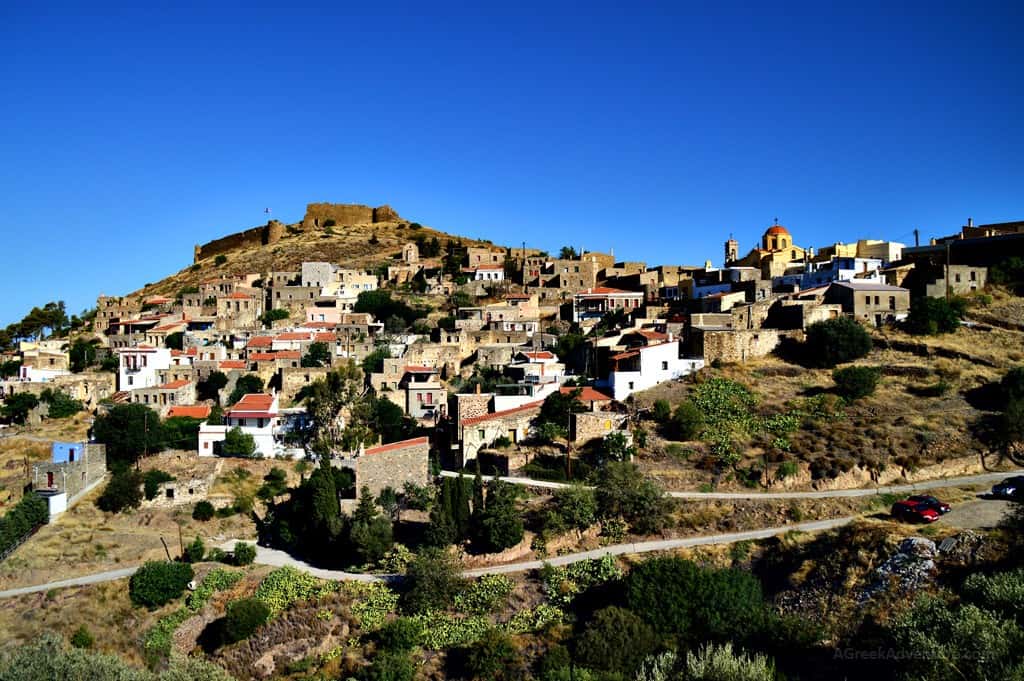 As you look at the town, it seems that it is divided into two parts.
The upper part looks like part of a castle, while the lower one seems a bit more "modern".
The village is charming for a walk and to have your accommodation and base there. If you want quietness, this is the place to be.
Also read: 15 Best Things to Do in Milos Island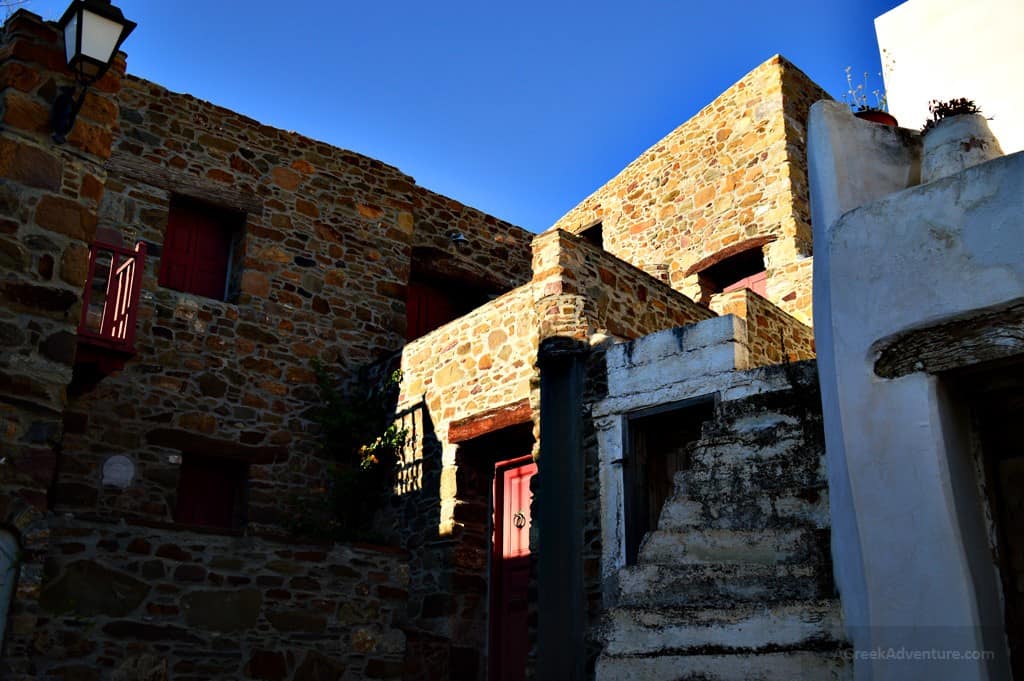 You can walk up to the medieval castles. The view is breathtaking.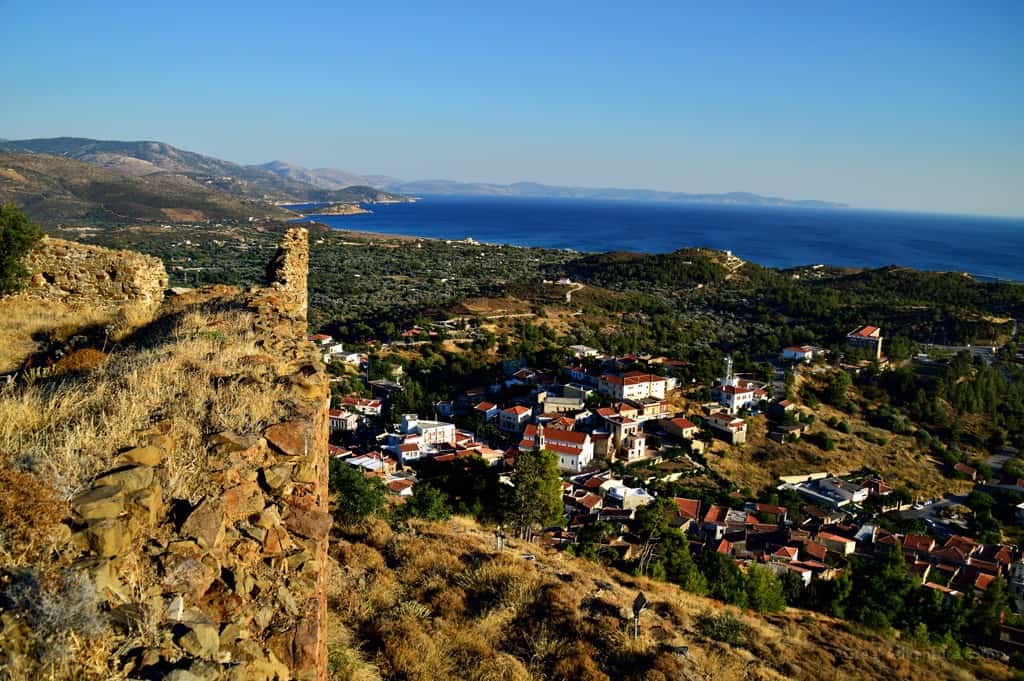 The upper part of Volissos, prior reaching the castle, is terrific, too, and it has kept the traditional style of the area.
Being in Volissos, you should go for swimming to a variety of beaches close to the village. Like the Managros beach.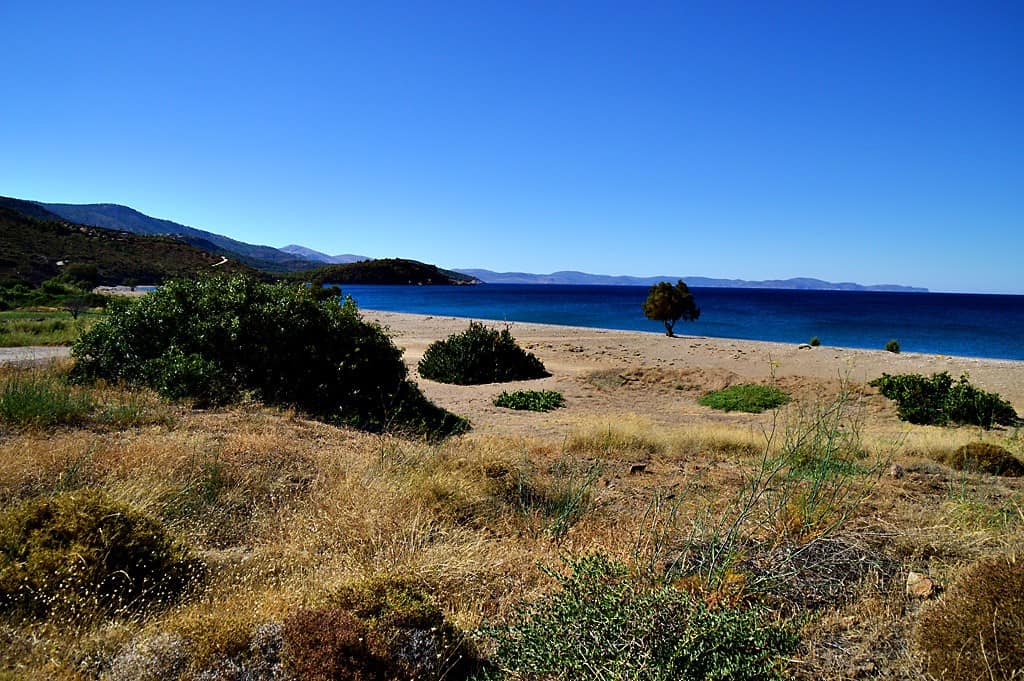 The village of Limnia is very close.
Suitable for having an afternoon drink and lunch/dinner.
While there, try the tavern of Limanaki.
The owner is the fisherman himself, so you have a significant number of chances to eat freshly caught fish and Frutti di mare.
Exploring Chios Town (Chora)
Here we visited the Kampos Citrus Museum on the island of Chios. Adventures at Chios island are on a rampage! In this post, I read about two controversial things.
This is not just "another" museum! Citrus is far from that.
The Citrus museum part is just one of the things you can do at their multi-function premises.
Combine this experience with your visit to Chora of Chios (aka, the port city) since it is just 15 minutes from there.
We think that it is best to visit this place when you land on Chios town or when you leave the island.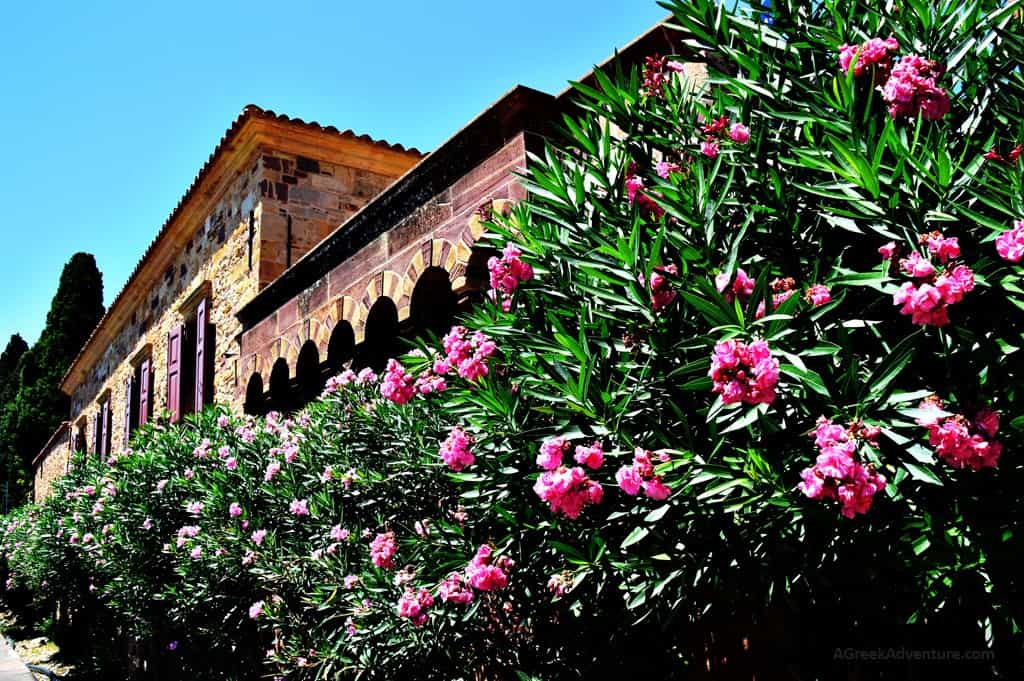 In the first case, you will have many different sweets to consume during your stay at Chios town.
In the second one, you will be able to get many sweet gifts for your loved ones back home.
Well, we are not sure either for the latter since you may get them and eat them all before moving to your next destination.
The whole premises of Citrus museum consist of a recreational area (with many things to keep kids busy), the citrus shop, and the citrus museum, plus the citrus fields.
Also read: Things To Know for Greek Island Hopping Fun

While at the "yard," it is enjoyable to have a walk or sit at one of the many areas of it. They are full of green, vines, and flowers.
One of the buildings houses the Citrus museum. It has lots and lots of things to see and learn about.
Here, the Citrus cultivation and trade history all over the world is depicted, along with tools of the business.

You will spend lots of time in the museum learning about the history of citrus and how it is related to the growth of Chios town.
Yet, at some point, you will want to visit the coffee/sweets house and shop.
You will want to try these different citrus-based products! Some of them have mastic flavor in them, too, like this coffee, for example.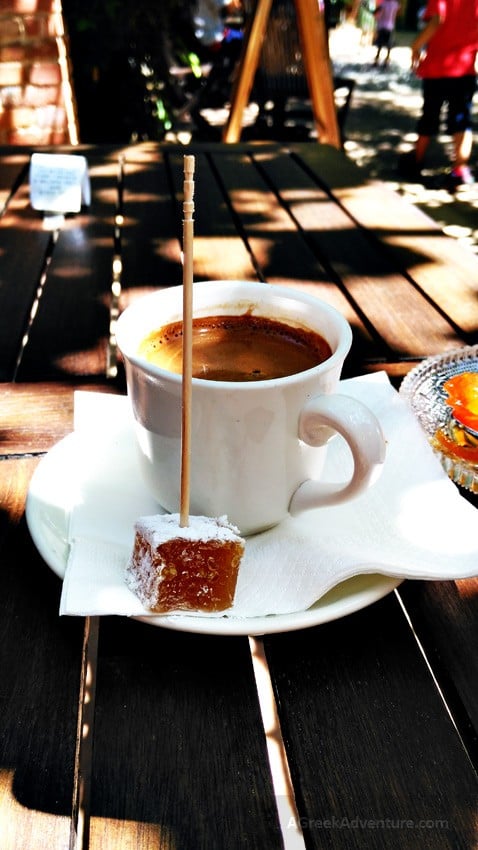 We taste orange pie wherever we find it in Greece.
I thought we had a winner somewhere in Oreini Nafpaktia. Yet, this one takes the Gold medal for now.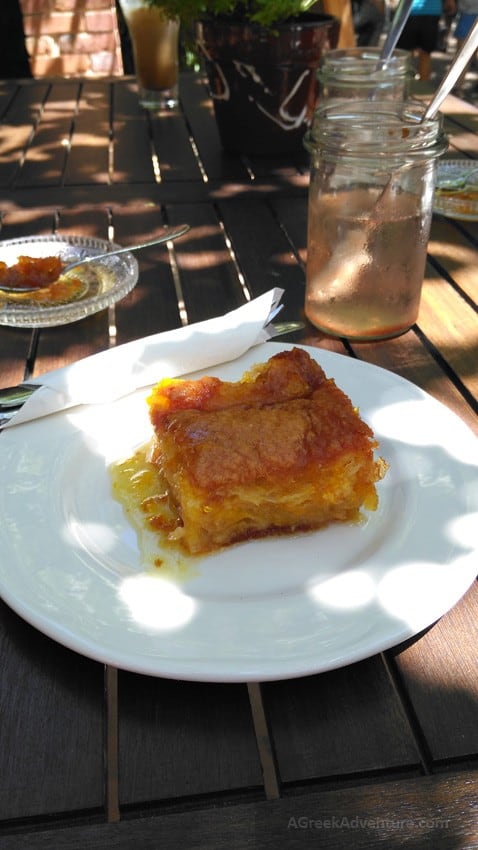 If your sweet tooth is not yet satisfied, try these too.
The ones in the big jar are called "submarines," and the other ones in the small plates are called "gliko koutaliou" (meaning a sweet that you eat with a small spoon).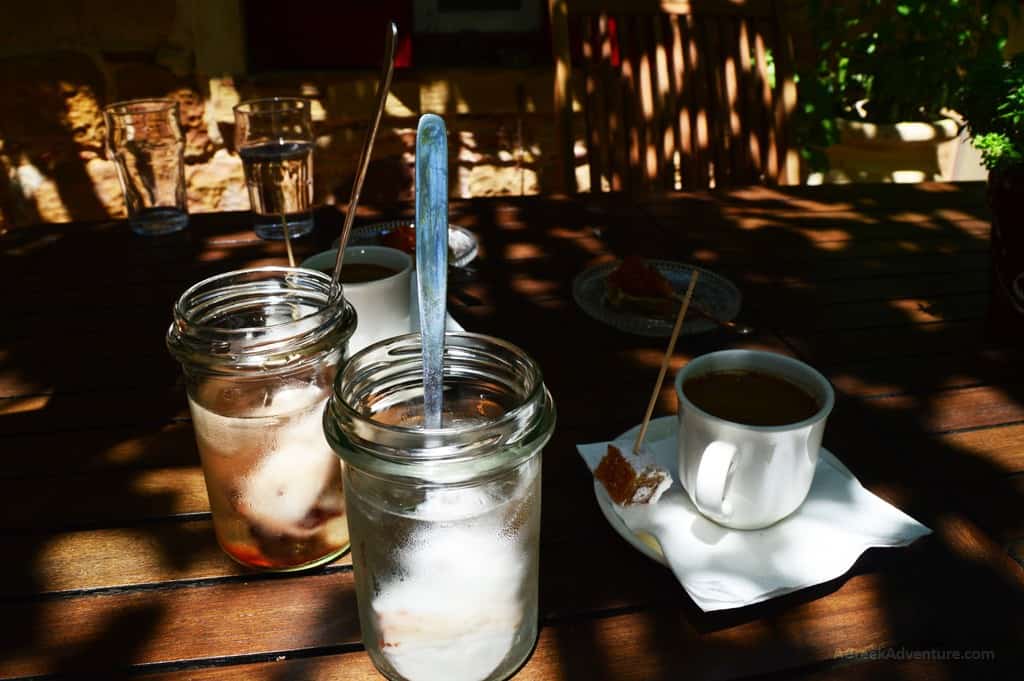 We are sure that your tasting experience will elevate your appetite for more. Feel free to enter the shop and buy some. You know, to "bring back home".
Well, that is a sweet experience. Right? Now, when you want to burn these extra calories, you can go to Anavatos village and walk uphill.
Outdoor Activities in Chios Greece
Chios Greece Mastic Culture
Mastic is a magical product that grows at the island of Chios island. That makes the mastic products of Chios known worldwide. It is known since old times that it helps in maintaining good health, healing ailments, and even dental caries.
During our trip to Chios town, we wouldn't miss this opportunity. We wanted to know about this excellent natural medicine, greek culture, and its history through ages.
Our guide for this adventure was Vassilis Ballas, owner of Masticulture, which offers Ecotourism experiences on Chios Island, Greece.
Vassilis returned to Chios, with his family, after many years and he knows his field. Along with the experience, he offers sea and cycling adventures.
It was an excellent opportunity to have this experience since it is near Mesta village, where we stayed for a couple of days (stay tuned for the article for the medieval villages of Chios).
Vassilis came fully prepared with a 4×4 vehicle carrying bikes, a sea-kayak, and lots of equipment, just in case.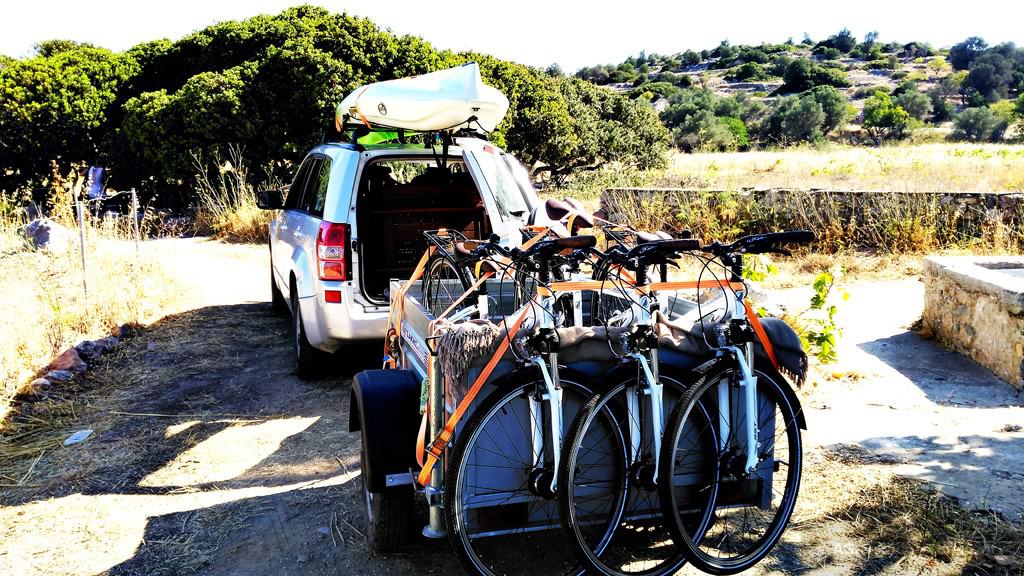 In 5 minutes of driving, we arrived at the mastic field.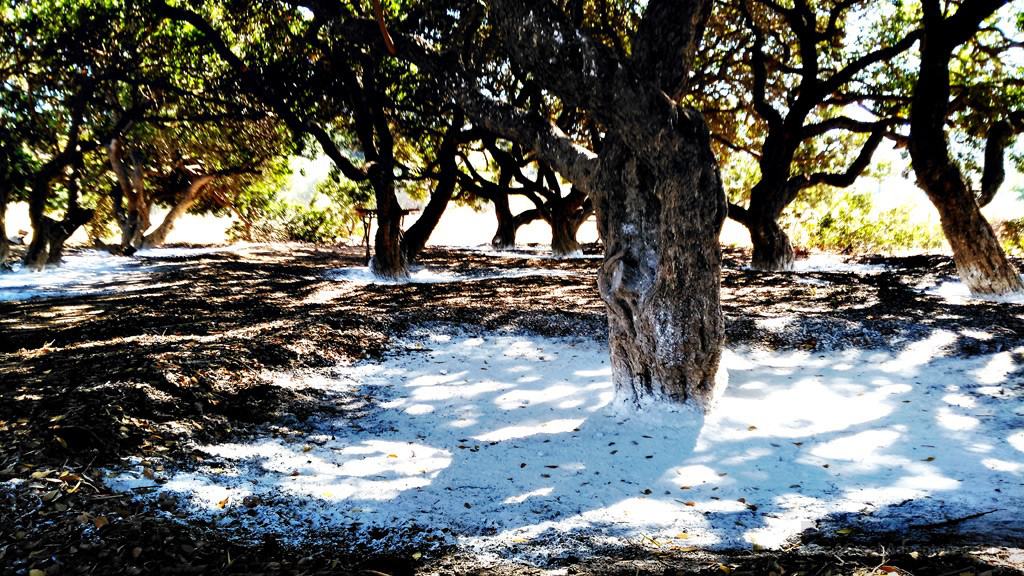 It was a beautiful one with lots of shading. You need to know that a tree is a bush. Mastic is not a "fruit", but the extract, the tree uses to heal itself from wounds. Interesting, right?
Vassilis told us about the history of harvesting and how it expands back into worldwide history.
That white powder you see under each tree is used to prevent the extract from sticking on the ground dirt.
Here are the simple tools of the trade to harvest.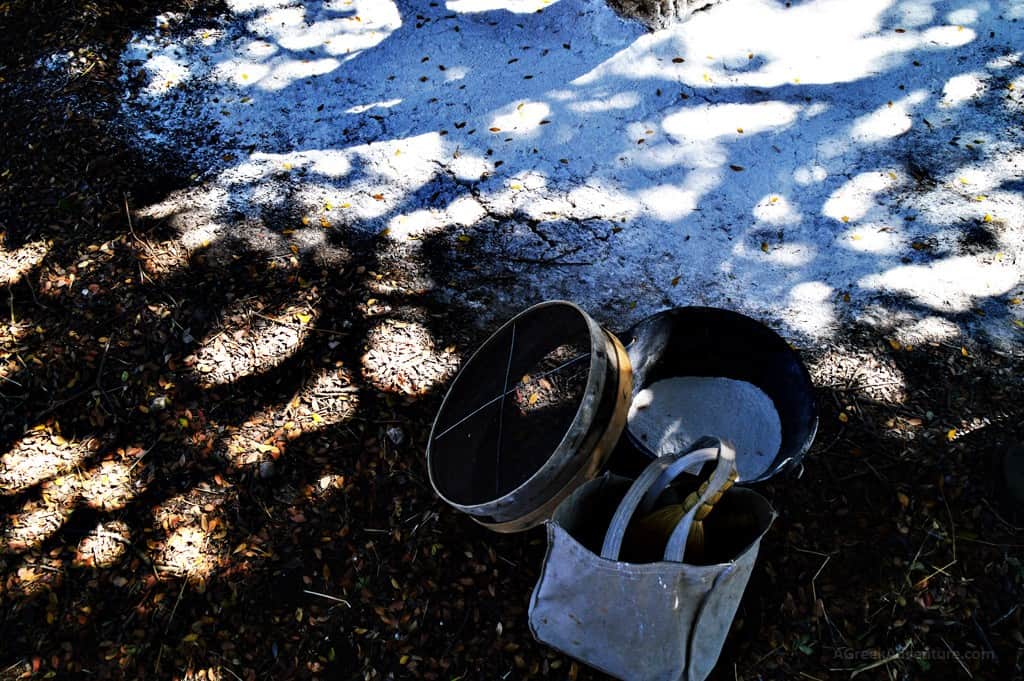 A preparation process is involved where the farmer "cleans" the trunk to be able to perform the "cut".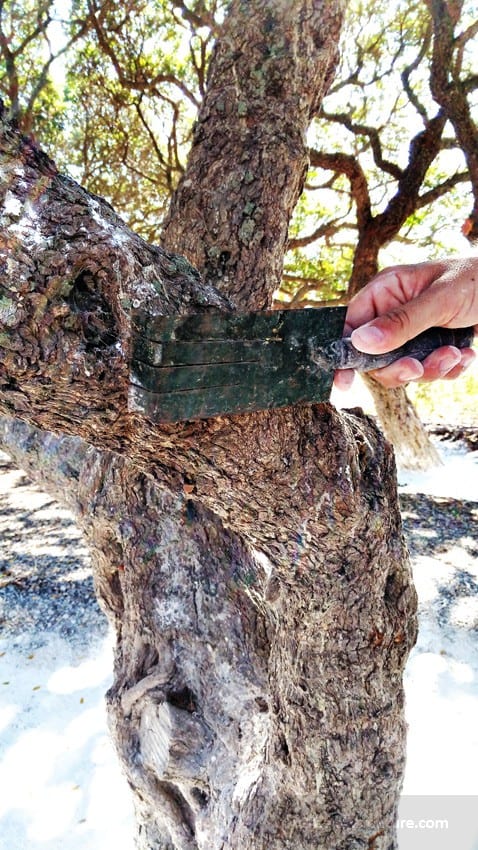 Then, he creates small cuts on the trunk with a small tool. A farmer needs to know how many cuts to do and where and how often. The tree must be treated with care to be able to offer its goods for a lifetime.
The tree starts the healing process, and thus this juice is produced. As it flows, it creates more significant concentrations and falls on the ground. It is like pearls.
Here is a close-up. This one is not yet quite solid, and it can't be harvested properly. At this phase, it is like a semi-liquid bubble. Like a pearl, right?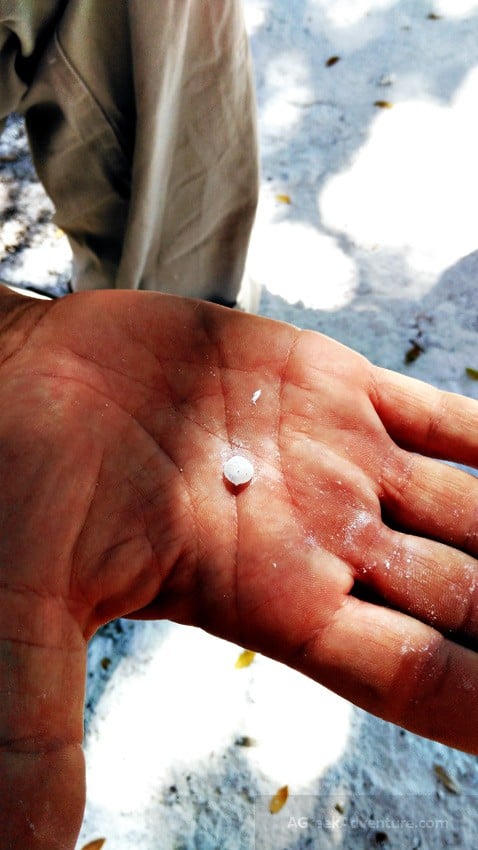 When mastic is thick solid, it is swiped from the ground. The farmer takes it through a sieve to clean up any small leaves and such, and it is made to the factory for further process.
Vassilis has a surprise for all his guests and clients, by offering local freshly cooked products of Chios for lunch, right there in the field.
Which, of course, is accompanied by some local wine.
That was an excellent way to start the day and get some energy before moving to the Mastic Museum.
We packed and left from the mastic field, eager to explore the newly inaugurated Chios Mastic Museum. The Chios Museum is created and functions under the provision of the Cultural Foundation of Piraeus Bank Group.
Also read: Why Visit Eze Castle France and Village?
Sailing Around Chios Greece
Chios town is well known for the upcoming of numerous Greek shipping magnates. It is an island with strong relations to shipping and sailing. When you are there, you have to allocate some days for sailing holidays.
So, after exploring Volissos and hiking through Kampia, this was another adventure for us. We knew it would be a lovely yachting tour, after looking at the website of Chios Yachting, but the reality exceeded far more what we thought we would experience.
This, especially when you have a great crew as we did. George and Maroussa is a guarantee of having a good time.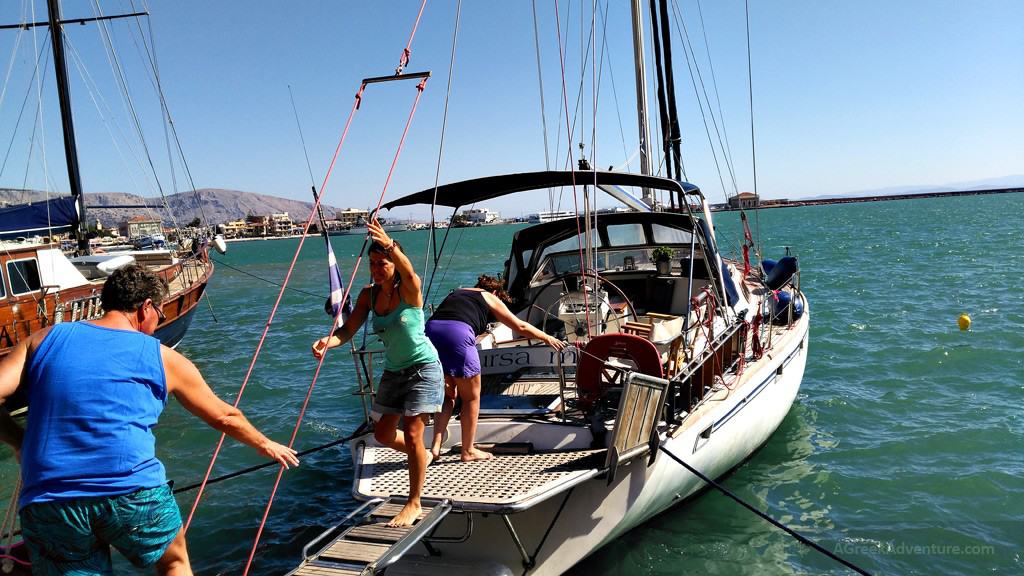 The boat was a 20mt one. Very comfortable for eight passengers. And so, our sailing holidays part began.
We sailed towards Oinousses. Then we stayed close to the area for some swimming, passed closer from Oinousses again, and then return.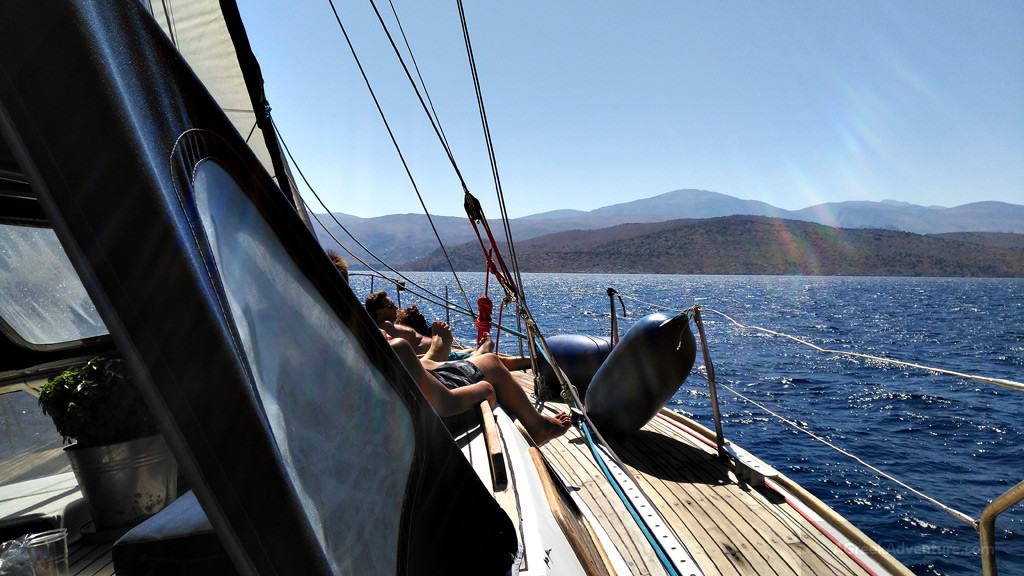 Here are some friends following us, waiting for the boat propeller to bring some fish to the surface.
Sun was scorching, and whenever we were able to catch some shade, we did.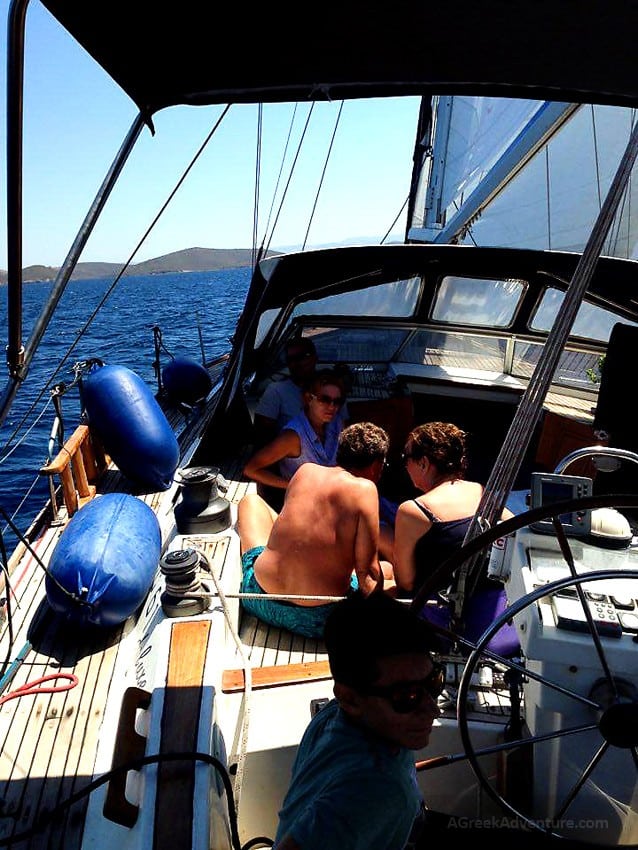 The famous mermaid outside, Oinousses island. Sailors sail by and pay their respect.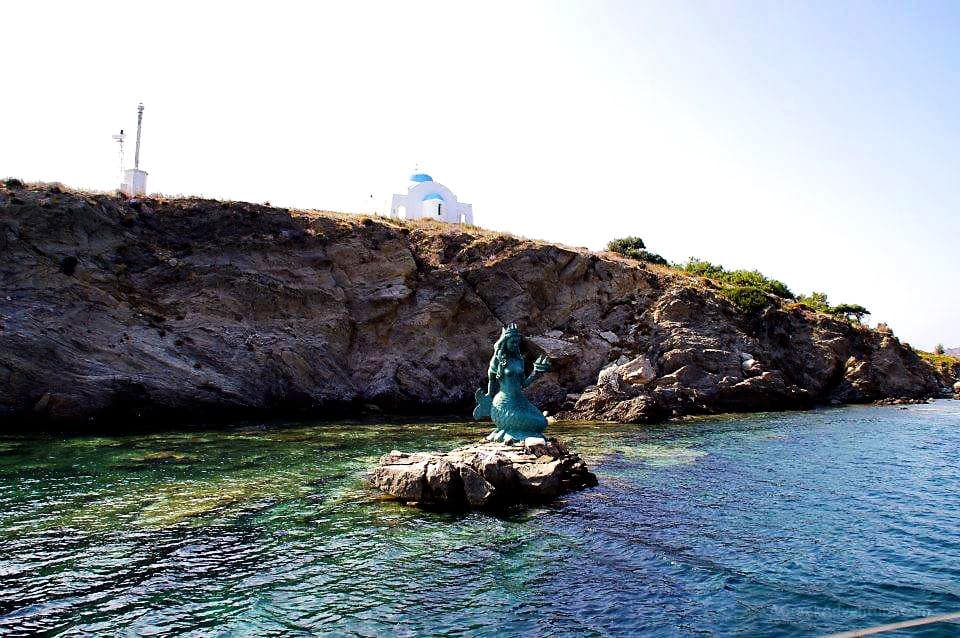 You've heard the story about the mermaid and the question about Great Alexander, right?
The story goes like that: A mermaid emerges out of nowhere and stops boats in the open sea, asking them if Alexander the Great is alive. It is a trick question, though.
You have to answer "Yes he does and he rules the world". Otherwise, you kiss the bottom of the sea along with your ship.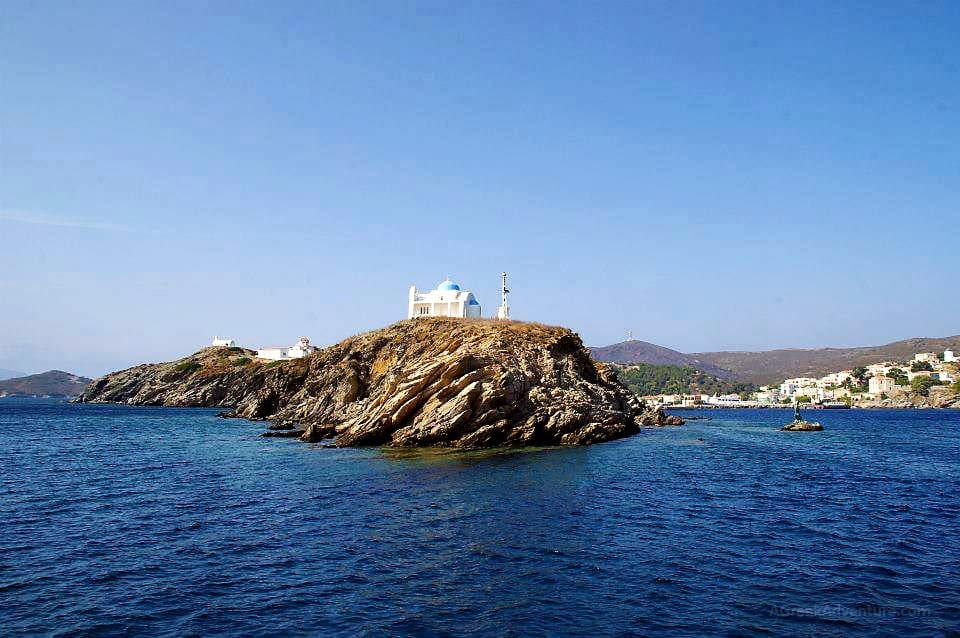 On our way back, we stopped at Lagkada village.
A charming small village, nicely positioned with a great view. It is suitable for some refreshments and lunch or dinner and to enjoy a promenade walk.
We had some huge ice cream dessert after our lunch on-board.
We also had some time to explore Lagkada. Here it is.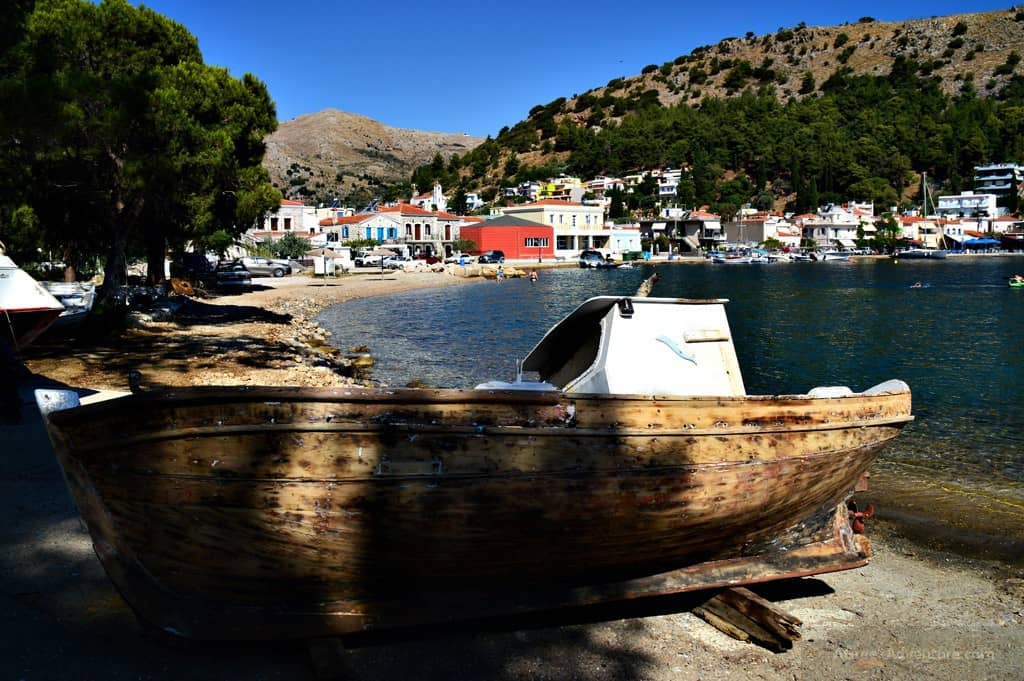 Last but not least, we passed from Agios Isidoros.
A lovely chapel, well known for hosting lots of weddings. Isn't it cute?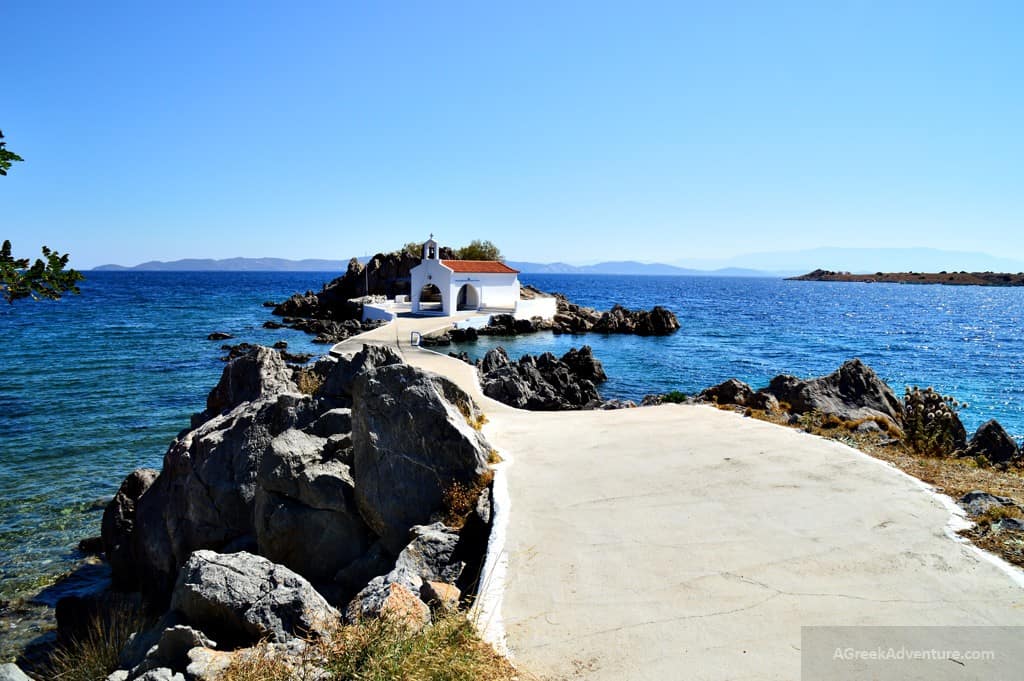 A few meters from Agios Isidoros chapel, there is a gorgeous beach with shade and stunning colors.
Ah, how time goes away fast when you have a good time.
We have been sailing for around 7 hours, and we returned to the port of Chios. This would be the end of our sailing holidays in Chios town.
We were dazzled and had this sweet tiredness that emerges when you have a full of experiences day.
Such a beautiful island with so many things to do and experience. But that's not the end of our Chios Greece adventures.
Hiking Kampia Gorge Route in Chios
Here is our adventure hiking through Kampia Gorge on Chios. As you see, our stories about Chios island will keep on coming.
Kampia is a simple village of Chios, which is known for its hiking along the gorge.
The hiking route ends to the beach.
So, anyone who feels hot has a way to cool down before going up again.
You need to be careful to find the Gorge entry from inside the village. Two big labels are showing that, yet the actual point is slightly tricky to locate it.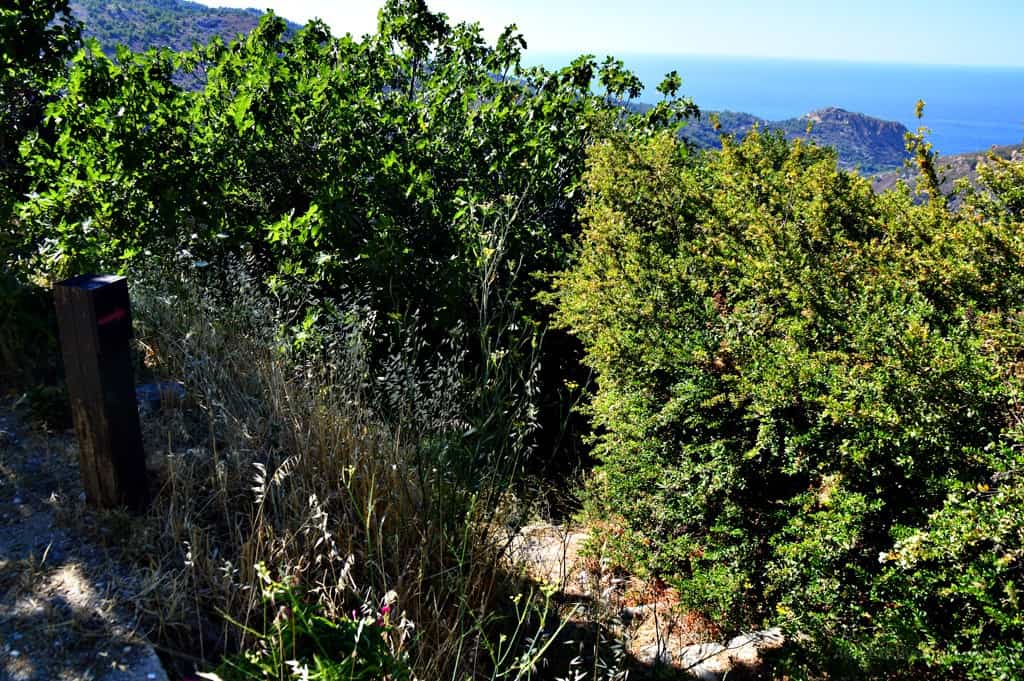 Either on your way down or after you return, you have to stop and admire the view from that location.
The whole route is mostly under shade (around 85% of it) and was well marked during the period we were there.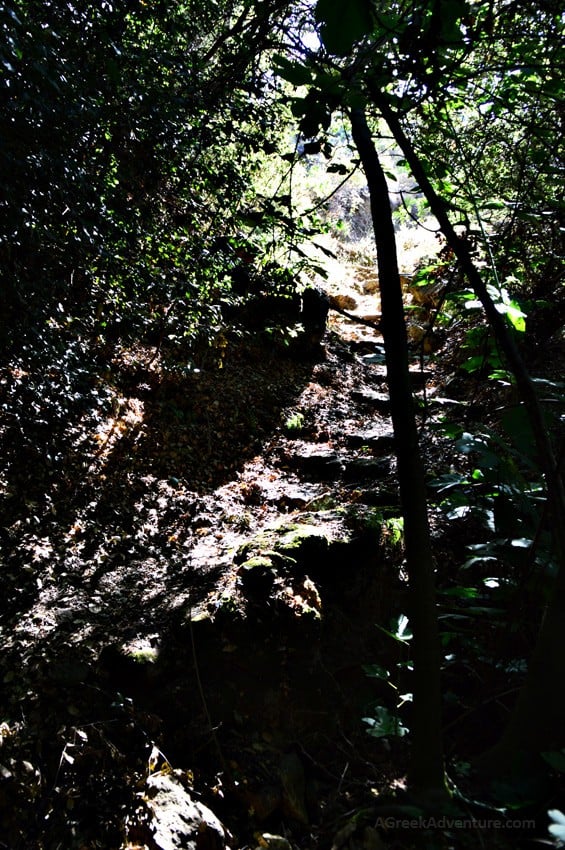 We didn't have a guide, and it was easy to find our way.
Make sure to have time.
The route, if you take it slowly, can be 4 hours both ways. Add some beach time to that (if you like), some quiet time too, plus time to stop and smell the flowers.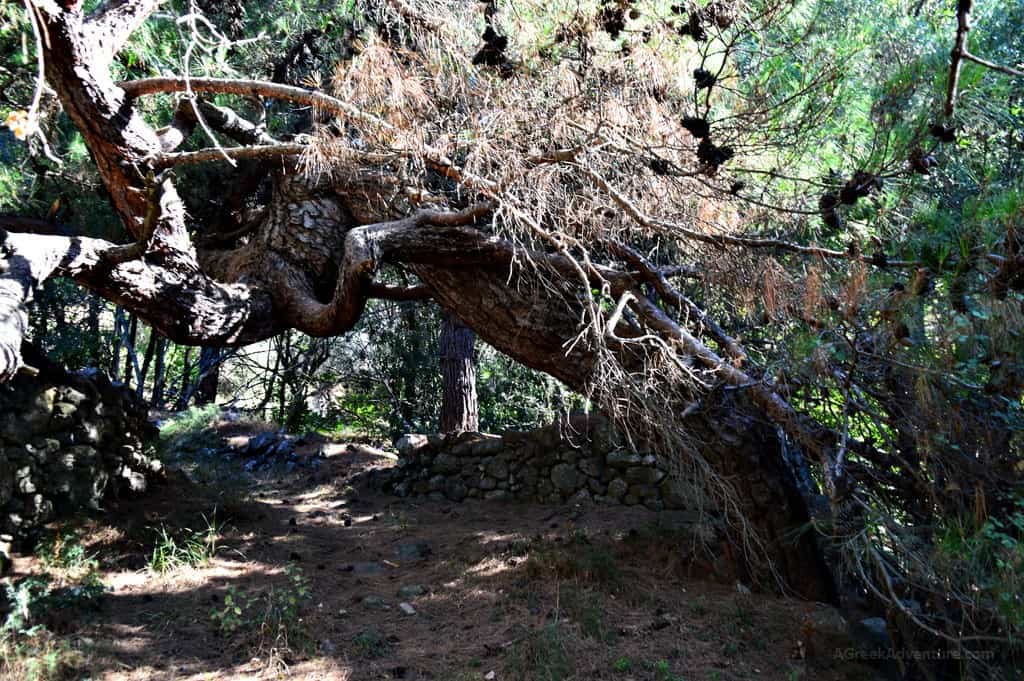 What we liked a lot was this thing. At many locations, signs were labeling the flora of this area. This gorge is used for school trips too.
While doing this gorge, preferably wear long trousers or sweat pants (actually, you have to wear such in hiking anyway).
The reason?
Along the path, in different places, there are things like vines with thorns. Well, it is nature out there, and you have to comply with nature.
The area has plenty of water too. It was mid-July when we were there, and there were small rivers and such.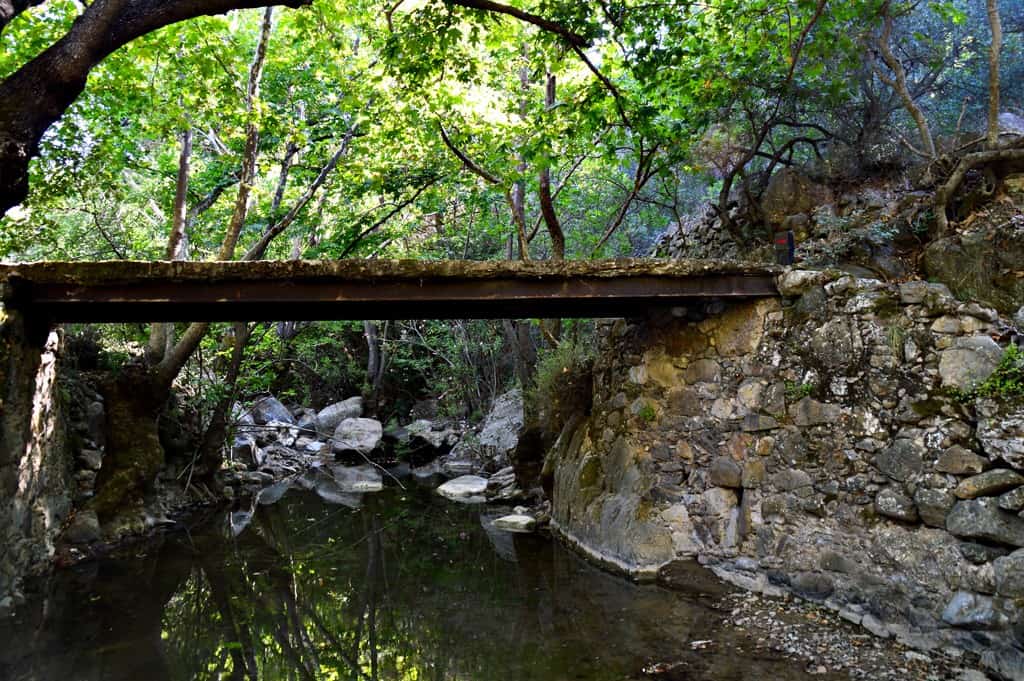 Along the route are small ponds and many small bridges. These are mostly used during the months where water is high enough.
At the exit point and after 10 minutes walking you arrive at the beach!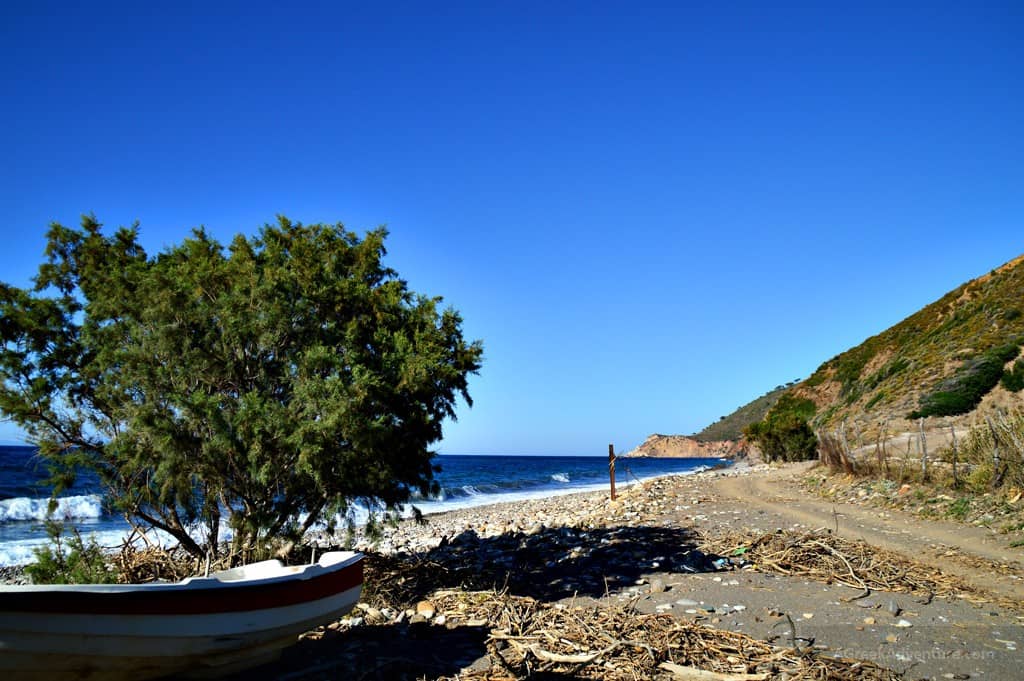 There are some pretty beautiful churches there, and it is a lovely resting and picnic place.
To go back, you have two options.
Either to do the same route or walk the dirt roads at the left or the right of the gorge. We did the first one.
We went through the gorge again, so we are not very sure if these two roads land very close to the village.
And of course, we celebrated that by eating a couple of fruits, from the free-to-take pears tree at the gorge entrance.
It was nearly 20.30, and we were a bit tired. The next day we would prepare for a whole day sailing cruise.
Thus we went back to Spilia in Kardamila to get some rest in our beautiful room!
Agiasmata Thermal Baths of Chios
From our accommodating host (Castelli apartments), we found out that there is an installation of thermal baths, quite close to Volissos. The thermal baths of Agiasmata are well known for their benefits.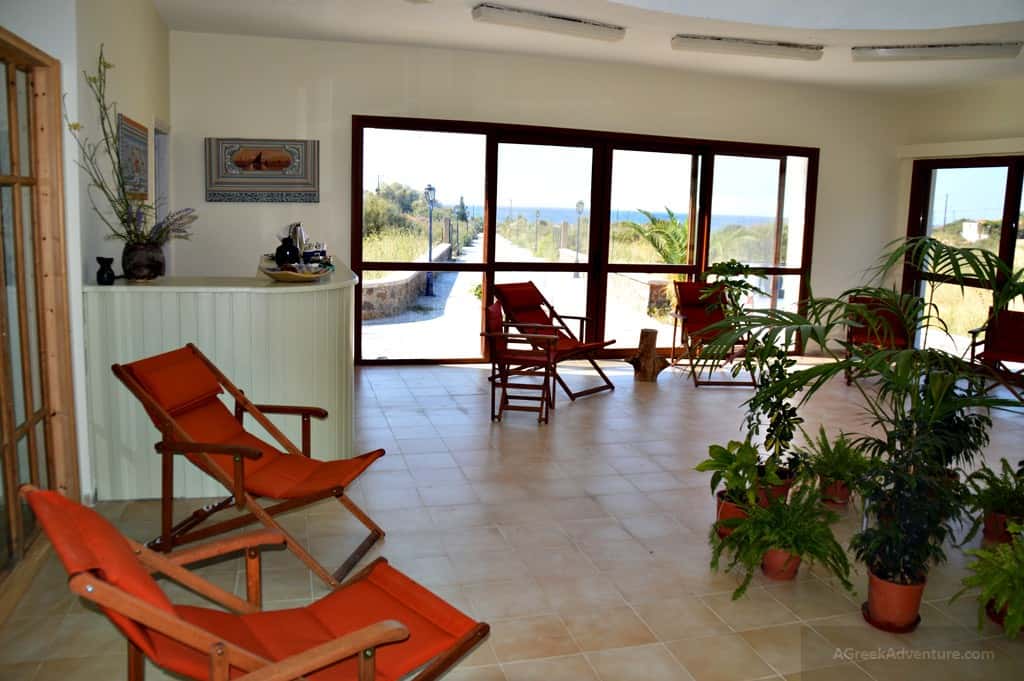 We tend to try such baths in every place we visit in Greece so that we wouldn't miss the opportunity.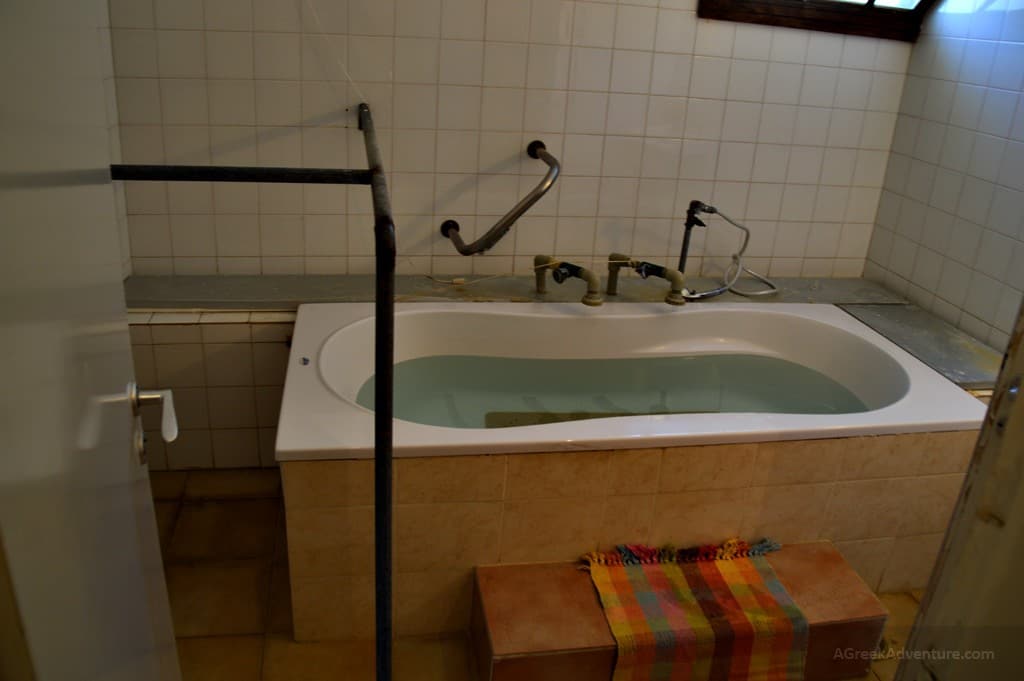 The ideal place to relax and revitalize.
Enjoying herbal teas, we took the opportunity to discuss with the people who voluntarily run this place.
One of them, George Chalatsis, provided lots of information for a variety of hiking paths in the area.
These hiking paths relate to important historical facts of Chios and the island's role in Greek history.
The installation is very close to the beach, so you can combine this experience with hiking in the old trails (before), and swimming in the beach (after).
Hiking Chios Island: Trails in the Amani area
The Amani area is in the north-west part of Chios Island. It is a remote virgin area, ideal for people who want to relax and enjoy the sea, nature, and fresh food.
Follow the signed trails and visit the small sparsely-populated villages of the area where the locals will welcome you with a "souma" (local spirit) drink.
Suggested Hiking Chios Trails: Amani area
Volissos – Malagkiotis Valley – Panagia Neromylon – Volissos
Location: Northwestern Chios
Type: A leisurely walk through the plain of Volissos. Circular trail.
Degree of difficulty: 1 – Easy
Length of route: 8.826 m
Time: About 2 hours and 30 min.
Drinking water along the way: Yes
Max. / Min. elevation: 140 m / 10 m
The difference in elevation: 130 m
Suggested starting point: Volissos Square
Natural environment: Plain with olive trees and woodland, riparian vegetation.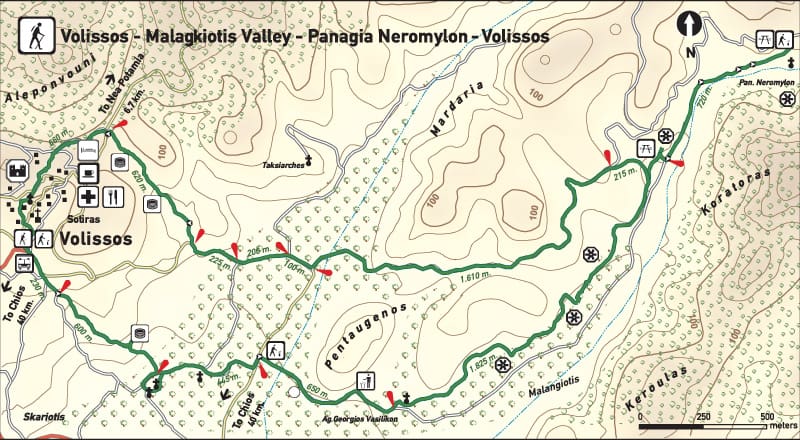 There is a good number of historical places in this area. You will see:
The Church of Metamorfosi Sotiros in the center of Volissos
The city of Vasilika, site of the old Church of Agios Georgios. The church is closed because restoration work is in progress.
At a distance of 1.8 km. from Agios Georgios, we encounter four water mills. At the fourth water mill, there is a resting area equipped with wooden seats. The first mill has been abandoned, but we can see the well-preserved sluice and mill race.
Τhe chapel of Panagia Loutron or Neromylon and the fifth water mill
The Castle of Volissos
The village of Volissos
The traditional village of Volissos is situated at about 40 km from Chios town, and it is built on the side of a tall and steep hill, at the top of which stands a medieval castle.
The castle was built during the Byzantine period, and in the mid-15th century, it was restored by the Genoese.
According to tradition, it is considered a project of General Velissarios (6th century); however, based on research is most possible that its construction dates back to the 11th century during a period of a general reorganization of the greek islands. In the mid-15th century, the castle was restored by the Genoese.
The visitor can stroll through the narrow streets and the picturesque stone buildings and then rest in the traditional cafes and restaurants.
Near the village, there is a small port, Limnia, which has been transformed into a fish boat shelter. It is a picturesque small port, with local fish taverns and also a nightlife hot spot that attracts both tourists and locals.
From Limnia, it is straightforward to sail to Psara, where you can enjoy fantastic lobster and seafood.
In the area, there are many beautiful beaches like Managros, a sandy beach and one of the longest beaches of the island, with a total area of 40.000 square meters, Limnos, a long beach, with sand and small pebbles and Lefkathia, a little closed bay of exquisite beauty, between two small hills.
The visitor can find in those beaches chairs and umbrellas to rent as well as a variety of high-quality rooms and apartments, taverns and cafes.
Agios Giannis – Agio Galas
Location Northwestern: Chios
Type: Hiking on mountain footpath
Degree of difficulty: 1 – Easy
Length of route: 2.540 m
Time: About 45 min.
Drinking water along the way: Yes
Max. / Min. elevation: 400 m / 230 m
The difference in elevation: 160 m
Suggested starting point: Agios Giannis
Natural environment: Typical arid land in Amani, with low vegetation, Spanish broom (Spartium junceum), and oaks.
This hiking trail links the village of Agio Galas with the settlement of Agios Giannis, which has been abandoned since around 1960.
It includes essential monuments of the island's cultural heritage and natural environment.
Contact information for hiking tours and activities organizers:
Mr. Vasilis Ballas – Mastic Culture Ecotourism Activities
Mr. Giorgos Misetzis – Spitakia hotel, Avgonyma, Chios
Mr. Nikos Georgoulis – Polychoros "Agio Galas"
Masticulture, Ecotourism agency, Mr. Vasilis Ballas
Citrus Museum, Citrus Museum, and festival, Mr. Vagelis Xydas
Adventure Holidays, BlueSailing, Sailing – Boat rental – Kayak – Scuba diving, Mr. Nikos Kladias
Chios Yachting, Sailing – Boat rental –Excursions, Ms. Maroussa Mamma
Project Blue Yachting, Sailing Yacht Rental – Sailing Trips Organization, Mr. Michael Tetteris
Ector Yiourgis, Scuba diving School at Apothika Mesta – Sea Kayak, Mr. Hector Giourgis
Nikos Xatzigeorgiou, Hiking – Canyoning, Mr. Nikos Xatzigeorgiou
Triantafyllia Androulidaki, Windsurfing, Ms. Triantafyllia Androulidaki
Chios Scuba – Vagelis Kirithras Scuba Diving, Mr. Vagelis Kirithras
Misetzis George, Hiking, Mr. George Misetzis
Ioanna Loukaki, Wedding Organising, Ms. Ioanna Loukaki
ΦΕΟ Χίου – FEOX (Naturalism club of Chios), Climbing, canyoning, etc., Mr. Antonis Vorrias
Chios Marine – Travel Consultants & Maritime Services – Services to sailing boats – Trips with motorboat around Chios island – Alternative activities, Mr. Michael Karatzas, Mrs. Katerina Louizou
Chios Unexplored, Experiential Eco Breaks, Experiential Eco Breaks – scheduled tours, Mr. Isidoros Tsouros
Chios Cooking Lessons by RealChios.gr – If you want to know more about Chios and Mediterranean Greek cuisine, delve deeper into Greek food or love cooking, then join one of the Chios cooking lessons prepared by RealChios.gr, Elias Siolis
Hiking at the Malagkiotis Valley in Volissos Chios Greece
Volissos Chios, Malagkiotis Valley, and Panagia Neromylon at the Amani area – these odd-sounding names are your keywords to discovering one of the most exciting hiking trails of the north part of Chios island.
Apart from the eight signed paths organized by the Regional Unit of Chios, the island's landscape offers a variety of natural and historical ways for the fans of hiking.
The route is: Hiking Volissos Chios –> Malagkiotis Valley – Panagia Neromylon – Volissos
This 8.826 km circular trail is accessible even to inexperienced hikers as it has a difficulty degree of "easy."
It is also one of the most exciting paths, as it can be combined with a daily excursion to Volissos, the medieval village, and the capital of the north-west area of Amani.
The trail starts from the square of Volissos medieval village, the biggest community of the Amani area, and a not to be missed spot, ideal for lunch, coffee, and swimming at its excellent seasides.
From Volissos square, walk through the olive trees of the Malagkiotis river plain.
In Chios town, we encounter the typical Mediterranean ecosystems. Species include the wild olive, kerm oak, myrtle, and laurel. The wildflowers during springtime create colorful scenery.
Many species are rare and therefore protected, such as the orchids.
So far, in Chios island, more 110 species and subspecies of orchids have been identified, making the trails a site of interest for naturalists and fans of orchids.
Hiking through the path, follow the wooden signs to find the old watermills, with their infrastructure still visible.
Don't miss the old chapels of Agios Georgios in Vasilika and Panagia Loutron, where you can have a picnic and rest. Agios Georgios of Vasilika has a striking façade with stone columns, arches, and an octagonal dome of red and white stone.
The trail will lead you past a fold, to the road that leads you back to the village.
Grab this chance to walk around the narrow paved streets of this lovely medieval settlement.
Visit the old castle, wander around the lovely squares, meet the locals at the village's coffee shops (kafeneia), and don't forget to taste the local souma (a spirit made from figs) and the bread that is made following an old, traditional, secret recipe.
Cultural Activities at Chios Greece
Exploring Chios Mastic Museum
The museum is not far from Mesta (around 20 mins, tops) and is close to Olympi village.
It is a very modern building in the middle of nowhere, which adds a "wild" tone to its overall beauty. Its role is to present the history of mastic gum, plus the ways it was (and is) grown, farmed and processed.
It is an excellent project and acts as a conference center, too (fantastic sound and visual installations).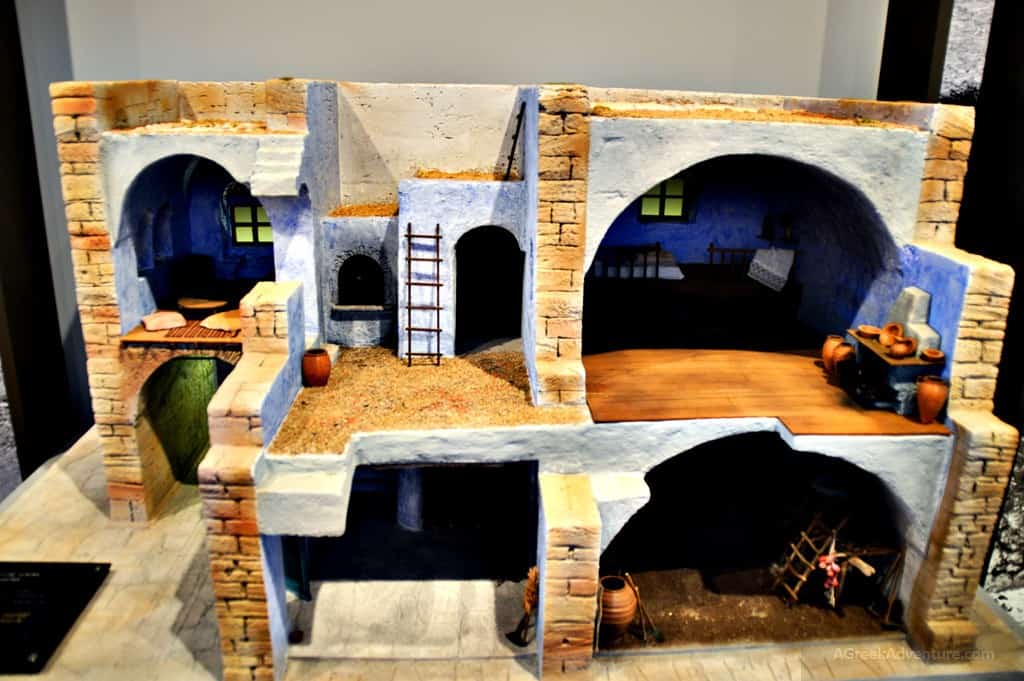 We saw areas like these below were props, mannequins, and miniatures that were used to depict the process of harvesting and manual processing of this gum.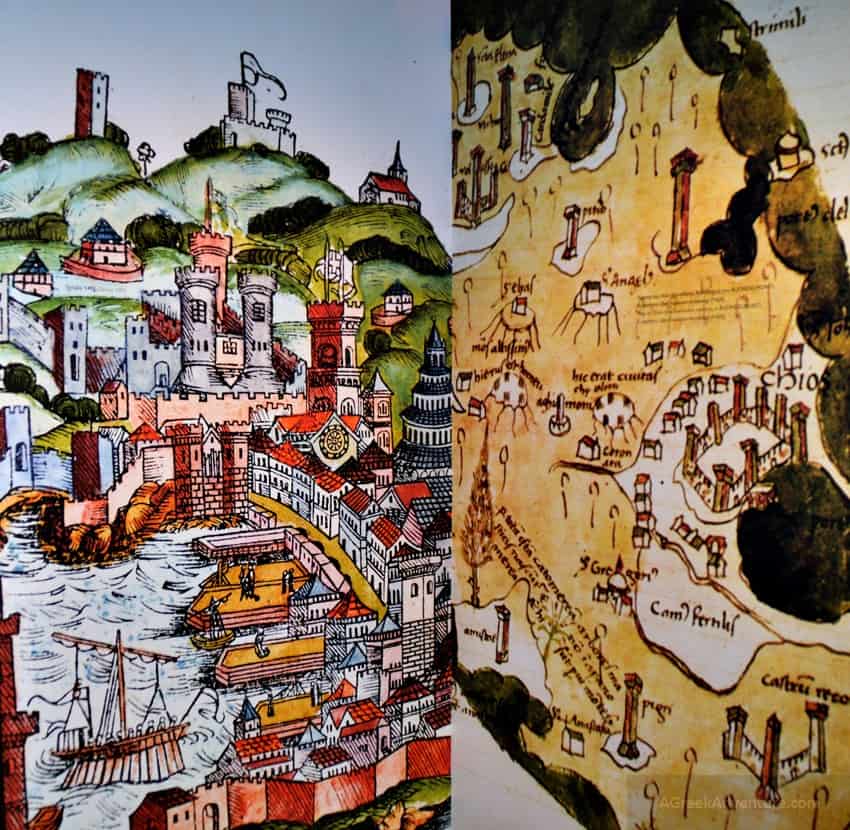 In many areas, posters are explaining the history of Chios and its relation to mastic.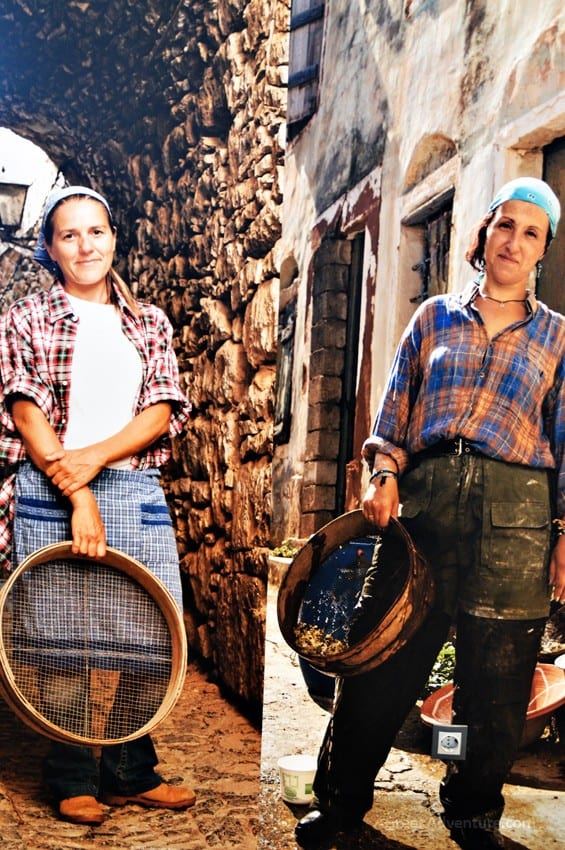 The association of mastic producers of Chios donated a significant number of equipment, which is used to clean, polish, and package mastic.
Key point? Most of the machines are functioning! You press a button, and they all start working for several seconds!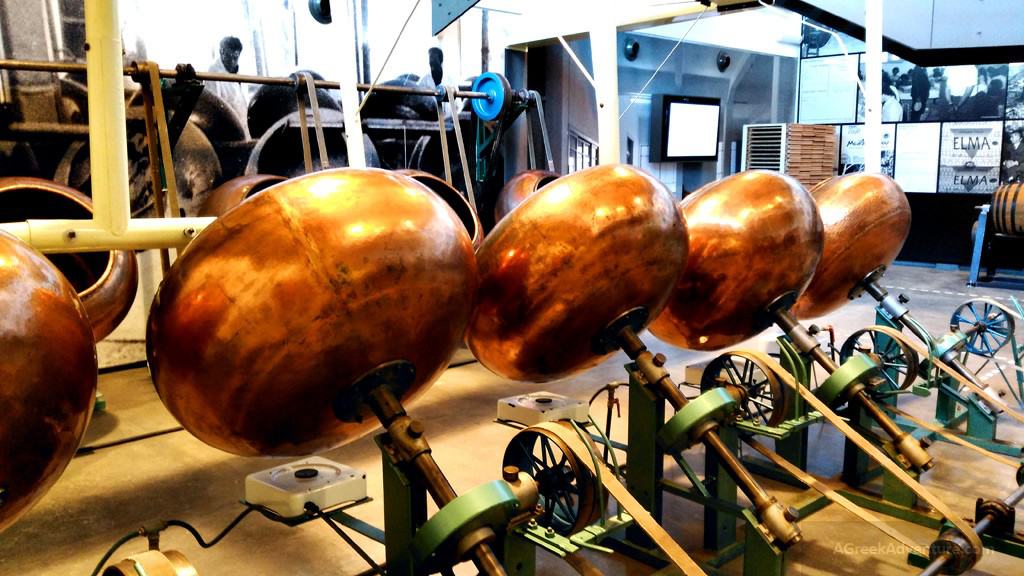 And that is not all. The exhibition itself continues outside the building. We had the opportunity to visit the mastic field next to the museum and learn even more about its farming.
For us, it was another great experience to learn so many things about this great natural product.
Imagine that mastic is the "blood" of the tree which is offered to people, having all these fantastic healing applications.
Greece is great for many things. It is a blessed country with so many herbs and natural products to use for healing.
Probably that is why Mediterranean nutrition is considered one of the top to follow worldwide.
Exploring Cave of Agio Gala in Chios Island, Greece
In this area, there is a variety of things to do before and after exploring the cave.
First of all, you arrive at a recreational area with plenty of water, shade, and a cantine, that serves coffee, refreshments, and a complete lunch if you like.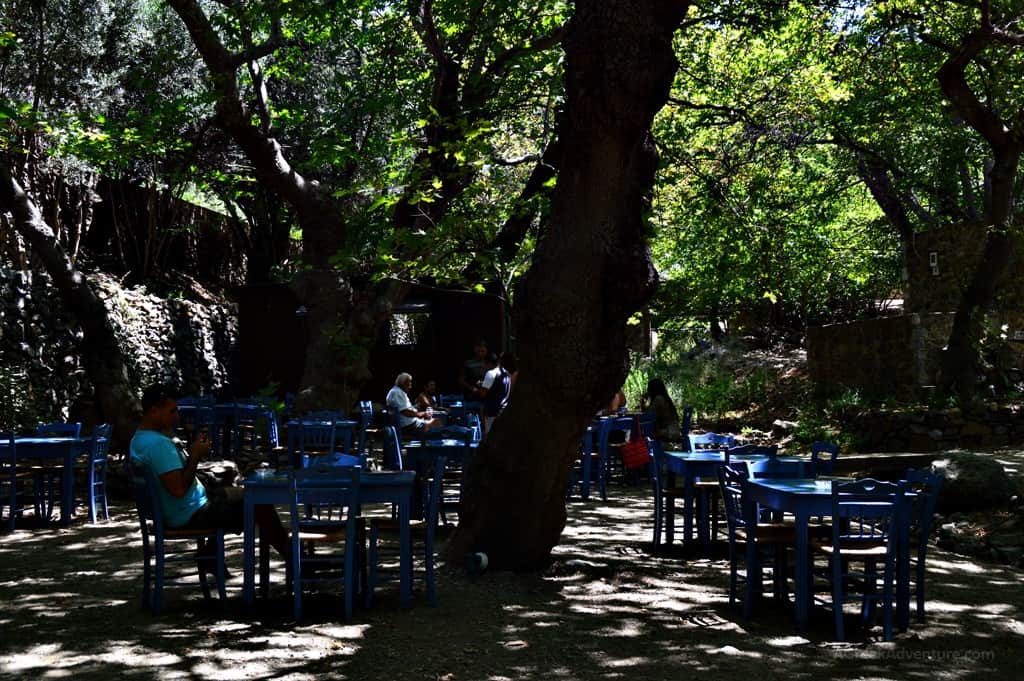 The guys who run this area, offer recreational games during summer times that will keep the kids busy and happy.
We had some coffee and a local refreshment. We went there after our visit to the Arioussios winery, so it is relatively close to Volissos and Agiasmata.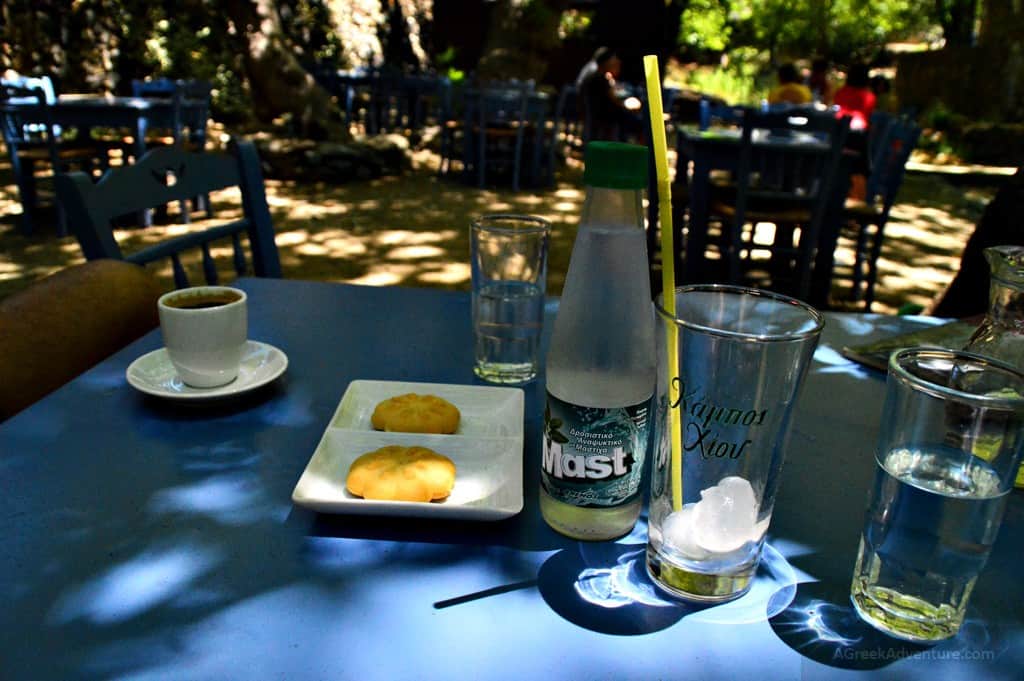 However, this area has another exciting thing.
One is the cave of Agio Gala, of course, and the other is a church named "Panagia Agiogalousena" (freely translated as Virgin Mary of Holy Milk).
The Church of the Virgin of Agio Gala
In its turn, Agio Gala means Holy Milk. We suggest that you visit the church and then the cave.
The church has a terrific wood carved temple.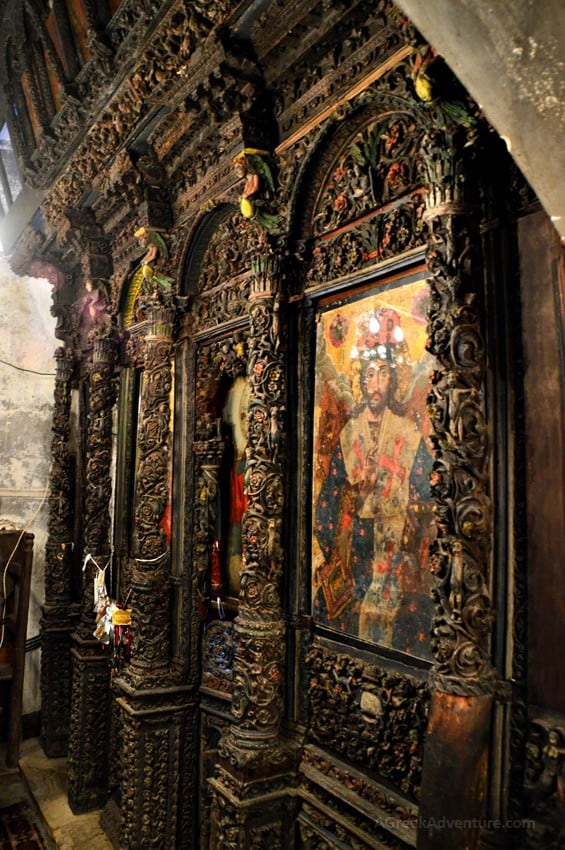 This is an extraordinary characteristic of Chios art. The minutiae are incredible. The artists have depicted many symbols of Christianity on it, but not only.
If you have an eye for detail, you will see pagan symbols and many more.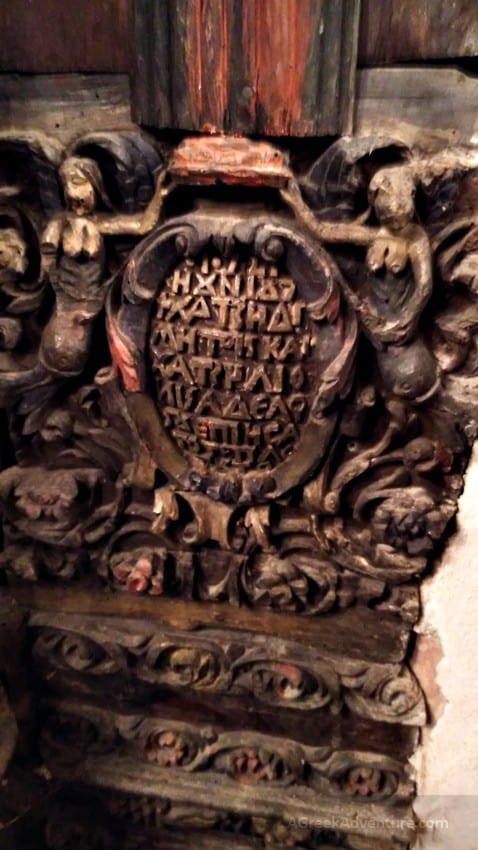 Behind the church -by going through it- there is another older one in a cave.
Behind the 2nd one, there is one more!
There is a cave there (quite cool we can say), which was used both as a church and a hideout.
Legend says that a noble lady was exiled by her father due to being infected with a leper. She found the cave, and she was cured by the milky stalagmites water.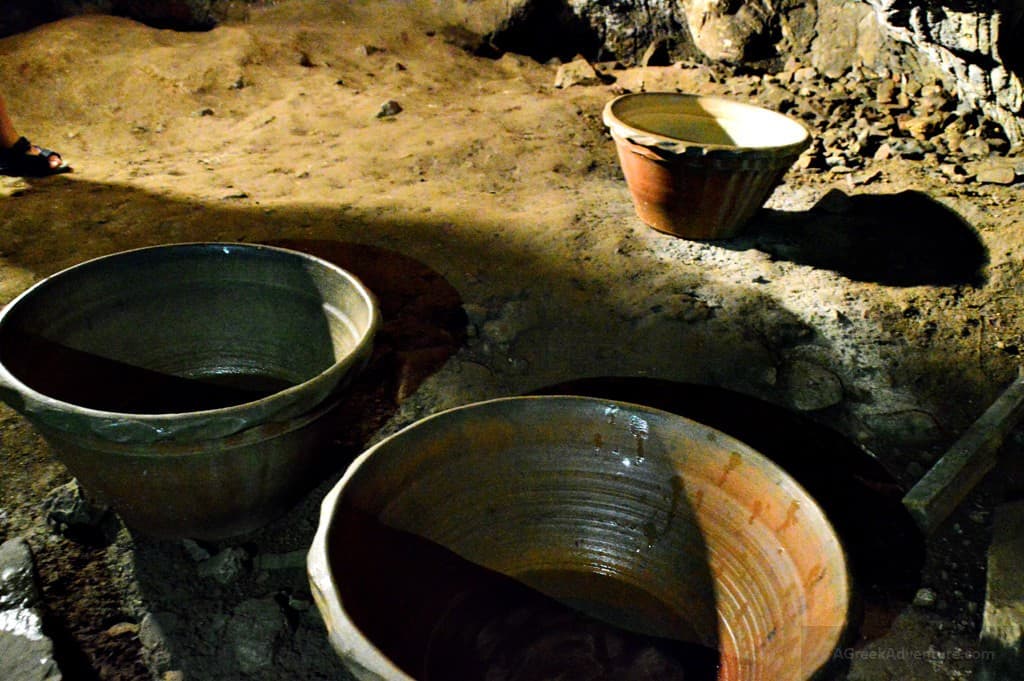 This whole was -allegedly- a monastery too. Nowadays, the area around the church level acts like an exhibition area showing how monks used to live.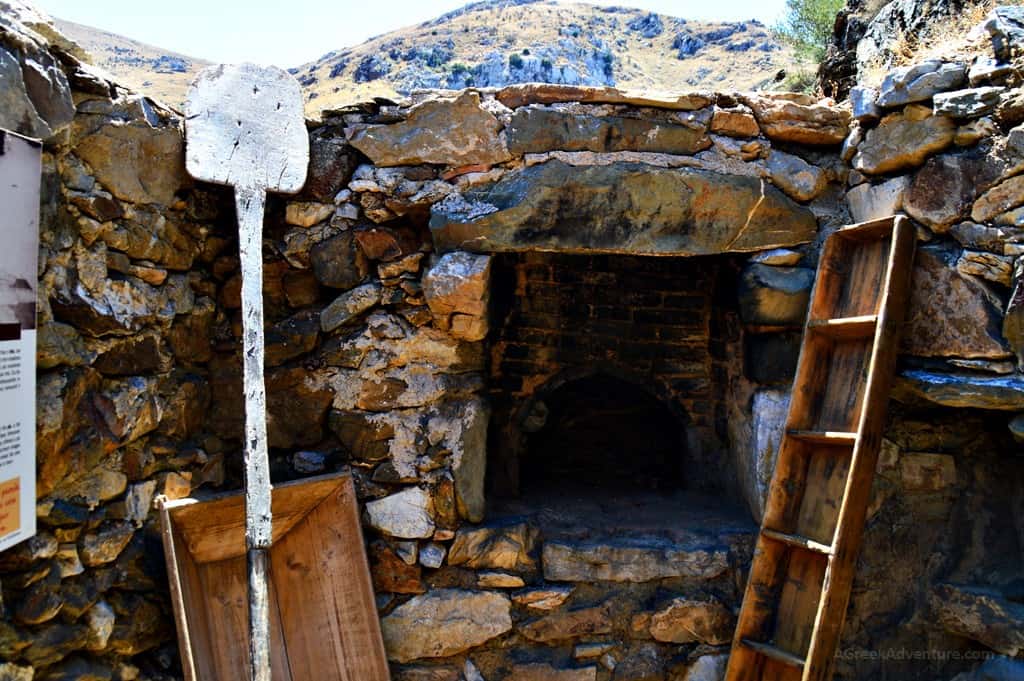 Walking a few steps down and outside the church, you arrive at the Agio Gala Cave entrance.
The cave itself was a "residence" in the prehistoric era, and many findings from the Middle and Early Neolithic period (6000 and 5000 BC) were excavated here.
It is not as rich in beauties as the Olympic Cave, but it is of great historical value.
You have to visit it and learn its story from the guides.
Beauty designed by nature itself.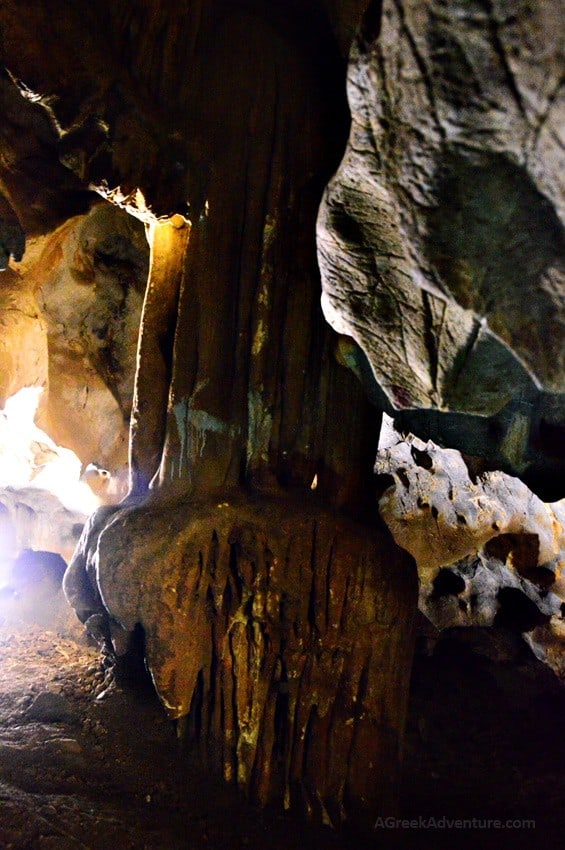 We had lots of fun in both these areas of Olympi and Agio Gala, as we learned lots of things about the history of this place and of Chios town itself.
Time was moving fast, as we were having a great time. We stayed a bit longer in the recreational area, and we visited the local art museum hosted there.
Around the museum, there are areas where kids can learn about the local flora too. Very bright and educational.
Visiting Ariousios Winery
When there is an opportunity, we always try to taste the local wines.
Before going to Chios Greece, we learned that there is the most famous winery.
It is also a visiting winery, so we grasped the opportunity to visit Ariousios Winery and taste some of their wines.
The guy who took us through the winery was beneficial and explained a lot about the varieties and how locals try to make this wine famous all over the world.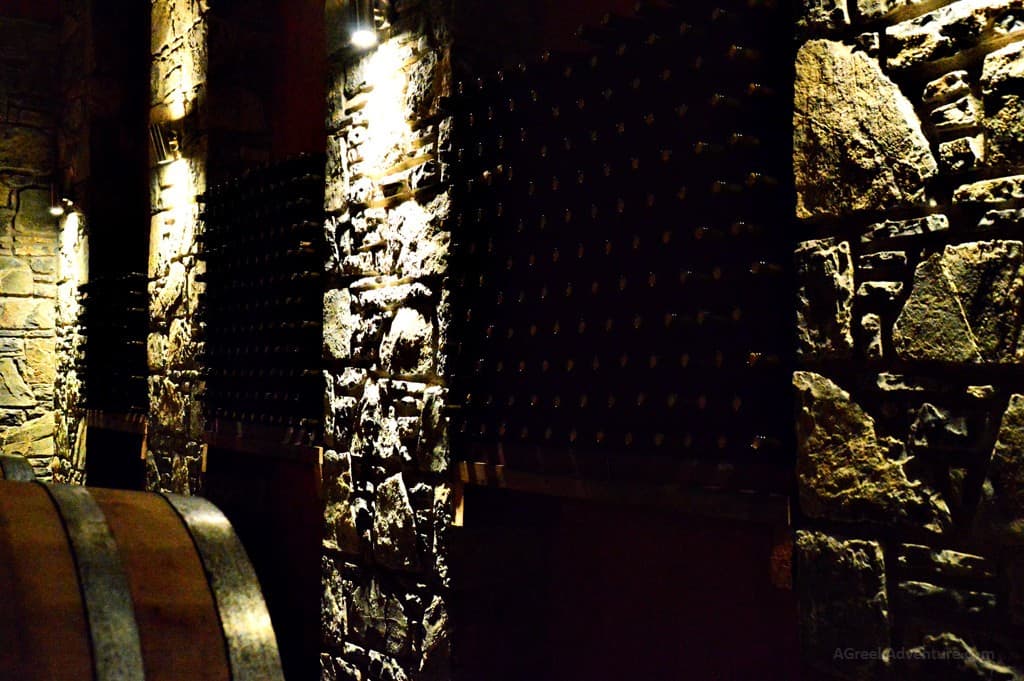 And yes, we tasted a white and a red one. It was a bit early in the morning, but we decided not to skip this opportunity.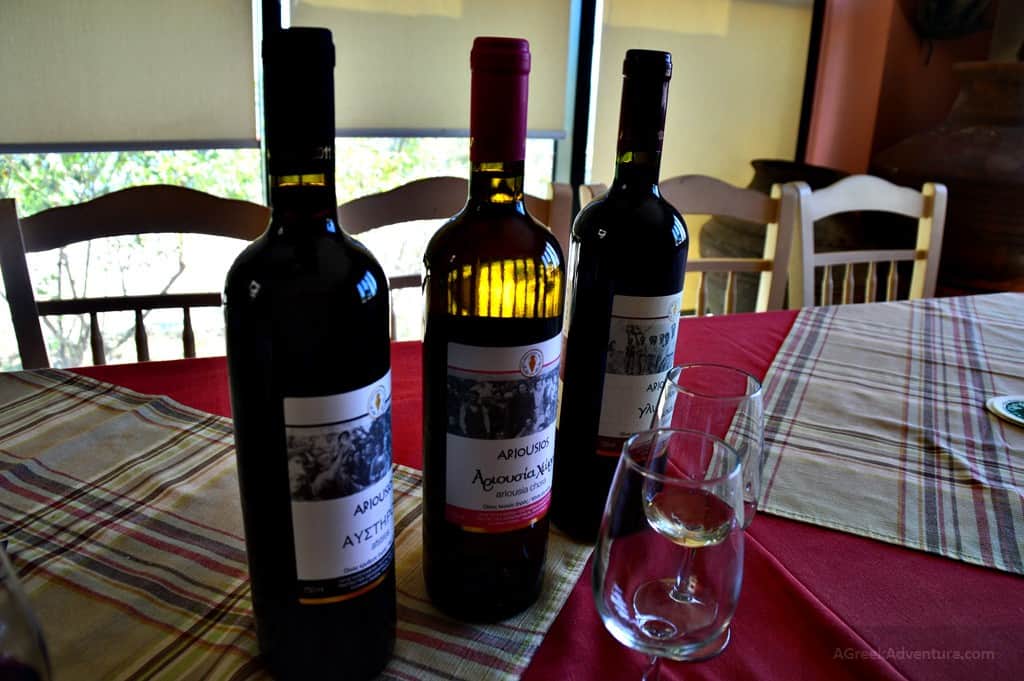 Anavatos village, Chios
The old town of Anavatos is around 30 to 45 minutes' driving time from Chora, Chios.
It is an abandoned village.
At the time we went there, there was one tavern and just that.
It is useful, though, since Anavatos is in the middle of nowhere. It is a beautiful area but without shops and such.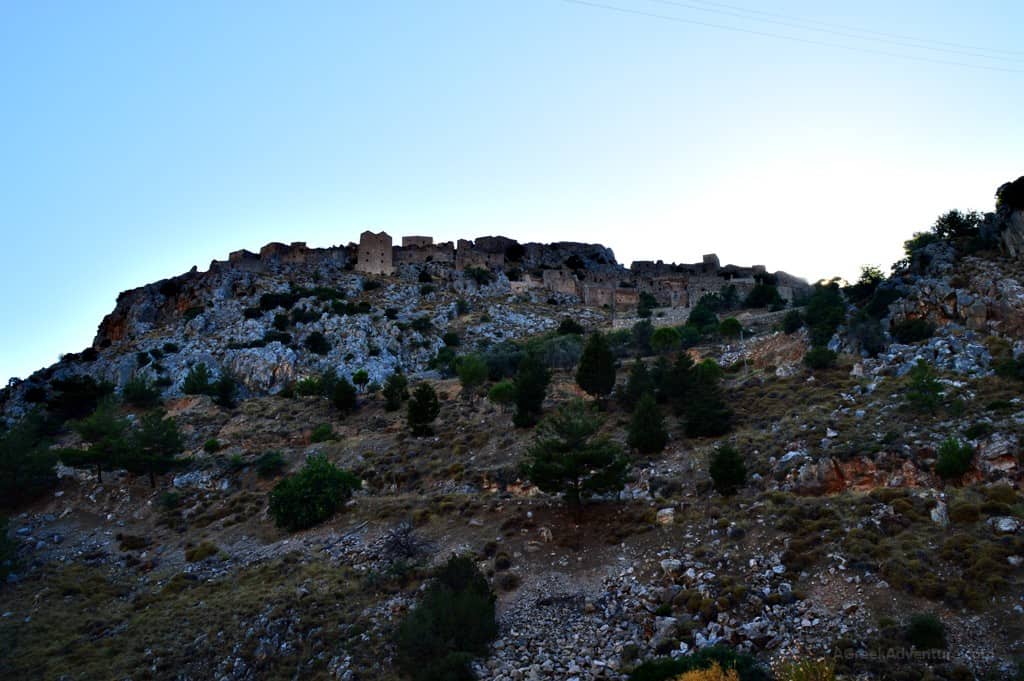 History claims that Anavatos was built for military purposes and seems to have that structure.
We visited this place to feel a bit part of its history.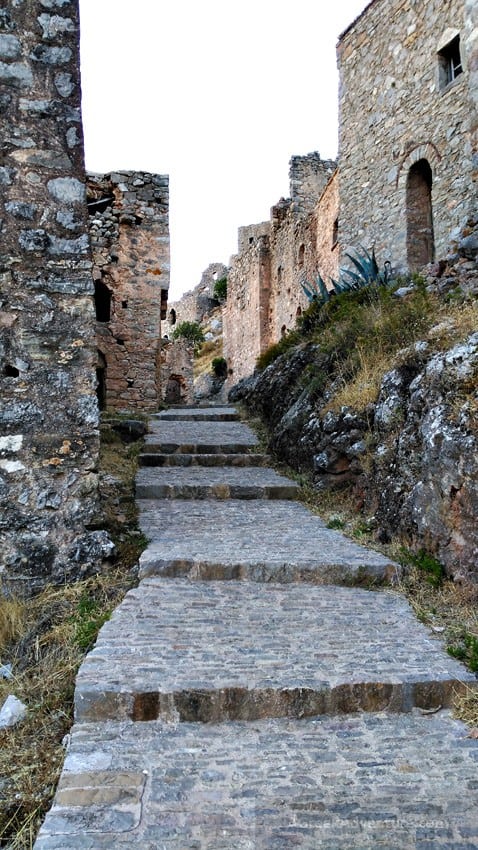 It was nice to spend 1 hour or so there, yet many buildings are half-ruined.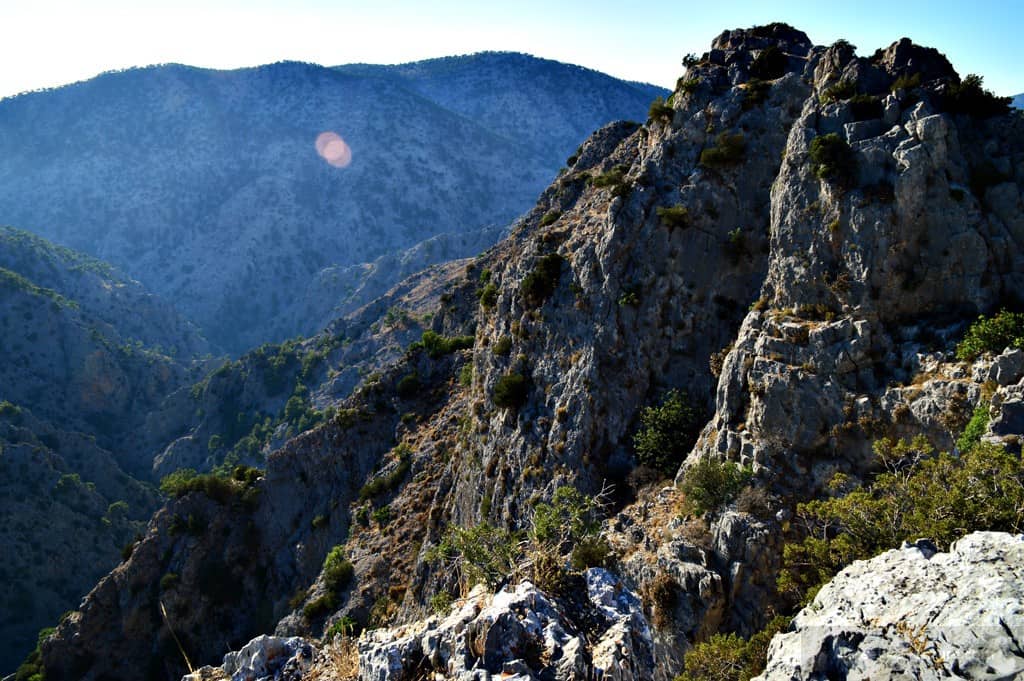 It is better to visit this place as the sun comes down from the hills; Maybe after 18:00 and before 20:00. The light is better at that point for some great photos.
What are the Best Beaches in Chios Greece?
There are some places in Chios island where you crave to feel the water. Chios town beaches have such energy and feeling that you are lured to merge your body with the sea slowly.
Two of them are marked as "must go". Their names? Apotheca and Mavra Volia.
On a hot hot day, you almost hear the sound of your skin shifting from terribly hot to "God I feel so cool now". We tried those two beaches, and we are happy to report back.
Mavra Volia Chios beach
This one is well known, and you will find it in many guides.
It is close to Emporio village. However, few know that Mavra Volia is not just one beach, but two. Well, I would say three, one next to another. You can choose which one you want to taste, or you can eat them all.
There is a kiosk there with refreshments and ways to spend time.
Maybe you want to sit and enjoy the view. It is an organized beach with cabins to change and outdoor showers.
This beach took its name from the black pebbles that are found all over the beach and inside the sea.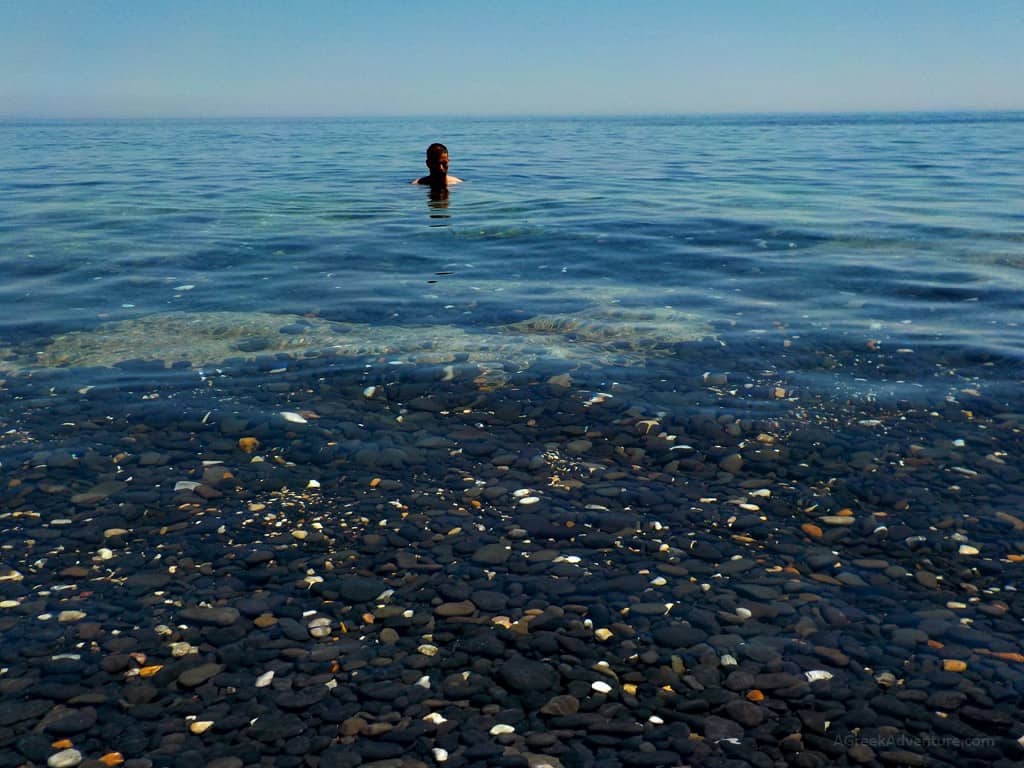 If you want to swim at the other beach, then walk that path you see above and go over the small cliff.
Over that cliff, you will see this one. As you see, the beach continues furthermore. We didn't go there.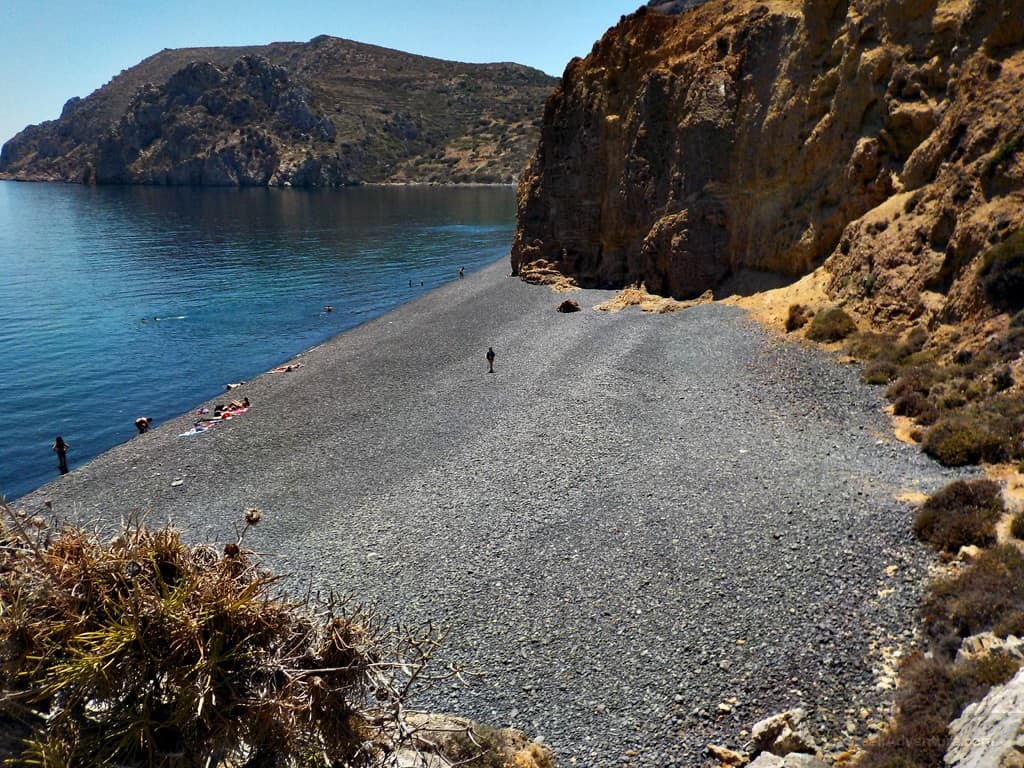 The overall feeling was very relaxing. We love such beaches where you can find showers to wash out the salt, especially when you have plenty of things to do after that.
Apotheca Chios beach
This is a different style of a beach. It is near Mesta village.
To go there, you arrive at the top of the hill where there is an activity station.
Just take the short path down, and you arrive at a beautiful secluded beach. Hector, who runs the water activities place, is a very calm person. He kindly provided the kayaks so we could have the experience of paddling along the coastline.
The beach is very friendly and not windy at all on the day we went there.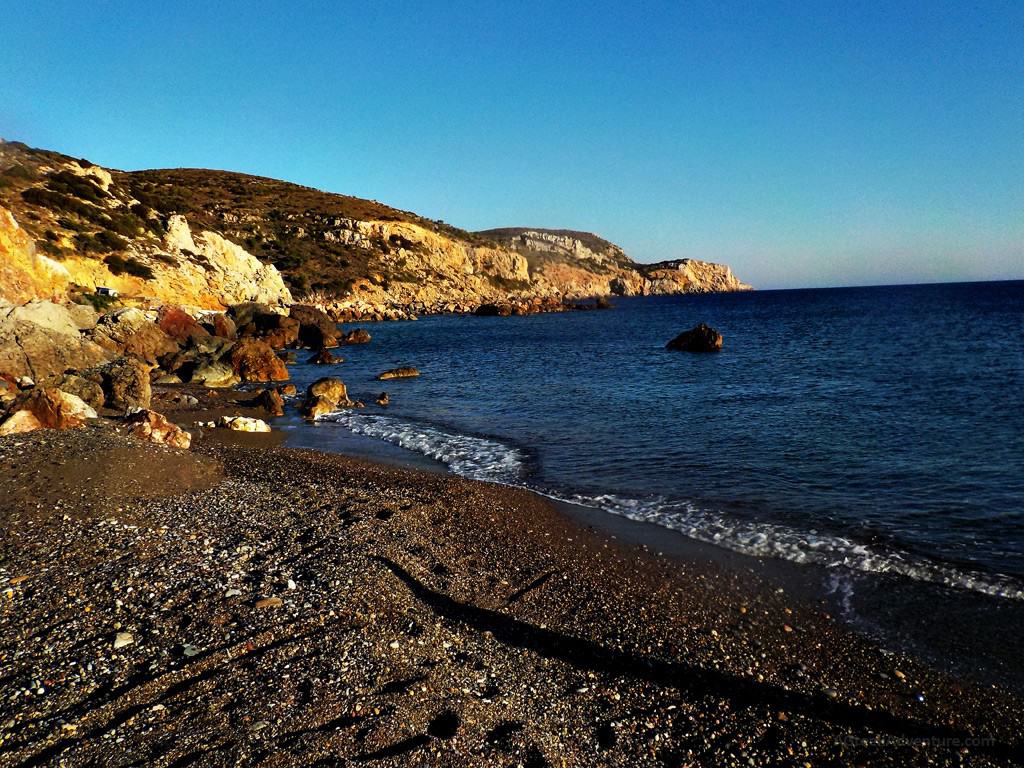 We decided to go to sea kayaking. The facilities provide scuba diving lessons and stand up paddling boards too.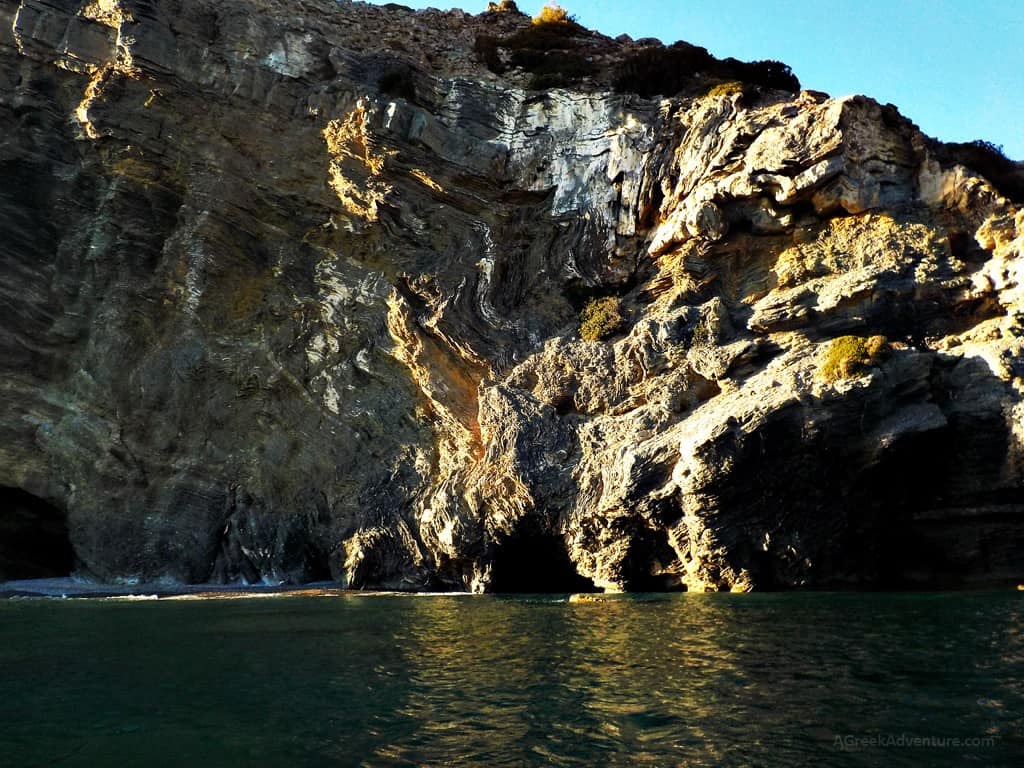 When we arrived at Apotheca, we had the pleasant surprise of meeting George Halatsis and his wife, Filia. We've met this vivid couple (hikers, mountain climbers, teachers) at Agiasmata Thermal baths. We grabbed two of the kayaks and went out exploring.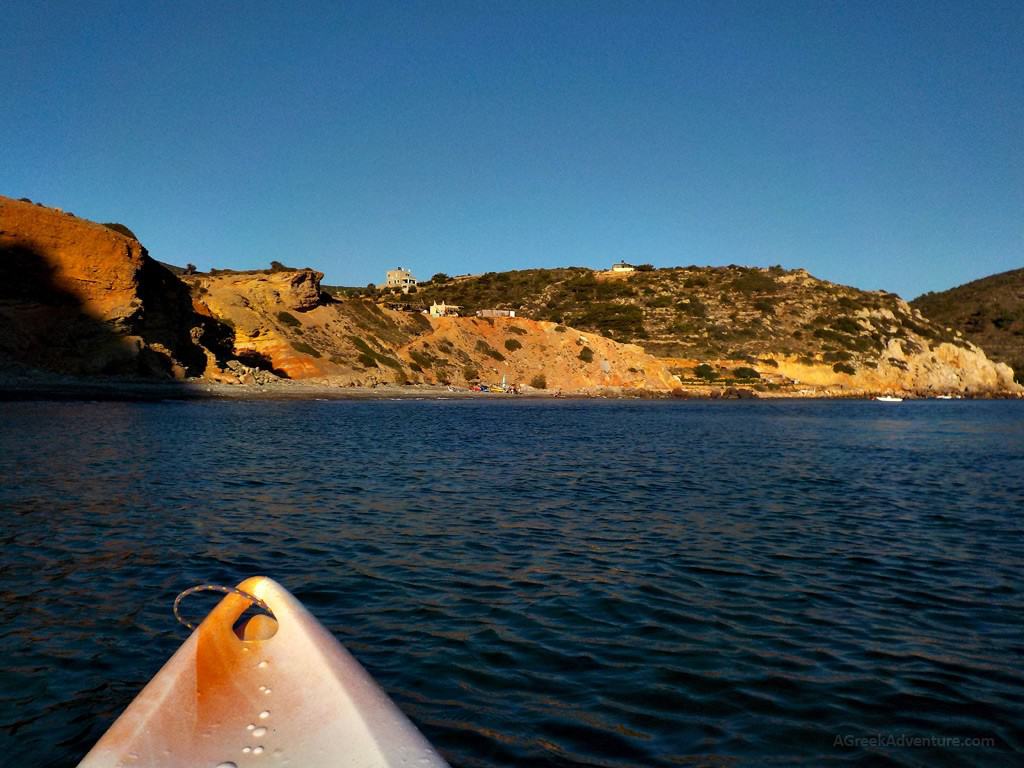 Sun was coming down fast. We had some time for a short swim. This was one of the beaches where I didn't want to stay out of the water.
These 2 are two beaches where you must go and swim. If you are an activities person, chose Apotheca.
Beach of Nagos
As mentioned, we wanted to get out and explore the closest beach, to cool down, and then to hike Kampia Gorge. So, we landed here at Nagos beach.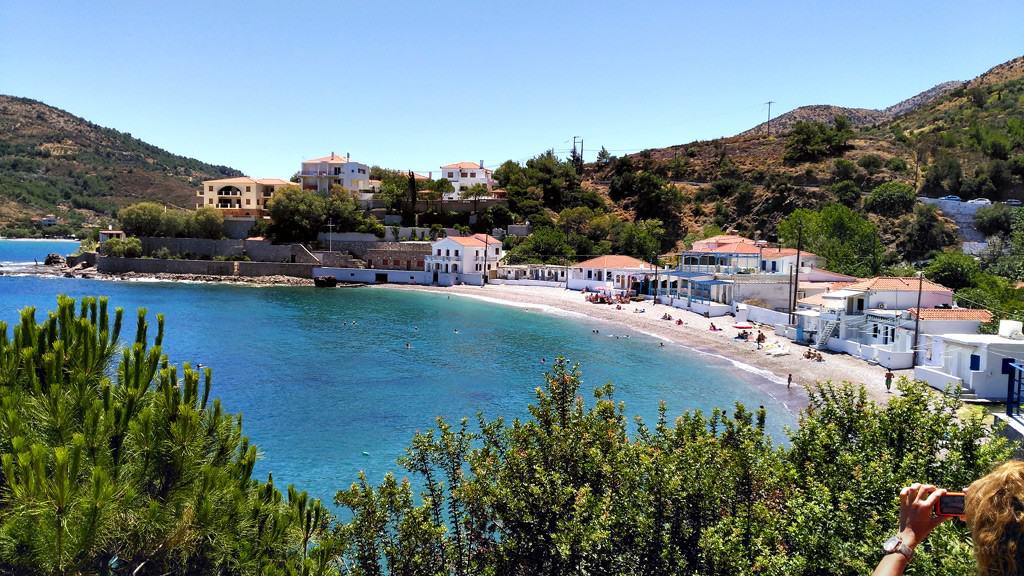 A pure beach, where you approach it via a small "secret" path. The water was very cool.
Exactly what we needed! We didn't want to leave the beach, but we were determined to do the gorge hiking.
So we went back to Spilia, took a shower, and went out seeking the Kampia gorge entry point.
Also read: Why Visit Samos Greece in 2022?
Where to Stay in Chios Greece?
When in Mesta, we stayed at Ergani studios. When you plan to stay there, hurry up, as there are just two studios. You won't regret it. Check these photos below to understand why.
And here is our room with an indoor wooden oven and fireplace, which is an amazingly beautiful thing to see inside a room.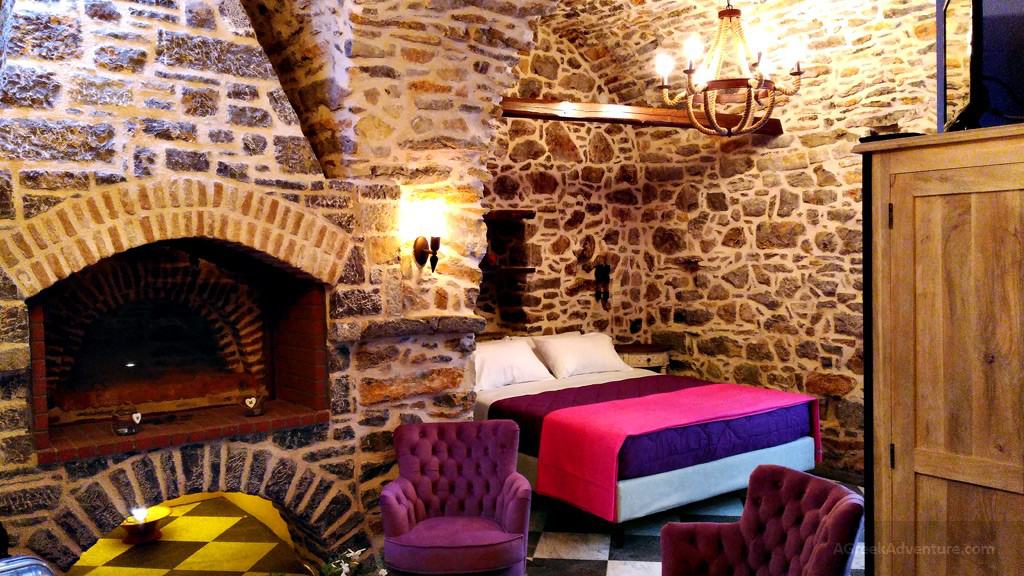 And when it was time for breakfast? Well, here is the elegant breakfast room with lots of yummies.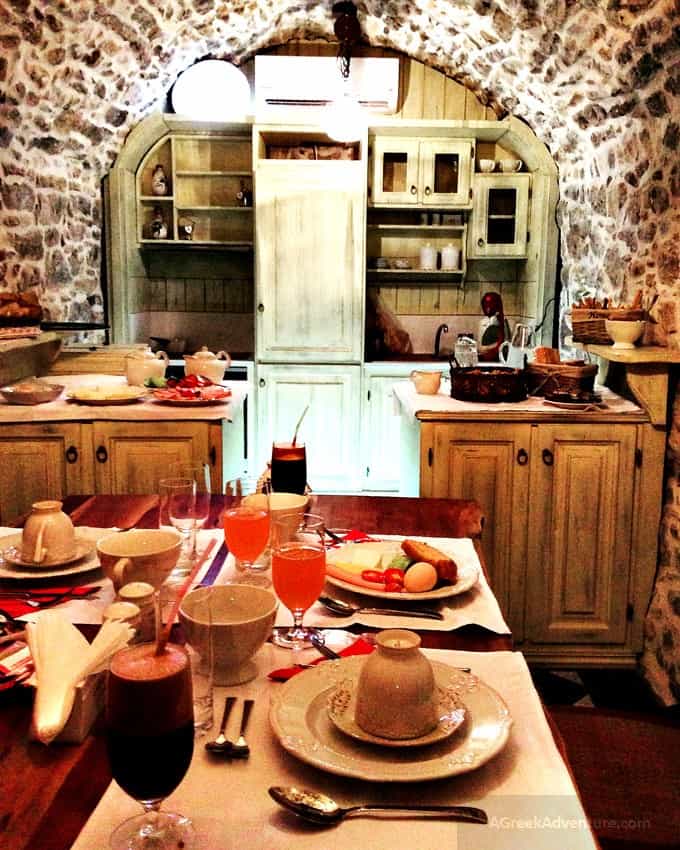 Lots of great food.
The whole place and our room were so great that we were eager to return after every adventure and just relaxed there.
When we went to the Kardamilla village, we stayed at Spilia Guesthouses. We landed at the town of Kardamila, and we would stay there for a couple of days. Kardamila is less than an hour from Volissos, so driving is short and pleasant.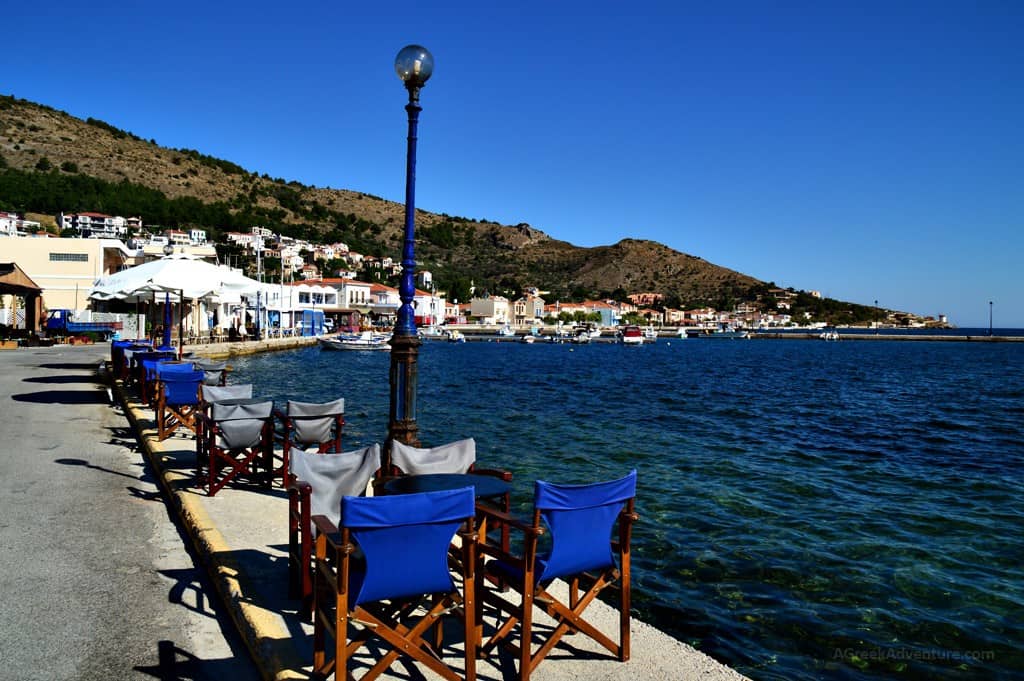 Kardamila is a lovely and quiet village by the beach. There is Upper (Ano) Kardamila and Lower Kardamila.
And here is the main square of Upper Kardamila. Lots of shade, a couple of taverns, and some coffee houses. Very quite.
So, the guesthouses were we would stay, used to be a castle.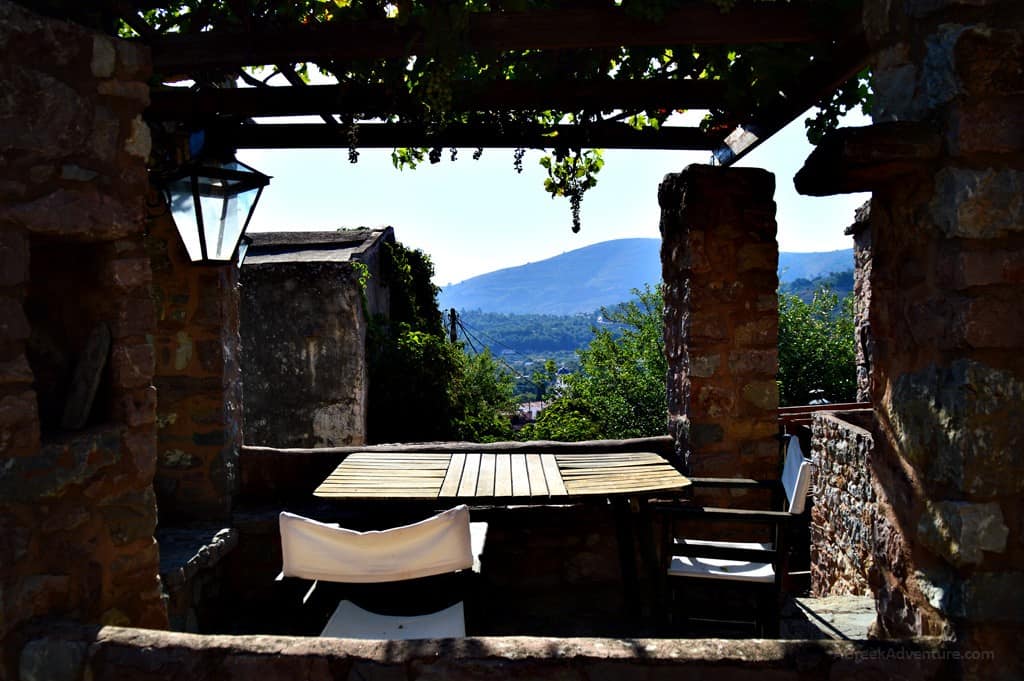 Kiki and Dimitris, who run this place, decorate it with furniture and items that are part of Dimitri's private collection.
Staying there is like living in a comfortable museum, with all the amenities of a hotel.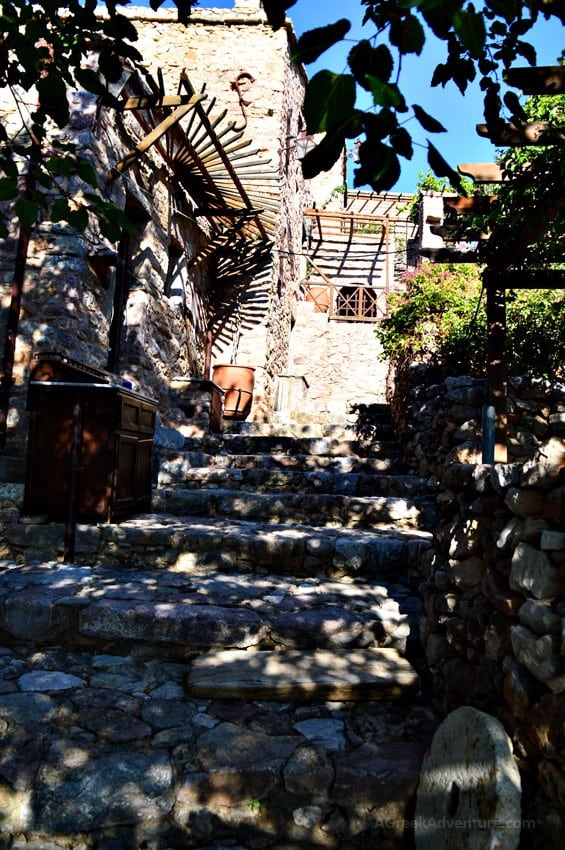 Houses are big, comfortable, with great views and quite secluded.
You need a little bit of walking to get there (5 minutes) from where you park your car, but this place is special. This was our room!
In Volissos Chios town, we stayed at Castelli Apartments. Our room was very well decorated and had a nice front-yard with flowers. Everything was very colorful. Fancy that?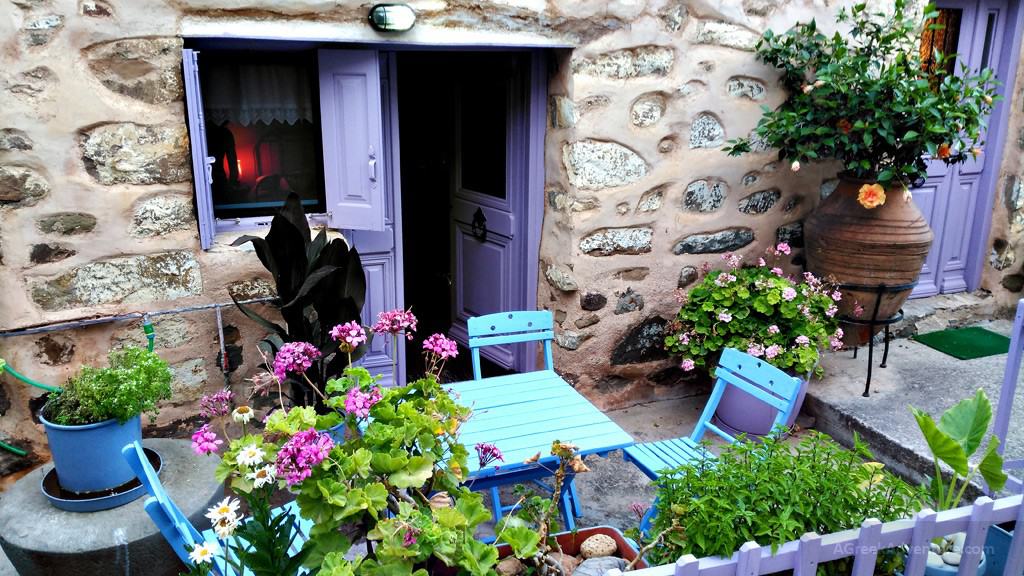 How to Get to Chios Island Greece
You can take the airplane to Chios from Athens. Check here for the best prices.
If you want to take the ferry, keep in mind that it is a long ride to get to the island from Athens. For ferry tickets choose either this or this, Greek ferries service.
Take the ferry from Piraeus port. There are routes all year round, about 3 times per week. The trip to Chios island lasts 9 hours (with relatively good weather). You can also travel to Chios town from nearby islands including Lesvos, Mykonos, Syros, Ikaria, and Samos.
Our trip through Chios Greece was organized by the North Aegean, Regional Unit of Chios town office. Transportation was provided by Hellenic Seaways!