A&C offers bareboat and skippered yacht charter sailing in an unspoiled and picturesque corner of Greece that offers numerous quiet bays and small villages with waterfront tavernas, as well as easy access to the Sporades islands, including Skiathos, Skopelos, and Alonissos.
As a small organization, they have the time, enthusiasm and knowledge to provide everything you could want from a sailing holiday.
Their boats are equipped to a high standard and are ideal for groups and families, offering everything you need on-board.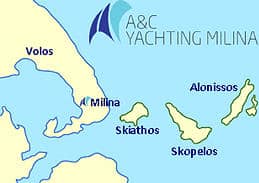 You will need a minimum day skipper or equivalent ticket to charter a sailing yacht in Greece, you can easily qualify for this with many sailing schools.
If you don't have one you can book a skipper just sit back and enjoy!
Milina in the Gulf of Volos, together with the Sporades Islands of Skiathos, Skopelos, and Alonissos, offer excellent sailing among very pretty green islands.
This attractive sailing destination will suit sailors who enjoy good winds and exploring unspoiled islands and bays.
Yacht Charter Sailing in Milina & Gulf of Volos
Not far from Milina you will find turquoise bays for swimming and snorkeling in a perfectly quiet and spectacular mountain scenery.
There are many little fishing villages such as Zasteni, Kottai, Agia Kiriaki and Palio Trickery Island where you will find unspoiled Greek culture, no cars, and only two tavernas.
The anchorage of Khondri Ammos Bay hidden behind a marble mountain with perfect blue water ideal for a swim or overnight stop.
The Pillion peninsular is unspoiled by tourism with lush green landscaped stunning mountains blue sea and light warm winds.
Yacht Charter Sailing in Skiathos Island
The busiest and most commercial of the Sporades Islands offers award-winning beaches such as Koukounaries & Platania Bay.
The town of Skiathos itself although busy has its own kind of Mediterranean charm, with whitewashed box houses and narrow cobbled streets making up the old town.
An ideal stop for some extra provisioning & souvenir shopping (Skiathos has an abundance of arts and crafts offered in the shops of the old town well worth an evening of browsing).
Skiathos also offers above-average restaurants and tavernas.
If you looking for nightlife this is the place to be!
Yacht Charter Sailing in Skopelos Island
Majestic with shades of blues and greens this lush pine-covered island offers much to the yachtsman, whether you are looking for a quiet unspoiled anchorage or a town with facilities it's all here.
On Skopelos, you will find the port of Loutraki with its pontoon and facilities, Panormos a popular anchorage that is lined with pine that sent the air and the noise of the insects.
Skopelos town with its large quay which is never filled and hillside dotted with little Greek houses and its 123 churches.
Another favorite stop is the site of the church in the Mama Mia movie with its stunning view from the top and amazing snorkeling.
Yacht Charter Sailing in Alonnisos & Kyria Pania
Less populated than the other islands a mass of coves for anchoring and the ports of Patatiri & Votsi and Steni Vala.
In Steni Vala you will find a tiny fishing village which specialized in catering to the yachts as the last port of call with civilization you will find everything you need before venturing into the remote island of Kira Panayia which has two perfect anchorages South bay offering turquoise waters and North bay a natural harbor with a narrow entrance opening up to a large bay, the only inhabitants are goats and birds.
These are but a few of the gems the Gulf of Volos and the Sporades have to offer, but you need to go and find some for yourselves or revisit and rediscover!
If you have never sailed these waters before you will not be disappointed, Greece at its best light warm winds, blue sea, white beaches and lush green landscapes offering some of the best sailings in the Mediterranean.
If you like to contact the organizers use their contact data.