Every year thousands plan their Zante holidays in this Ionian island of Greece. Zante is also known as Zakynthos or Zakinthos. Why the two different names?
That is an easy one: Zakynthos is a Greek word and Zante is an Italian word. In the old times, most of the Ionian islands were influenced and occupied by Italians. Many of the Italian particulars remained on these islands (architecture, customs, dialects, foods, and more).
A trip to Zante island, lands you to one of the most beautiful and green islands in Greece. The amazing views and perfect crystal-clear water are a sight to behold.
With minimum chances of rain from May to September, a visit to Zante (Zakynthos) is simply the best. The sunny moments give you the best photo caption moments and best times in the Ionian sea.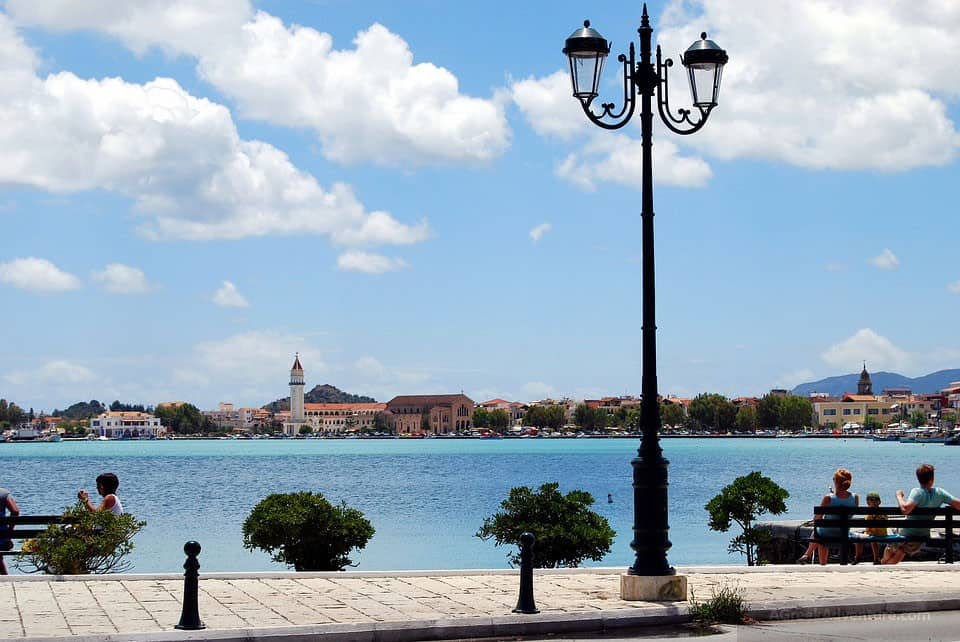 Zante holidays are known for the crazy nightlife in the village of Laganas & Tsilivi and more as the famous view of the Shipwreck Beach.
Most to do things in Zakynthos that are beach related as you will come to realize as this is what the island is known for. It's simply a perfect relaxing holiday spot.
This Ionian Sea Island lying on a 406 km2 land might be mistaken as very small. It is actually small enough to be navigated by car but large enough offering a great diversity of landscapes.
Don't plan a single day visit to Zakynthos.
You will be frustrated by the many things, sites, and activities you have not achieved.
Three days at a minimum would give you better exposure to the well-known summer resort.
Best Zakynthos Beaches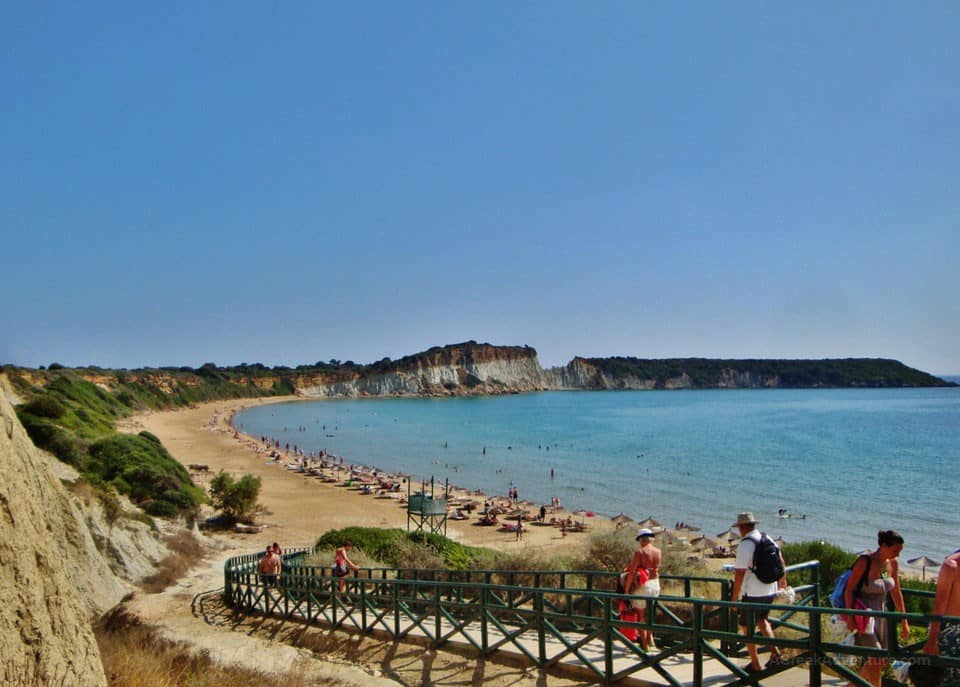 Zakynthos has more than 25 beaches and almost all are good to visit and swim.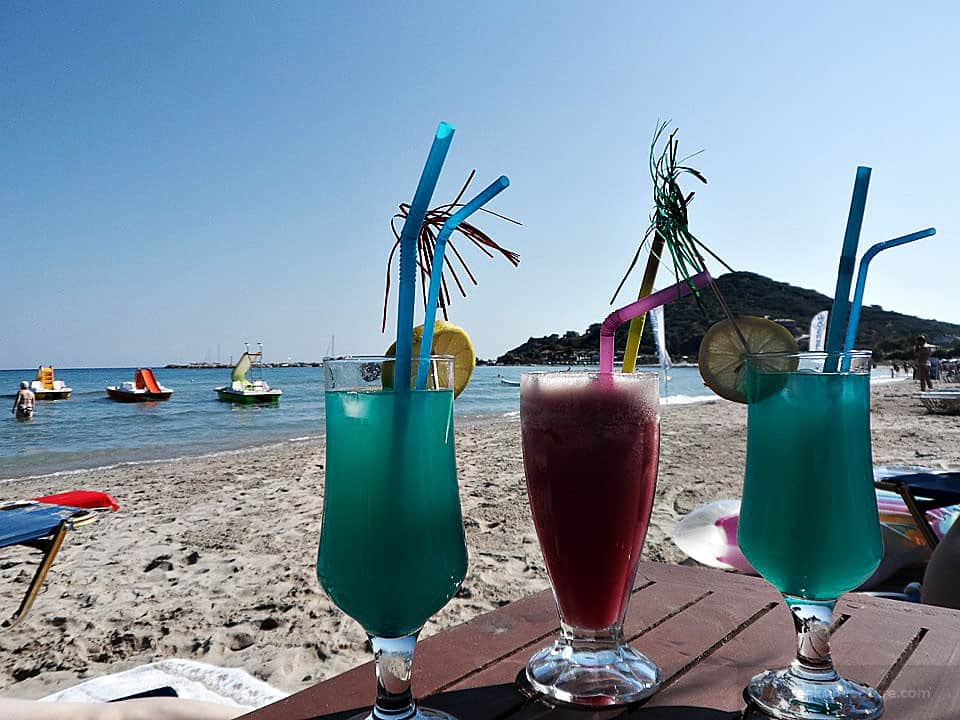 The sum of beaches of Zakynthos are:
Shipwreck (Navagio) Beach
Gerakas
Kalamaki
Agios Nikolaos
Porto Zoro
Spanzia
Banana
Porto Vromi
Limni Keriou
Tsilivi
Laganas
Agios Sostis
Alykanas
Alykes
Amboula
Argassi
Dafni
Drosia
Koukla
Ksigia
Limnionas
Makris Gialos
Marathia
Plaka
Planos
Porto Kaminia
Porto Roma
Stenitis
Top Things to do in your Zante Holidays
If you have been planning a trip to Zakynthos, let's start the journey with a list of the things that you need to include on the to-do list.
This stunning destination is in the Mediterranean climate with high humidity levels. This means the island is evergreen.
It's covered by an abundant vegetation and fauna. Do not forget the island is the loggerheads of sea turtles.
Shipwreck (Navagio) viewpoint
This is the most famous views in Greece.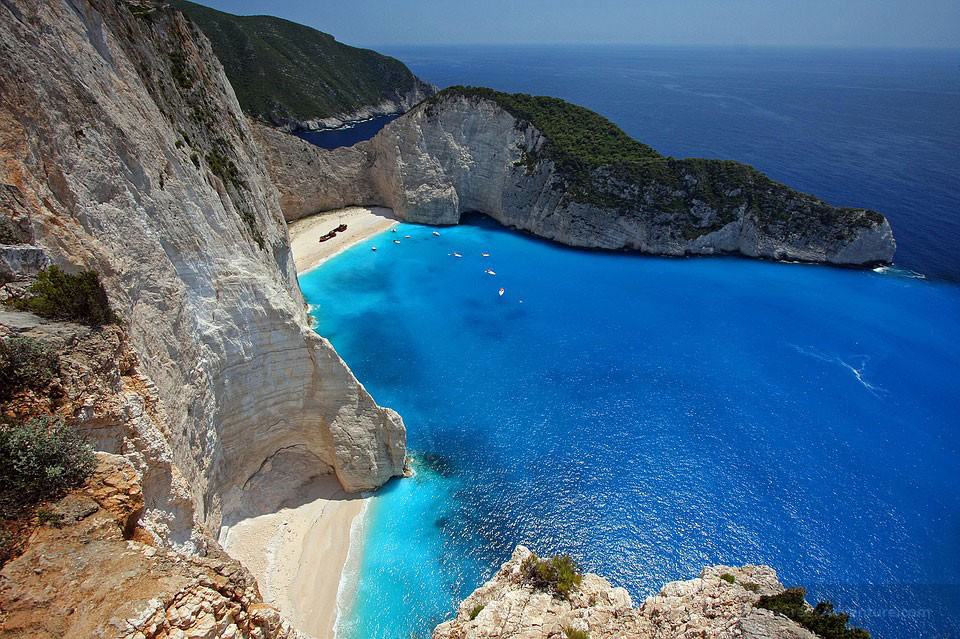 This point is in the western part of the island and on an easy to get trail.
Any trip to Zakynthos has to be opened of climaxing with a visit to Shipwreck viewpoint. It's the destination that confirms that you really had a visit to the island.
It's one of the views that gives you this feeling that you are now at the tip of the world.
To enjoy the best of the viewpoint, be there at the time near sunset or between 7-8 pm in the summer season.
Here the temperatures are very high especially when you are at the top of the island.
The area has many -and sharp- rocks.
To get to this location, you can either use a car, a quad, or scooter. The island has many signs that will lead you directly to the shipwreck.
You don't have to worry about getting lost in the woods. An alternative way to get to the site is taking a bus which makes tours of the island.
Jeep Safari tour, for instance, is renowned with the tours and travels within the island.
You can book an adventure with them and you will rest assured to get to the hidden sites on the island.
Navagio Beach Zakynthos
A site of the famed 1980 shipwreck which rests on a sandy cove framed by cliffs.
This is one of the most beautiful beaches in the world.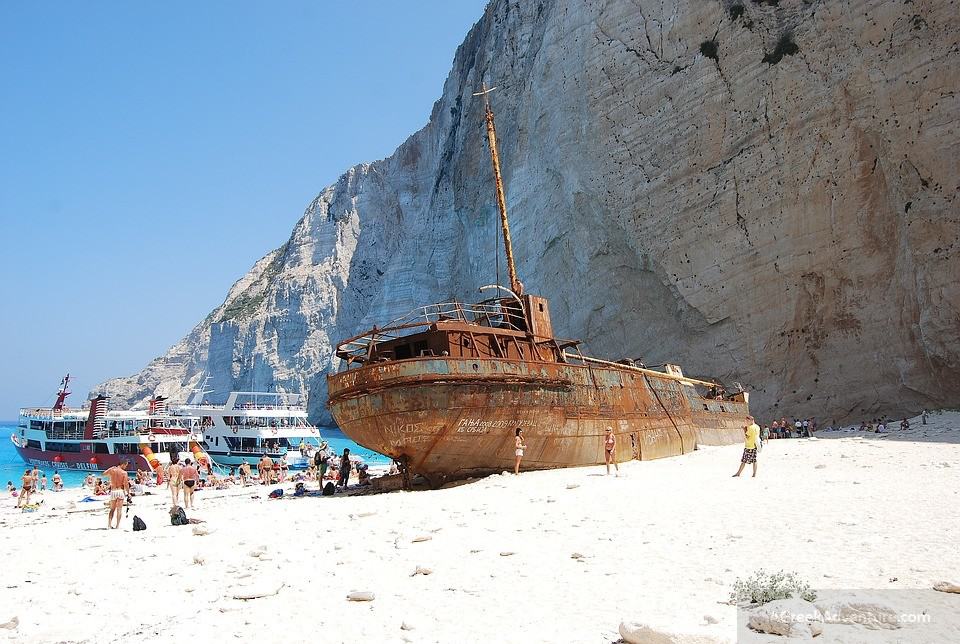 It's a must destination in you Zante tour. Traveling up the hill to see the shipwreck from the top is not yet enough. You need to have a close focus in close proximity. Come to the beach.
Getting here you are welcomed by the crystal clear water and the soft sand.
The beach is very famous for the spectacular shipwreck here, which was at one point a major delivery vessel for illegal cigarettes.
The clarity of the waters is another thing which adds to the uniqueness of the island and popularity of the beach.
The Blue Caves of Zante (Zakynthos)
Another point of attraction in Zante and must-do part of your Zante holidays.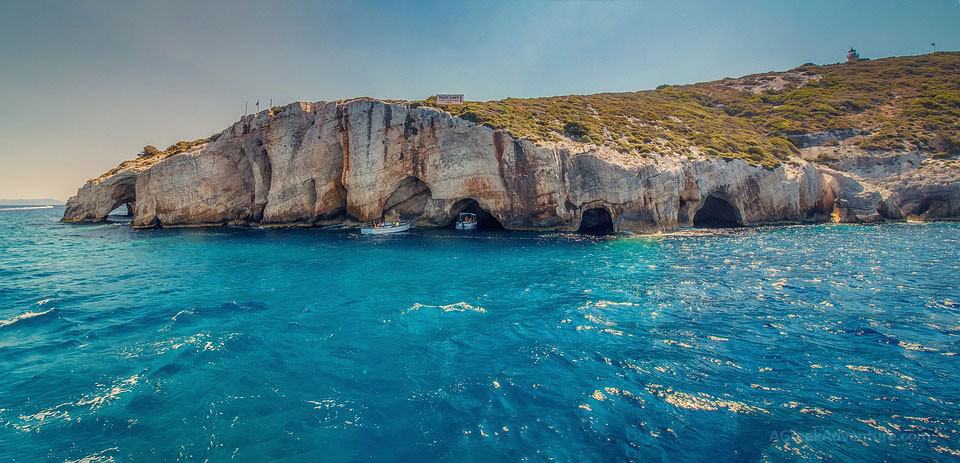 These are located in the Northwest part of the island. To get here it is easier when you use a car. For more views and better experiences, however, rent a boat.
A boat will give you more flexibility where you get to explore each of them in detail.
Another unique expense with the blue caves is swimming. Spare a couple of hours and swim across the caves. It's an experience you don't want to miss. I would also advise that you bring your diving gear since there are more to see.
The underwater life will simply offer you the best experience.
Keri Caves
Keri caves is a great experience that is worth every cent you pay.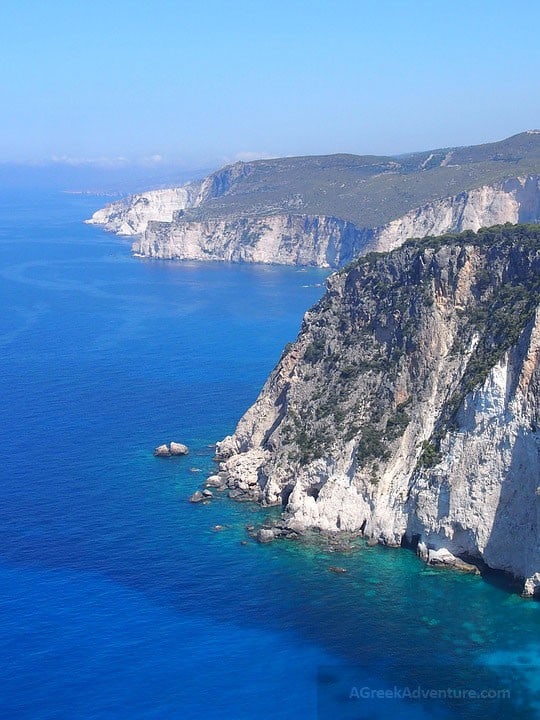 Located in the southern part of the island, it is a point of interest for your trip to Zakynthos. You will experience the blue waters here which offer the perfect spot for swimming as well as fishing.
You can, however, access this destination only through the sea. Therefore, you need to hire a boat to maneuver through the site. You can either rent a boat or book a boat tour with the many tour companies on the island.
There are cases where the cave is quite small which will only get accessed through swimming, but others are big enough and you can take your boat with you.
Keri caves is also great to explore via sea kayaking. Don't worry about how to do it, there is always an instructor who will train you how to do it.
Snorkel, Zakynthos Marine Park
You cannot lack the word Zakynthos and the big Caretta Caretta turtles in the same sentence.
Zante is known for the big turtles that you can easily get in the waters. If you are lucky enough you will also see them getting their eggs laid on the beach.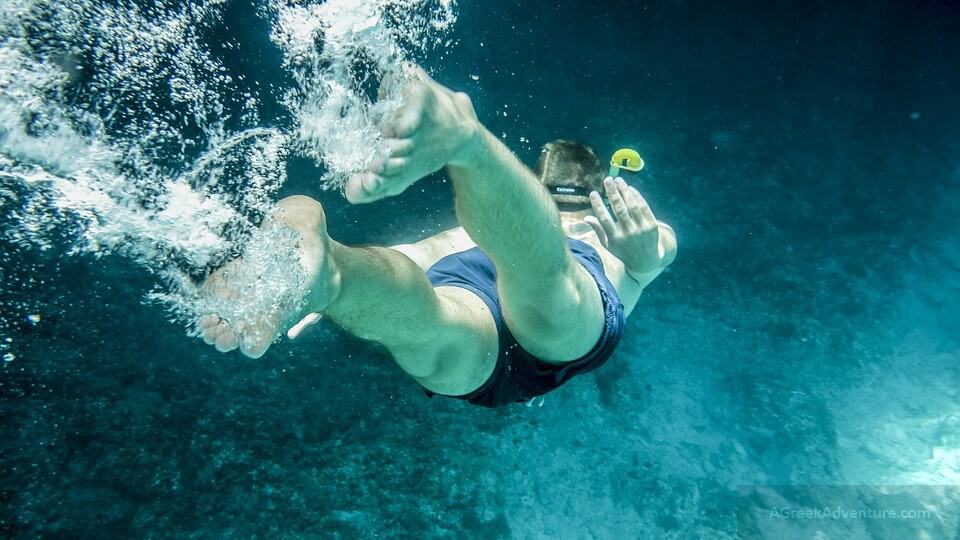 The Marine Park is located in the southern part of the island, in a place called the Turtle Island or simply Marathonissi Island.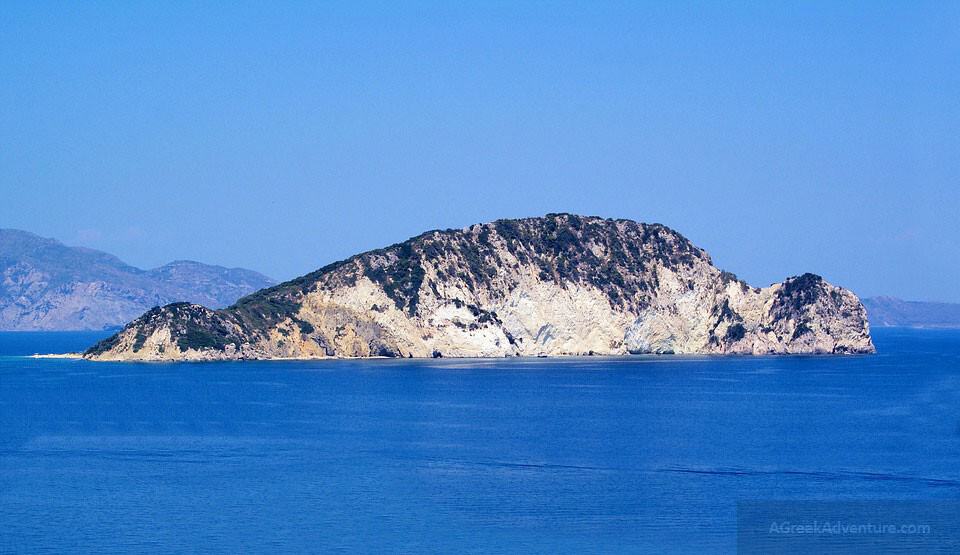 These beautiful creatures will also be spotted in the Zakynthos Marine Park.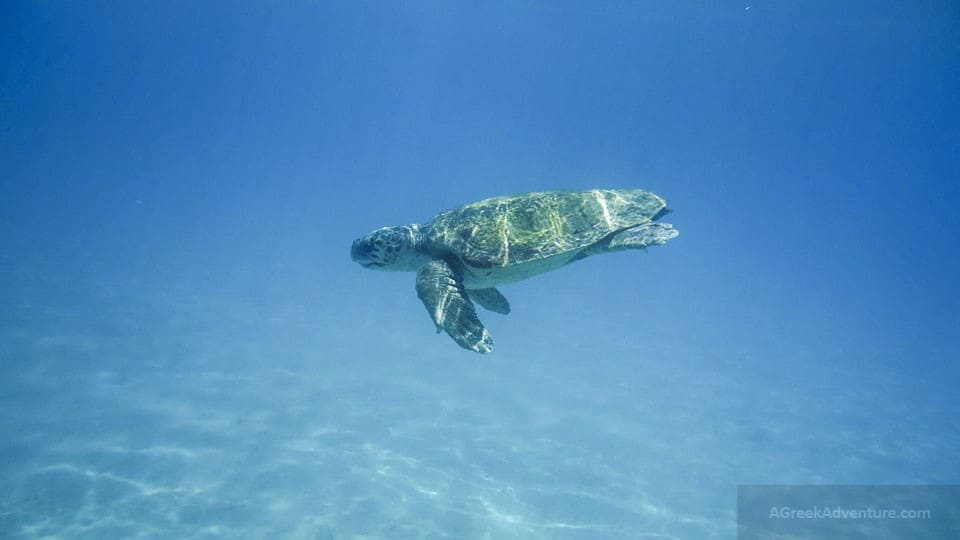 This is a destination with beautiful and clear waters which makes it very easy to spot the turtles in their natural habitat. You can go kayaking or use a taxi boat from Laganas Beach to get to this awesome destination.
Here you need to go with a company that practices safe animal snorkeling. You, therefore, need a simple research to get the best company that will protect the interest of the animals as much as you have fun.
Getting too roundy on them actually makes them stressed and you actually get to harm their ecosystems.
The big turtles are not the only thing you will see in the Ionian Sea.
There are so many hard and soft corals that you need to see and probably take a souvenir.
The park is full of fish and great crustacean life.
The Venetian Castle of Zakynthos
It's time to get out of the beach at some point, right?
The best place you might want to consider is the old ruins of the Venetian Castle. The place at least gives you a little history.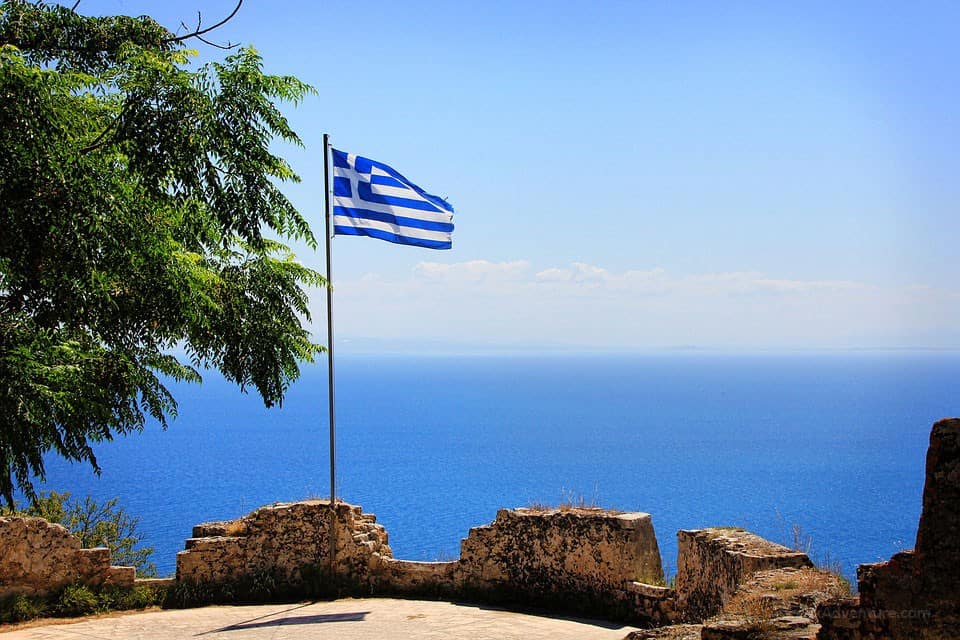 In the old days, the Ionian island was occupied by the Turks, British, French, Venetians, and the Russians. The Venetians in their course of stay left behind some of the most imposing sites, evident in the form of a fortress on the Zakynthos, Kefalonia and Corfu Islands.
The castle has quite a historical experience and being near Zante Town, you might want to consider passing by.
Its date of construction, however, is still unknown. It's considered to be very old. It was however destroyed by the Turks in 1480 and later restored in 1515.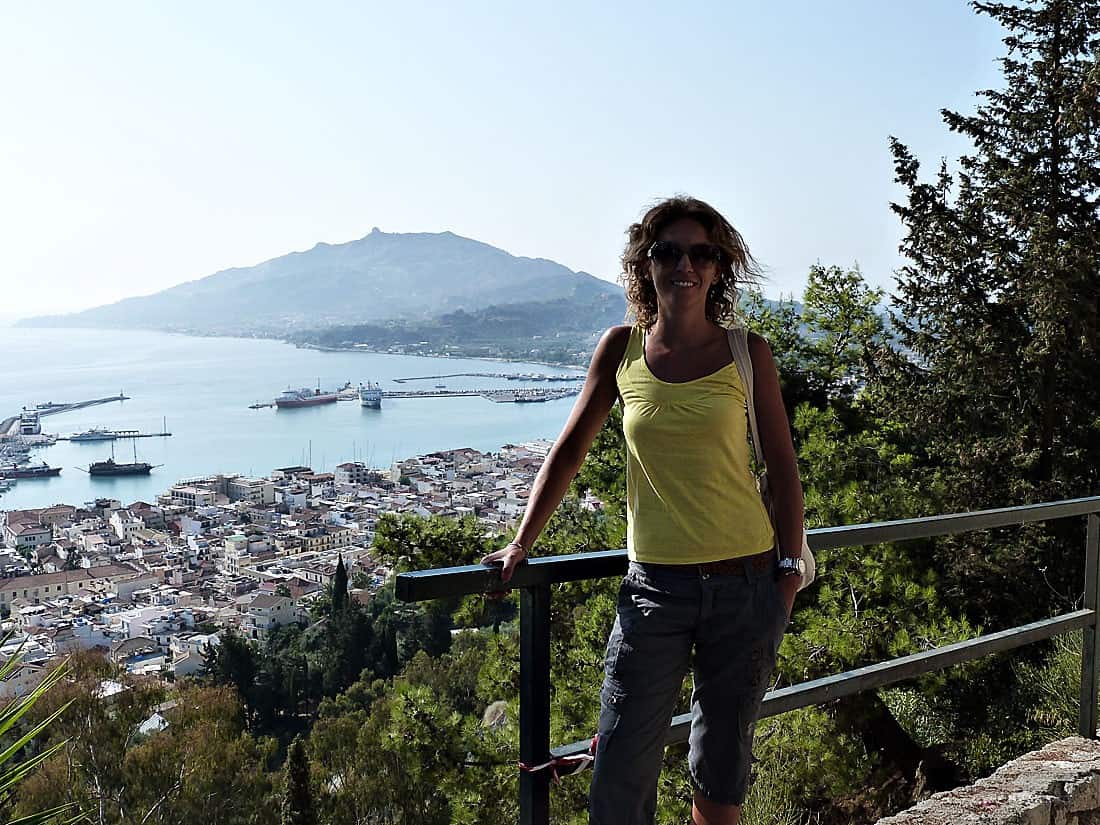 With the history of the destruction and reconstruction, the castle today stands as a testament to the former glory of Zakynthos.
It's a military stronghold where visitors can come and walk around an old prison, gunpowder rooms, bastions, churches and even though the old sewage system in the vicinity.
A Boat Tour in Zante
This is one of the coolest things that you need to accomplish during your visit to Zakynthos.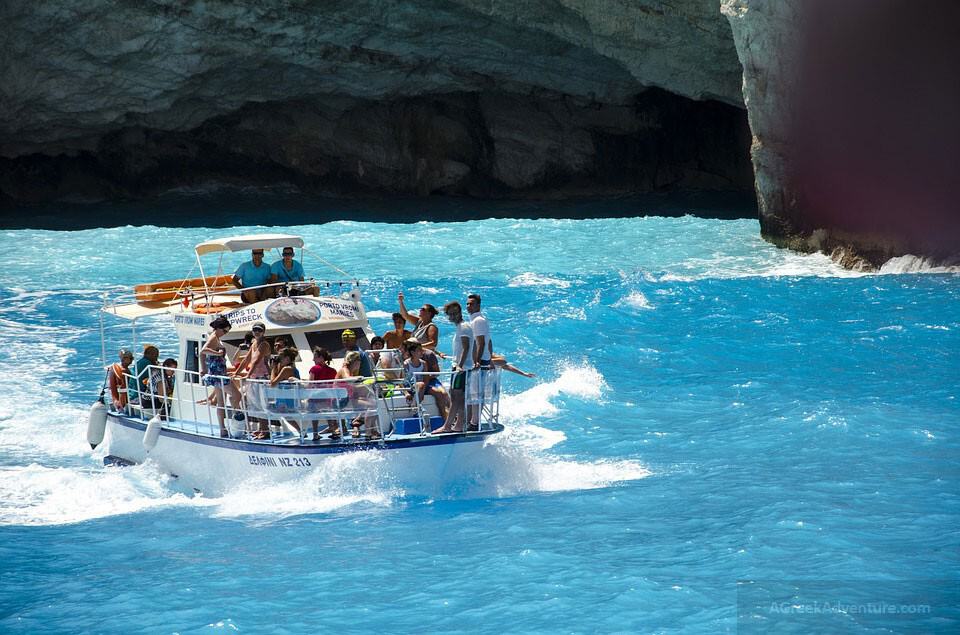 You can choose to enjoy luxury island events through a private boat tour.
Renting a boat is much fun as it comes along with a captain and the only cost you have to incur is the renting charges plus the cost for the gas as you will agree with the boat provider.
You can either drive along the coastline by yourself or use the boat captain as you enjoy your time with the loved ones.
The heavy winds and high waves might deter you from getting to some locations like the Shipwreck Cove with the boat, but you still have a chance of ripping around from one bay to another.
You can find you're on stopping zones, get out and swim by yourself and go back to the base later.
Guided Tours in Zakynthos
Since Zante (Zakynthos) is an island, there is a variety of hired services for tours around the beaches, points of interest that are not otherwise accessible. Here are the most preferred ones, but you can always explore all (apprx. 20) from here.
Porto Limnionas
The moment you thought you have exhausted the entire Zakynthos Island, you just discover there are other better sceneries that you have not yet set your foot in.
Porto Limnionas is definitely the most scenic coves on the island.
Limnionas is located in the deep natural harbor which is surrounded by the multicolored cliffs offering the best photo caption site in the island.
It also hosts some of the clearest water you will ever see anywhere. The green rocks in the harbor reflect the sun rays from below thus lighting the sea just like an aquarium.
It's a superb view that gives you a great experience.
Zante Town
Without much saying, this is definitely one of the most scenic cities in Greece.
it is also known as Zakynthos Town.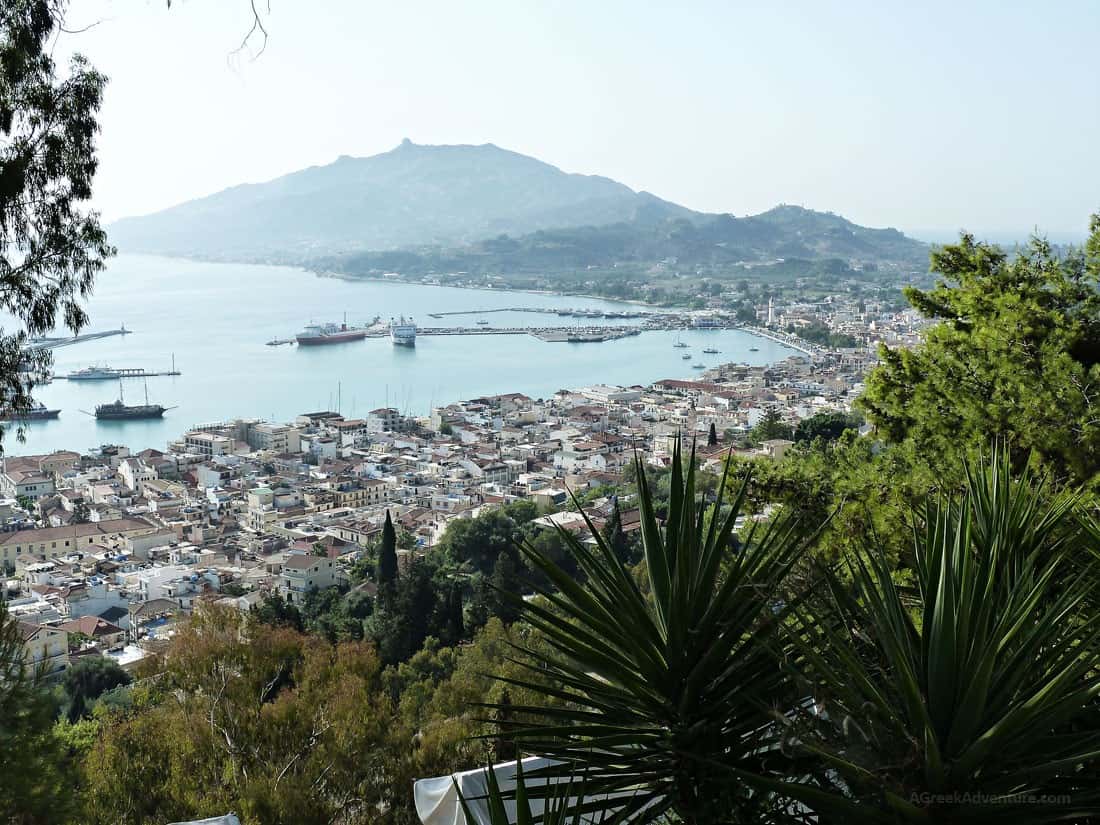 The town contains many restaurants. It has a great seafront promenade which faces a natural harbor filled with ferries, fishing boats and also sailboats.
Around Zante town, you will get many open plazas, plenty of shops and many markets where you get to refresh your groceries during your stay in the town.
It's a seaside capital that you will enjoy walking around.
Cameo island
The beauty of Zakynthos is inexhaustible.
The Cameo Island is off Zakynthos and has green trees with a beach bar that features top DJs.
This means one thing, happy nightlife.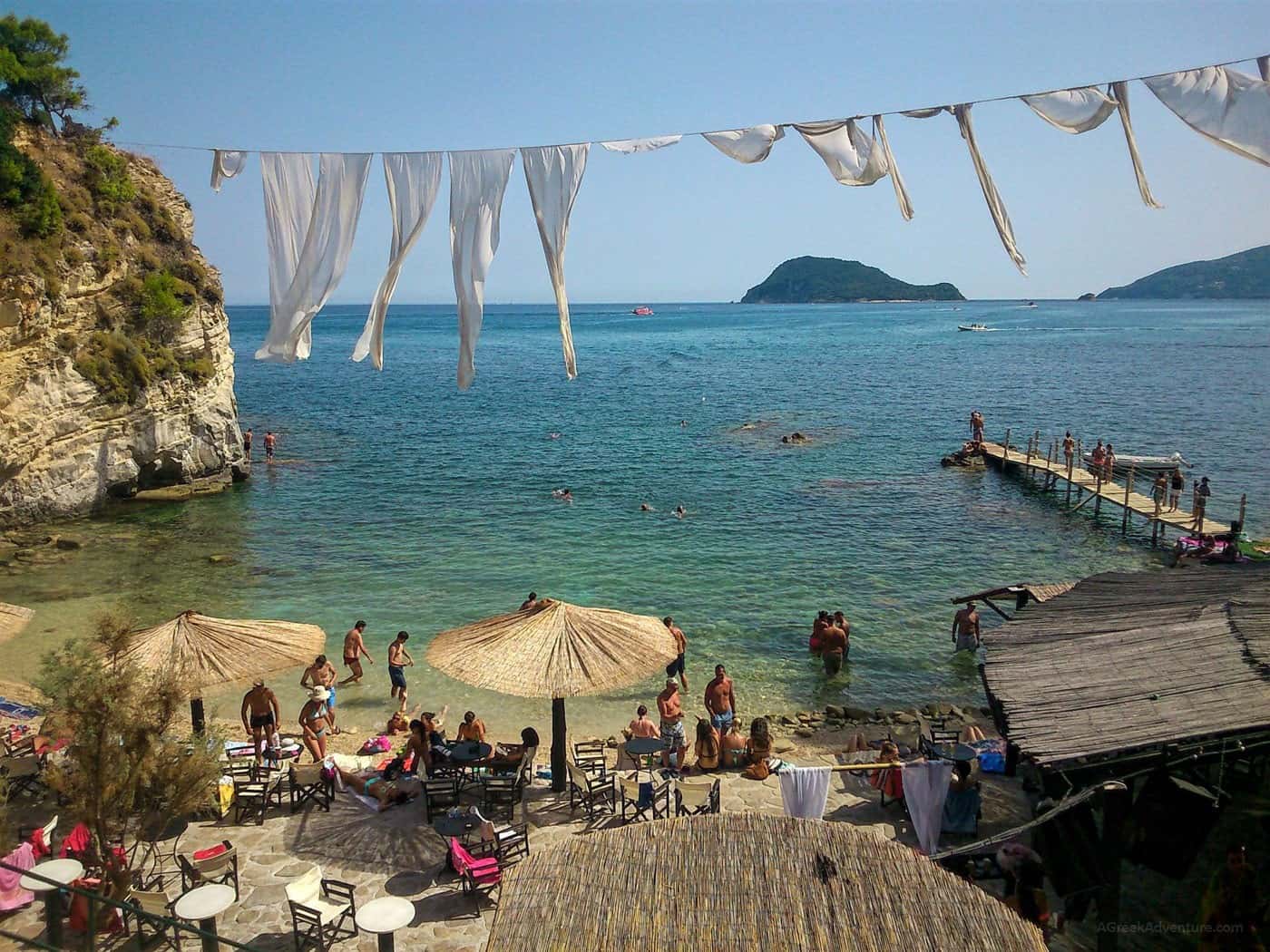 To get to this beach you need to go through the Laganas Beach where you walk through a beautiful great bridge made of wood.
It's an awesome photo caption moment.
You have to visit the village of Kampi
What happens with that village? It has no archaeological sites. There are no cultural related things to do and see.
However…. the village location is what it makes it really interesting, along with the 2 taverns that are the edge of a steep cliff. The view to the Ionian sea from these taverns and their food is what Kampi village is famous for.
Kampi is about 40 minutes driving time from Zante town or Laganas, and 50 mins from Tsilivi. You have to visit this place at least once for the food and view.
Zante Nightlife
As you spend your entire day exploiting the beautiful beaches and exciting activities in Zakynthos, you need a place to let go of the daily stress.
After all, you can to the island to enjoy life. Laganas being located on the eastern side of the island is a city that is very famous for the crazy parties.
The parties are mainly known to last till morning.
This is a place that you will easily find all types of club and you can dance to until the sun comes up. The town main bars in the city are Sugar bar and the renowned Cheeky Tikis Bar.
How to get to Zakynthos island, Greece?
Flights to Zakynthos
There are flights from Athens, Greece (takes around 45min). The airport is near Laganas. Charter flights from European flights fly regularly during summer months. Use skyscanner to find the best price.
Ferries to Zakynthos
You won't find a ferry from Piraeus (Athens) Zakynthos. You need to get to Killini (Peloponnese), that is one hour far from Patrais city (around 3 hours from Athens) and board from there. If you take a bus from Athens to Killini, make sure to have plenty of time and don't just calculate the 4 hours timeframe.
Better to be at the port of Killini 2 hours ahead than missing the ferry. Usually the ferry waits for the bus to arrive if it delays for 30-60 minutes but still…
Make sure you book ahead as in summer time ferries lack of tickets fast and if you have a car you need book a space for that too. Use this service for ferry tickets.
If you travel from Kefalonia to Zakynthos and vice versa then there is a ferry serving between Pessada port (Kefalonia) and Shinari port (Zakynthos). That is a 1.30 hours trip.
Zakynthos Hotels – Where to Stay?
Depending on what kind of accommodation you prefer or what kind of nightlife you like you need to choose your hotel/apartment accordingly.
Laganas is rather "noisy", while Tsilivi is less. Zante town is for those who want to do long walks in the city, while choosing to stay in remote hotels (there is one near Kampi too) means you need some quiet time.
Moving in and out the major cities of Zakynthos (Laganas, Zante town, Tsilivi) does not require lots of driving time, but with 25 beaches you will be "forced" to explore this island in and out. Here are some options for the "fun" cities of Zakynthos.
Best Laganas Zante Hotels Suggestions
Best Tsilivi Zante Hotels Suggestions
Where is Zakynthos?
Zakynthos is at the Ionian Sea and is part of the Eptanese (means 7 islands) islands group. The Eptanese islands are: Zakynthos, Kefalonia, Corfu, Kythira, Ithaca, Paxoi, Lefkada. When you look at the map of Greece, you see that Zakynthos is very close and to the west side of Peloponnese (that is why it is easy to cross with ferry from Patrais).
Zakynthos and Ionian islands are ideal for island hopping when you have lots of days to spare. This because the nearby Kefalonia and Corfu at the North part are way too big islands and you can't cover them in a few days each.
Zakynthos Map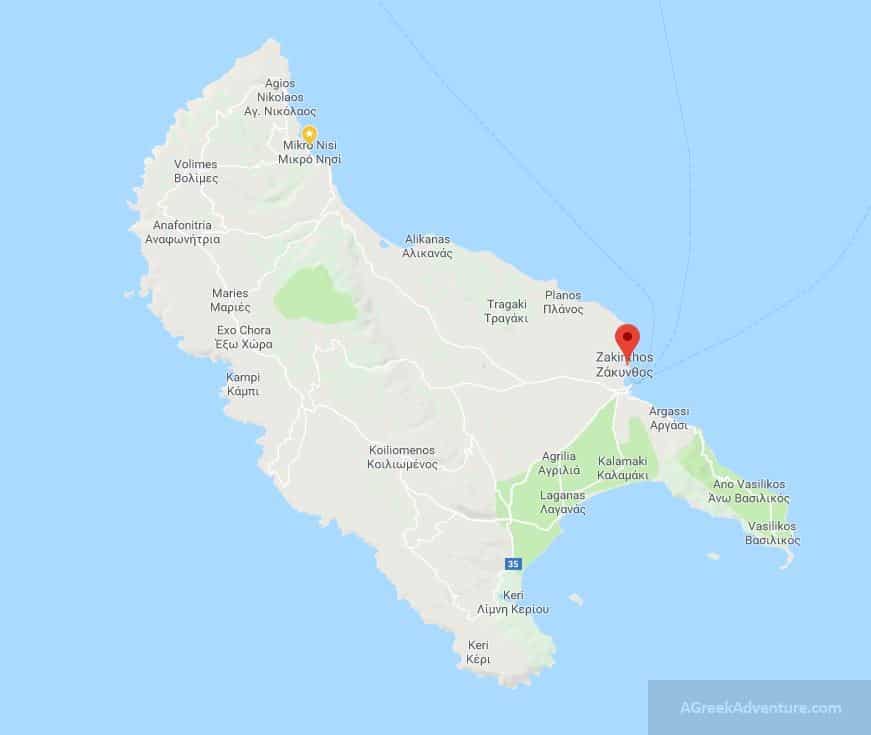 To sum it up for your Zante holidays…
Zakynthos is definitely a must-see destination.
It needs to be on your list of the next summer holiday visits.
This island has so many things that you need to see and do. It's a venue you will definitely fall in love with the first time you get here.
With all said, get your hat, sun cream, and your entire energy as you explore the most amazing scenery in Greece, Zakynthos island.