"Lake Plastira? No, I haven't been there!". That was my first response when my friend E. asked me if I was keen on the idea. I confess, that the North part of Greece was always alluring to me but I never had the opportunity to visit it, apart from the city of Thessaloniki and the Chalkidiki Peninsula. Plus, oh yes, the Elati Trikalvn, Ioannina, Parga (OK, I am going to stop…)! So when the whole idea of a 3day trip to Karditsa and Lake Plastira was on the table, I naturally said Yes. To be exact, I started packing my luggage way before booking the hotel and of course I started asking friends and acquaintances plus Mr Google for "what, where and how". You know… Where to go, what to eat, to see, etc.
The trip started a Saturday morning (or better at dawn) and despite the fact that we had the mist for our company most of the time, we arrived at the city of Karditsa relatively early (in approx. 3.5 hours). Of course, our first stop was at the center of the city. We had a quick walk hooded up to our ears (due to cold weather) at the Eleftheria Square, and had a coffee in one of the most beautiful coffee shops of the city, named the Boteco. Boteco is of industrial aesthetics and design and we had a tasteful coffee and delicious food bites, just before our trip towards Lake Plastira.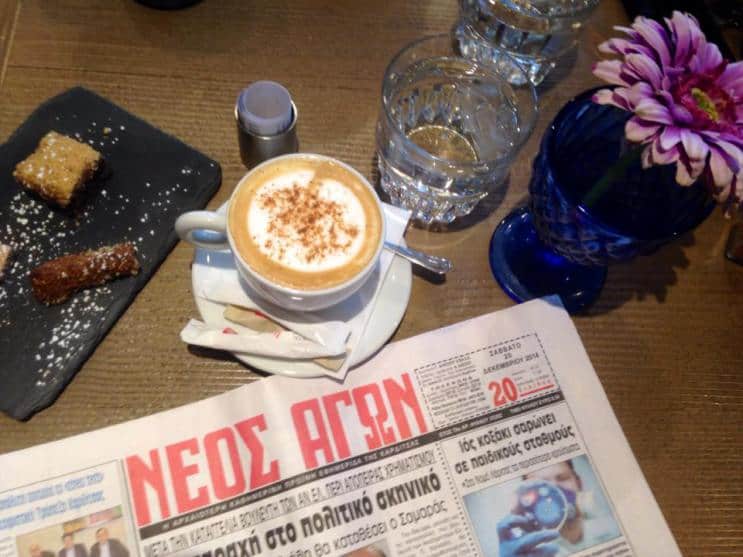 So, since we sipped our coffee, learned all the news of Karditsa and made our assumptions for the residents of this city, we pulled down our caps once again and took the road towards the lake. Now, you may ask: OK, great but where exactly were you going? To what village? Which area? I will tell you right now. You know that -in general- I prefer to go to places that are not so touristic. You may say that this is an "issue" or a "problem" of mine, or you can call it whatever you prefer but this is me and this is what I want to pass over to you…
At Lake Plastira we decided to leave out the touristic areas (Kalivia Pezoulas, Kalivia Filaktis, etc) and cross over to the east side, at Lampero. This is a little village but also (maybe) the only one in the area so close to the lake, where you can literally walk next to her or over her (I will explain about this further down this article) without using your car and spend miles and time.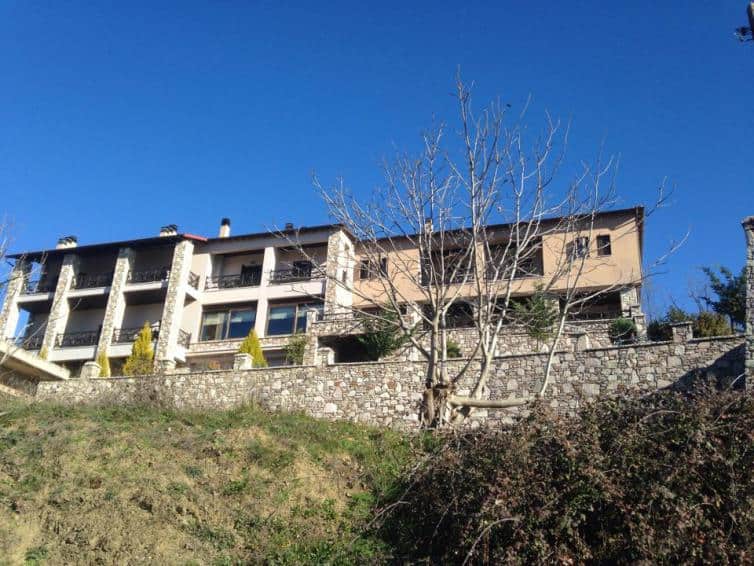 By arriving at hotel Titagion, a wonderful 4star hotel at the village entrance facing the lake and the snow covered tops of Agrafa, we were welcomed by Miss Vasso and Mr Babis with homemade sugar-covered and honey-covered pastries. After the instructions on how to start the fireplace in our room, they suggested that we go to Lamberou Beach for lunch.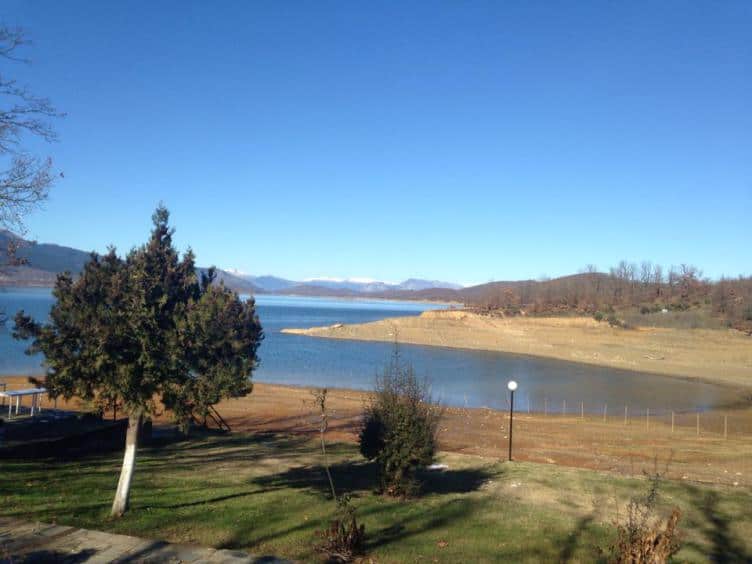 "Is there a beach at the lake?" you may ask and you would be right! I had the same question, until I arrived at the beautiful tavern next to the lake and I understood that, yes there was a beach and gave her name to the tavern. So, note it down: Lamberou Beach. Apart from the magnificent view and the great photos you may take (if you are lucky like us and the days are sunny), you will definitely eat very good meat. Start a discussion with Mr Vassilis and Nick and you will leave the place full of joy and hospitality from hearty people, by having a great mood and your breath smelling tsipouro or wine!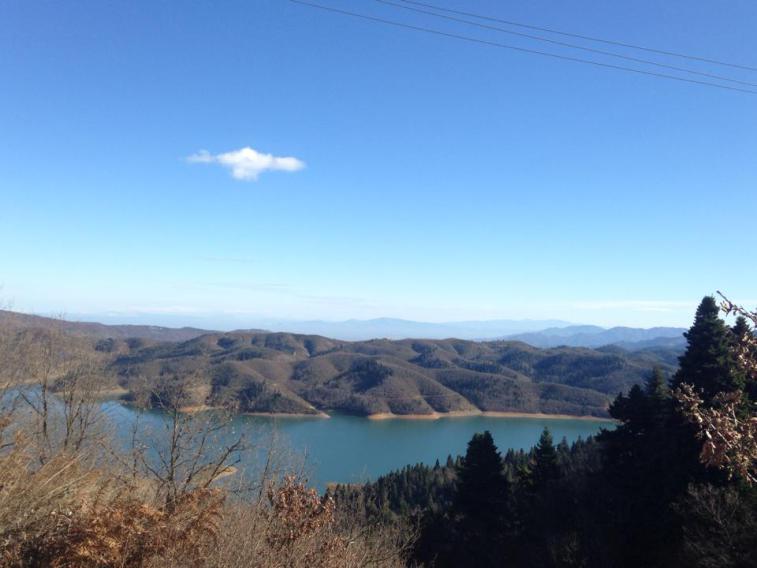 After dinner and if you still have the strength for a walk, I suggest that you visit the Koroni Monastery (very close to Lampero), in order to enjoy the magical view of Thessaly Plains.
You can dedicate the next day to go around the lake taking your time and by having frequent stops to take lots of photos. The scenery is magnificent! We -after our super breakfast at the hotel with home made marmalade, local bread and the traditional milk-pie – started our whereabouts towards the south point of the lake, the Dam. It is an impressive construction of 83 m. height by 220 m. width, which holds the waters of lake Plastira. These, water the Thessaly Plains and provide water on more than 30 large and small villages of the Prefecture.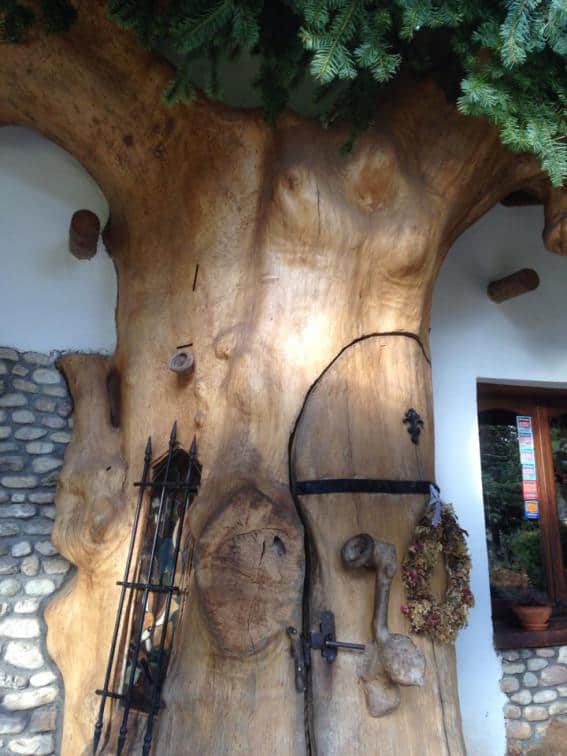 Leaving that place, your whereabouts can continue towards the west part of the lake, by making an necessary stop at Karitsa and specifically at Panagia Pelekiti Monastery, to enjoy the amazing view to the lake. Do stop at Neochori for a coffee and at Kalivia for hot chocolate! By moving north have a stop at Krioneri to get a bit far from the lake and visit Anthochori where along the way you will meet the arched bridge and the waterfall at that area.
Lunch time approaches and at that point you have to be at Keramario, which even if it sounds like Kera Maria, is no more than a settlement at Drakotripa area which gave its name to the restaurant of the above photo. Follow the signs towards Mousaki and park your car. Open the door -which actually is a huge tree trunk- and sit for your lunch by staring at the deer and peacocks strolling free in front of you next to river Pamisos. Ask for Greek noodles (chilopites), which drove me crazy (in a good way) and if you dare taste the deer stew.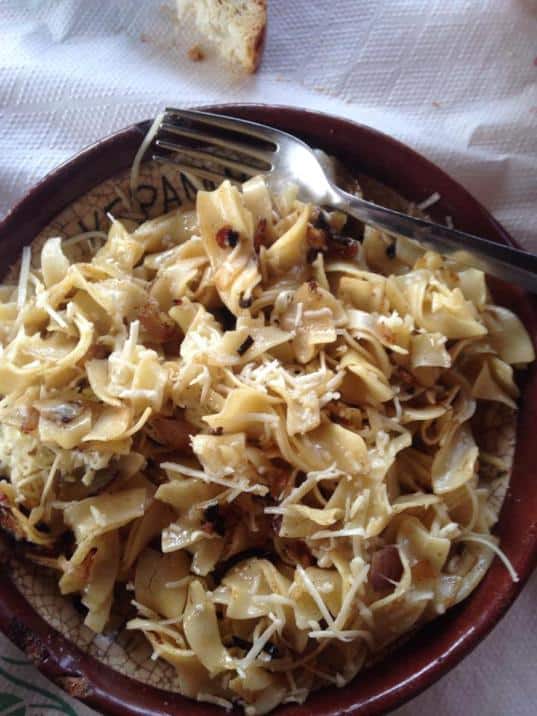 To digest all the food, I would suggest a horse ride next to the lake. Where shall this be found? There are lots of organized farms that offer this, but I would suggest that you stop at Zampeta Saloon farm, because apart from the horse ride next to the lake you can also have an archery experience or even take a canoe and explore more of this area!
By continuing the lake ride and having passed through its far north point, as we were going down we stumped at Mesenikolas village. It was just after dark and the spectacle was wonderful, since in front of us the whole city of Karditsa was presented illuminated! If you are not dead tired yet then visit one of the village's coffee houses and have some wine that is made only in that specific area. You definitely need to have a small talk with the locals!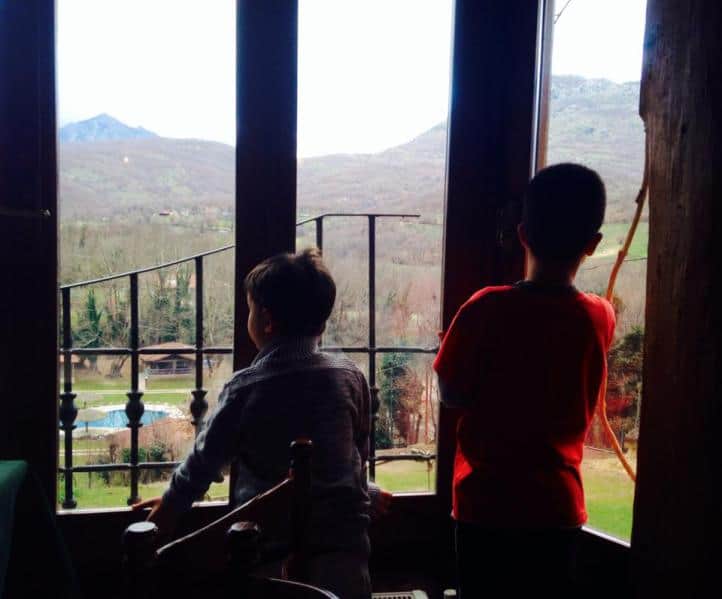 As night time moves on, the choice for nightlife entertainment is only one! The town of Karditsa! It was Sunday evening and the shops at the town center were and remained open. That night I tried Honey Pastry Cocktail and got full from the food bites that kept coming to our table every 20 minutes.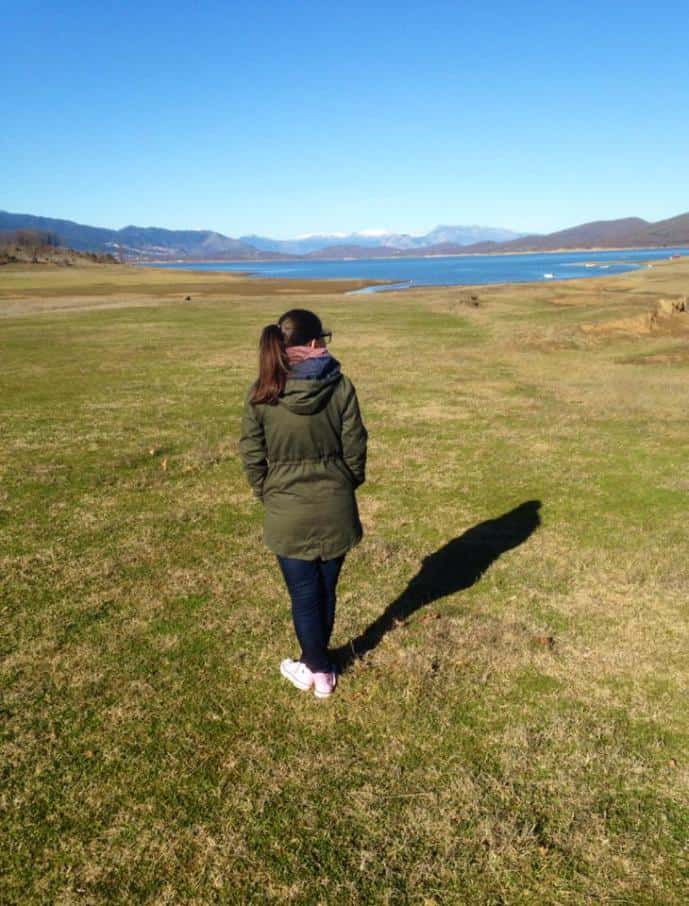 Next morning and before we start our way back home, I found myself cruising with a good company on the lake. Yes, literally on the lake. Since it was not cold enough and there was no snow at the area which would melt to fill the lake (as they told me), the water level was low and, thus, gave us the ability to walk (with a sun to our eyes) on the dry part of it!
The result of this specific walk? Wonderful pictures, fantastic photos, a pair of All Star snickers full with mud, interesting discussions and a promise. A promise to return to the lake after it has snowed, but also at spring, and maybe at summer too!
Finally, this lake seems to be an all weather one! Eventually, this lake will make me leave aside my trips to the other side of the world and start meeting the beauty of this country which has so many hidden secrets, so many interesting people, so many stories to tell and so many colors to fill our sight.
So, here is a toast to our next trips outside, but mostly inside of Greece.
(This article and photos were published in Greek at TravelStoriesfrommyWorld blog, and this is a guest post).