We are about to go for Sea Kayaking Epidavros, before our kayaking Nafplio experience.
Imagine almost floating over the water, able to visit secluded beaches.
This is how sea kayaking felt to us. We are going to describe to you one of the most beautiful experiences we had while we were enjoying sea kayaking in Greece.
Specifically in the area of Argolida, Peloponnese.
If you fancy paddling slowly (or hard) and enjoy rippling the sea & exploring secluded small islands and beaches then this is for you.
It all started like this: Hey, why don't you come for the weekend and we can go for sea kayaking both days. The person behind the words?
It was from George Pavlopoulos. It was a surprise in a very good and interesting way to get invited by a guy whom we never knew before.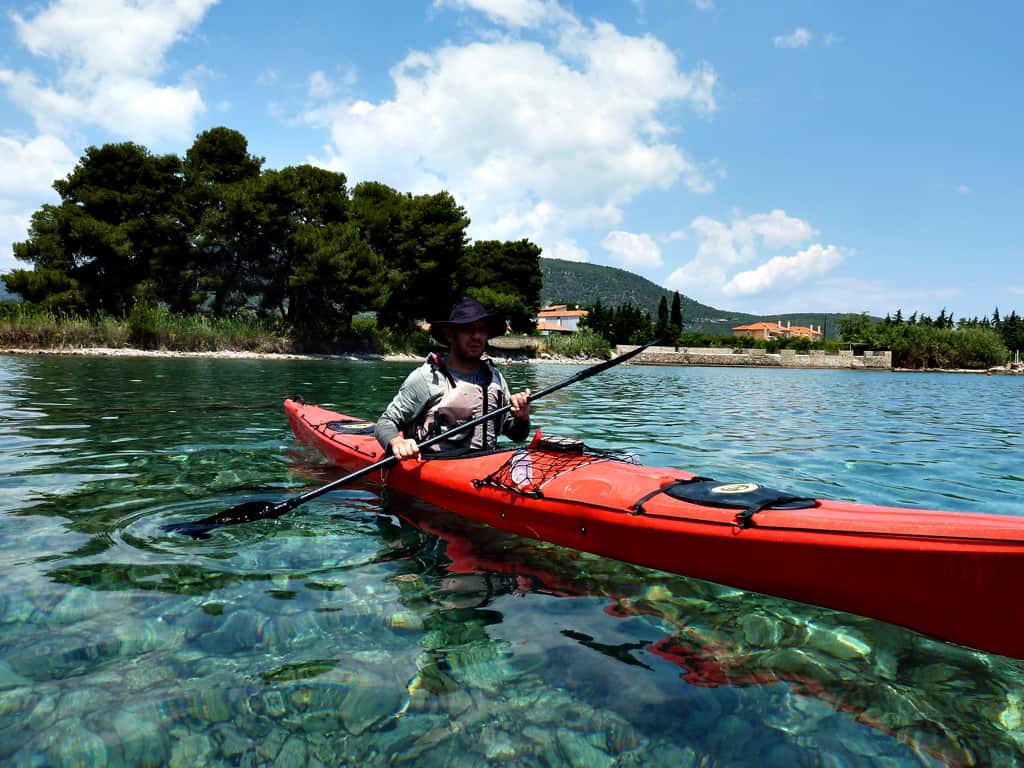 We planned to be at his house at Lygourio (10 minutes from Epidavros ancient theater) early on Saturday morning. It was easy to get there as the area of Epidavros and the surrounding Tolo, or even Nafplio are no more than 2 hours (by car) from Athens. Lygourio village is almost in the center of all.
George met us at the village entrance and he lead the way to his house. His absolutely great, peaceful and calm house with his 2 dogs and a great gazebo (look at me relaxing there). He showed us the way to our house apartment for these 2 days and after having a quick espresso we got ready for day 1 of sea kayaking, over the sinked ruins of Ancient Epidavros.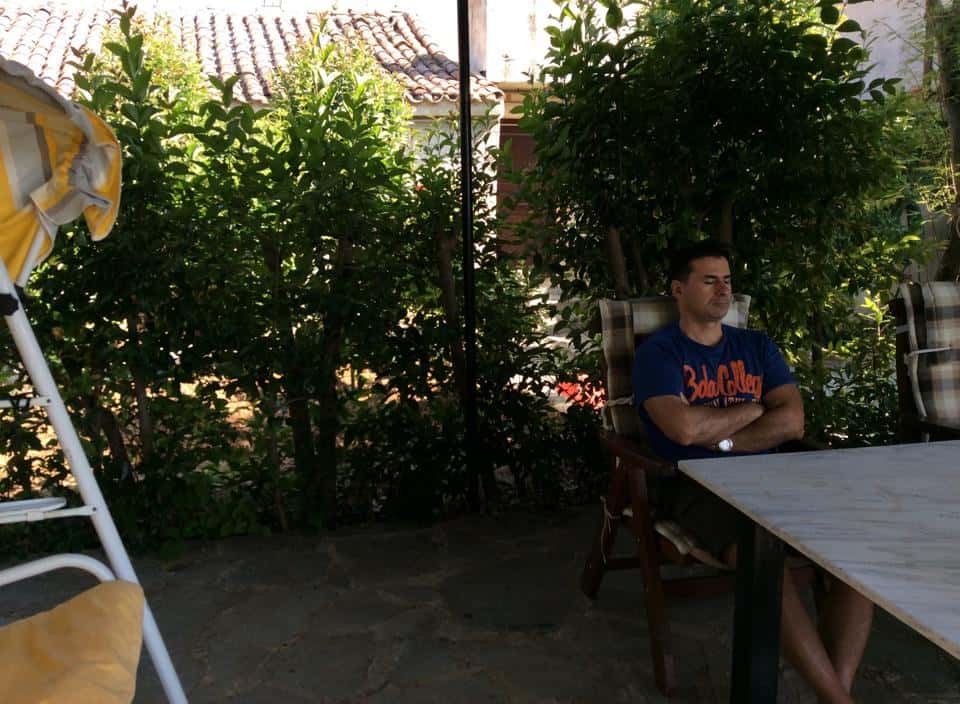 Our Sea Kayaking Epidavros Experience
Our trip would start from a beautiful beach in old Epidavros.
We got suit up with lifejackets and all the needed equipment, while George explained the basic rules for safety and having fun.
We got into our kayaks and adjusted the sitting position.
There is a secret there: Your body needs to sit absolutely vertically. In that way your back is not stressed at all and your paddling is most efficient.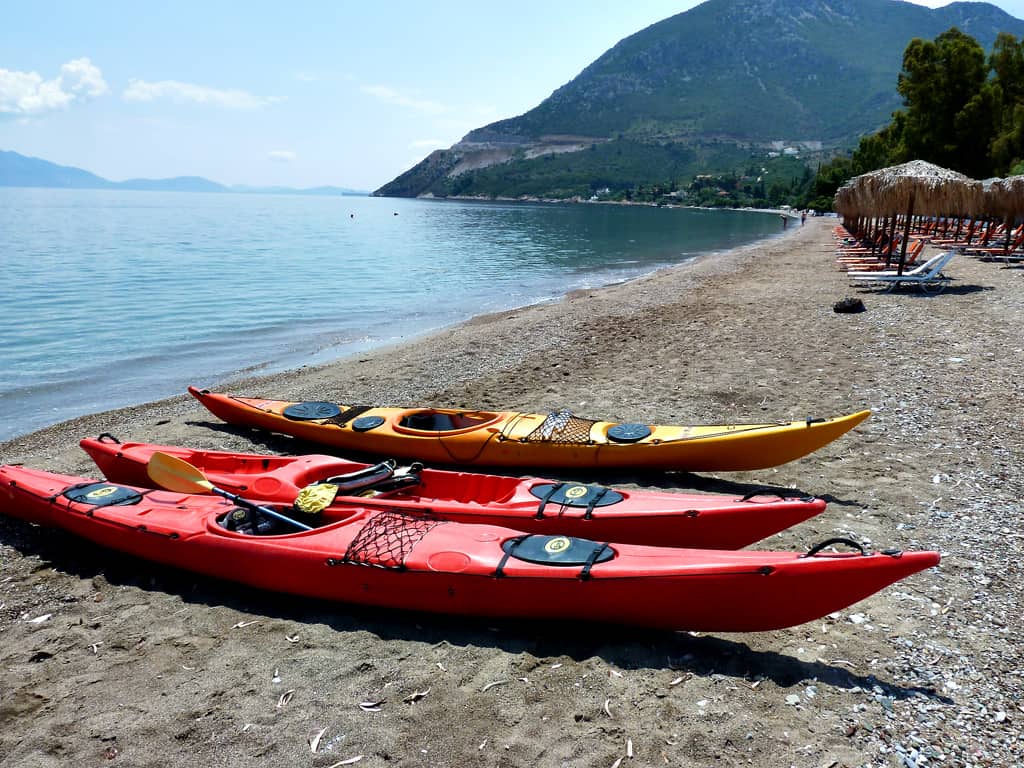 The sea was crystal clear and almost flat.
For a few minutes the thought of just sitting there and swimming crossed our minds but George told us we would reach a secluded beach and we could do that there too! Off we went!
Our first stop was over the sunk ancient city of Old Epidavros. We were too close on the water surface to take pictures, so here are also some from far higher.
Then, we paddled towards a small secluded beach where we had a break admiring the sea and small boats and then we paddled to another secluded one. Both were very beautiful.
Almost 3 hours went by and it was so much fun that we didn't realized it. We returned at our base, grabbed a cold coffee and we went back home. In the meantime our group got larger as Martha arrived.
It was time for ouzo snacks and a lunch delight at George's home, who proved to be an excellent cook too!
Martha made the ouzo snacks while George was cooking the boosted pasta (boosted with Raki) with tuna.
We spend the rest of the afternoon just there at the gazebo under the shade, having a great discussion about life and philosophy, with some more ouzo.
Time flew fast and night came.
We just drove for 10 minutes to arrive at the beach bar for some drinks.
The temperature was slightly cool and not very hot (it was May). Music was perfect, cool, smooth and island beach style.
We were feeling like we were on an island somewhere.
Were we not though? Argolida is at Peloponnese, which is surrounded by sea, so there you are!
Contact George from here.