Following our tradition to provide guest posts from experts, here is one for sea kayak in Crete.
Stelios knows his territory (Crete) and shares some pretty lovely insights. He has provided such for years.


Why to Sea Kayak Crete?
Crete is the largest island of Greece with 1024 km of coastline, 48 summits above 2000 meters, and more than 200 gorges with a population of just 677000 people (2011).
With that kind of geography, Crete is an outstanding world destination for outdoor activities like hiking, rock climbing, and kayaking, to name a few.
What to Know about Sea Kayak in Crete?
Paddling is not rocket science, but it does require proper technique if you want to cover distances and be safe in various sea conditions.
Its relation with the tourist kayaks (sit on tops) that you can usually find in hotels is nearly zero.
The benefits of joining a club or attending a sea kayak course are countless and will help you progress much faster and safer.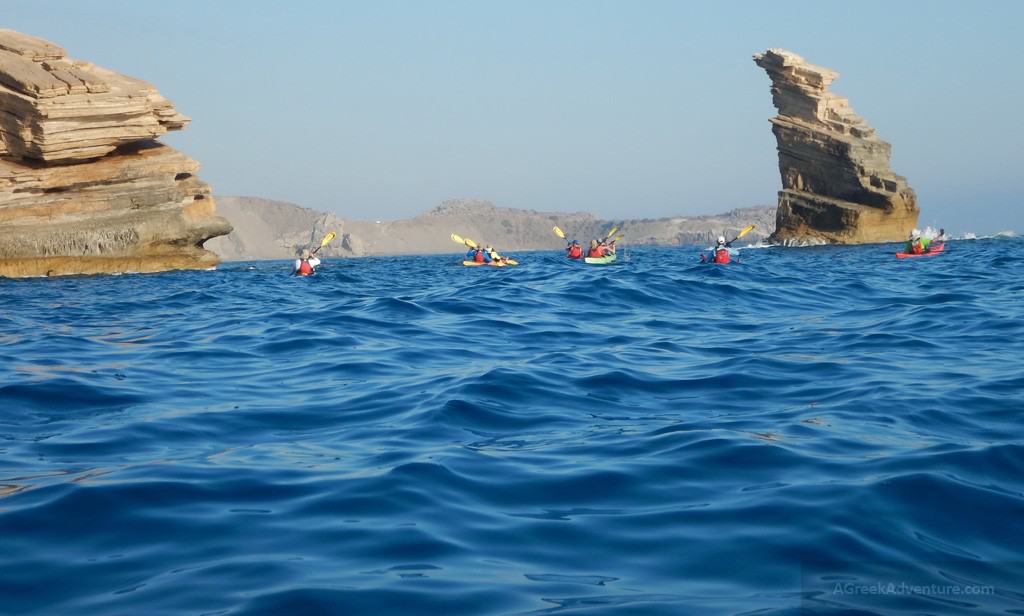 The majority of sea kayaks are closed types and are referred to as sit-in kayaks.
They usually got 3 to 4 store compartments that are waterproof and are all used to store gear.
The amount of storage that we can carry in a sea kayak (especially if it is an expedition kayak) varies but is more than enough in most cases to make a long trip.
There are reported trips with SKUK kayaks up to a month self-supported in Greenland!
Like any other sport, there are a few different sea kayaks and a big enough list of paddling gear to choose from.
If you are an experienced paddler, you can rent a kayak in Crete or join any guided tours that usually cover most of the island. Long expeditions up to 10 days are also available, while there is, of course, the option for someone to circumnavigate the island (more than 800 km).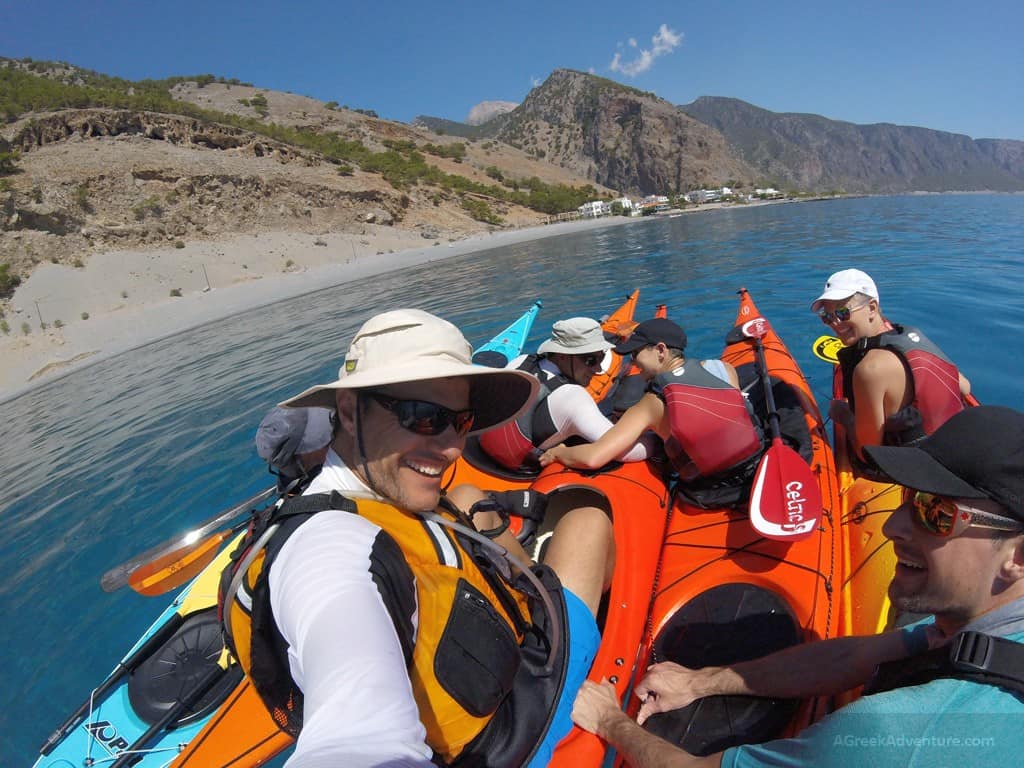 North Crete for Sea Kayaking
Most travelers know that Crete's most incredible kayaking routes are only in the south part of the island due to marketing.
That is true up to a point and depending on what each traveler is looking for.
There are many remote places in the north part too. Below I'm going to describe a few routes in each region briefly.
With a map and a little bit of search, you will make a plan easy.
If you are a novice paddler, the best spot is in the south of the Chania region, as that part is very well protected from north winds due to the mountains in the area.
The route that starts from Chora Sfakion or Sfakia village and ends up in Agia Roumeli or further west is one of the best in Crete.
Heading further west requires good kayaking knowledge and good paddling skills in solid winds.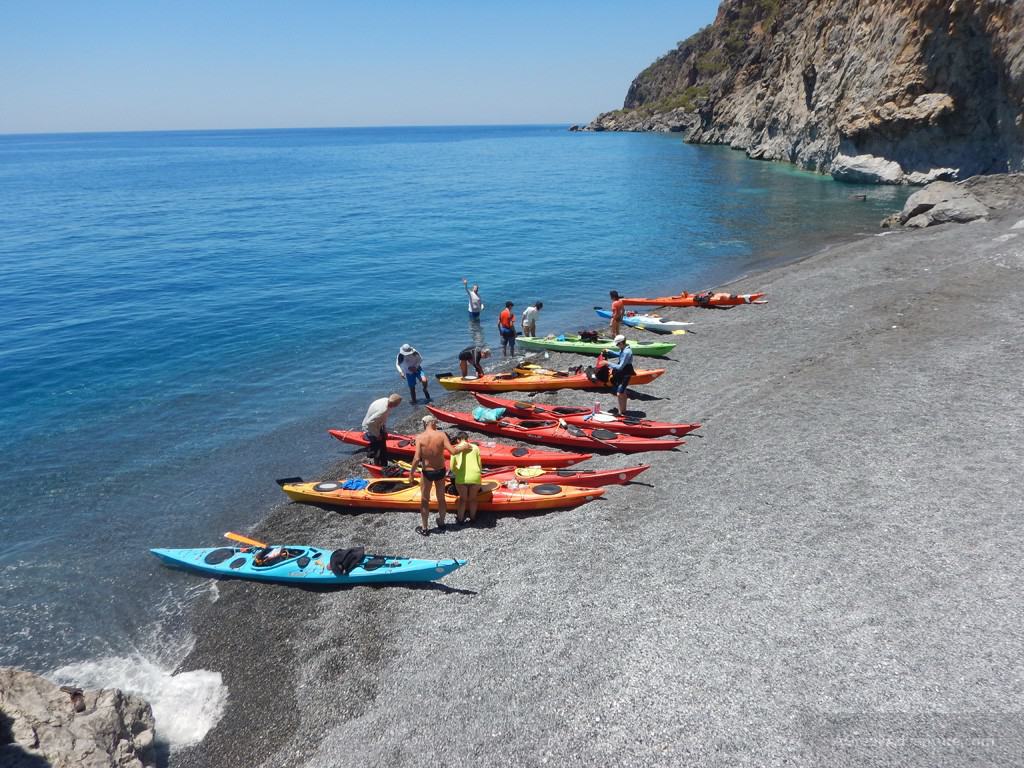 In the south part of the Rethymno region, the route that starts from Plakias town and ends up in Agios Pavlos beach (heading east) is one of the best.
The main characteristic of this trip is the beautiful remote sandy beaches. Lots of nice camping spots too.
Beware the high temperatures during the summer and the strong winds in Plakias.
Over the years, I found the most accurate weather forecast to be that from meteo. Gr and more specific, it's sailing maps.

If you enjoy open crossings, the route from the Kokkinos Pyrgos marina in the southwest of Heraklion and towards the Paksimadia islands is a must.
You can either paddle back the same route or going back to Agia Galini in south Rethimno and then follow the coastline to get back to Kokkinos Pyrgos.
That is about 38 – 40km, while the crossing is roughly 16 km from Kokkinos Pyrgos to Paksimadia and about 13 to Agia Galini.
Circumnavigating the two small islands is about 5km. You need to carry food and water as there are no inhabitants.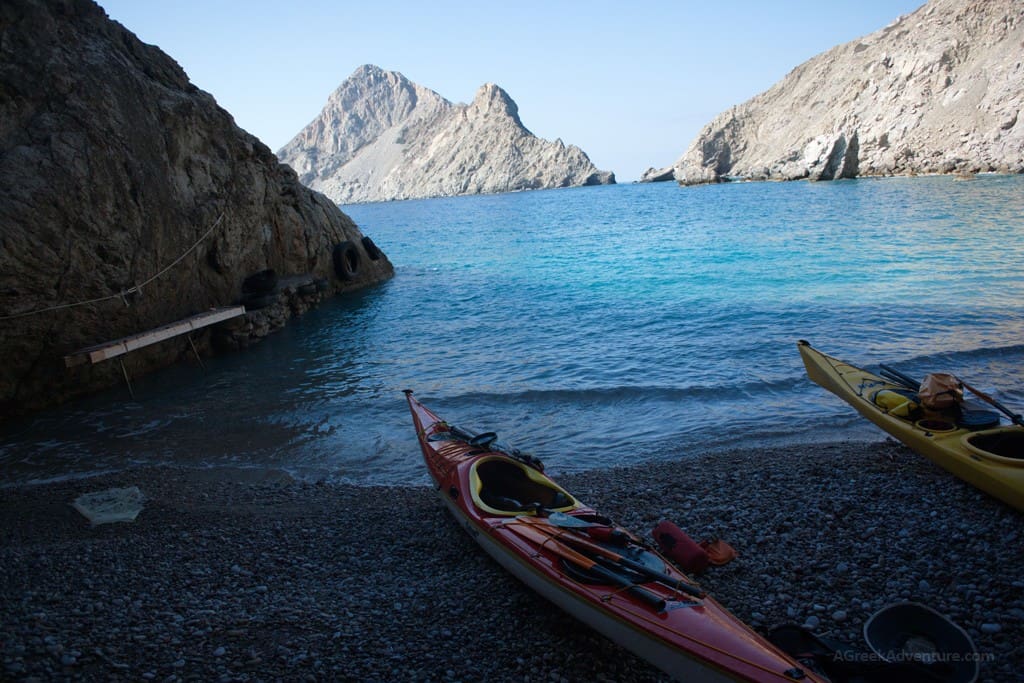 Heading westerly to the Heraklio region and on its south coast, we can paddle, in my opinion, one of the best sea kayaking routes in Greece as a day trip.
Five hundred meters of vertical cliffs (limestone), caves, impressive beaches, and gorges with no access by road offering a remarkable landscape to the paddler.
Starting from Kaloi Limenes village and going towards Matala is about 22 km one way.
Good paddling skills are essential as usually, at the end of cape Lithino, katabatic solid winds occur from Psiloritis mountain.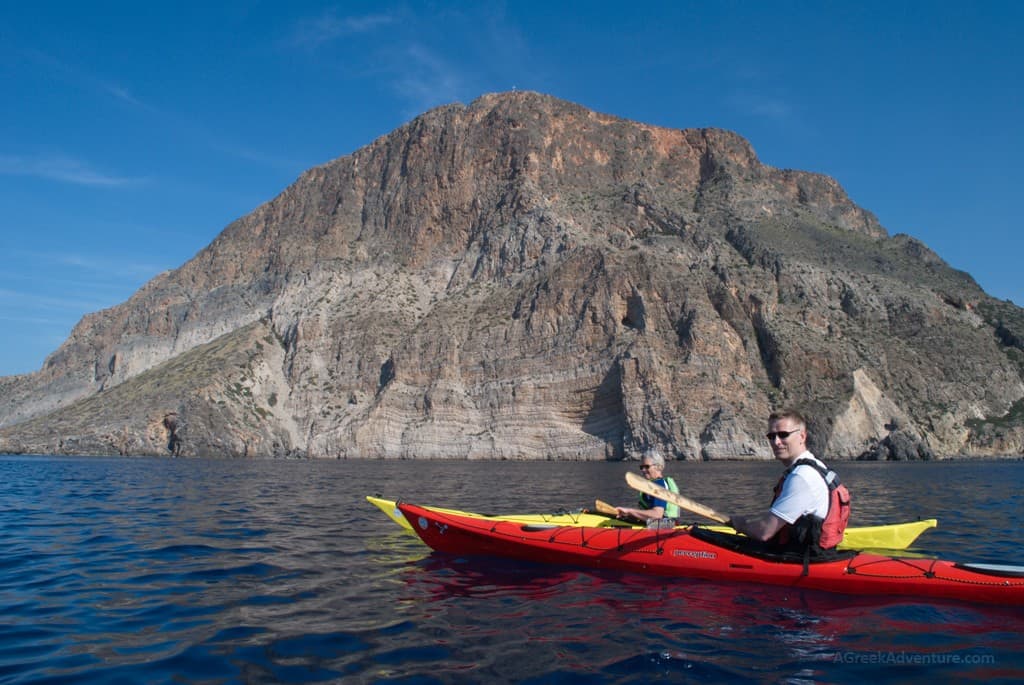 Moving on to the northeast part of Crete and starting from the small fishing village of Mochlos in the Lasithi region, we can paddle towards Psira island (circumnavigate it) and finish further south to the village of Pachia Ammos.
That is a distance of about 25km.
The crossing to Psira island is about 4.5 km and is exposed to north and south winds as the shortest gap (12km) between north, and south Crete is nearby.
The island has cliffs up to 300 meters high and a large cave to explore.
Psira was first excavated in 1907 and found a critical port in the Minoan civilization (3650 to 1400 BC).
From Pachia Ammos, you can take the bus to get back to Mochlos or get a taxi. The distance is short enough, and a taxi won't cost too much.

Enjoy Sea Kayak with Enjoy Crete
Your Crete kayaking adventure will be one that you can talk about forever.
As the name states, this company is located on the island of Crete in Greece.
The company is the only local company in Crete with certified local guides that are certified BCU (British Canoe Union).
You can join one of their trips, or they will help you create a tailor-made trip all of your own (minimum of two persons).
The Enjoy Crete company offers trips all year long. You can book anything from a day trip up to an eight-day trip (eight days, seven nights).
The choice is yours, depending on your level of experience. If you have a group of experienced people and have at least eight days to spend, this will be the most fun you can get from doing sea kayak at Crete.
If there is just you and a friend, you can experience the same level of challenge and fun.
The company offers sea kayaking courses and rock climbing courses (some trips include rock climbing).
The level 1 (one) sea kayak course is aimed to provide you with the necessary skills to paddle any sea kayak safely. No experience is needed but is a must-have before any other course will be allowed.
They offer kayaking in rough conditions courses also. This course is for the more experienced paddler, for sure.
The rough weather course is kept to only 4 (four) people for safety reasons. You will learn how to control your kayak in all weather conditions. Enjoy Crete will make sure you are ready for any trip.
The Eskimo roll class is not mandatory but could come in handy and a good thing to know.
The trips can be booked for any time of the year; keep in mind the winter if Crete is colder. For some of your sea kayak, Crete trips, you will need to be an experienced paddler.
If you want a day trip, you will experience some incredible scenery. You could book one of their overnight trips for a more extreme adventure.
There are 2 or 3 (two or three) day trips with wild night camping. You might want to try their 7 or 8 (seven or eight) day trips; your overnights will be in a tent or a room where available.
Whatever trip you book, you will come away with memories that will last your lifetime. A sea kayak adventure that will have you telling all your friends to book a trip with Enjoy Crete.
Contact the organizers through this link.