Ever thought that island of Kos has some great horse riding facilities? If so, then check what we found out. Seems people there know how to have a great time.
Make your holiday horse riding extra special at Salt Lake Stables
Since 1992, Yannis Daoulas and Gina von Stackelberg have been dedicated to giving holiday horse riders an unforgettable experience. Salt Lake Stables is part of a small sheep and horse breeding operation run by Yannis, Gina and their three sons. They are located on the beach between the seaside villages of Tigaki and Marmari, next to the Salt Lake.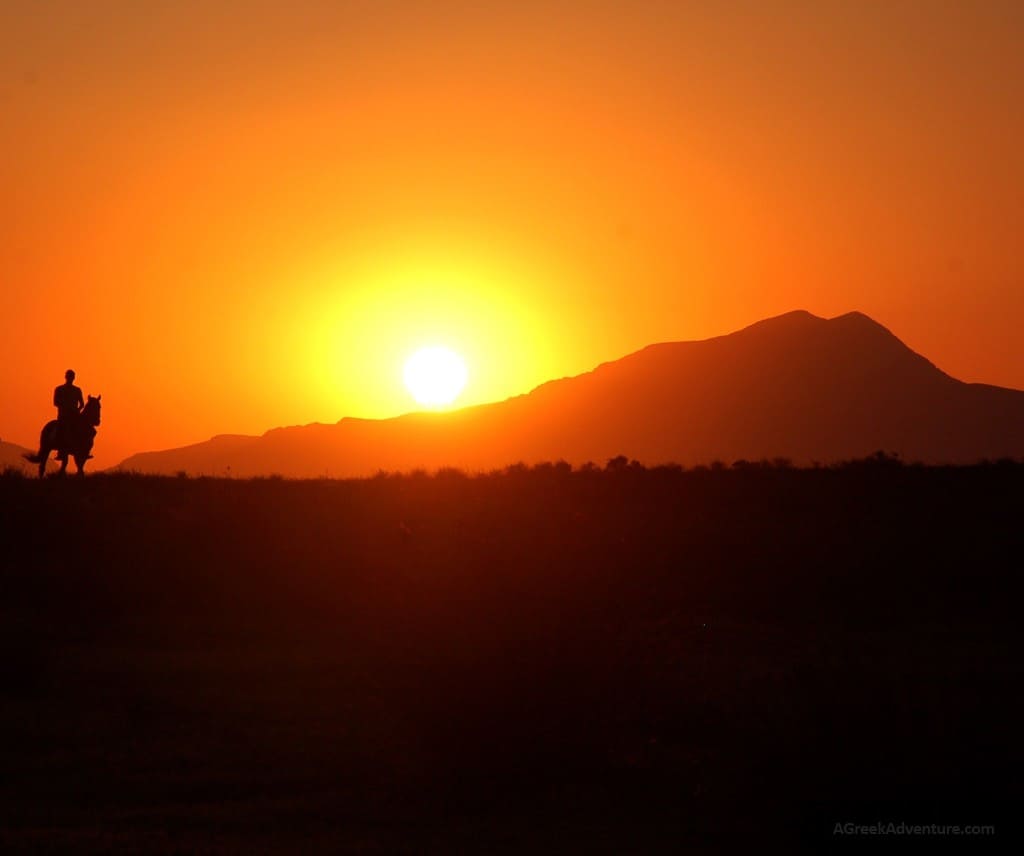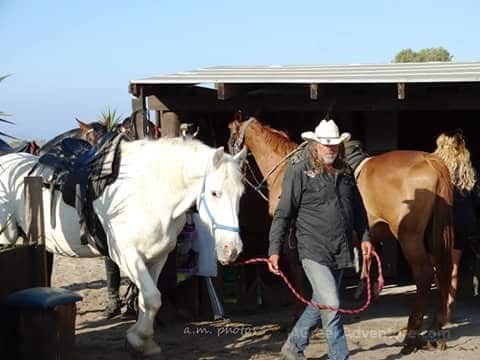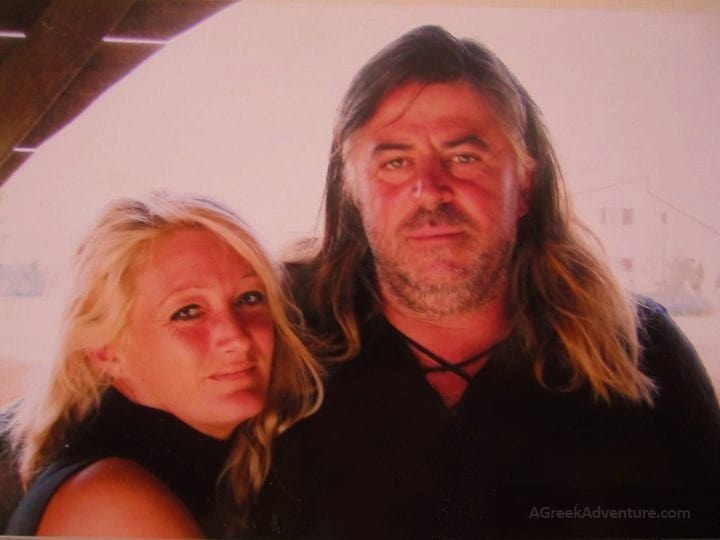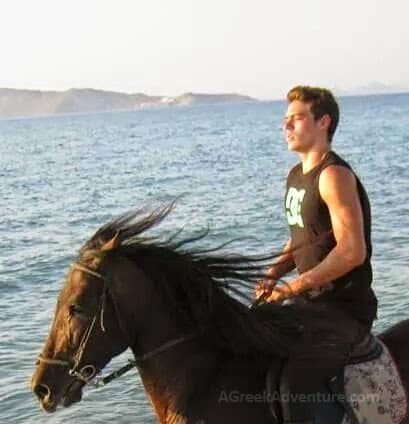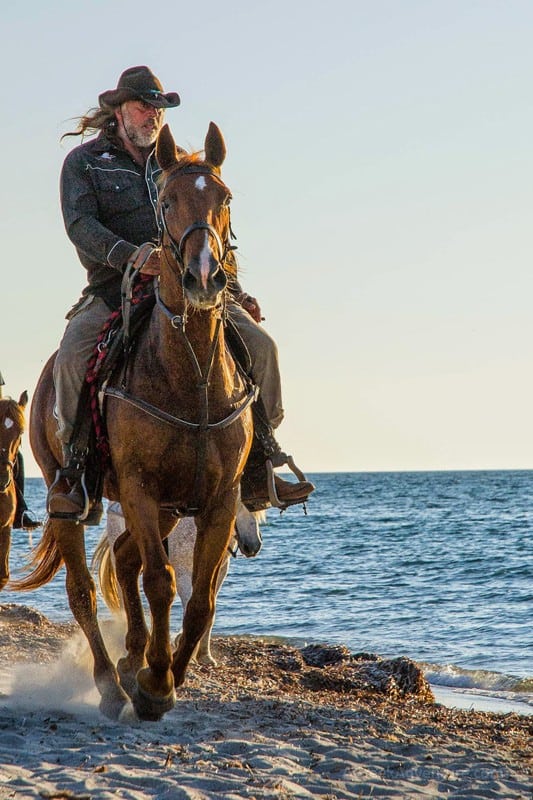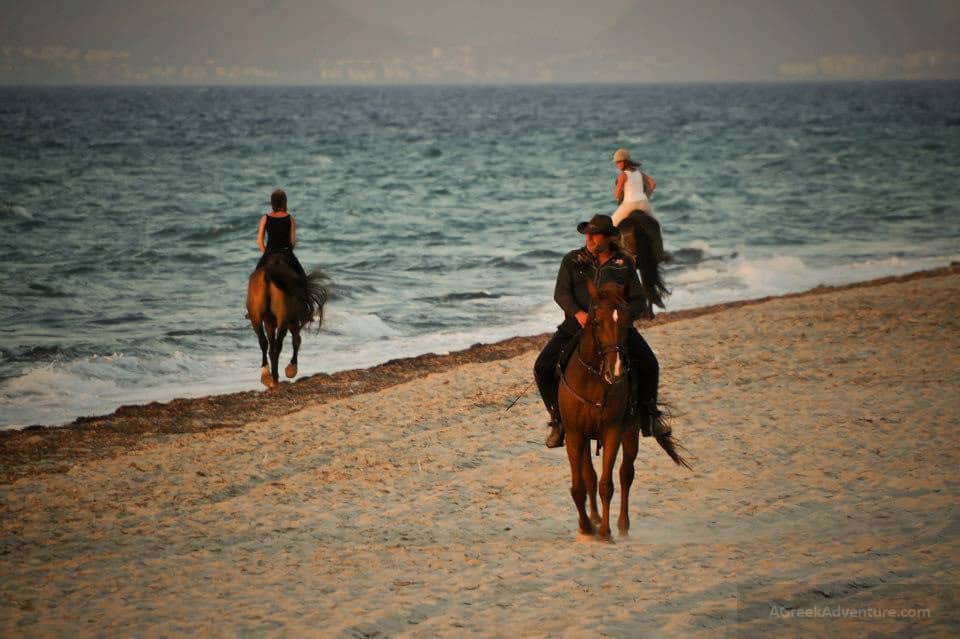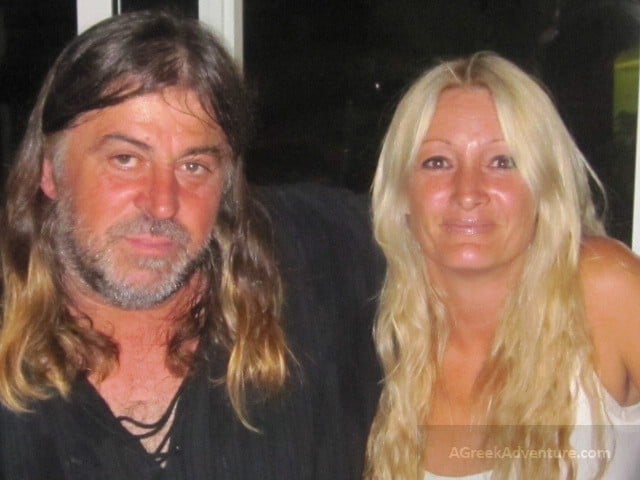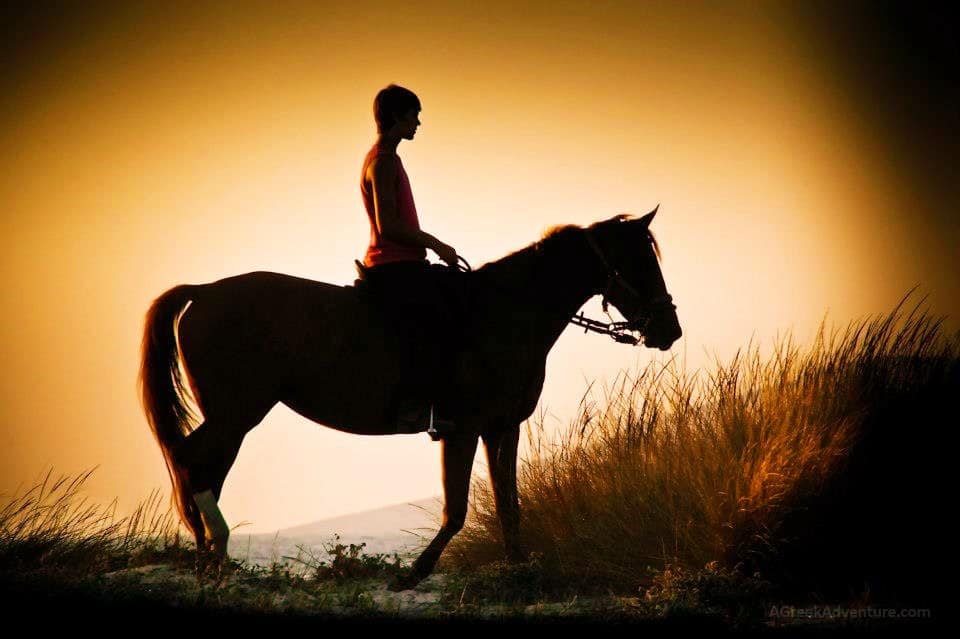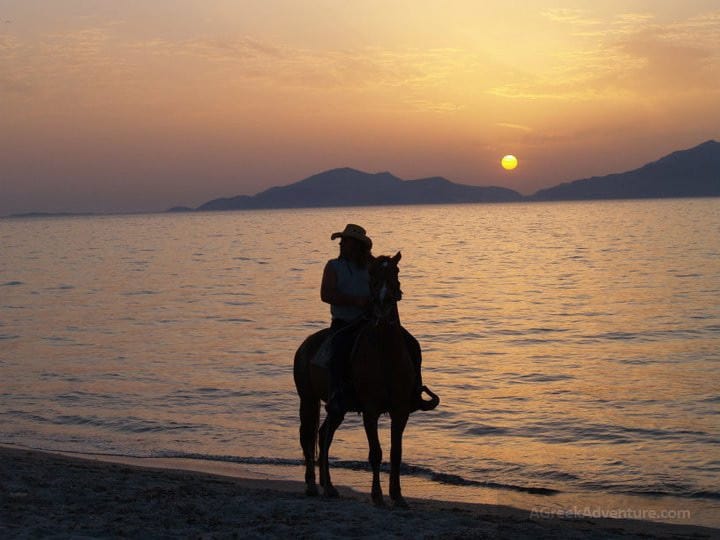 This beautiful secluded location is perfect for horse riding with quiet beaches and vast, wide open spaces with soft sandy footing and no paved streets.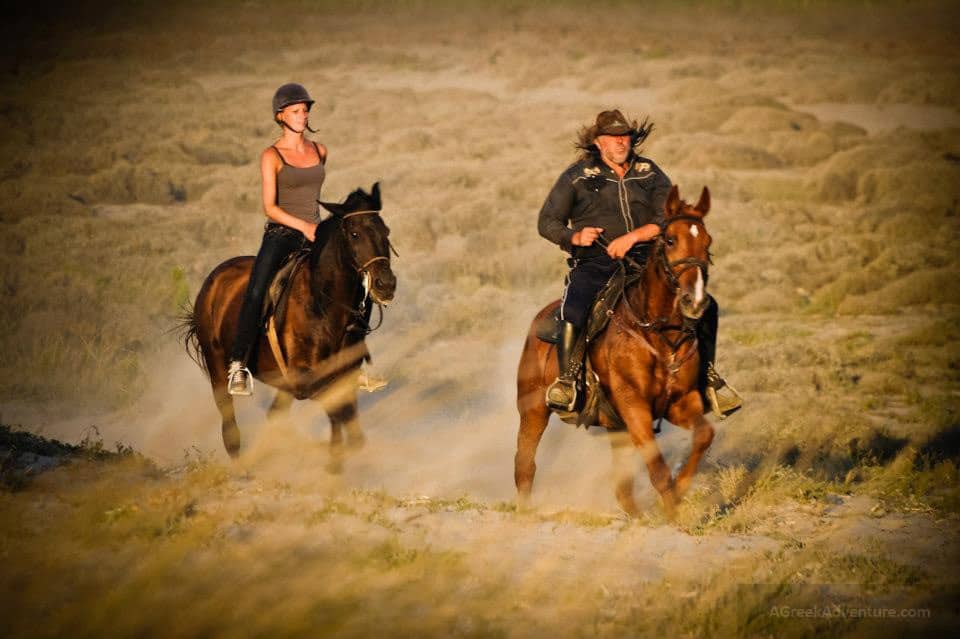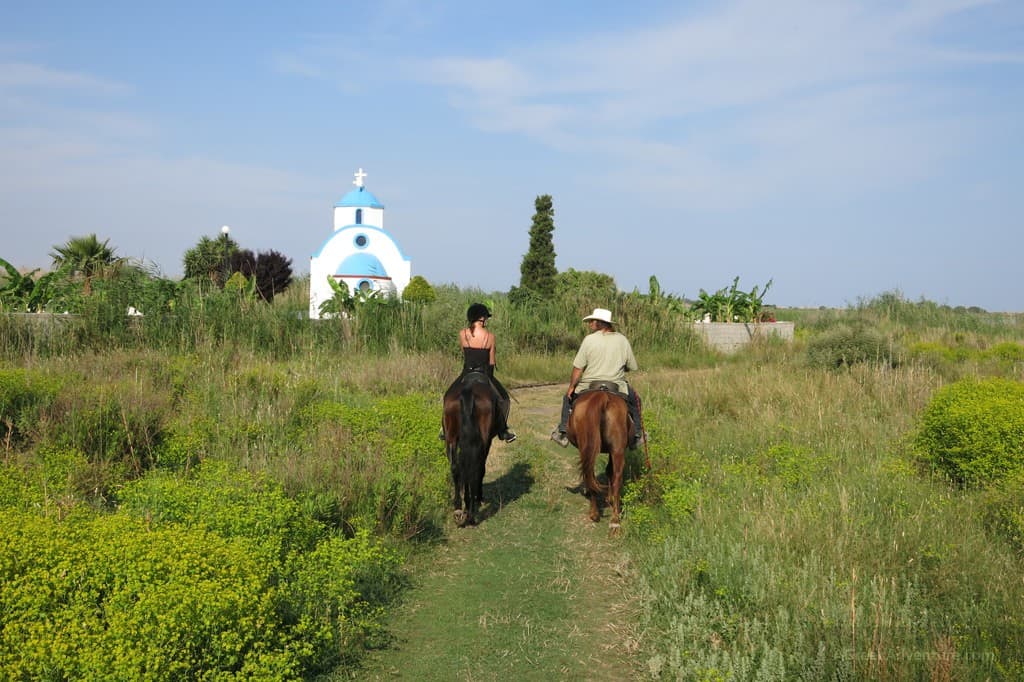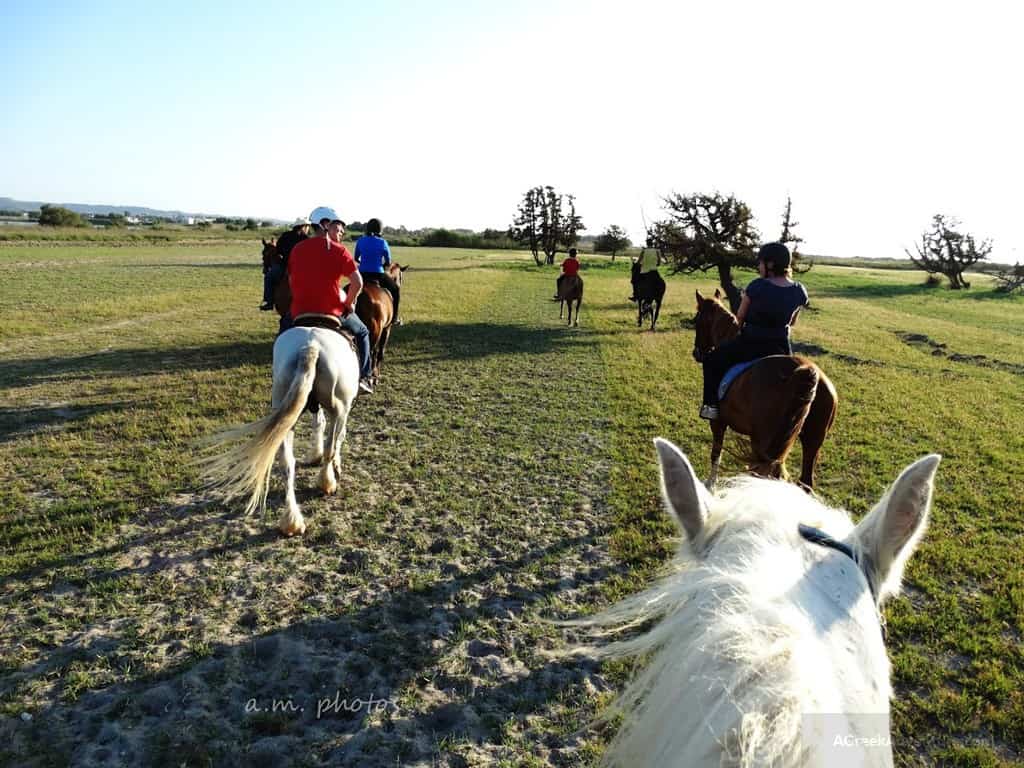 Horse Riding on the Beach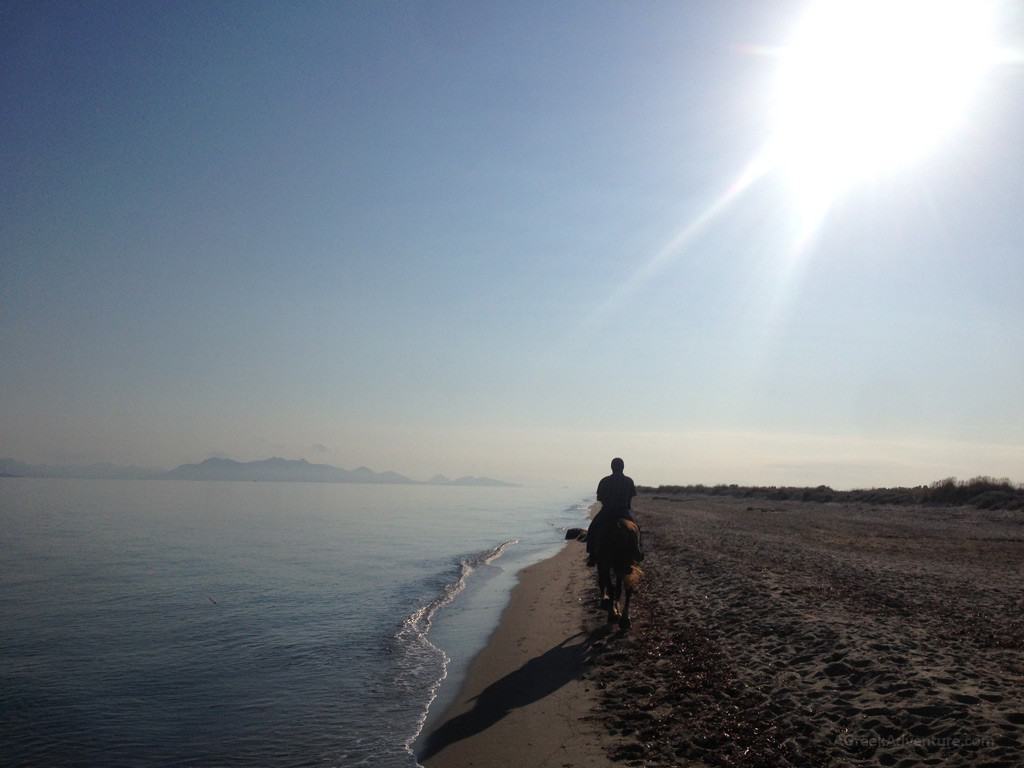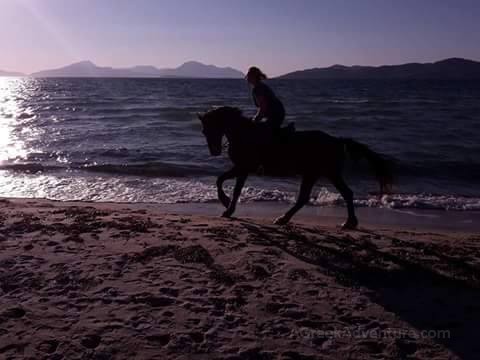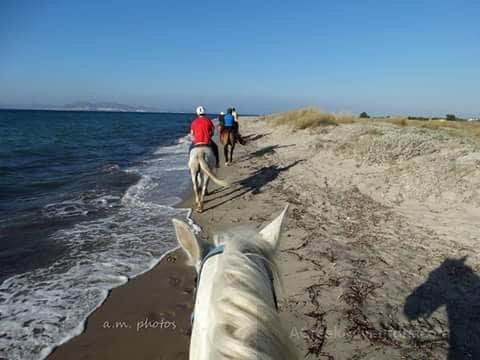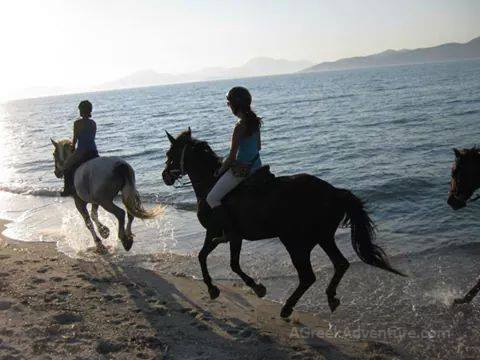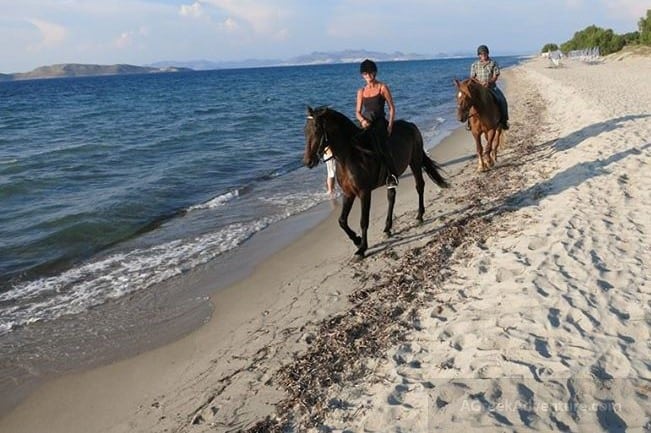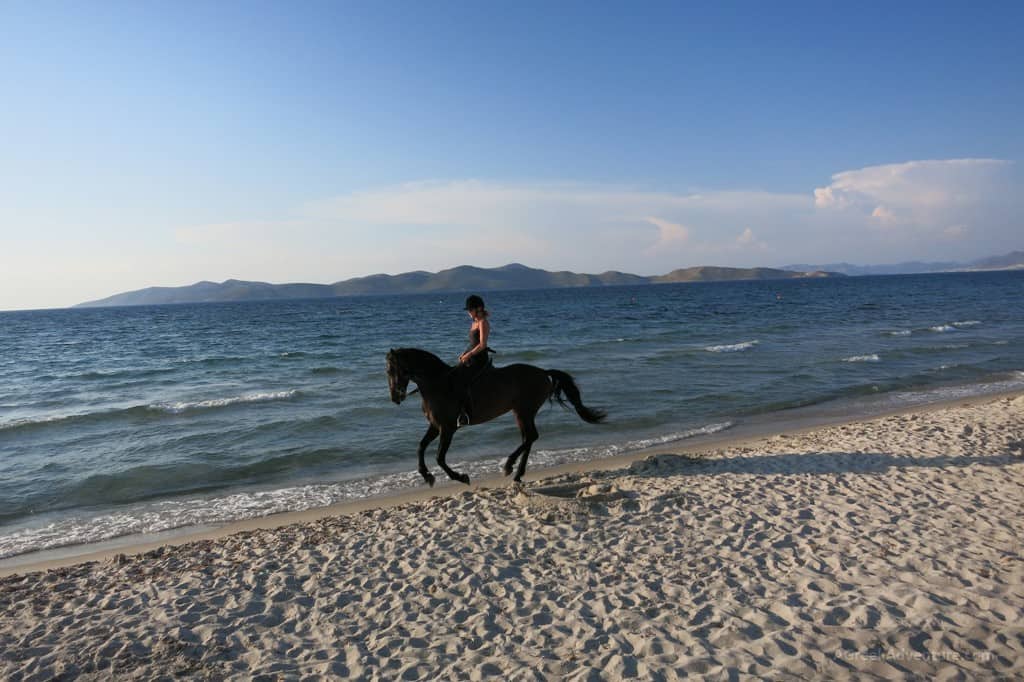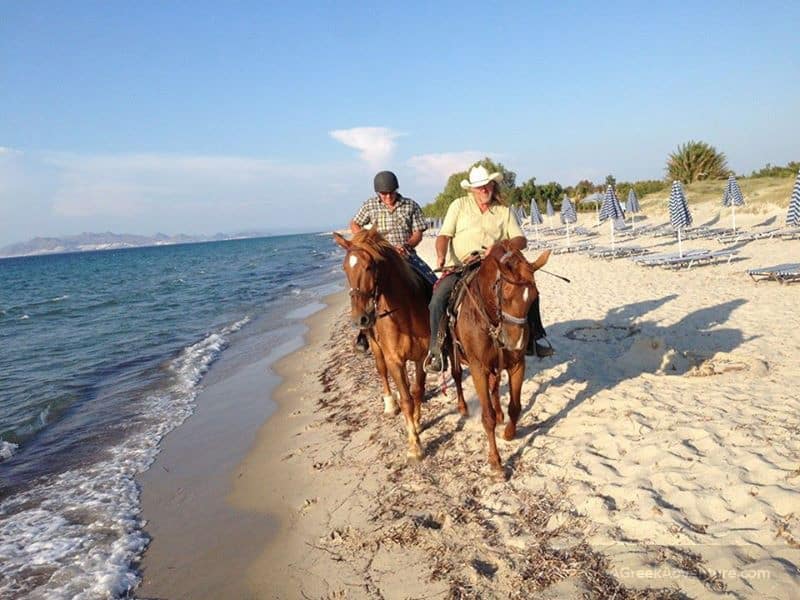 Make your dream of horse riding on the beach come true! Choose from 30 minute, one hour or two hour rides on the beach and around the salt lake. Children of all ages can take a pony ride down the beach.
Special Adventure Excursions
Make your holiday horse riding an unforgettable adventure with one of Salt Lake Stables' special excursions:
The sunset ride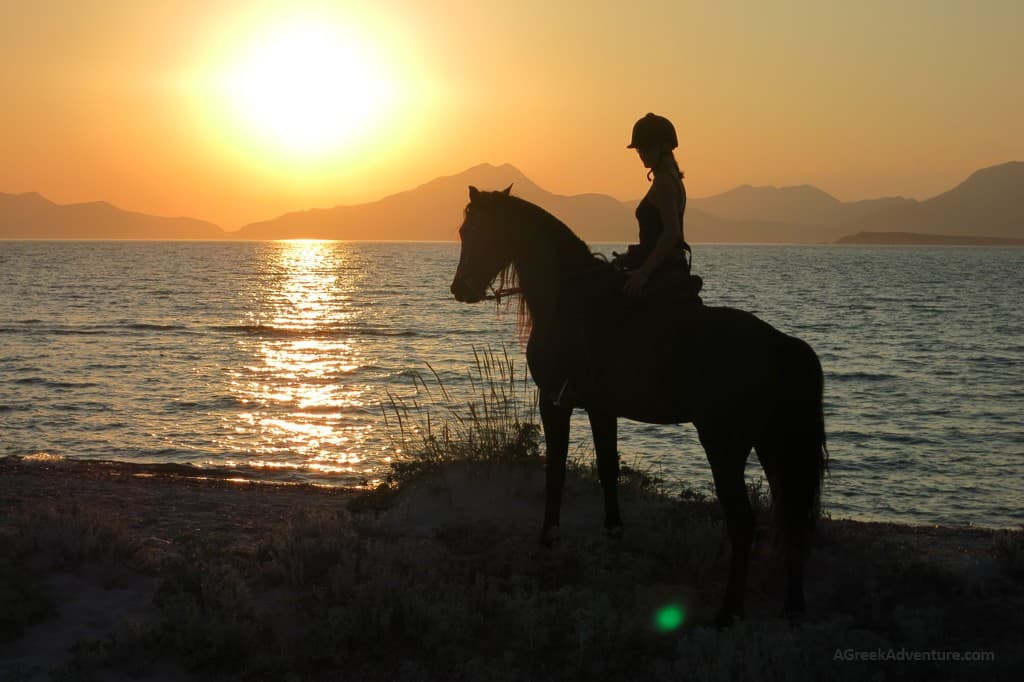 They say that any view is more beautiful when seen through the ears of a horse. Imagine what a Greek sunset would look like! Don't forget your camera!
The sunrise ride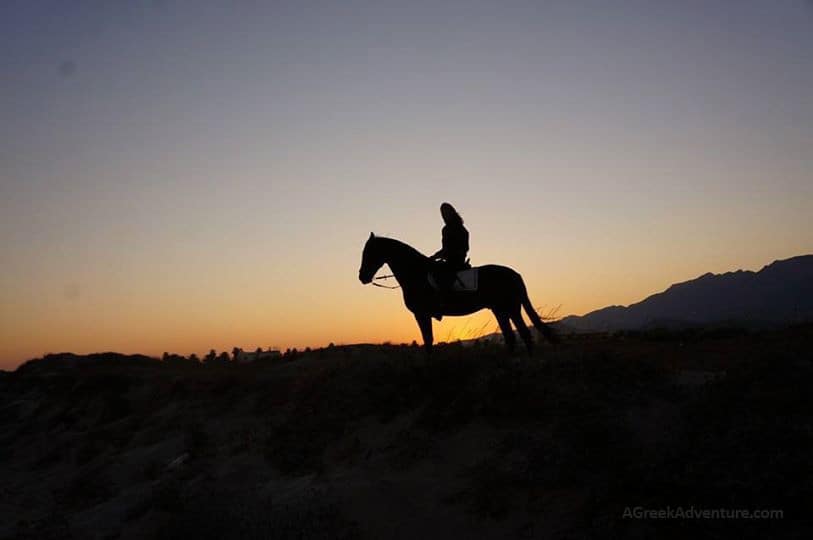 You won't regret this early morning. Leave the stables in the dark, and ride through the dawn. Unlimited coffee included.
The moonlight ride
Horse riding in the middle of the night, anyone? Whether you are a romantic couple, or a group in search of a one of a kind holiday experience, this is the ride you will never forget!
The swimming trip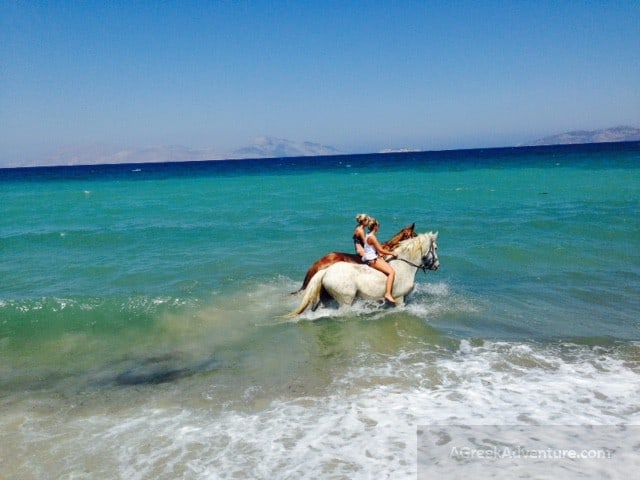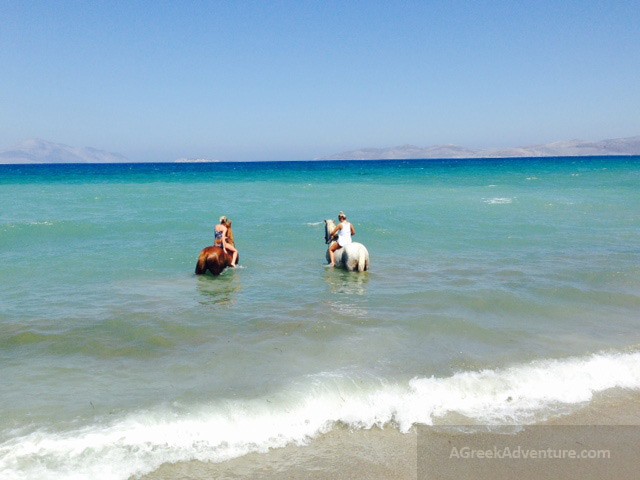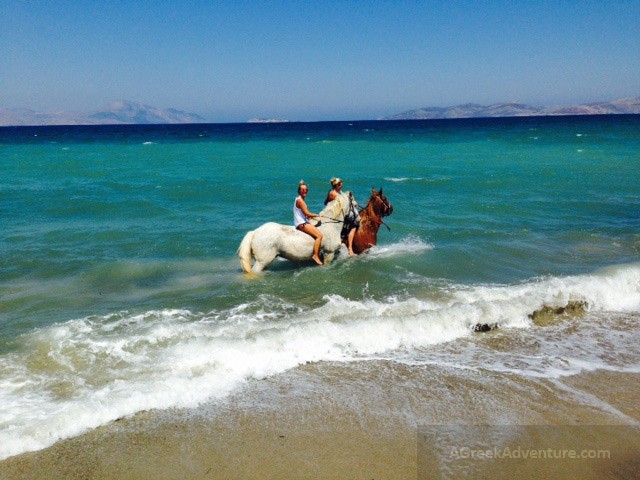 A relaxing ride to a deserted beach and a cooling swim for you and your horse. Bring your swimwear!
At Salt Lake Stables the groups are small and intimate. Each rider is treated as an individual and horses, saddles and appointments are chosen carefully. There are two guides with every group, so experienced riders can ride with their families and if they wish to go for a trot and gallop, the other members of the group will be taken care of. First time riders are welcome. Beginners can take a short complimentary riding lesson in the arena before their ride begins. If you prefer, you or your group or family can book a private ride at no extra cost.
The Horses and Ponies
No weight limits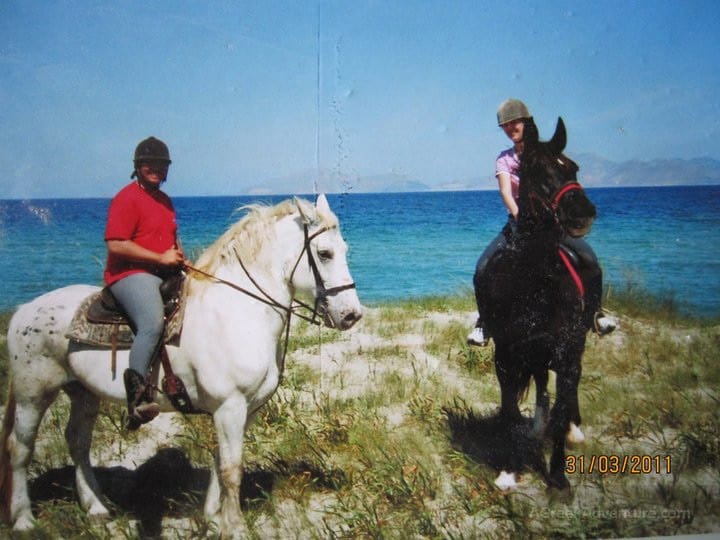 Salt Lake Stables has tall, heavy horse breeds with large saddles. Large riders can be assured that everyone will be comfortable.
Horses for experienced riders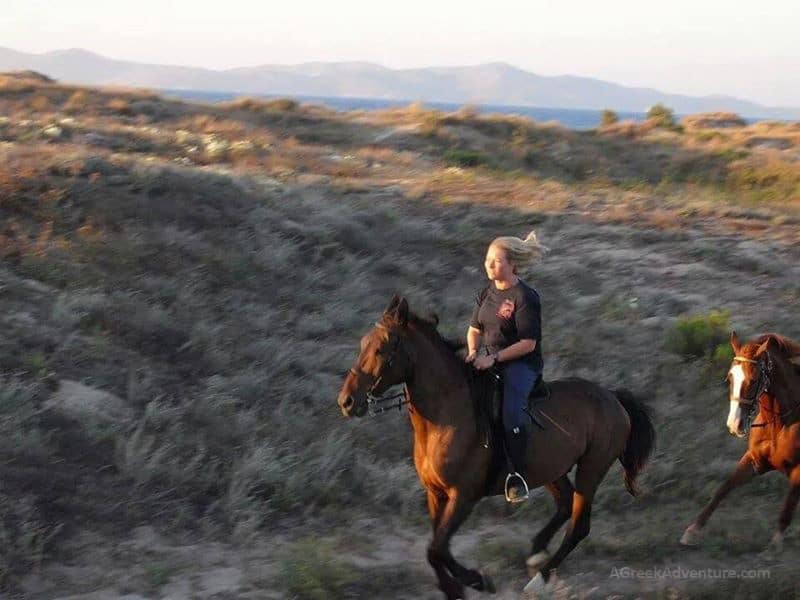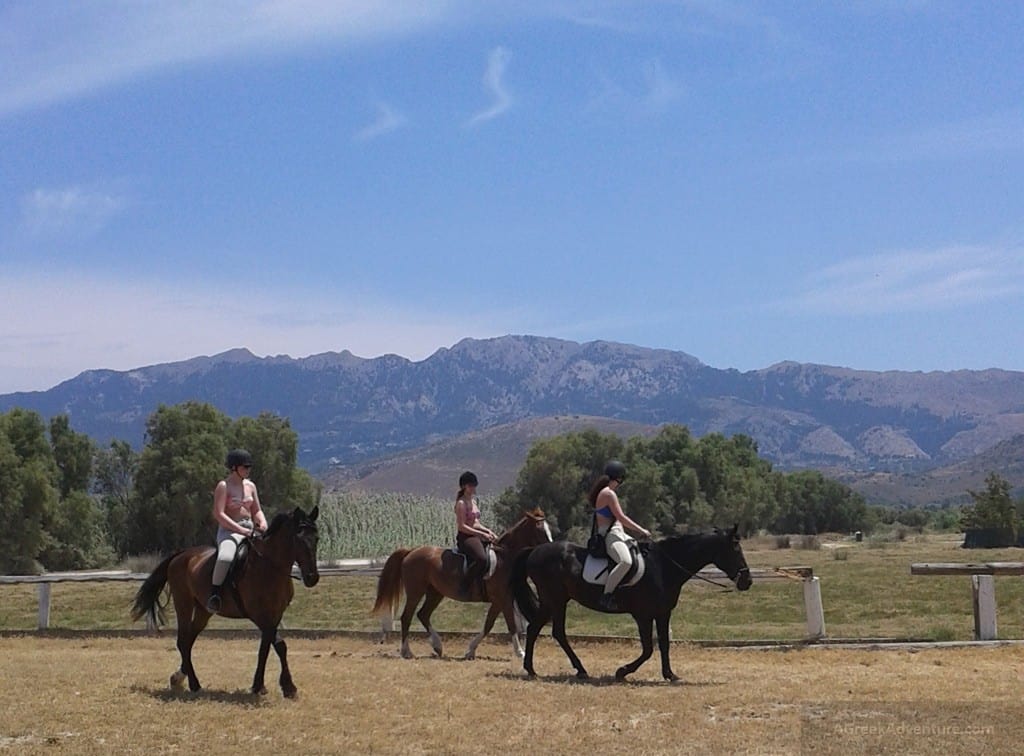 Life time riders and horse owners will find a nice selection of Warmbloods and Warmblood-Arab crosses if they prefer something a little smaller. Choose a horse that has competed in Dressage or showjumping for that something extra to enjoy your holiday riding. As of 2015 Salt Lake Stables also offers Andalusians, and has begun breeding Andalusian purebreds and crosses for advanced riders to enjoy. Advanced horses come with a choice of Dressage or all-purpose saddles, and riders are welcome to warm up in the 20x60m. arena before their ride.
Horses for beginners
Yannis and his team of horses for beginners have been working together for many years. They have developed a special relationship and form of communication that will make first time riders feel safe and taken care of- by their guide, and their horse.
Horses and ponies for children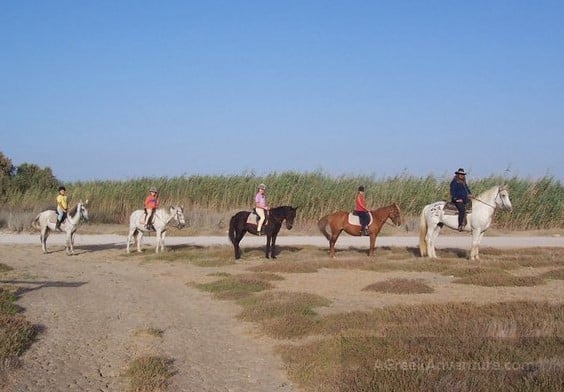 Children of all riding abilities will find a small horse or pony that suits them perfectly. Children riding for the first time can join the group accompanied by a guide holding a lead rein, and kids who ride at home will love the easy handling of the ponies, even if they have only ridden in a closed arena. Even the smallest riders will find riding clothes and saddles that fit-to make their ride safe and comfortable.
Services
Riding Clothes
Horse riding in shorts and flip-flops is uncomfortable and dangerous. At Salt Lake Stables all riders are given:
riding helmets
riding trousers
socks
boots
chaps
gloves
body protectors (children)
bags for cameras and phones
There are also T-shirts and sports bras in the changing room.  You can keep your hotel room and your childrens' clothes clean!
Locker and laundry service
If you prefer to bring your own riding equipment  and plan to do a lot of riding, store your clothes at the stables in a locked box, and your trousers and boots will be cleaned for you!
Drinks Bar
The complimentary bar is for all riders and non-riding members of their families. Choose from coffees, soft drinks, local Greek wines and beers to relax after your ride, or while you wait for the riders to return.
Transfer
Don't worry about finding the stables. Return safely after your ride. Request a car to pick you up  at  your hotel. Most transfers are free. Transfer from Kardamena or Kefalos may have a small extra charge.
Have you ever being in Kos island, Greece? Let us know!