We were getting out of the comfy airplane, which just landed at the island of Lesvos, a 1 hour flight trip from Athens, when the following dialogue took place.
Chris: Seems like, it is the 80th of August…!
Maria: Wait… What? What do you mean with this "80th of August" thing? It is 20th of October.
Chris: Yes, but look at the sun. The temperature is perfect and everything seems so bright. It is like August never ended. So… there is no September and October. It is like summer. I like to call that, "the 80th day of August" and not the 20th of October.
We would stay at this island for 4 days and that was the exact truth: Summer in October in Lesvos. We landed in Lesvos to participate in a series of outdoors, adventure activities and having the perfect weather for such, was important.
Many times we take the ferry to travel in Greek islands but this time we decided to fly there. Astra Airlines was our choice this time and it was proved to be a very smooth and pleasant (short) trip.
We had some friends expecting us at the airport, which took us very fast through the "rent-a-car" process, with Sixth to be our transportation provider (aka, the car). Ten minutes after landing, we were already driving to our hotel to leave luggage and go for… sailing.
Here is a quick photo from our hotel (Heliotrope) balcony. Nice, right?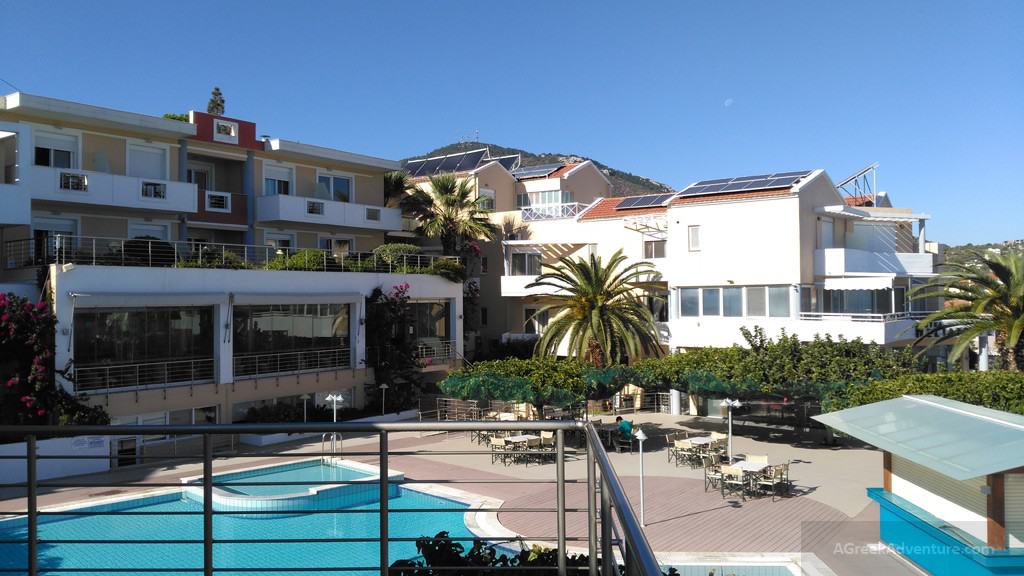 Why sailing, someone may ask? Well the day was still young and being there just at 10.30 am gives you lots of time and an opportunity not to waste the whole day. The weather was very good, wind was blowing gently, early noon was coming up fast and it was an excellent opportunity to do something "smooth".
Sailing Lesvos towards Gera Gulf
So, we met with the crew of Alternative Sailing at the harbor of Mytilene. Cheerful, happy people. Very smiley and glowing.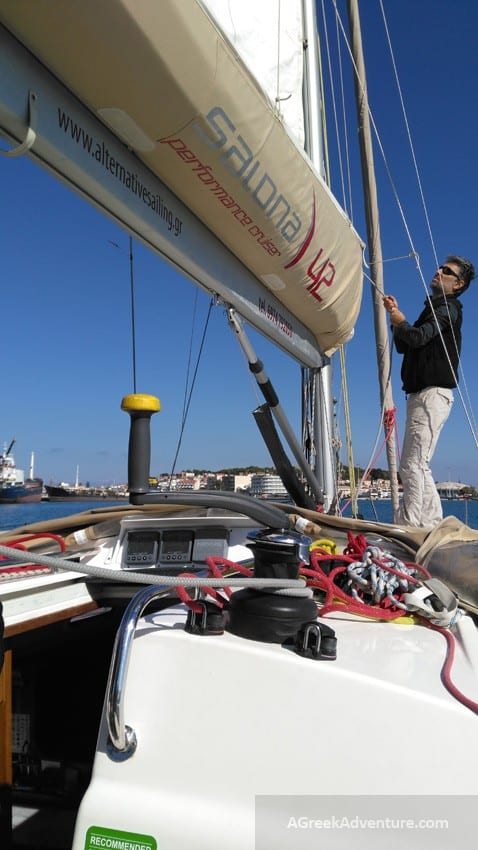 To our surprise, 2 more persons would sail along: Julia from Lesvos Ride and Costas from Lesvos Climb & Trekking Club. Both were very friendly and we would enjoy the opportunity to have some adventure activities with them, during the following days.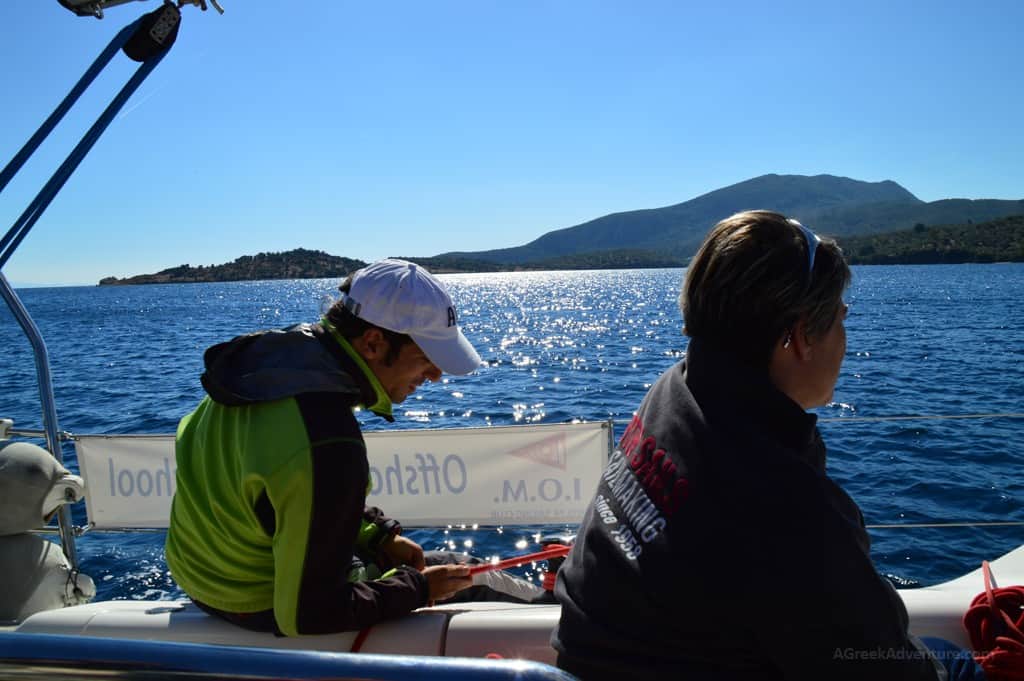 Our captain left the harbor in a very smooth way and we were shortly sailing around Mytilene, towards the Gulf of Gera.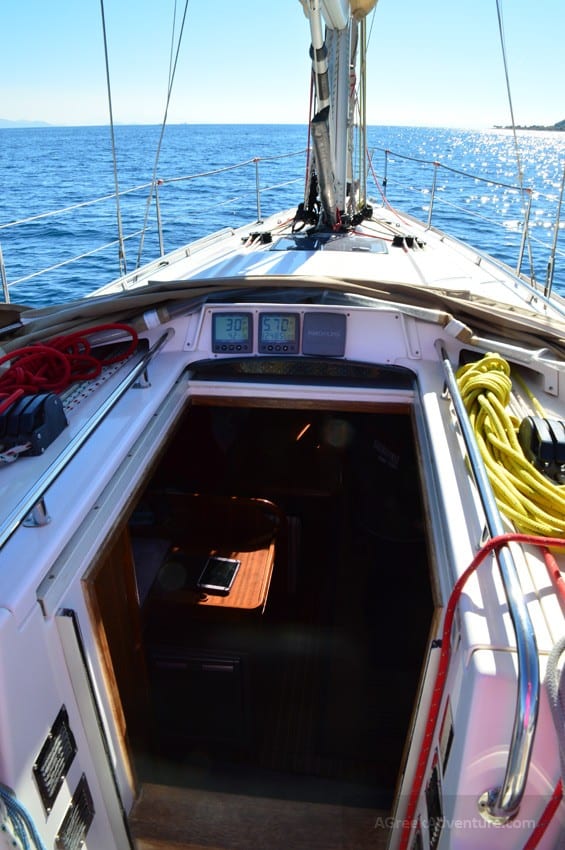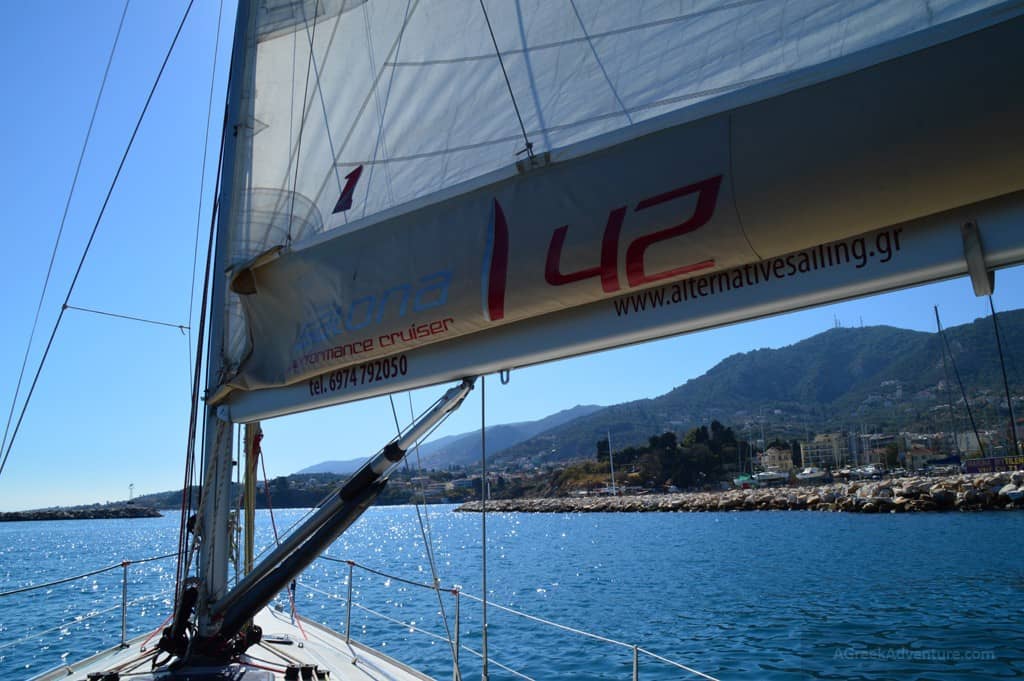 It was close to 1:00 pm and as locals say: Before 1:00 pm it is Ouzo time. You may know that Lesvos is the "capital" of Ouzo. A series of famous (in Greece and abroad) Ouzo distilleries exist here. They produce a good number of Ouzo varieties, which vary in taste, raciness and… history.
In just 10 minutes, our captain served a small feast with octopus marinated in wine, eggs, a local tasteful bread, white beans (Fasoles), a salad, a special cheese (Touloumotiri) which "brews" wrapped with the skin of the animal and additionally matures covered with oil. Oil acts as a preservative for the cheese and at the same time (depending on how long it will stay covered with oil) changes the taste of the cheese from mild to strong/spicy.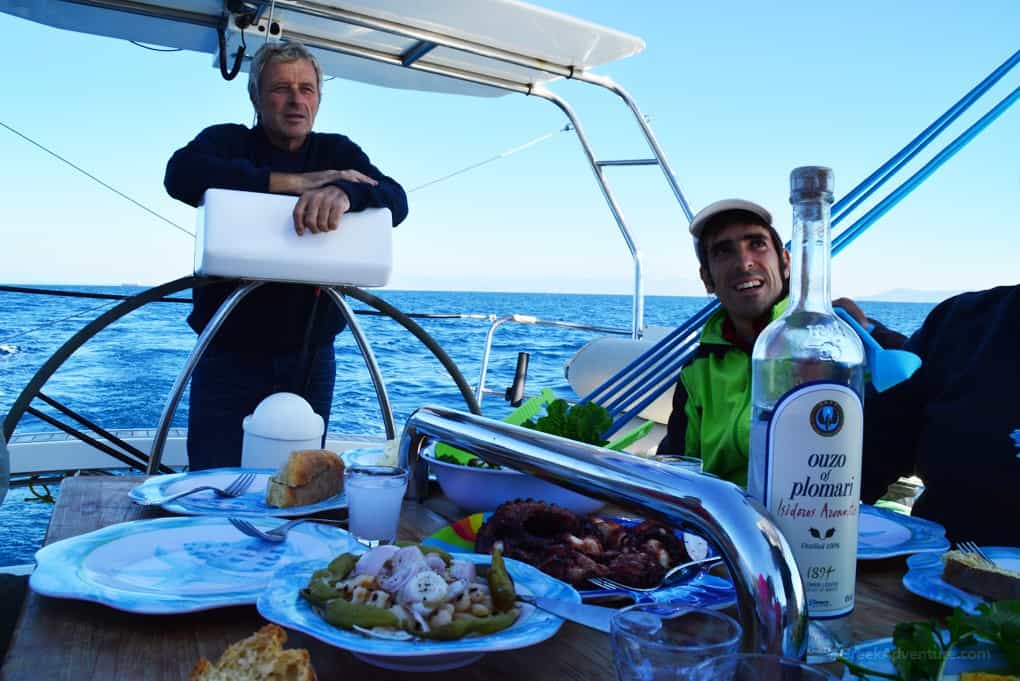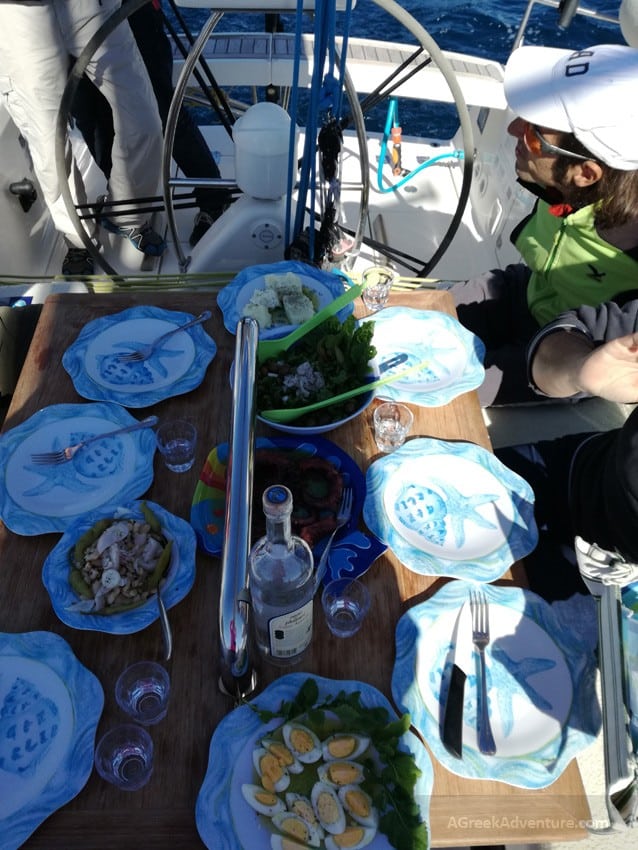 We have to say that we had more than a couple of ouzo shots, following the "slow food" concept that characterizes the island of Lesvos.
Eating slow is very important for locals, as for them it is not just about drinking Ouzo. The whole concept of Ouzo and Ouzo related snacks (Mezedes), has to do with socializing and the joy one takes while slowly absorbing the essence of the amazing food and that of the Ouzo spirit.
For locals stopping during the day and "having some Ouzo" is a ritual. Like the one with tea we find in England and other places, but you know… with a bit stronger liquid.
After tons of laughing and lots of "Yia'mas" (a Greek toast meaning "to our health"), we noticed that we were approaching the entrance to the Gulf of Gera.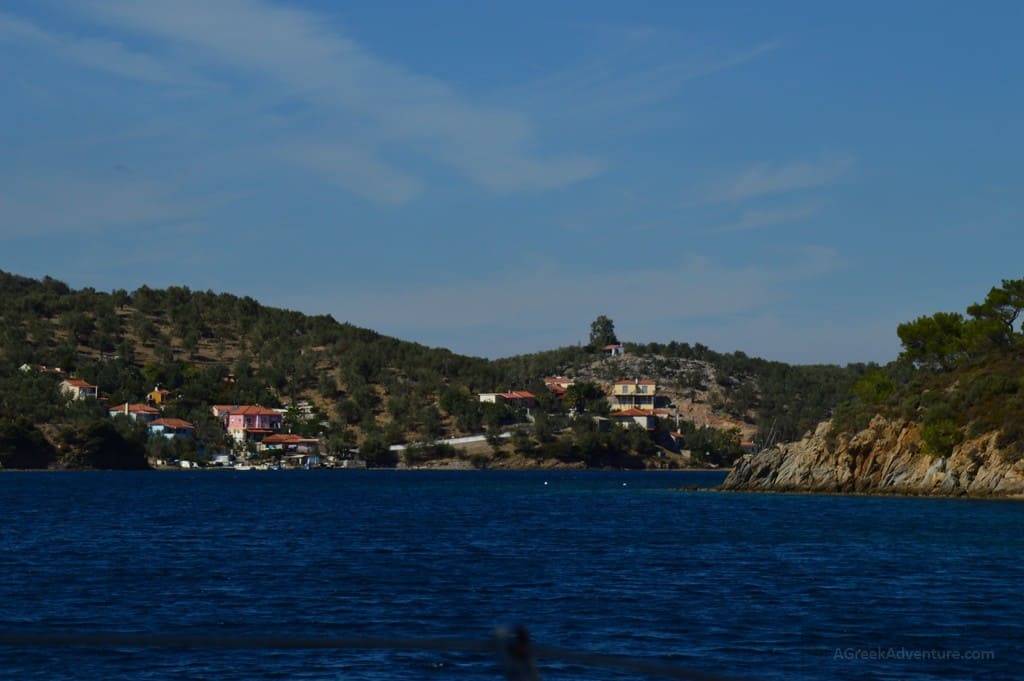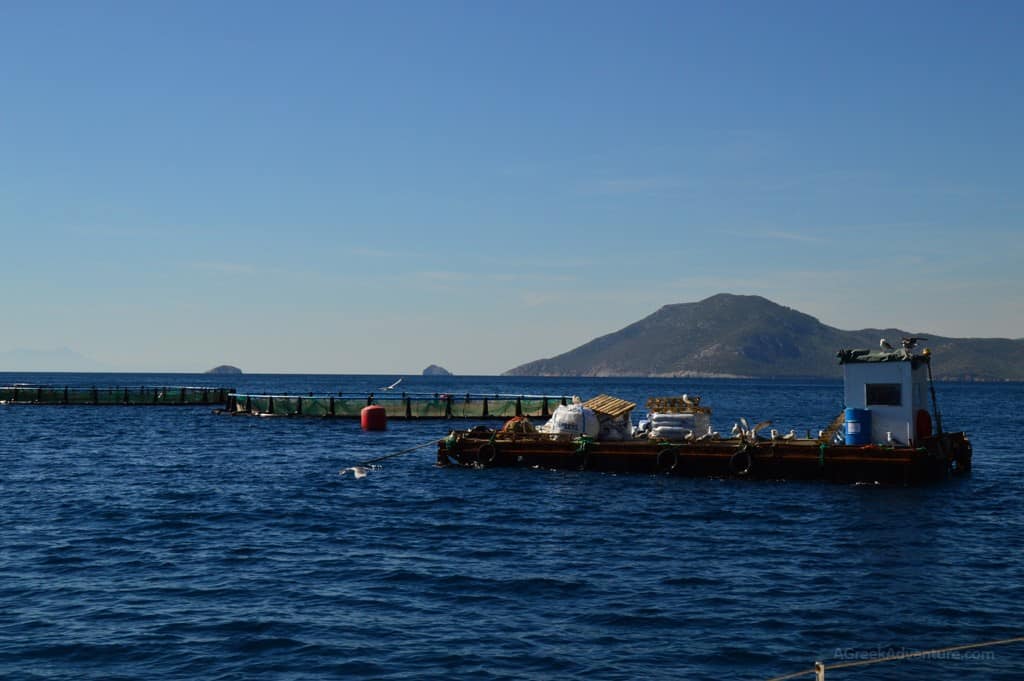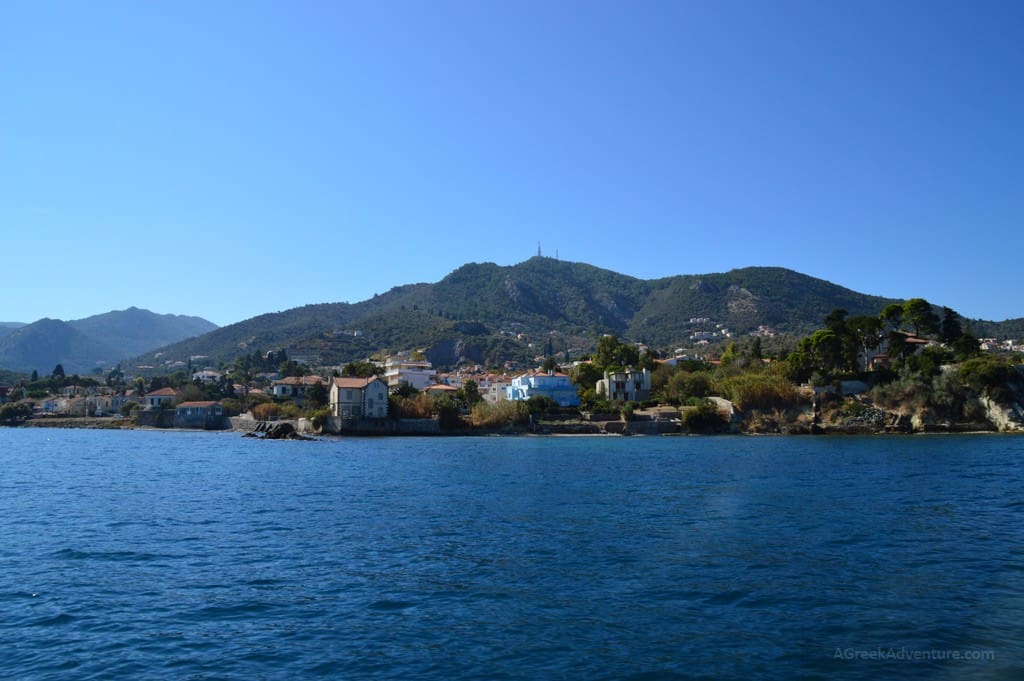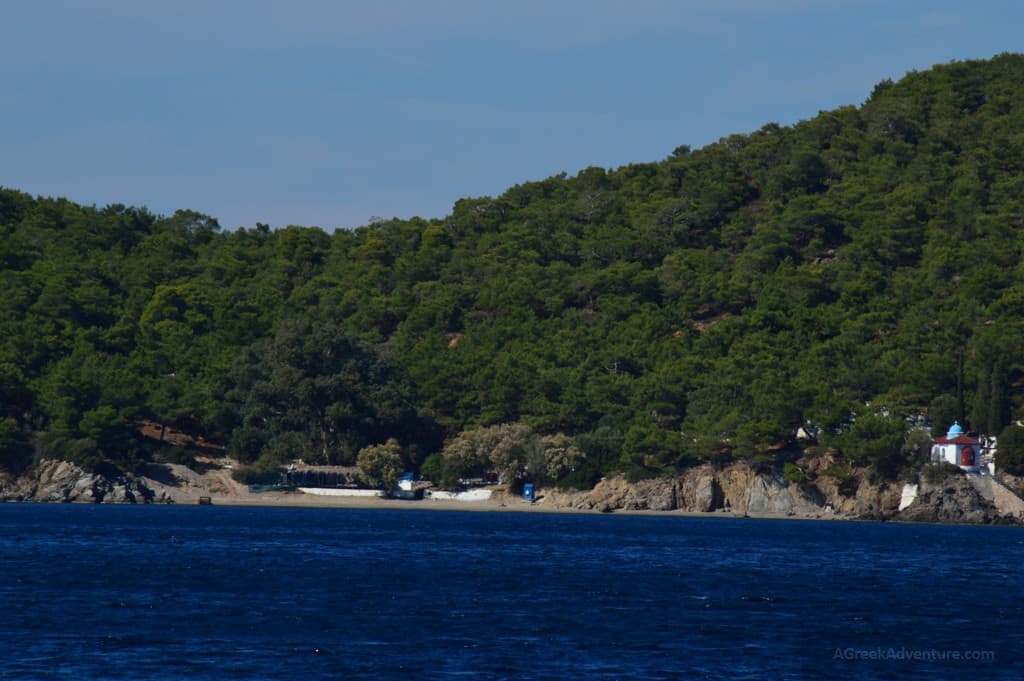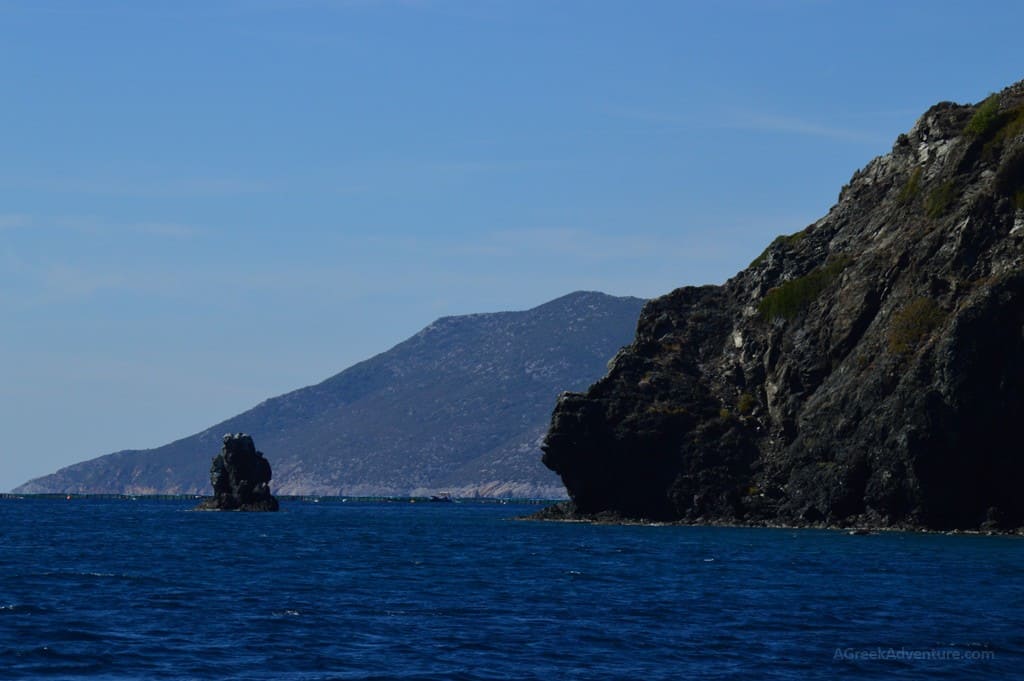 The wind was changing and it was a huge opportunity for raising the sails, to catch the wind and having some speed. This is what real sailing is about. To turn off the engines and sail just with the wind.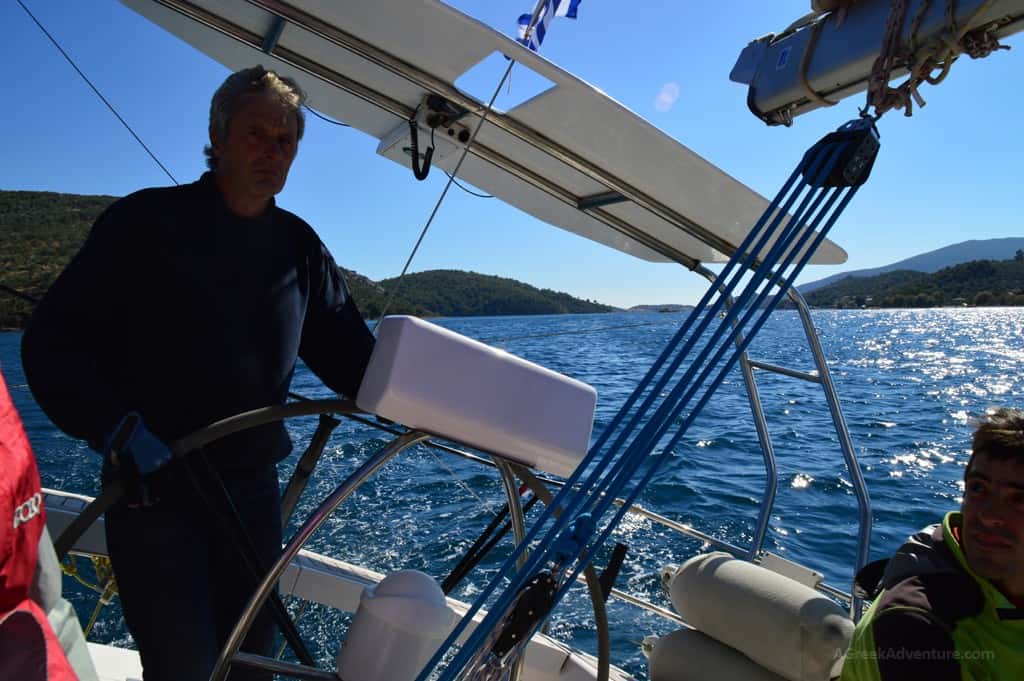 Food, cutlery and Ouzo disappeared fast, while the captain was giving orders to the crew. Adrenaline was pouring out fast and in different times we enjoyed being in 45 degrees angles towards the water. That was thrilling!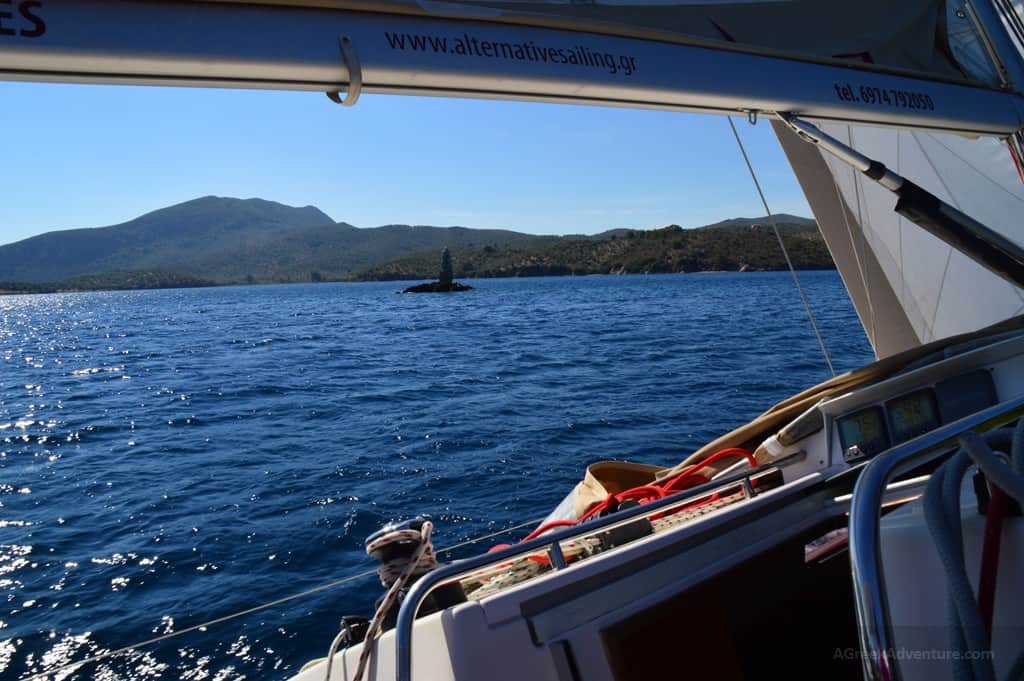 At the same time, captain was providing lots of information about the different aspects of the surrounding area, its history and how it was formulated during the years.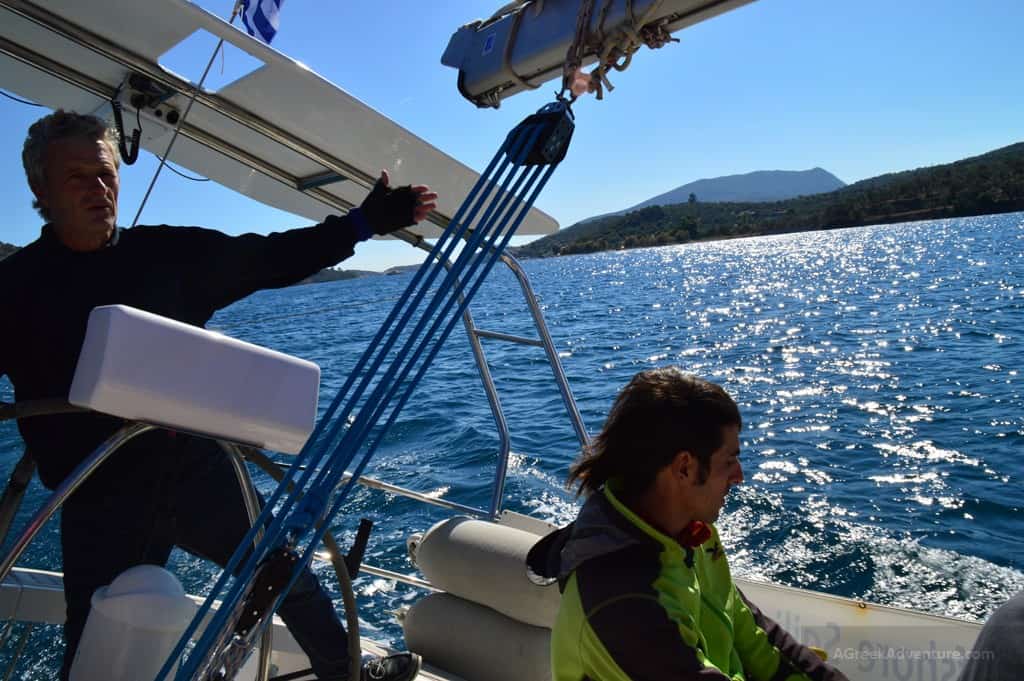 It was at that point, when we sailed inside the Guld of Gera that we realized how huge this island is, as we were looking at just 1/10th of the island at that point.
You may want to see this high resolution video which our captain took while sailing. No sound but you can see the whole trip in a 4 minutes timelapse
Our trip was completed by slowly approaching a small dock and stopping there.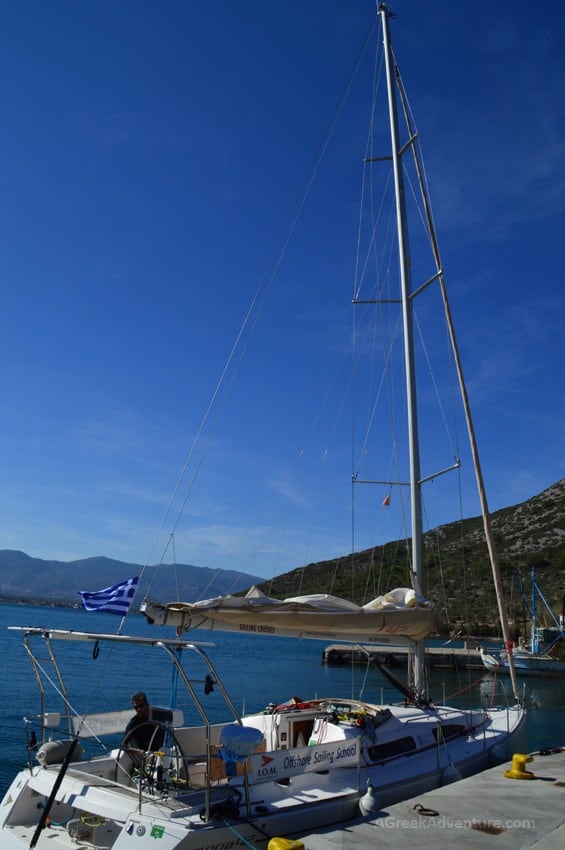 Terrific experience and you must try it.
We were laughing and feeling very light. It was time to go through dry land, ready for mountain biking and some hiking.
Our first impression from Lesvos was spectacular and we were hoping that it would continue like that.
Stand by for the cycling and hiking through the forests post.
Disclosure: The trip was organized by the District of North Aegean Tourism department, along with a series of activities, accommodation and dining providers mentioned in our articles. Of course, all posts are written according to our experience and opinion.