With a blink, blink sound Facebook alerted us for a new message. It was Daphne from Sykies, near Xylokastro, owner of a family hotel named, Daphne's Club Hotel Apartments.
We have met her in the past in a wine event at Nemea and her glowing face was one of the first things we liked.
"Will you attend the Canyoning excursion at Osios Loukas", she asked? We would (more on an upcoming article), so Daphne offered to host us for the weekend as the canyoning event would occur at a mountain near her hotel. We visited her website and the place looked really nice. We were excited. Yes, once more!
Arriving at Daphne's Family Hotel
This is one of the first things we saw arriving there. Home grown greek herbs.
And this was the next thing!
That is what we call "we are going to be fine here"! The hotel has a big amount of positive energy. Perhaps due to these that were all over the place!
Or, perhaps, due to the amazing green!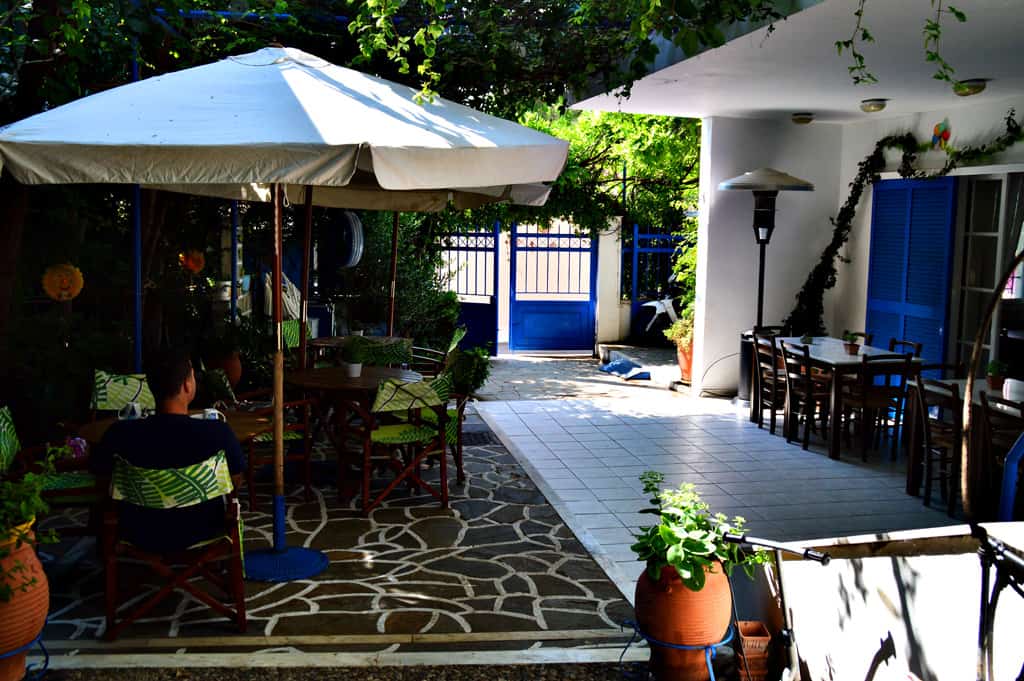 We wanted to immediately visit the beach (which is at 30mt walking distance), so we asked to go to our rooms.
Sure, Daphne said. Come over here. Now this is the main sitting area next to the lobby.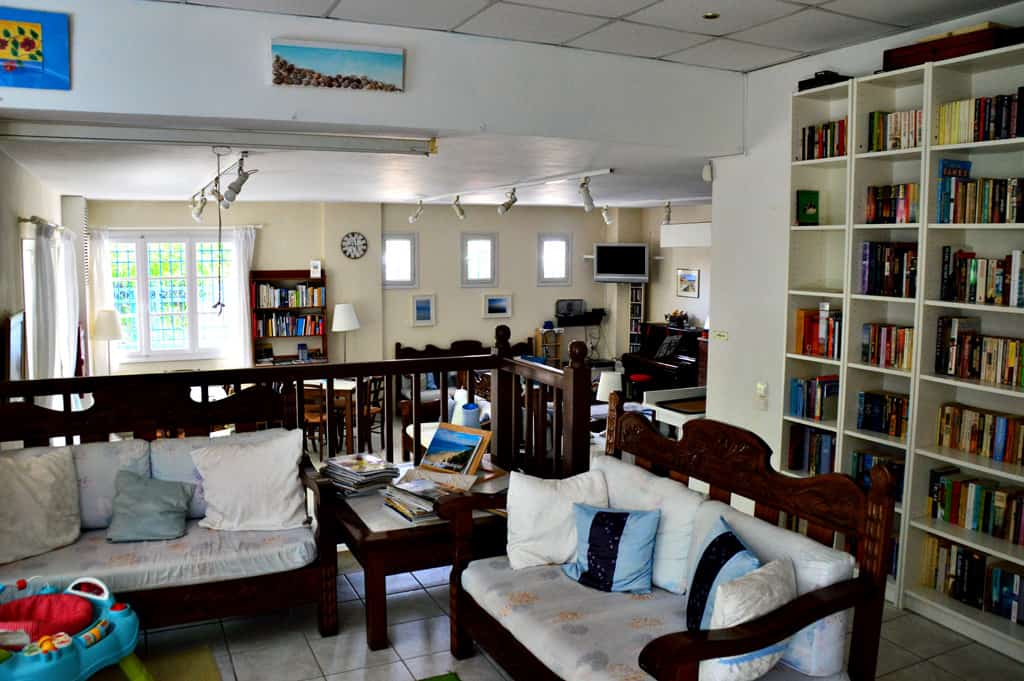 Isn't it great? It even has a fireplace, a piano, other musical instruments, tons of free to read books in different languages, toys for children and many more things to spend your time indoors (if you like that)!
Our room was big. I mean quite big and very clean with a fully equipped kitchenette.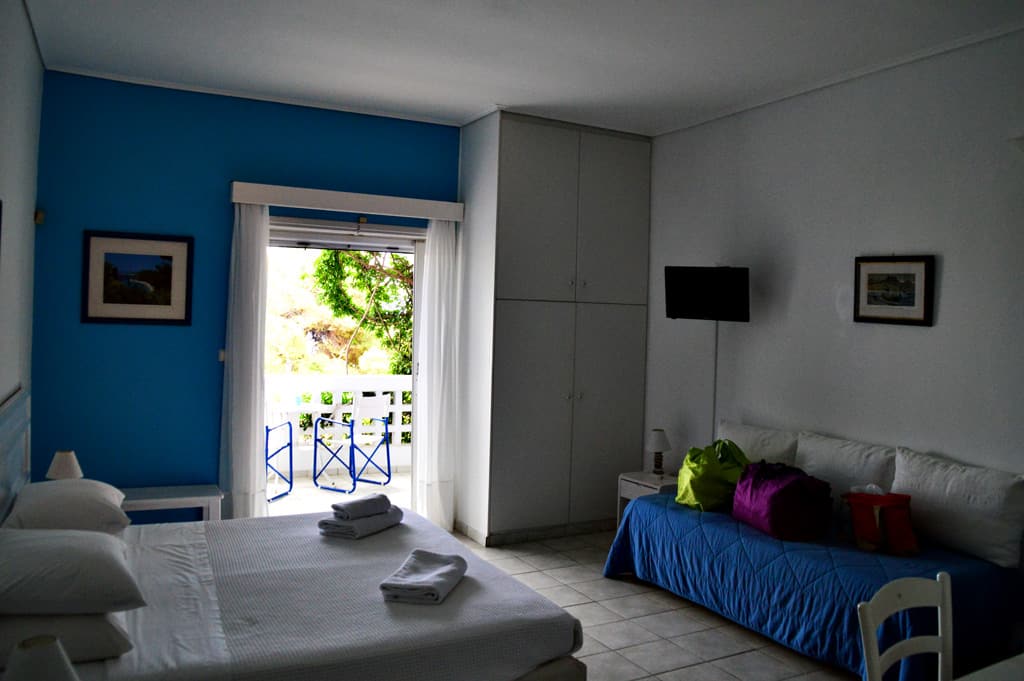 Excellent view too! I spend a few hours just sitting and reading there.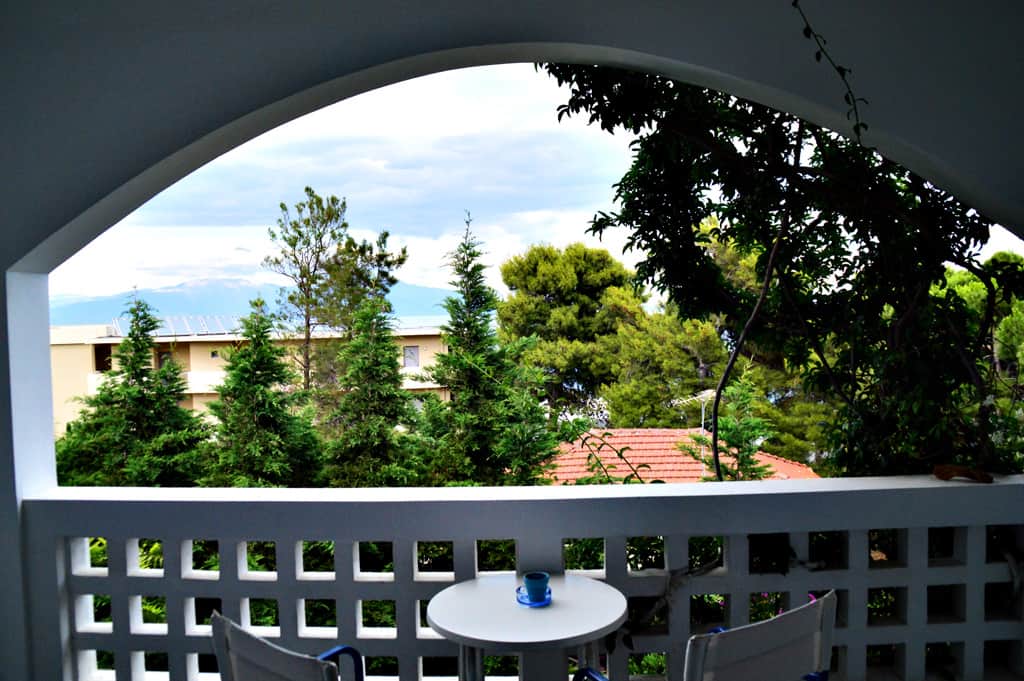 Look what we noticed at the area behind the hotel! Someone, had actually build a pyramid there!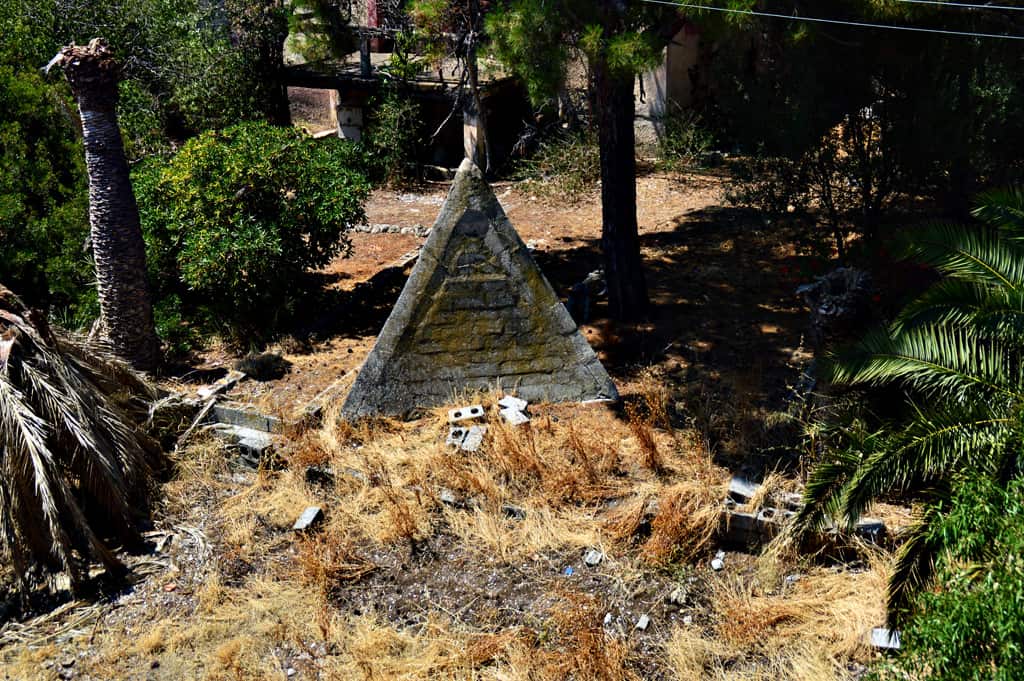 Beach and Greek Seafood
Time was passing by fast so we got into our swimming suits and went to have an afternoon swim. The beach is at 1 minute walking time!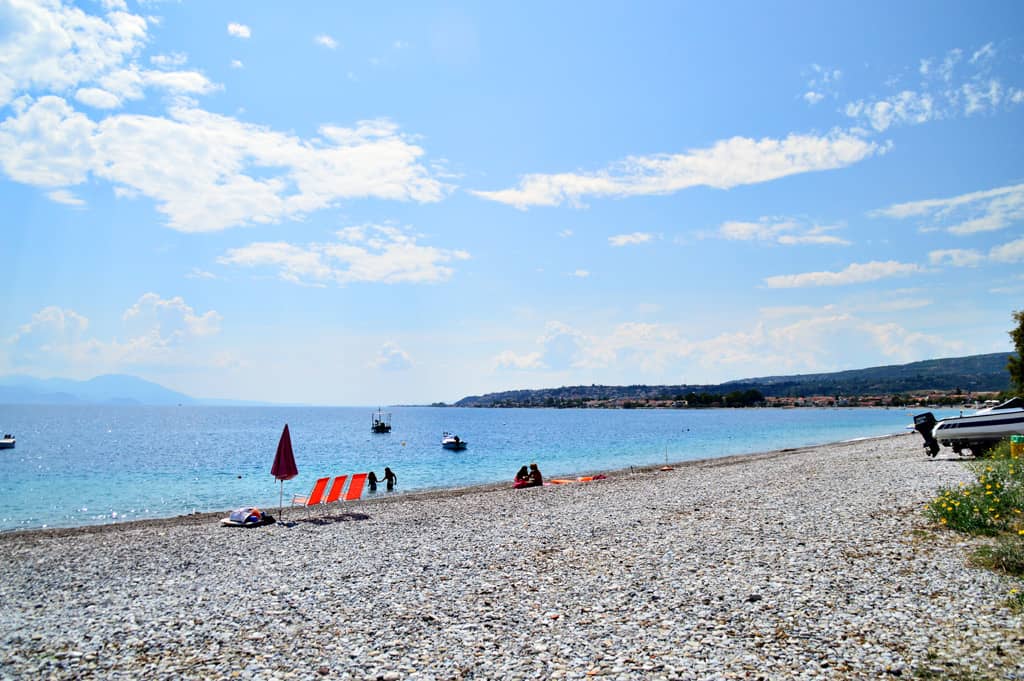 The water was terrific and we felt so relaxed, but again so hungry! Daphne proposed a variety of places for dinner. We decided to walk to the furthest one (15 minutes by foot). Excellent view towards the open sea, by the way…
Feel free to drool.
It was so nice we didn't want to leave but the next day we would go for a 5 hour canyoning trip, so we went back to our room.
Beach Fun and Activities
Next morning it was Sunday and the weather was great! Before canyoning, it was time for some positive and energizing breakfast. Nom nom, indeed!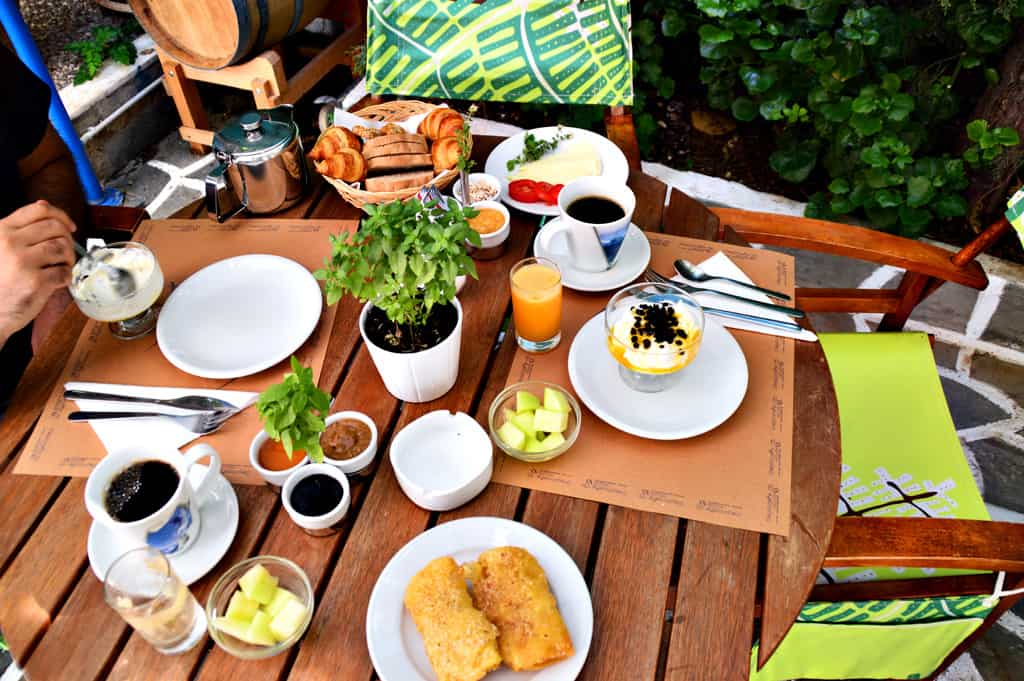 Talking about some great food guys and girls, with everything produced from locals (different varieties of honey, cookies, croissants, fresh orange juice, melon, terrific coffee (rarely in hotels you drink good coffee at breakfast, but here it was very tasty) and also… "diples" (the two sweets at the bottom area of the photo).
This is something you rarely meet at breakfast. Their taste reminded me how my grandma made them!


After all that great food, we went to our canyoning trip where we had lots of laugh and tons of adventurous moments. That breakfast was for sure what we needed to stay active all day long. Stay tuned for the upcoming article for the canyoning part.
We also learned that Daphne can arrange (with local vendors) different experiences as the area combines both sea and mountain beauty. Actually, if you want to learn what you can do at the area, here is Daphne's wall of adventure and experiences.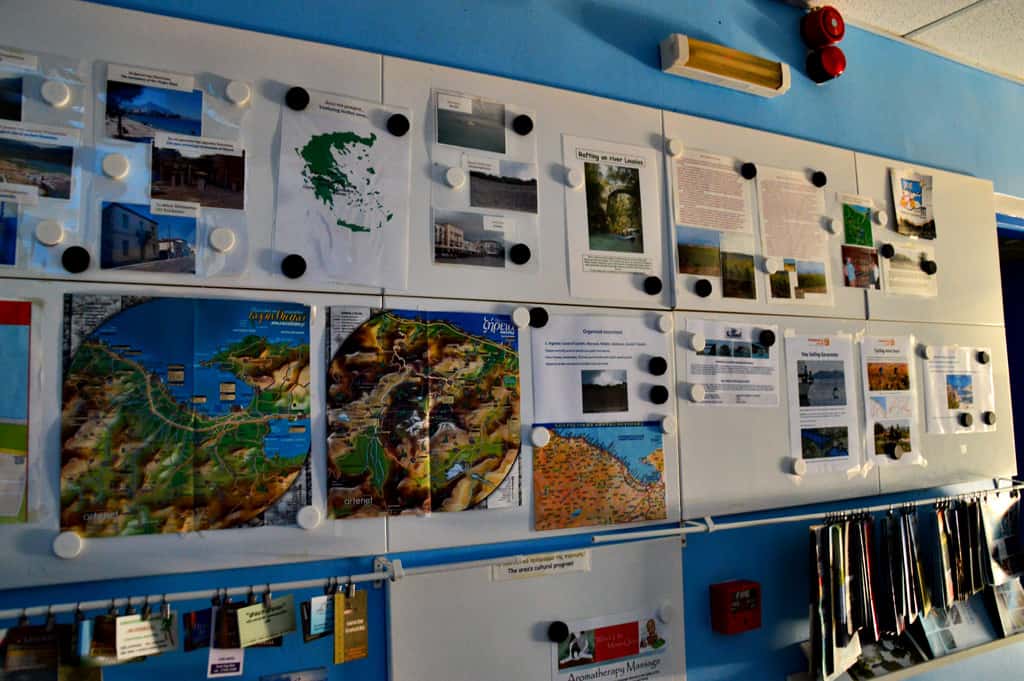 Just pick one.
However, after our canyoning we were eager to come back and have another swim at these great waters. Which, of course we did!
But first we wanted to have a short cycling ride through the forest that was starting next to Daphne's family hotel. Daphne's offers bikes (among other things) free of charge. So, we grabbed a couple of them and slowly strolled there. The forest route is not a very big one but is very relaxing.
We were on our 2nd day there and we didn't want to miss this feeling. After a canyoning trip what is best than simply allowing the sea to relax your muscles?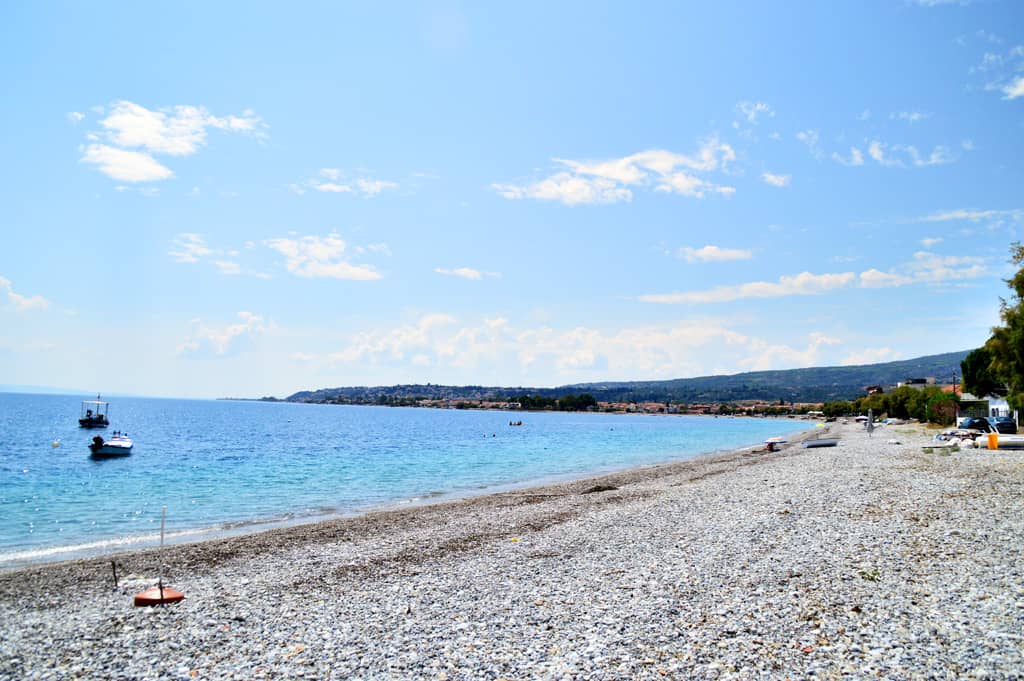 The next day (3rd one) we had the opportunity to enjoy more relaxing sports. Since the sea was calm it was great for some Stand Up Paddling. Daphne provides the equipment. Yes, it is also free of charge for all.
That dot at the left. It is Chris.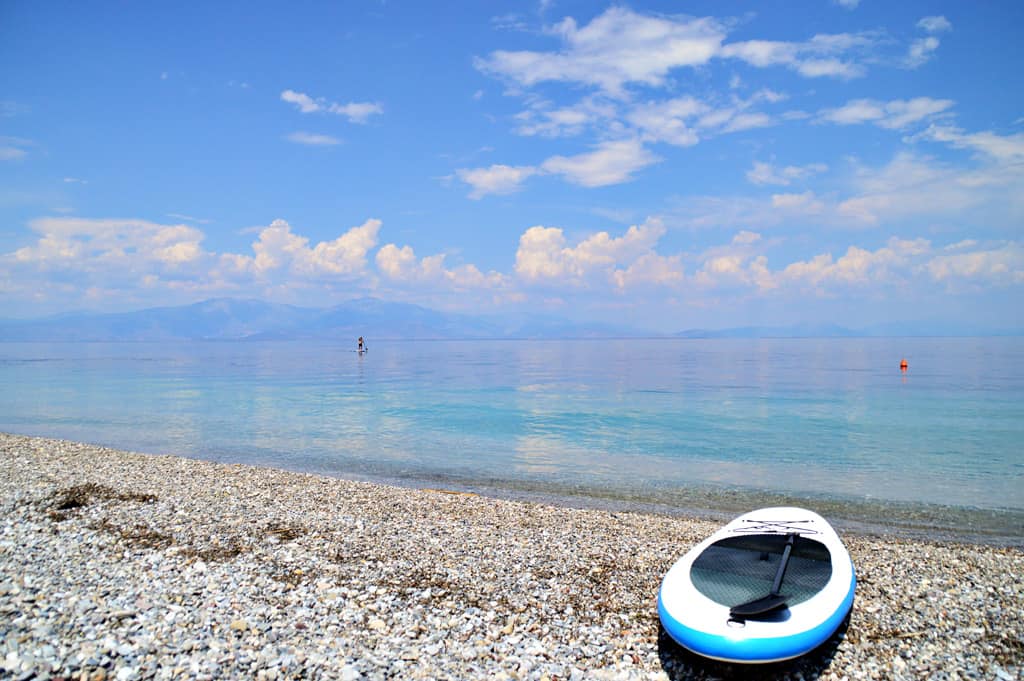 And that was not all. Daphne provided us with a pdf file and a printed guide with tons of things to see and experience at the area, along with instructions on how to get there.
There are ancient temples, monasteries, capes with great view and much more. You can literally spend a good number of days at the area.
Well, nice things end (temporarily) at some point. So we went back to the hotel and this time we went to the roof garden to have a last look at the view from the top.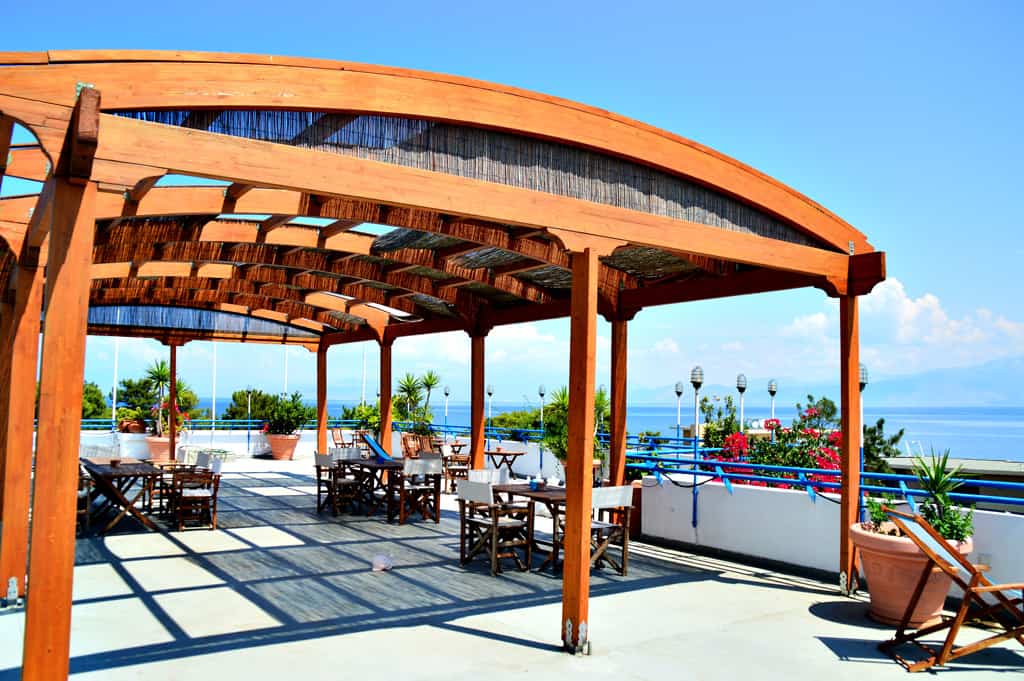 What a great and relaxing place.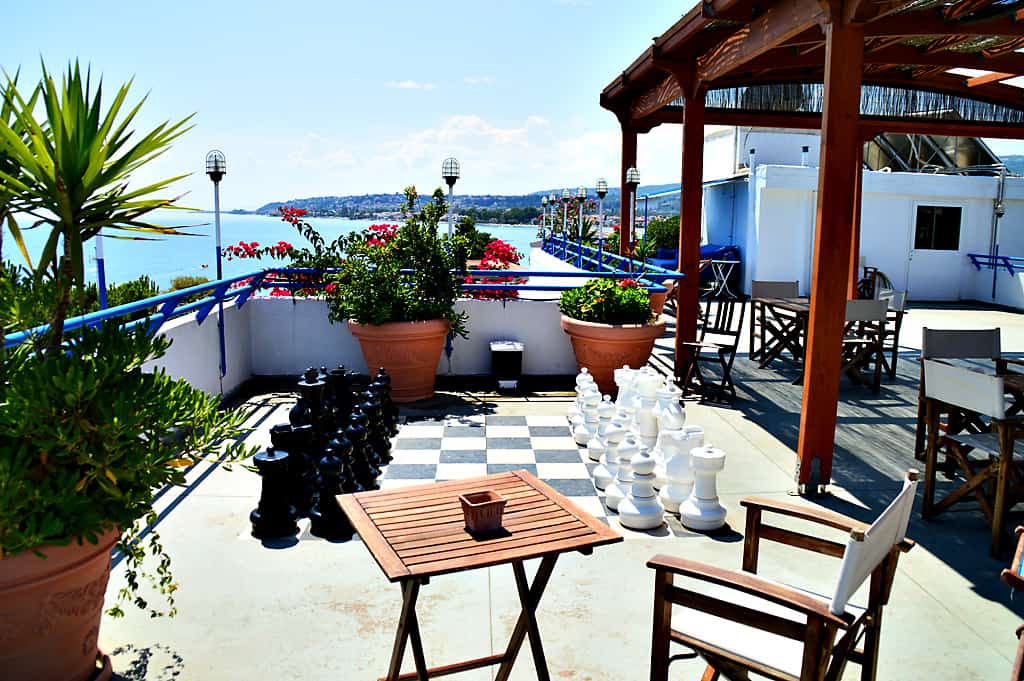 Next time we will definitely spend lots of time on that couch!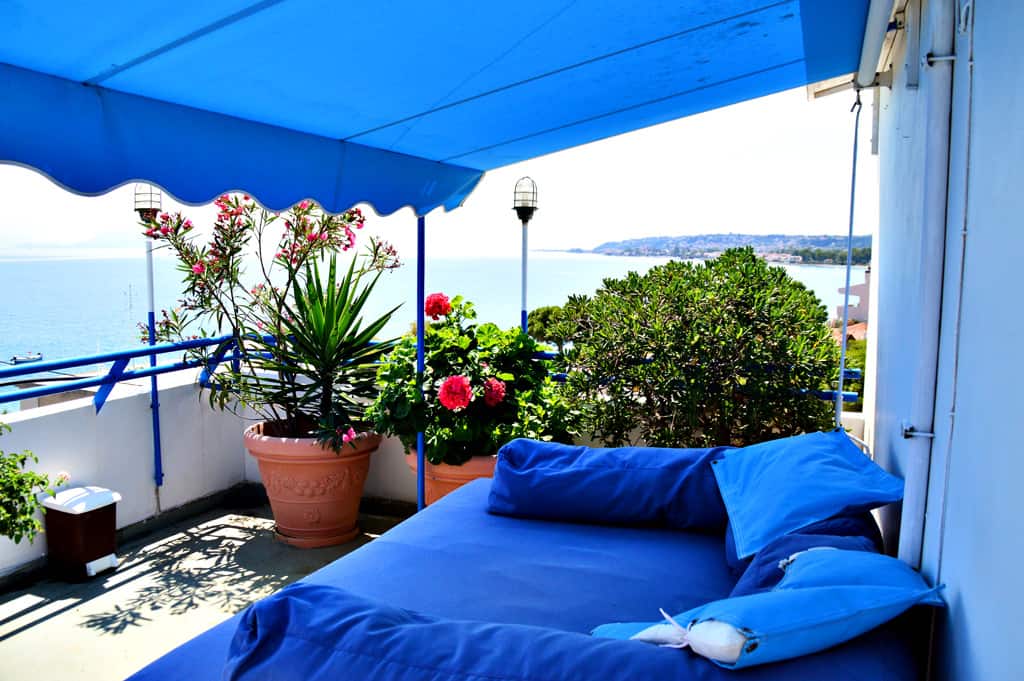 We definitely advise you to stay there! The prices are great for all the things provided and the moment you see Daphne's smile you will understand that you will have a great time.
Enjoy Greece! It is an amazing place even at its smallest corners.
Disclosure: Daphne's Club Apartment Hotel provided our accommodation in a complimentary way. However, our opinions presented here are ours only and reflect our direct experience.