Our tribute to island of Chios, completes (for now) with our post for 3 medieval Chios villages. These are the well known Mesta, Olympi and Pyrgi. We mentioned these through our Chios posts here, here, here, here, here, here and here. Yeap, 7+1 experiences rich posts already, and still these describe just less than 1 week in Chios island.
These 3 villages are Medieval villages. Mesta is extremely well preserved, while Olympi and Pyrgi have a mixed character of modern and medieval characteristics.
We used Mesta village as a base in order to visit the other two. They are very close though, so you can be in both in less than 20-30 minutes driving time. When in Mesta, we stayed at Ergani studios. When you plan to stay there, hurry up, as there are just 2 studios. You won't regret it. Check these photos below to understand why.
See our room exterior… In the middle photo you see our yard living room.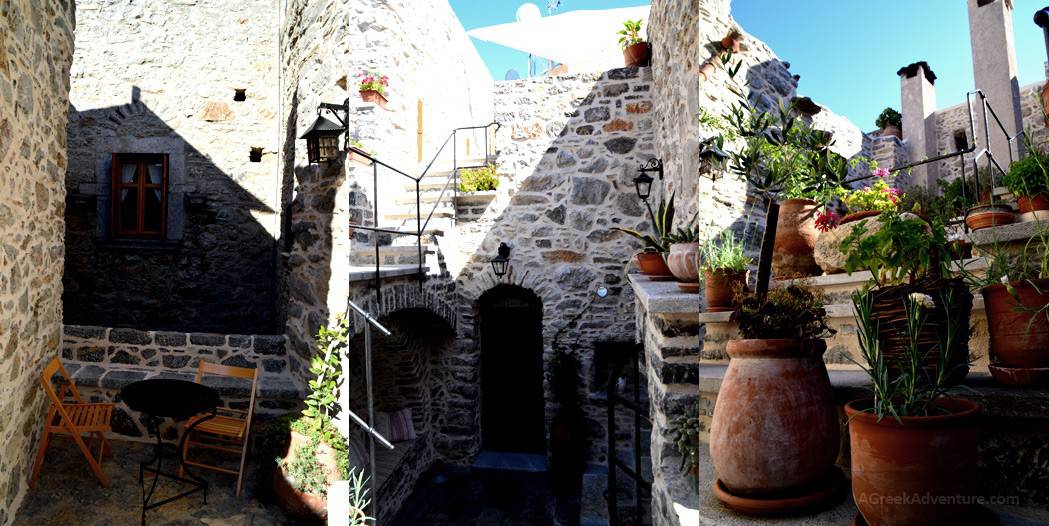 On the roof top another sitting area…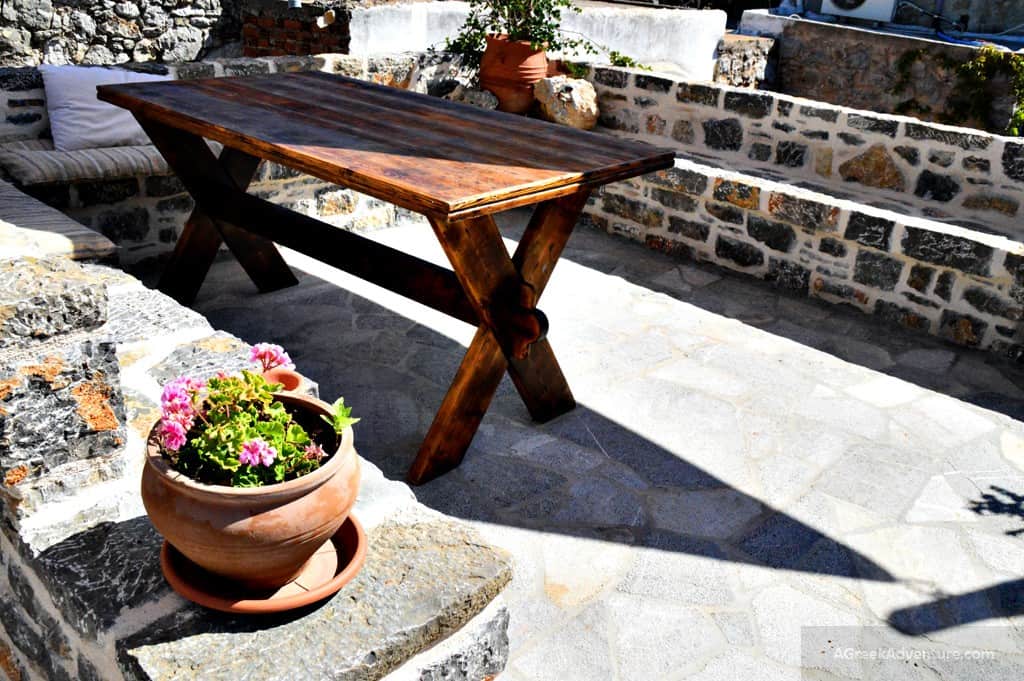 Here is a close up of our exterior sitting room.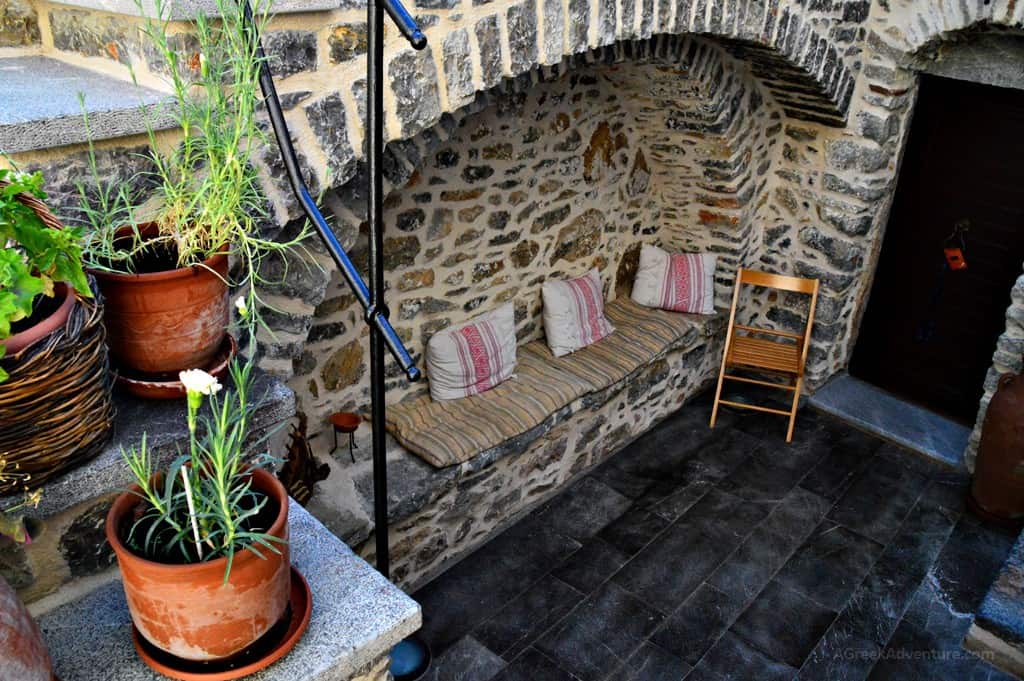 And here is our room. With an indoors wooden oven/fireplace, which is an amazingly beautiful thing to see inside a room.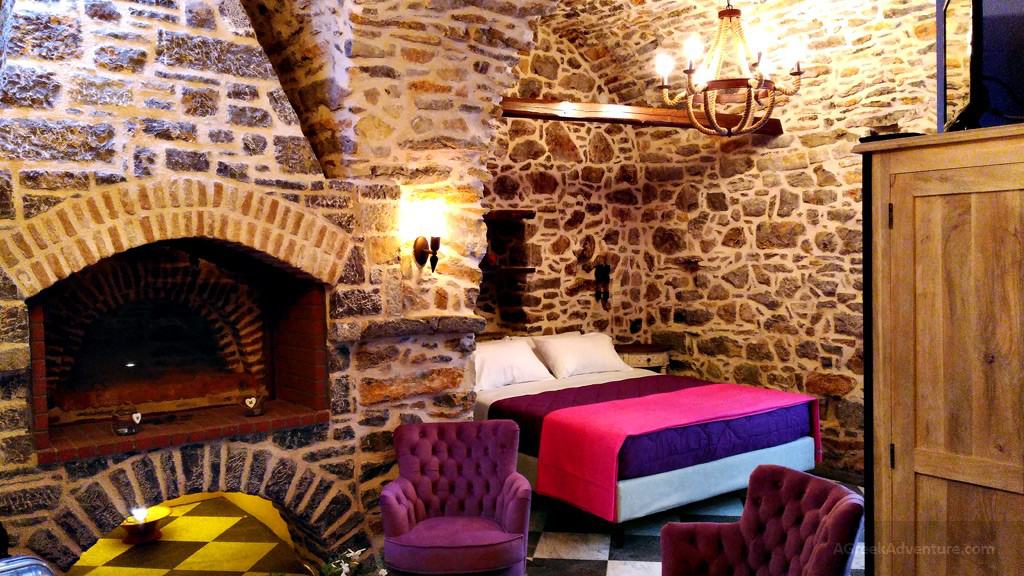 And when it was time for breakfast? Well here is the elegant breakfast room with lots of… yummies…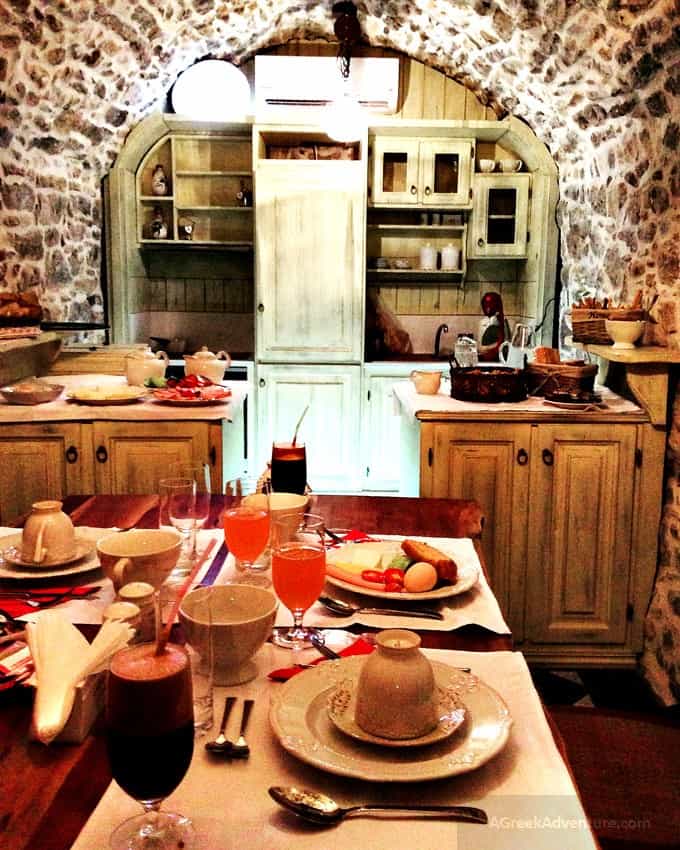 With elegant cutlery…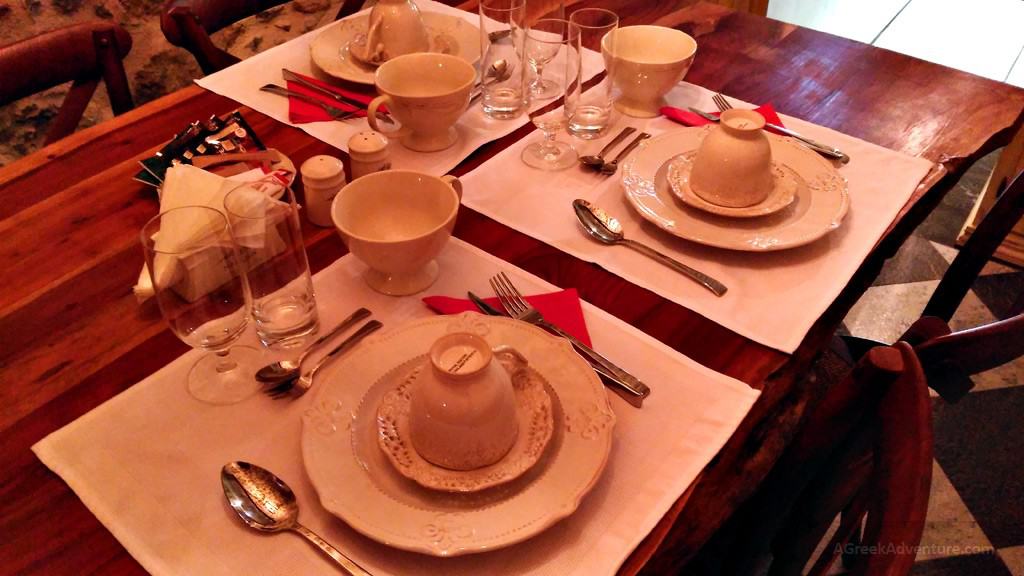 Totally lots of great food… These are loukoumades (Greek honey donuts), freshly made from Ms. Marina.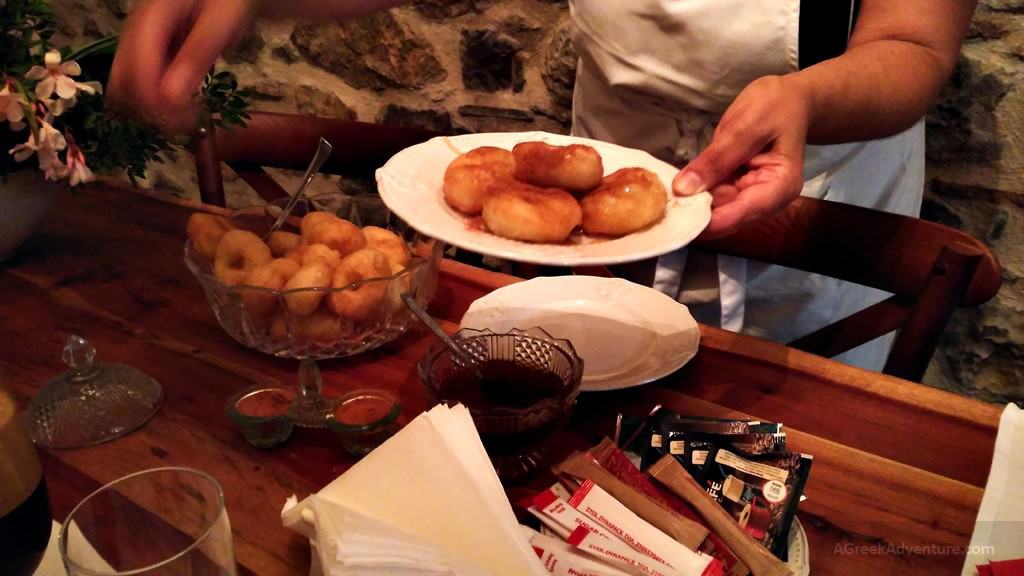 Hidden, below the kitchen floor, was an old treadle.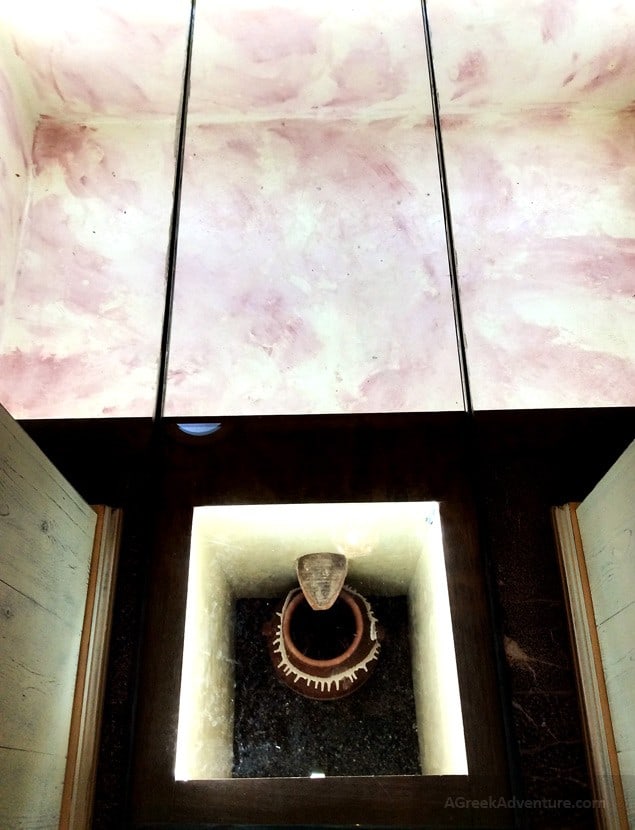 The whole place and our room were so great that we were eager to return after every adventure and just relax there. As said it was our base to explore Mesta, Olympi and Pyrgi. Here is what these look like.
Chios Villages: Mesta
First impression when we arrived in Mesta? Where is the entrance to the village? I mean the whole village is build as a one level fortress, so it has specific entry points which lock with iron gates (not anymore but they are there).
Visitors must definitely try to deliberately get lost through its narrow pathways. After a few minutes you have the feeling of being lost in time and space. We tried that after leaving our luggage at Ergani studios.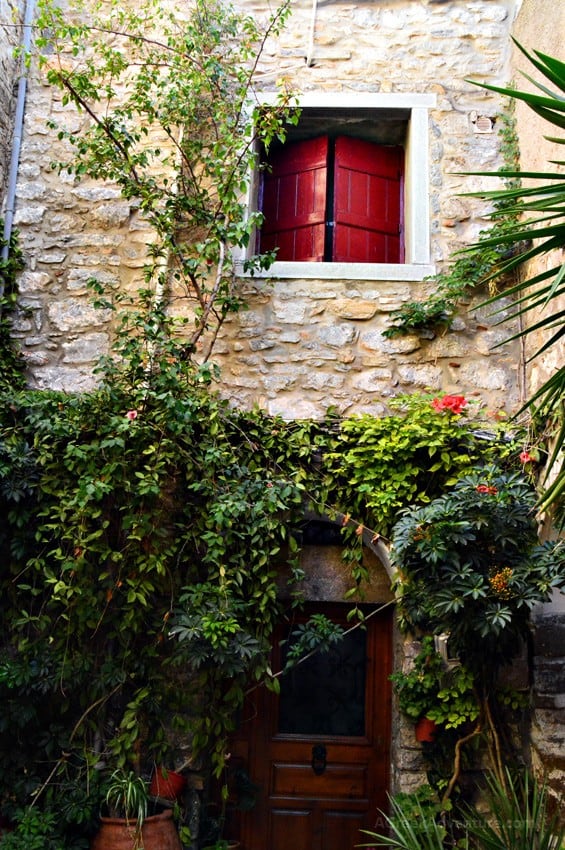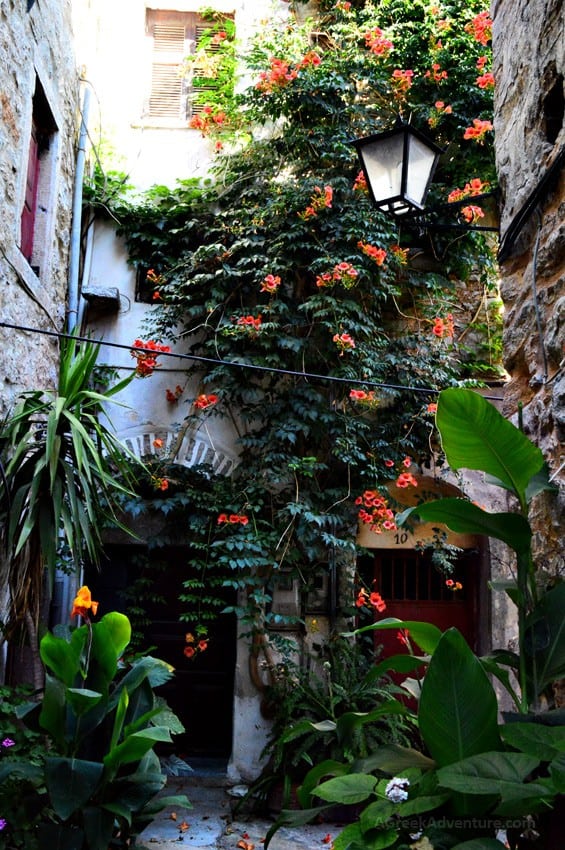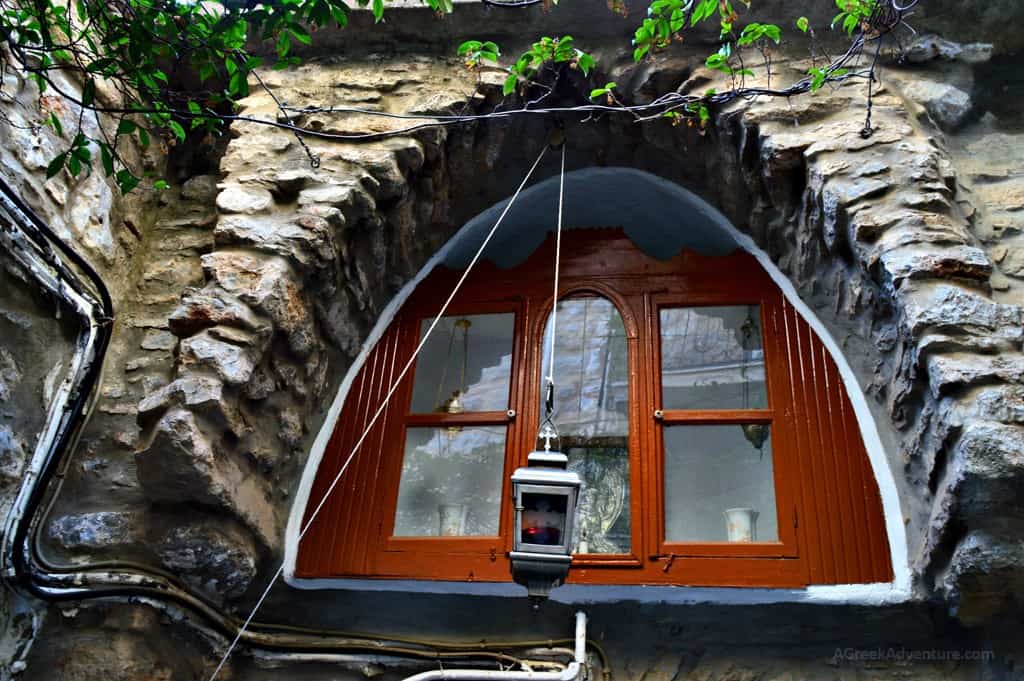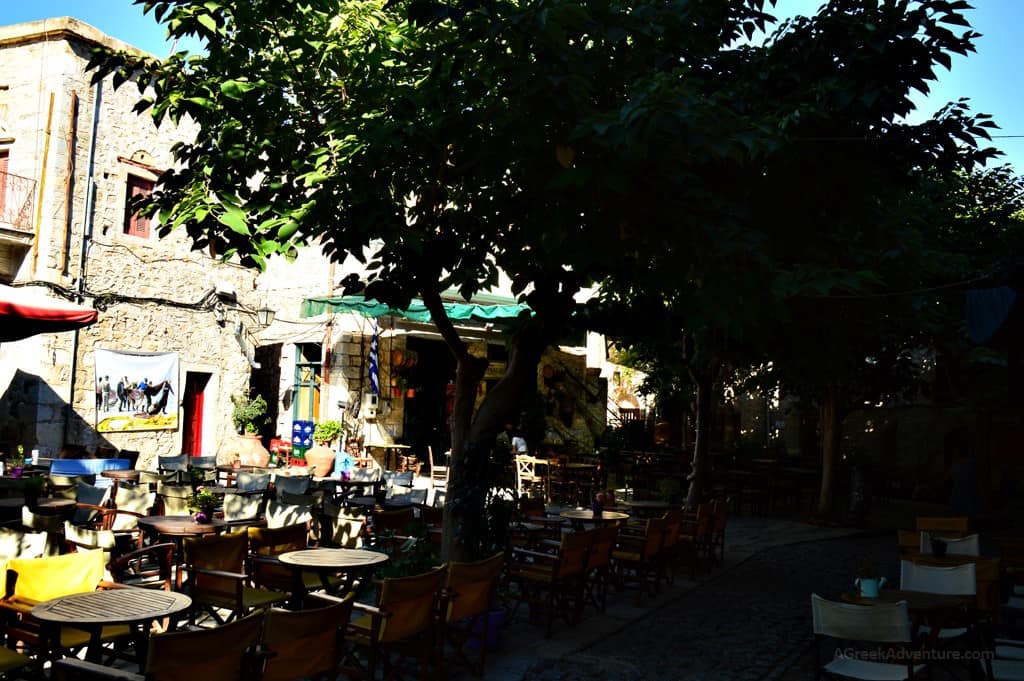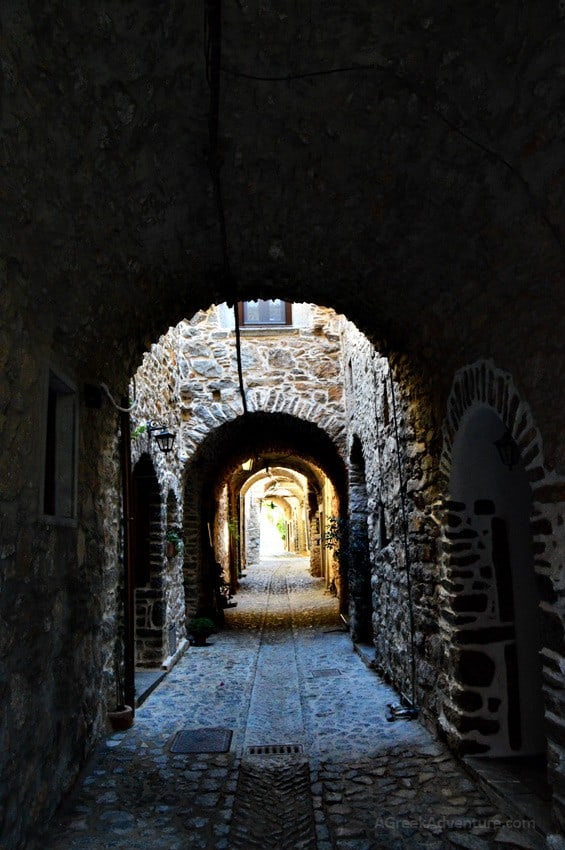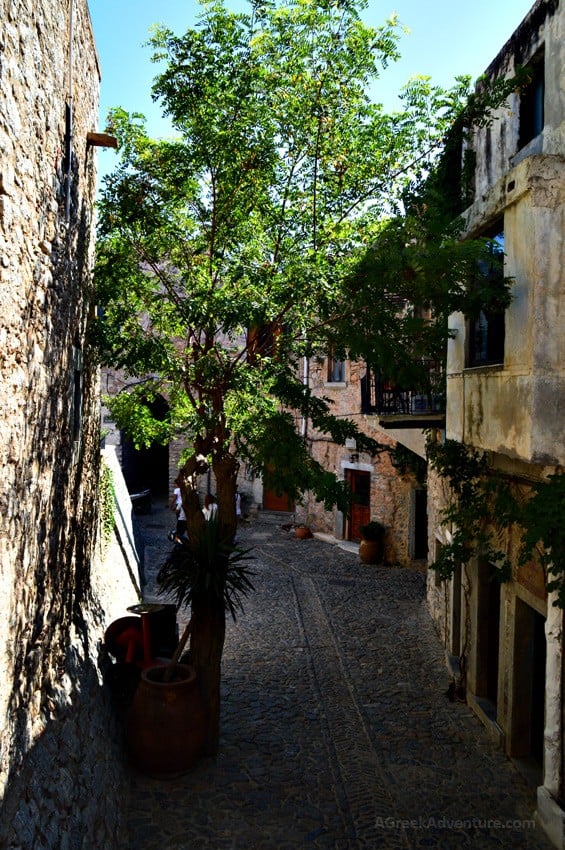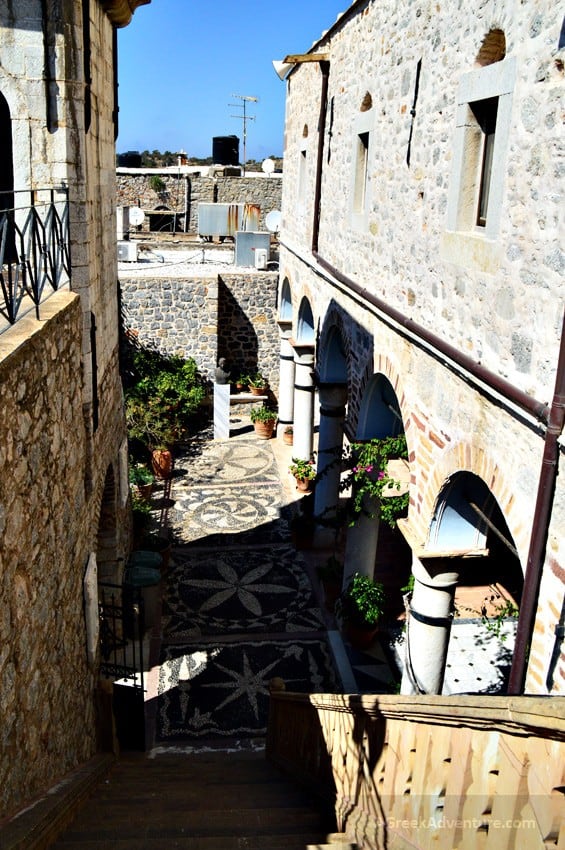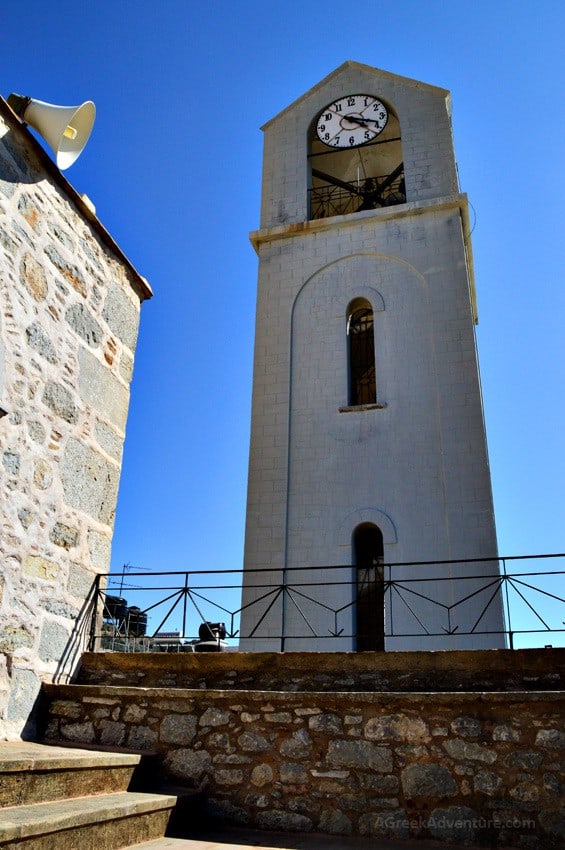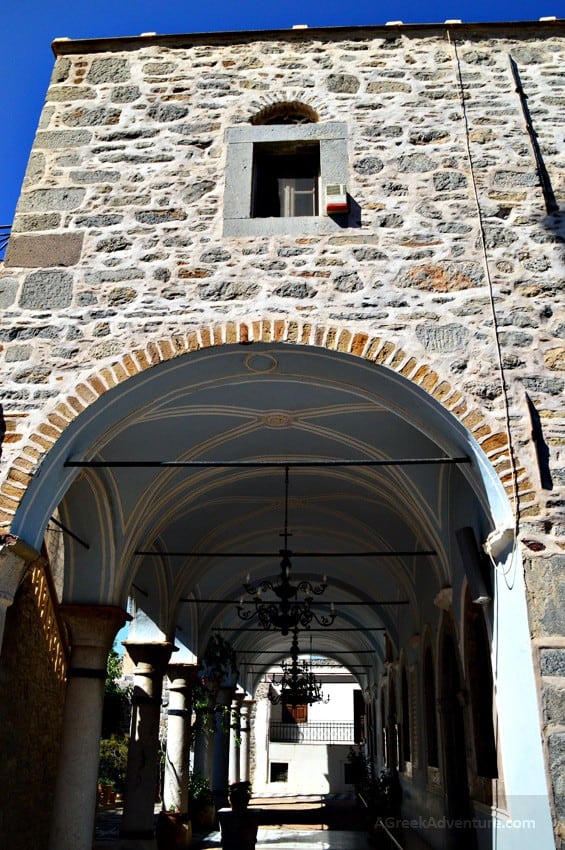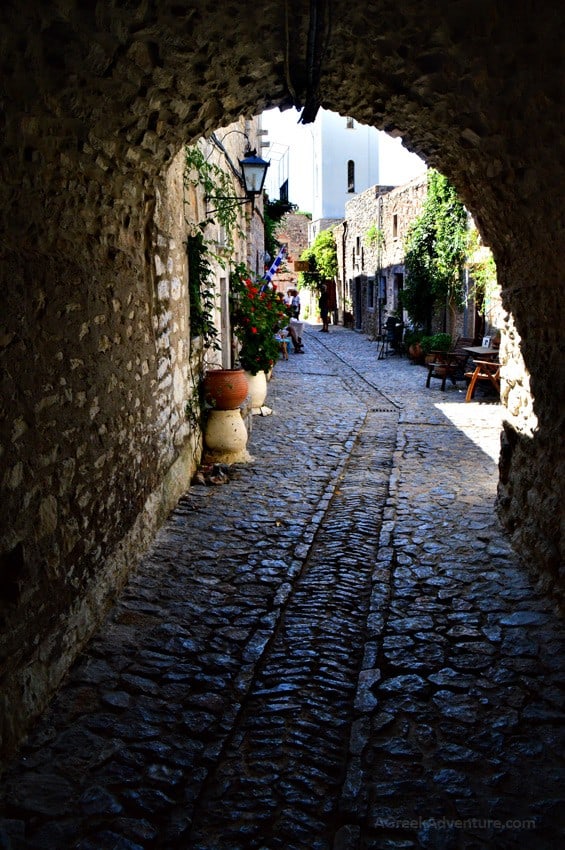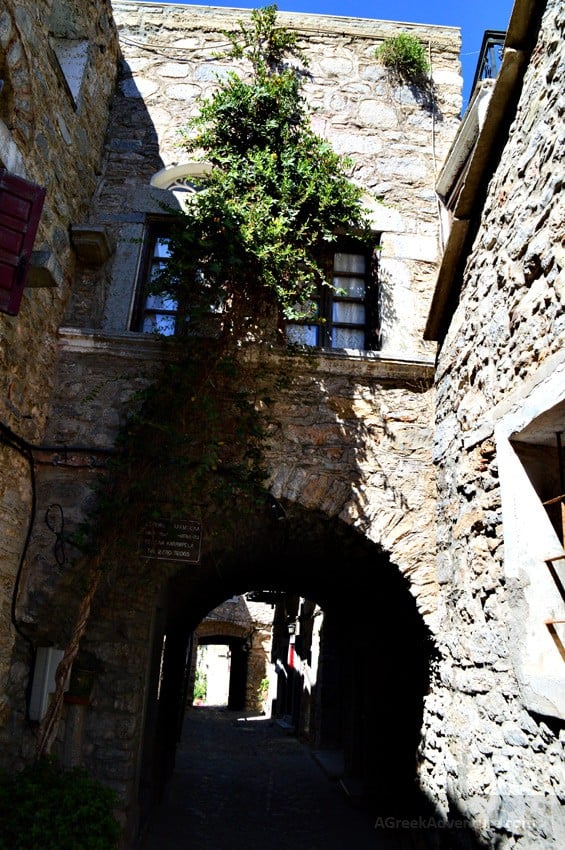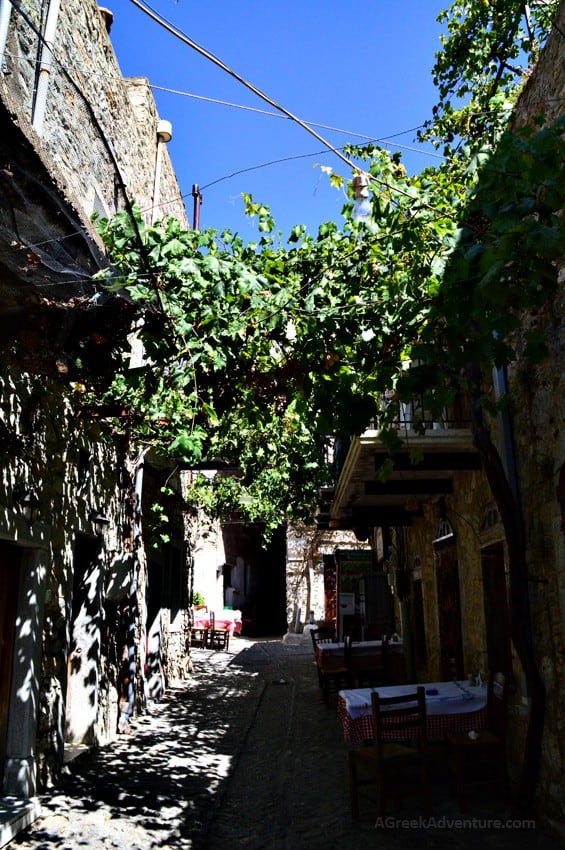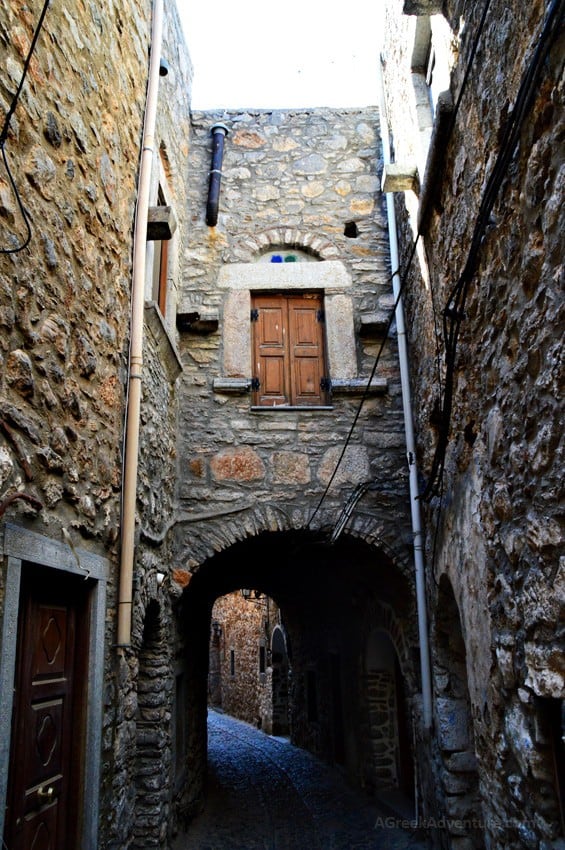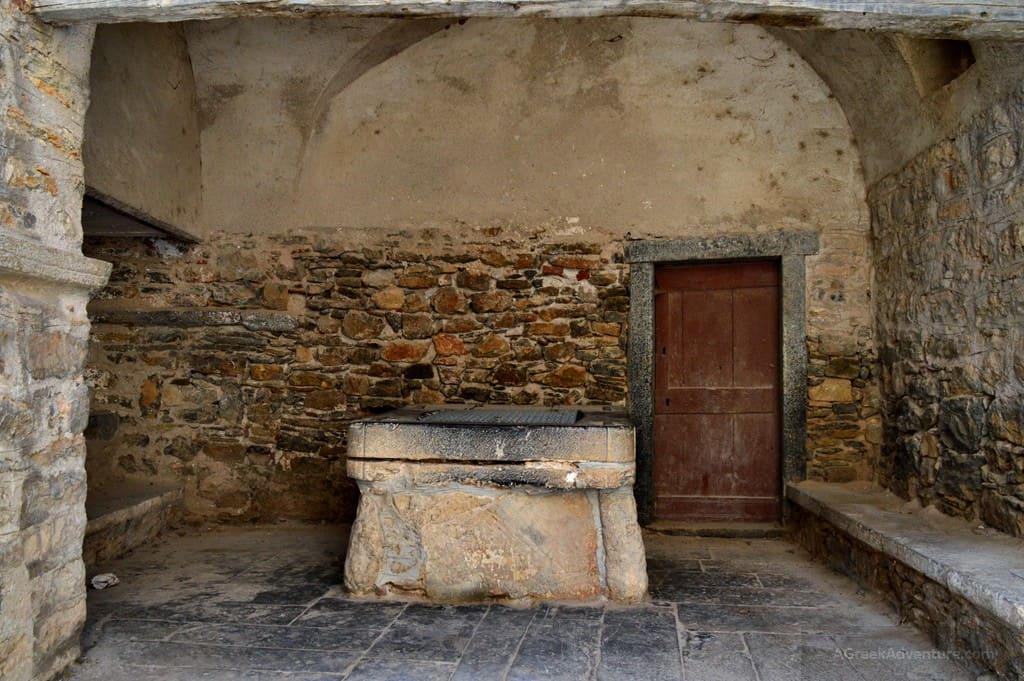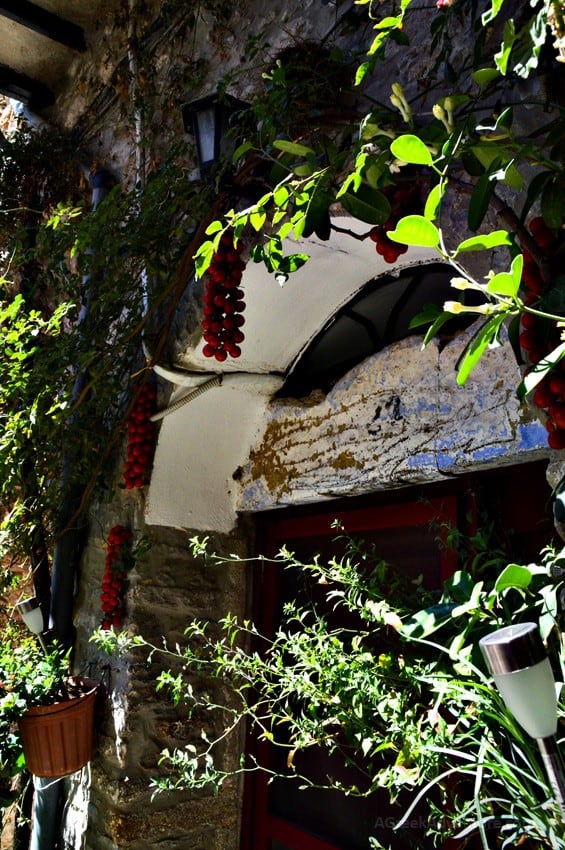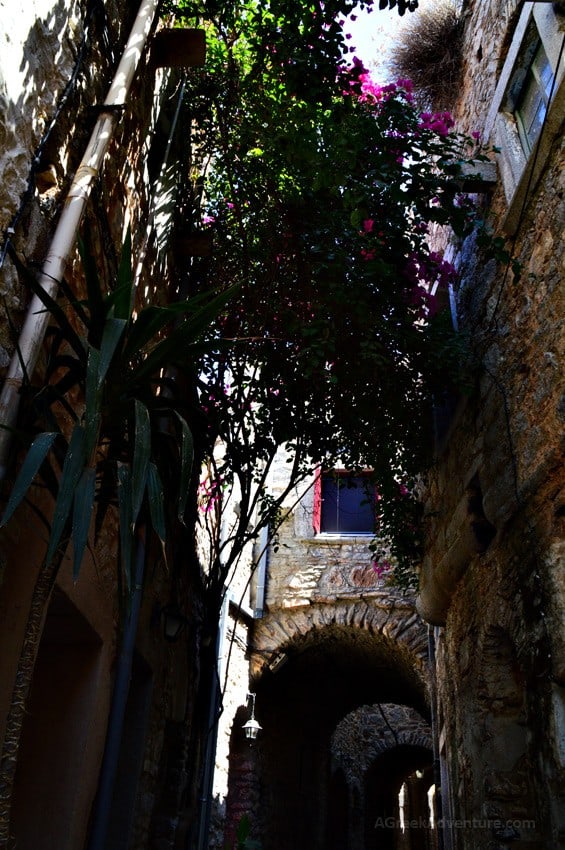 And that's just a portion of Mesta…
Villages of Chios: Olympi
If you remember, through another post of ours, Olympi is close to the Cave of Olympi. So, you can combine both. The village is also stone built, but it has modern houses too.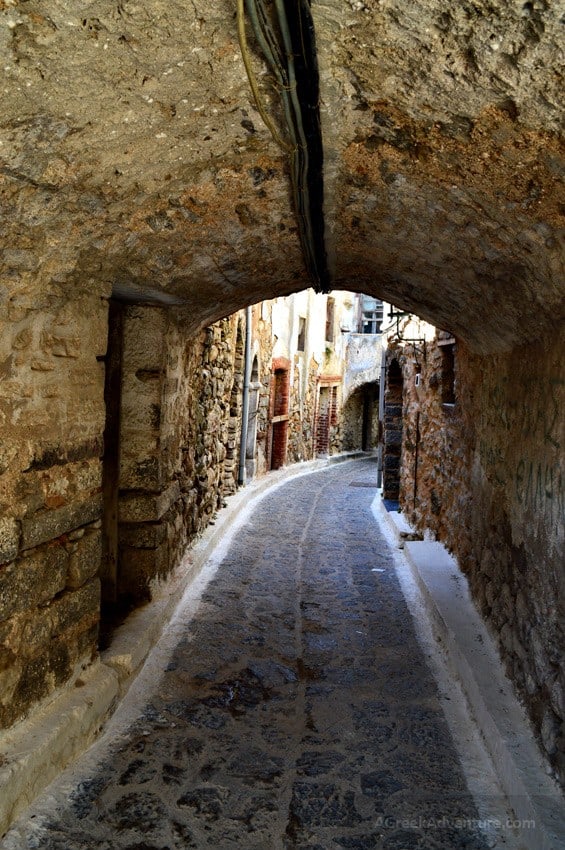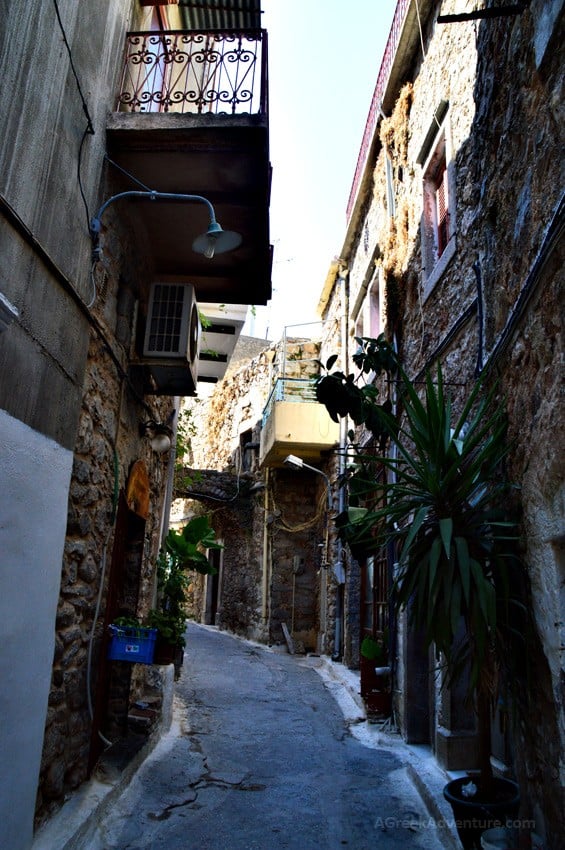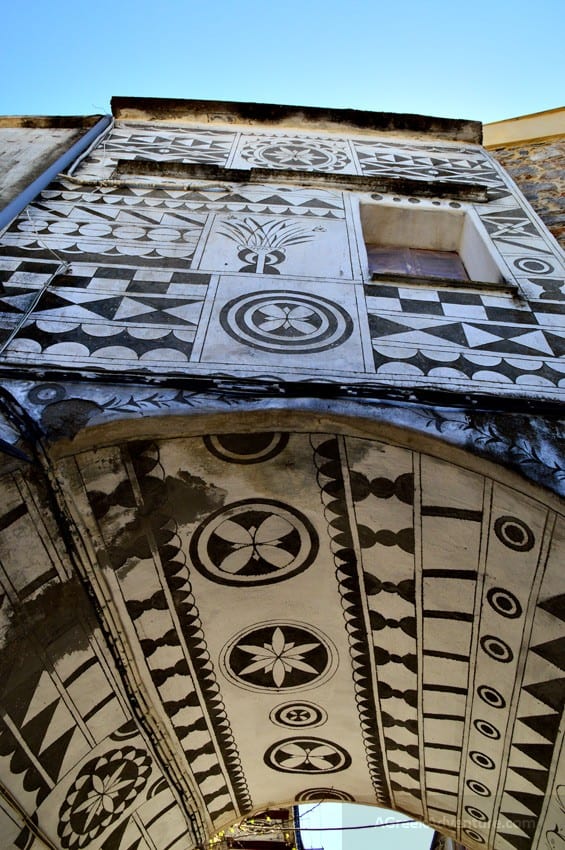 Do you see how houses connect in all medieval villages? At the end they actually consist a single fortress, so all enemies were doomed.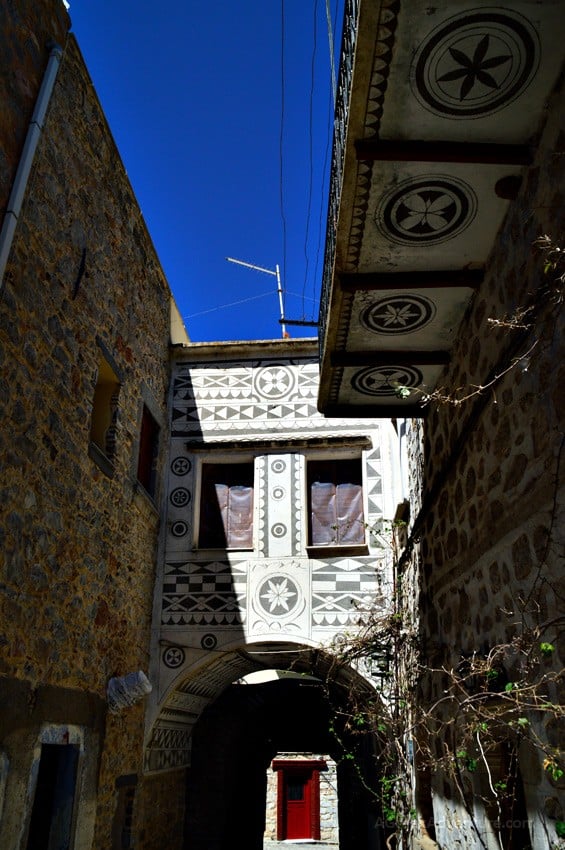 ,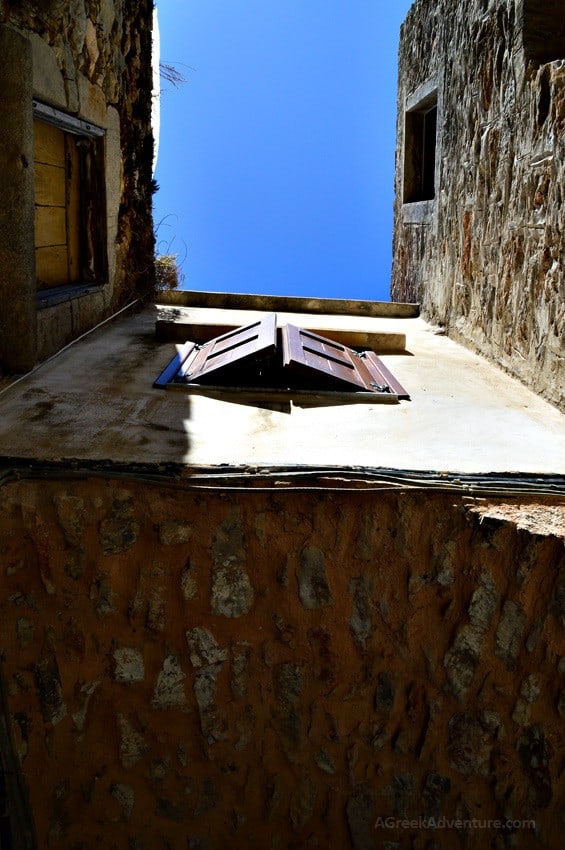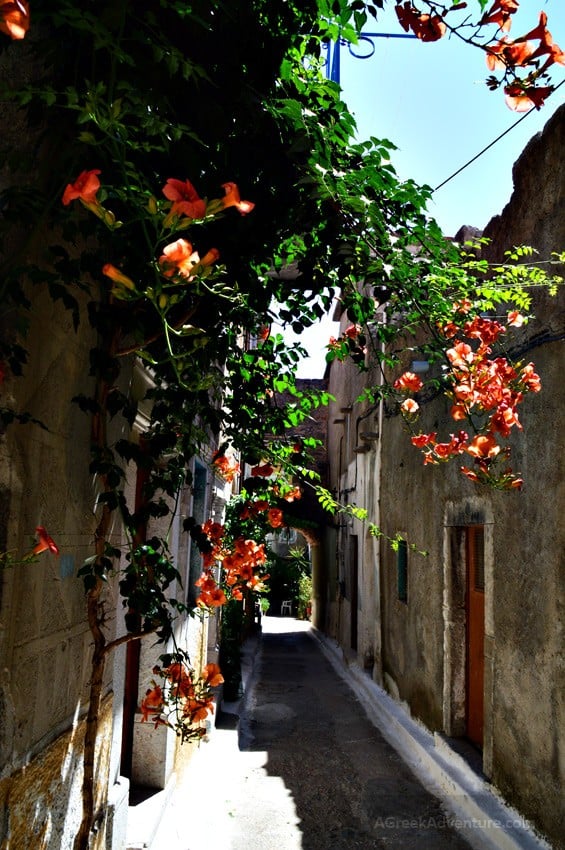 Find some time to enjoy a refreshment under that shade…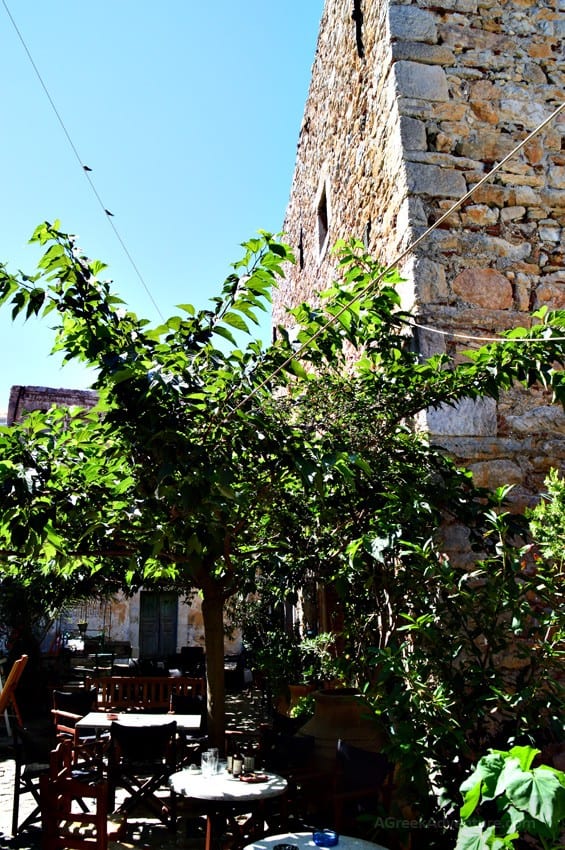 Moving out of Olympi, you need to drop by Pyrgi. The concept -regarding decoration- is the same but it has more squares with lots of shade.
Chios Villages: Pyrgi
Here the modern element is dominant, but the locals kept this geometric style in many places. The whole village looks like it is in a transition from the old to the new.

Allow time for this square.

Old and modern, mix and matched (?)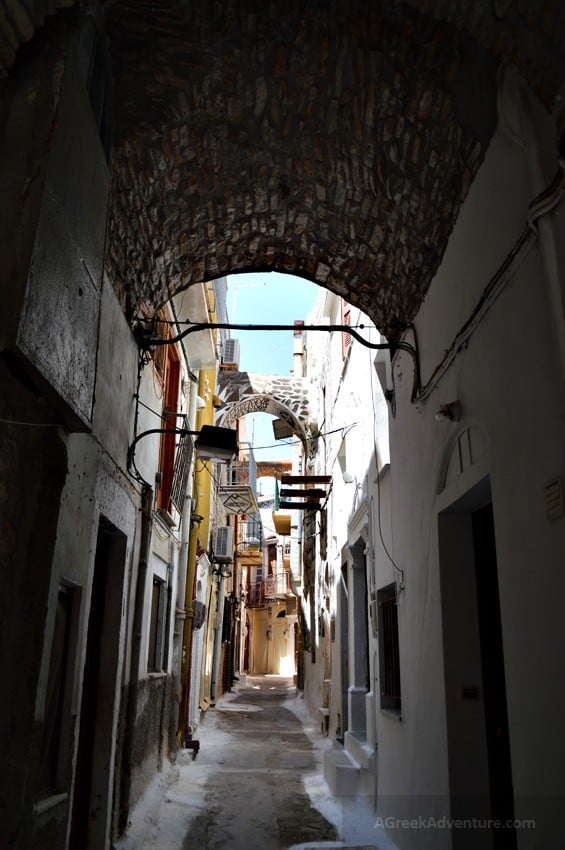 We spend lots of time going around and "getting lost" in these narrow pathways in all villages. But this is the way to explore and find small gems.
We covered a large part of Chios island and Chios villages, yet we need to get back to the island again. After all, we were invited by different locals to walk through the -rich in history- hiking paths of this island.
The day came to an end and we went back to relax at Ergani.
A big thank you is addressed to Marianna and Marina from Ergani studios. Apart from their great accommodation they really made us feel like home there. Our trip through Chios was organised by North Aegean, Regional Unit of Chios office. Transportation was sponsored by Hellenic Seaways! A variety of sponsors offered their services along this trip.
After Mesta, we drove at Chora of Chios and took the ferry back to Athens, which was a relaxing trip by itself.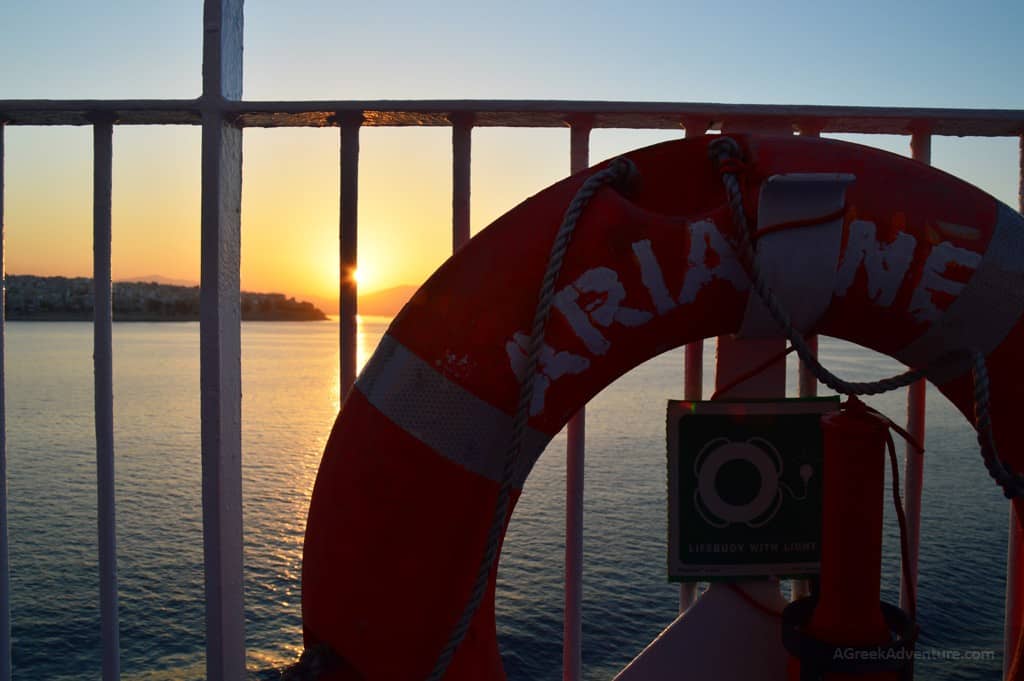 Kindly share this and make Chios known to the world!