Our journey in Lesvos is moving on! This time it was Horseback riding time. Horseback riding is something that we found to be enjoyable only when we see that the horse owners have a special connection with their horses.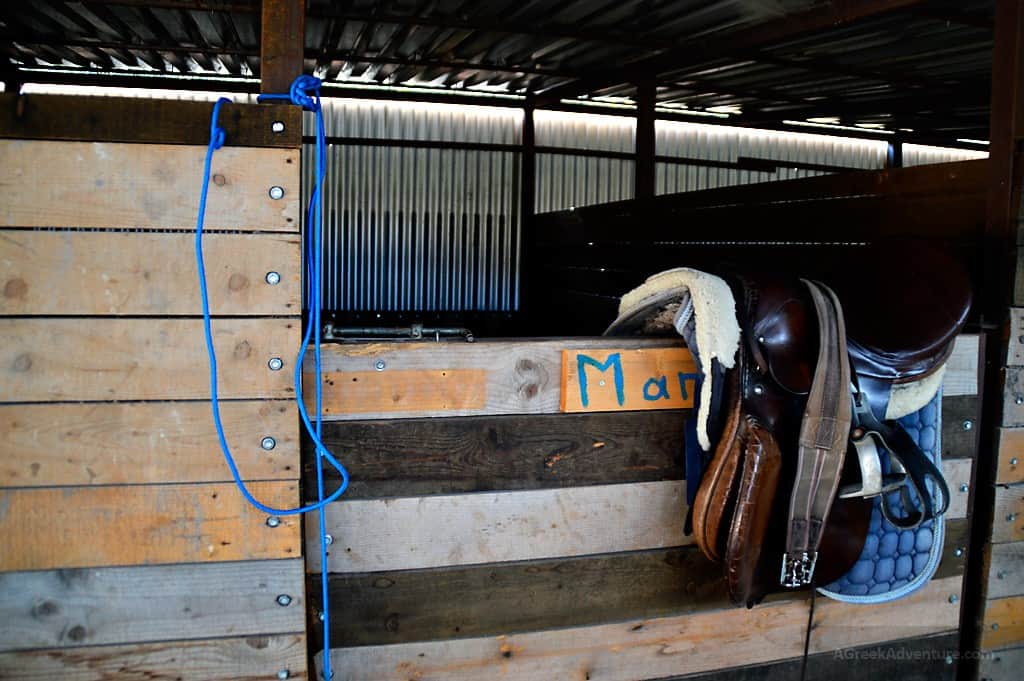 Humans and horses go way back in the history of earth. Mutual respect and a special type of connection is needed in order for the one to enjoy the company and "services" of the other. In case you haven't heard, horses are also used as a therapeutic medium. They have this special way to connect with you.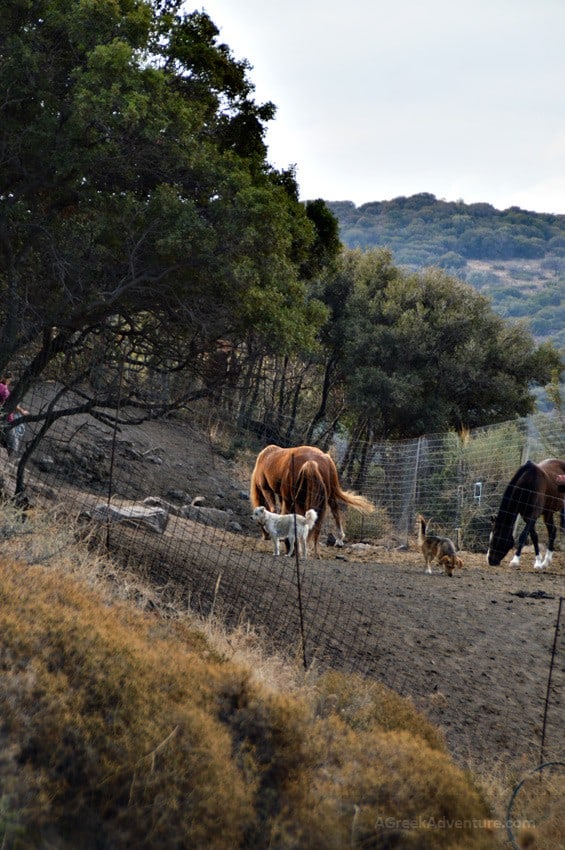 Could be their big eyes or their beauty, or something else. But it happens. We also saw while brushing their skin, as they were making noises of enjoyment.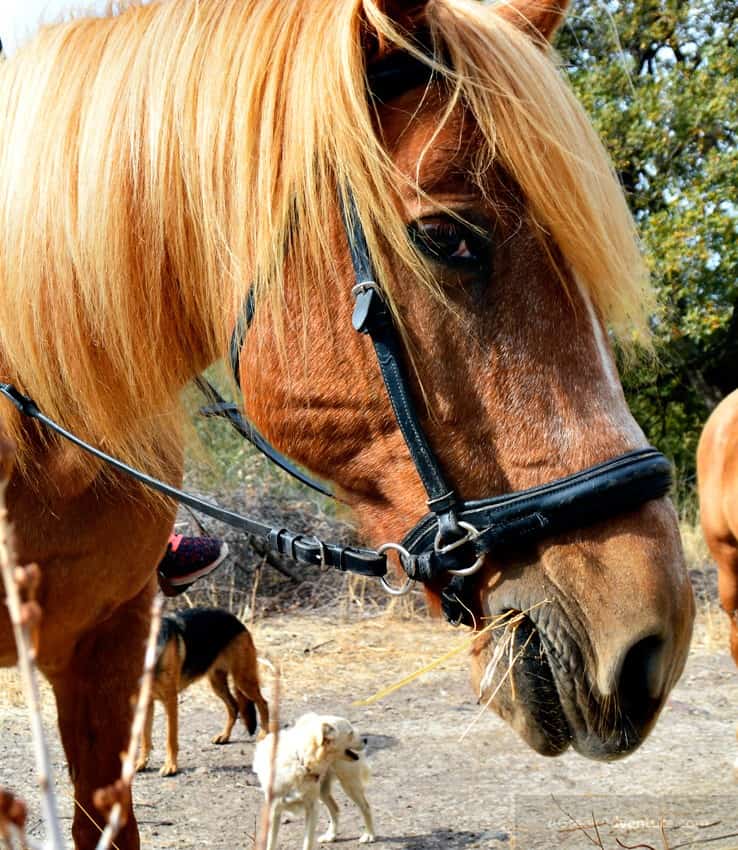 This time we went for a ride with Ippos Horse Riding & Excursions. Ippos (meaning: Horse) is very close to the village of Molyvos.
Enjoying horseback riding
In fact, the treatment of a horse is necessary to get closer to their soul (maybe it sounds a bit poetic but this is how it feels).
The horse needs to get connected with you. It is not like riding a bicycle. You need to feel its skin and how it reacts while touching it.
You need to experience the way they look at you, while you look at them.
Rita Mihalakis, our guide and instructor, made sure that we would go through that while following her special instructions. Instructions included how to move in front and behind the horse and how to use the different brushes.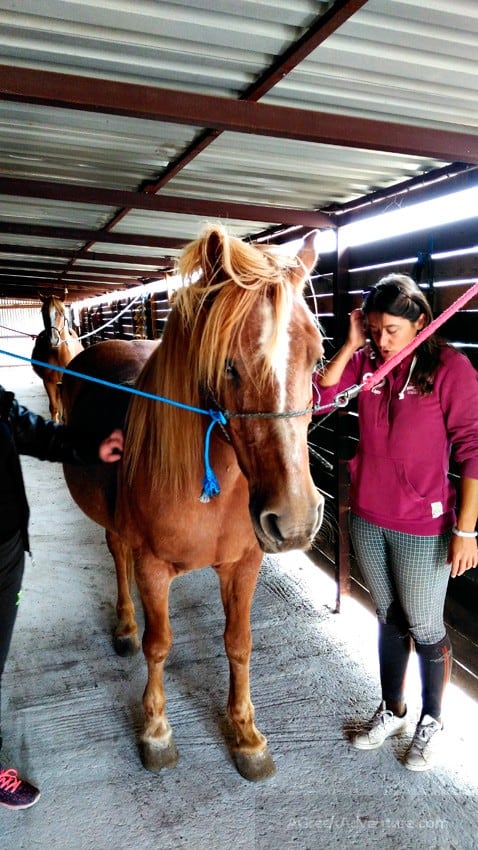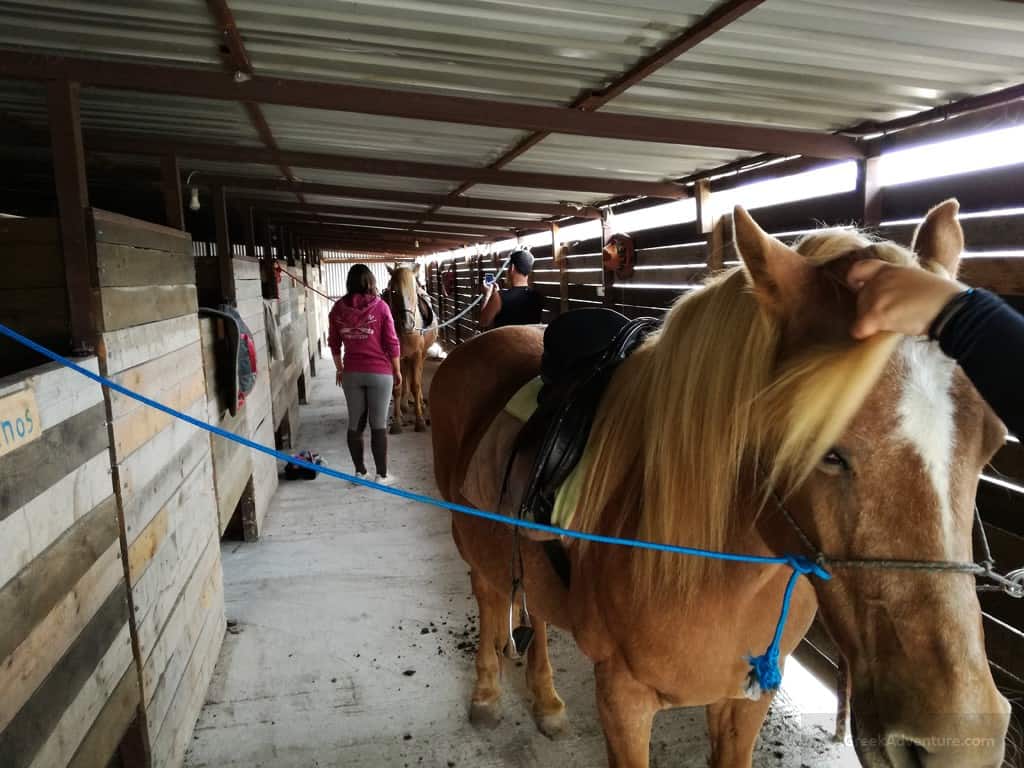 We went through the whole process of cleaning and brushing their skin and even combing their mane. We also cleaned the dirt under and inside their hoofs. The latter needs to be done as the horse will experience pain if that area is not clean.
Their friends were fooling around all the time. It is always a pleasure to see how animals are friendly to each other.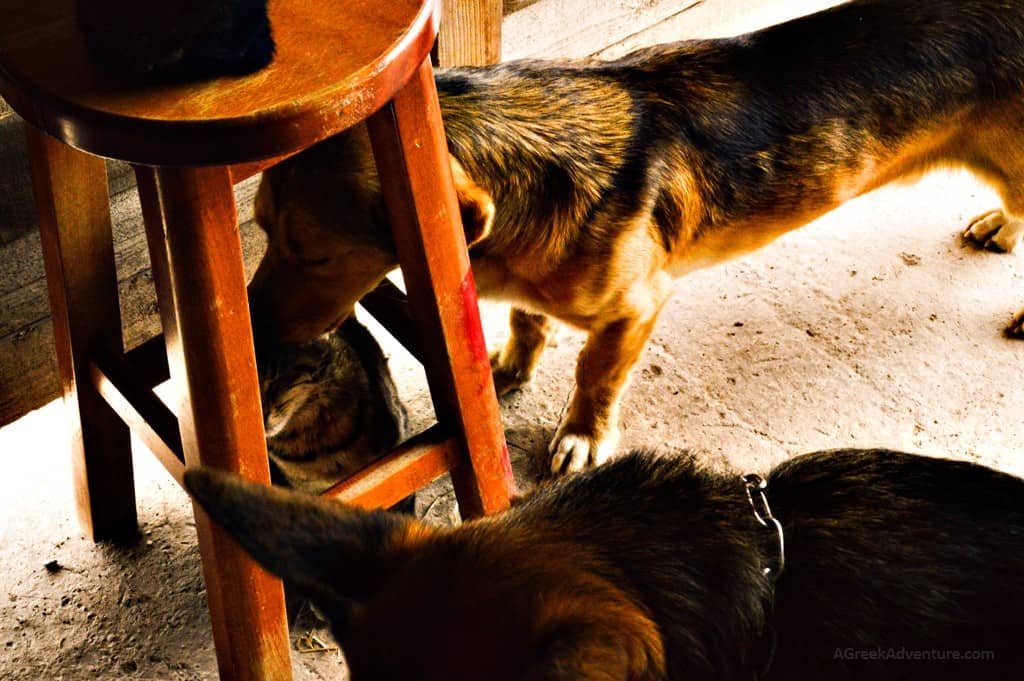 The cat was even posing for these photos. Just look at her on top of Juliet.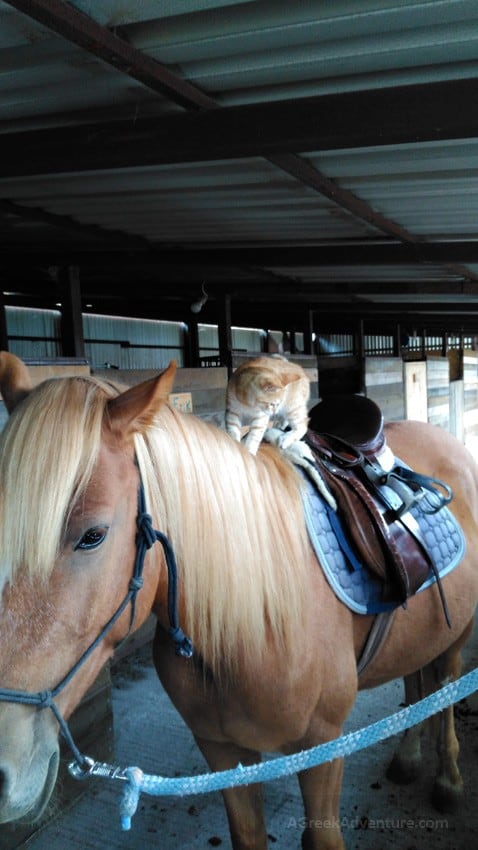 Our ride would be a relatively easy one, ending up to an area where we would start another hiking trip.
Horses behaved very well and it was a fun ride.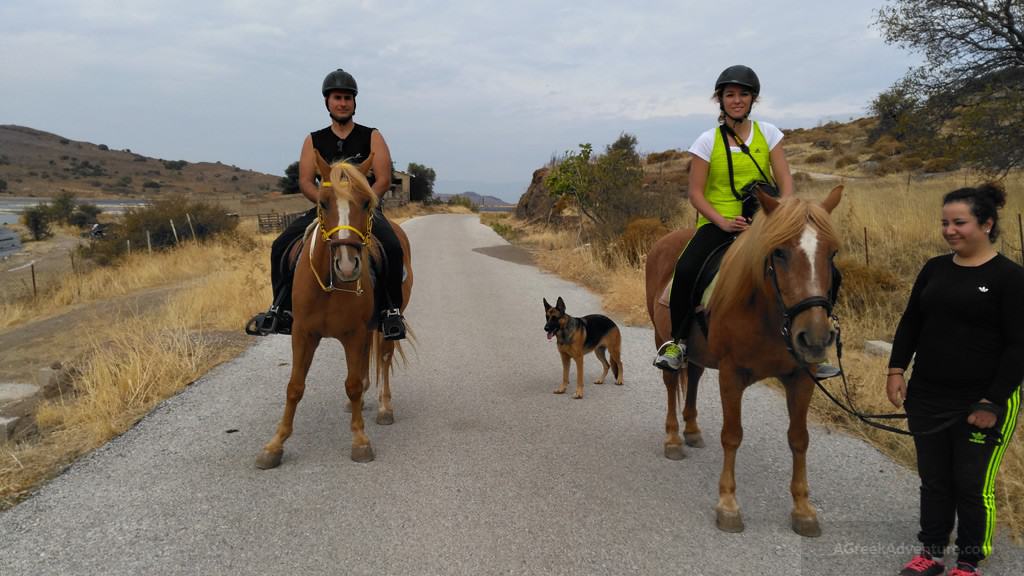 My horse was named Erik, and Maria was riding Juliet. Both, lovely and friendly horses. Erik was described as a Clean Haflinger, 3 years old with a height of 1,55cm. He was friendly, cuddly and forthcoming.
On the other hand Juliet was a Haflinger breed, 11 years old, 1,60cm. Cob type, friendly, easy going, a bit on the lazy side, loves hacks.
By the way, here is Erik fertilizing the fields.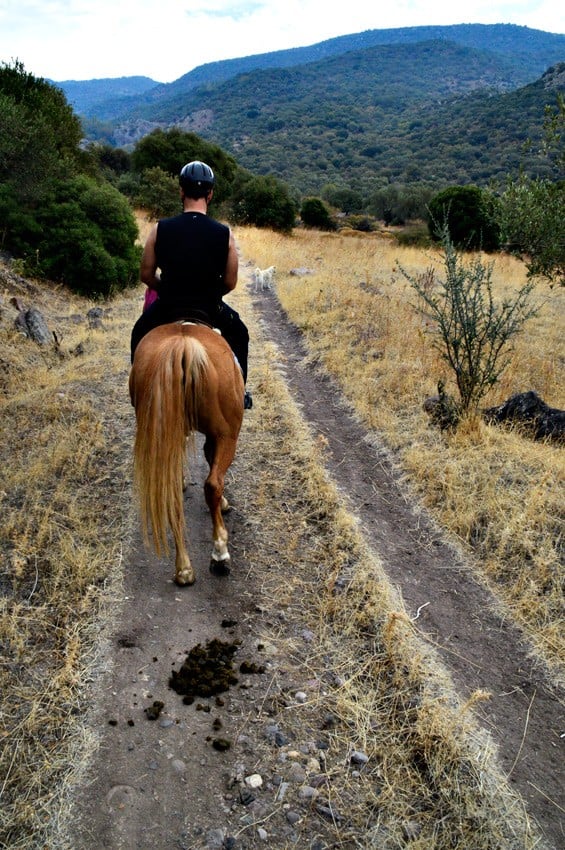 After a terrific ride we ended up at the Ligona Valley. Happy? Yes.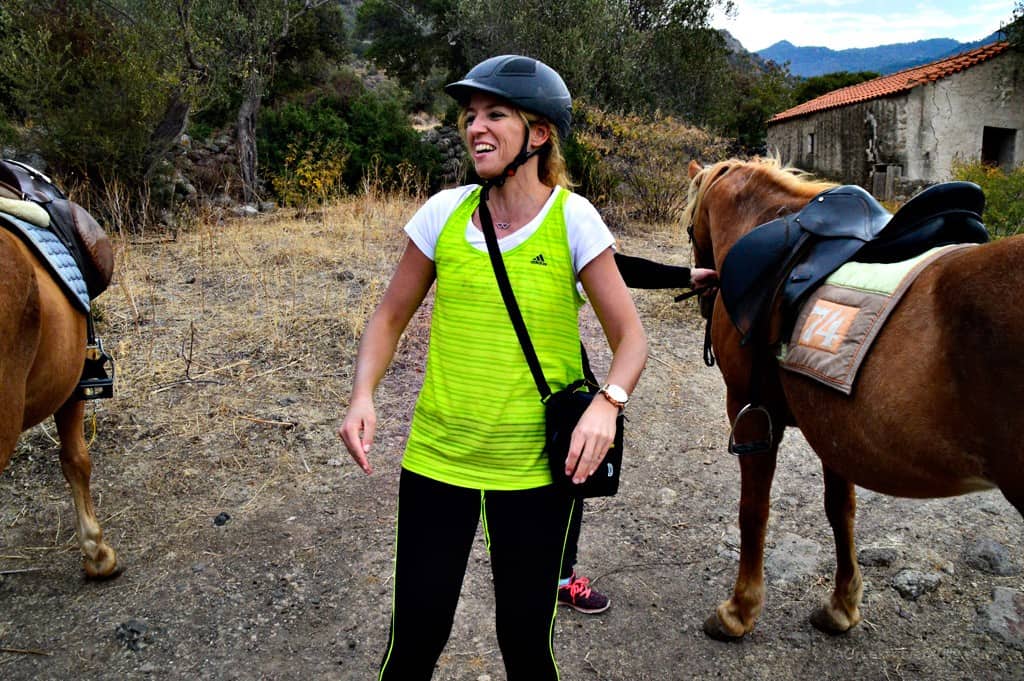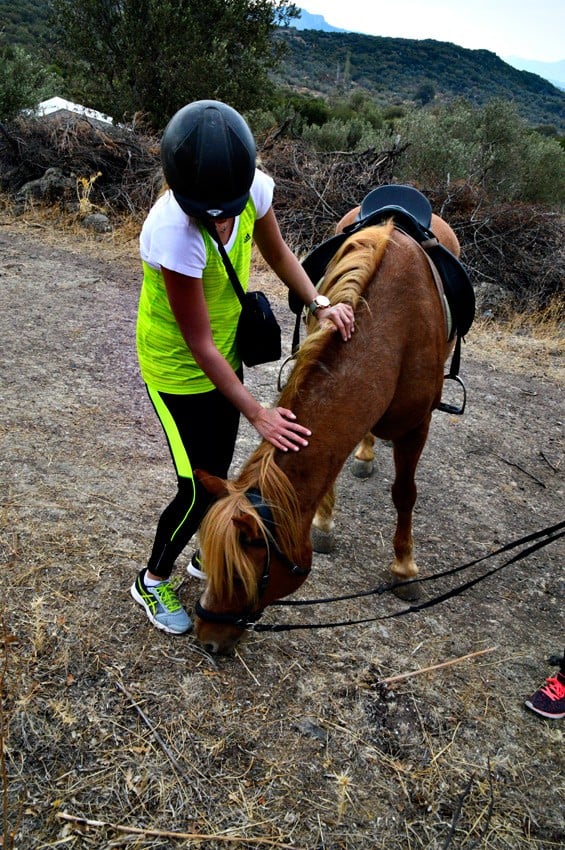 There we had to say goodbye to Rita and her horses, while promising to Erik and Juliet to come back.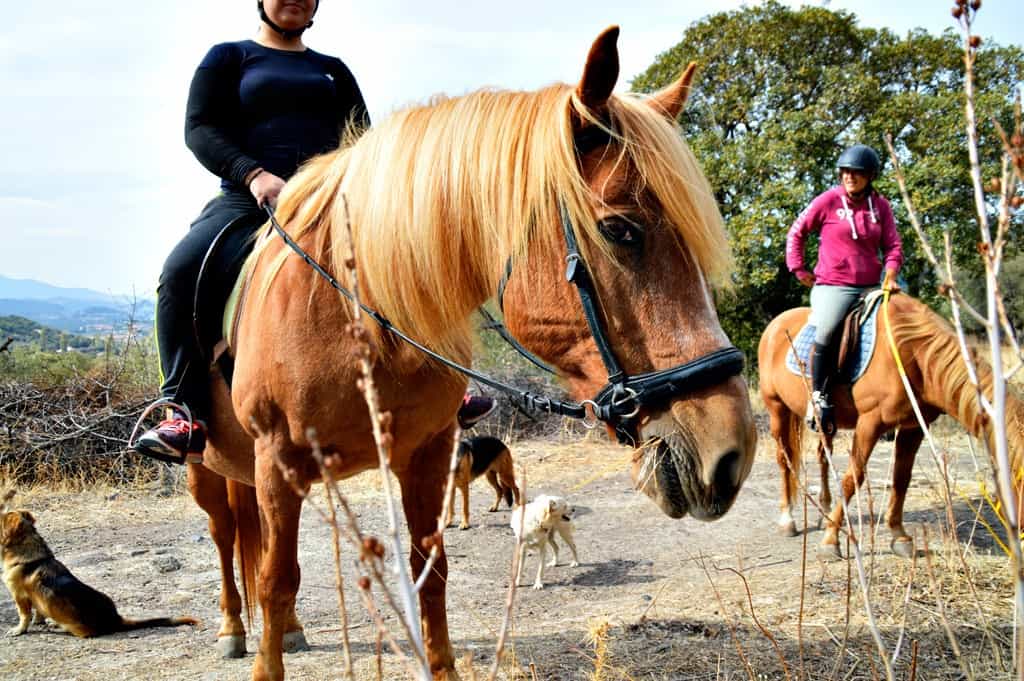 It was a strange feeling to say goodbye to those 2; like saying goodbye to humans.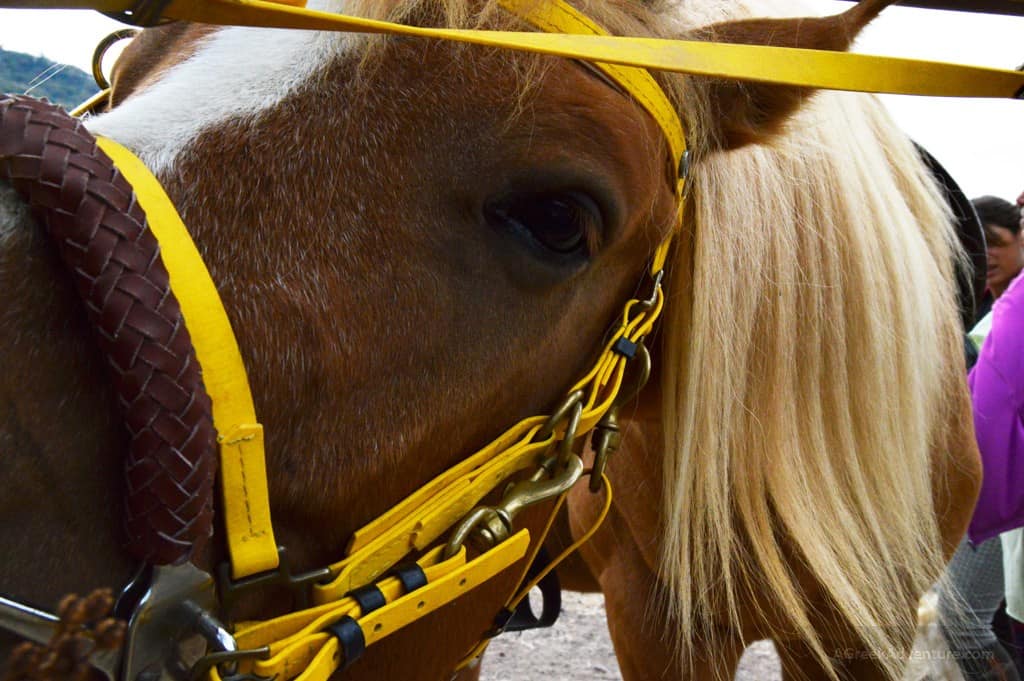 Hiking towards the mountain of Ligona Valley
At the point we stopped after our ride, we met with Titos and Julia from Lesvos Ride. They would escort us towards this nice route up the hills.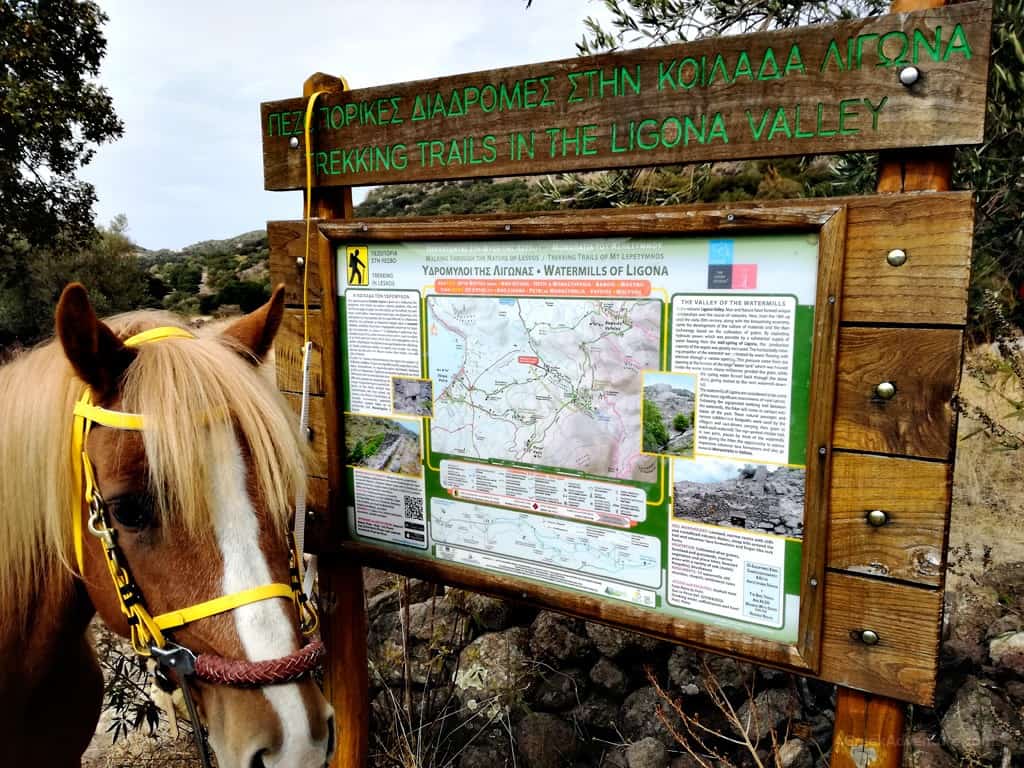 The complete route takes around 4 hours to complete and is very well labelled.
This valley is known for the watermills that used to be here in the old days. It is a very easy route, that changes from sun to shade as you reach the top.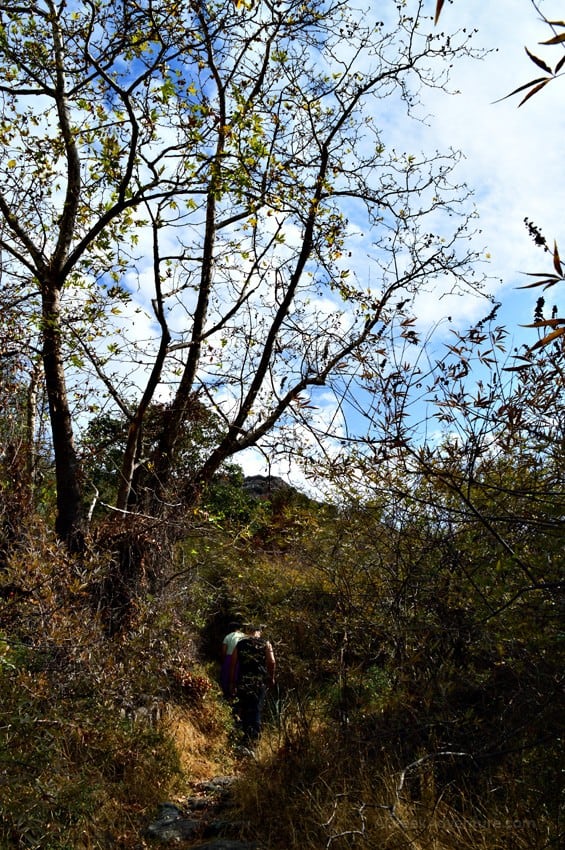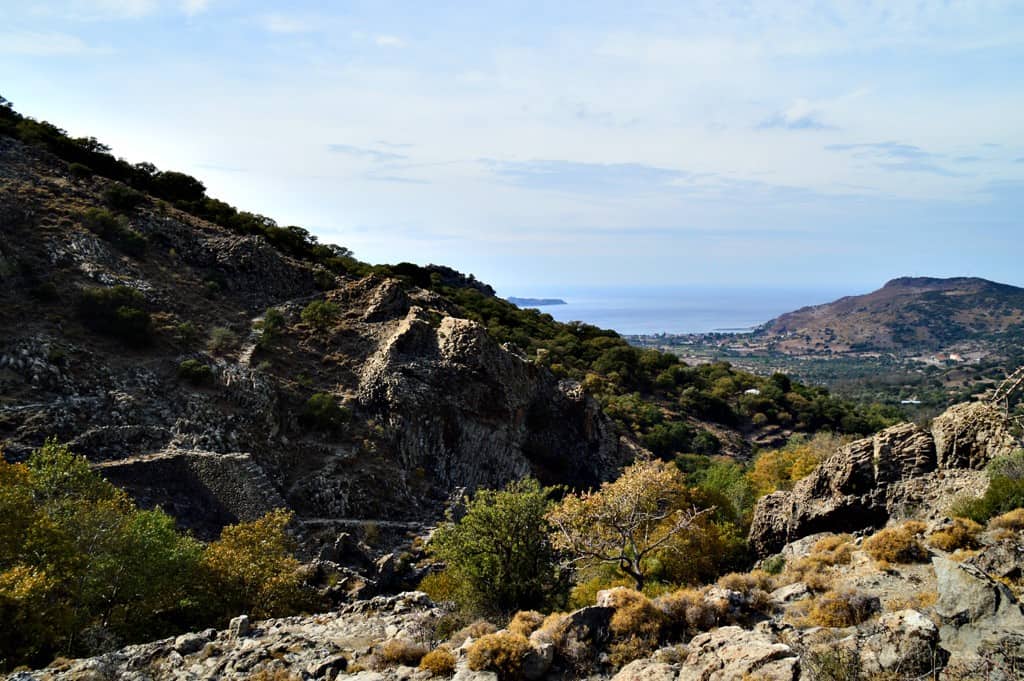 There are area where temperature drops a lot due to the lack of sun and cold currents down-streaming from the mountain.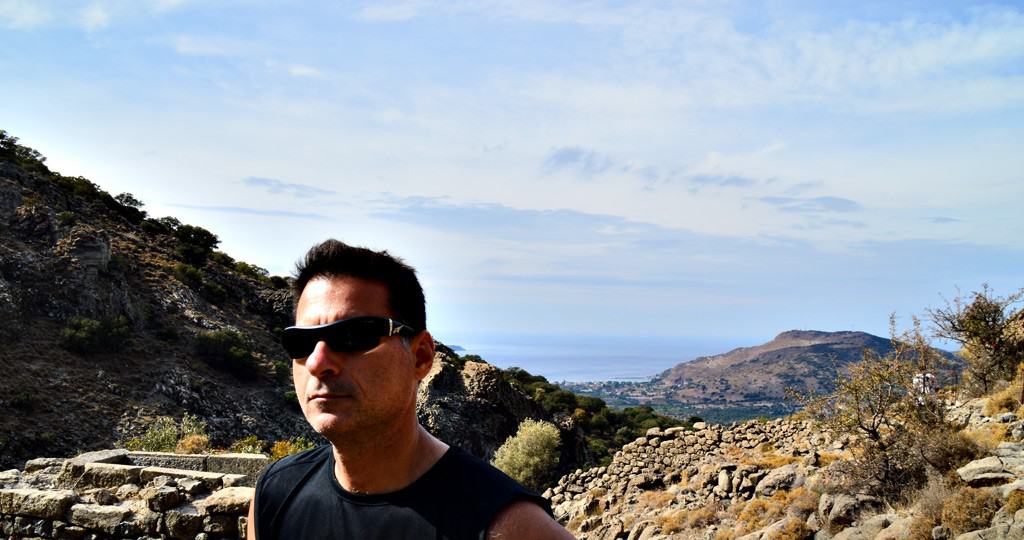 Villagers used to live at the mountain (not anymore), using the watermills network and its canals to grind wheat, and watering the full with vegetables fields of the valley.
Watermills were build in a straight line, so each family was using the same water that was flowing through stone canals, downwards to the valley.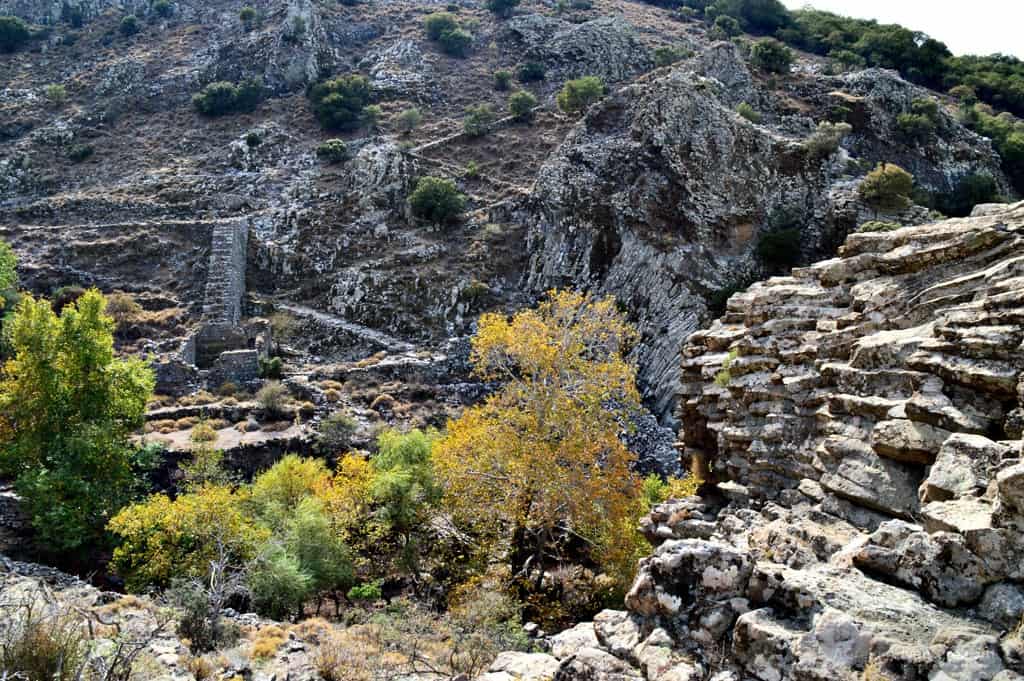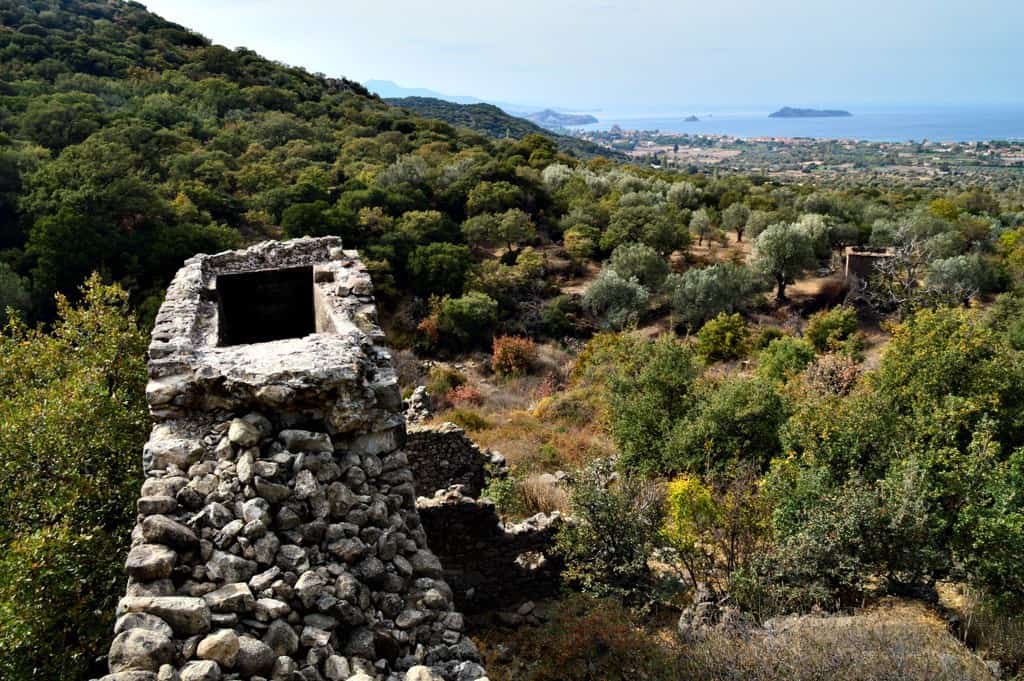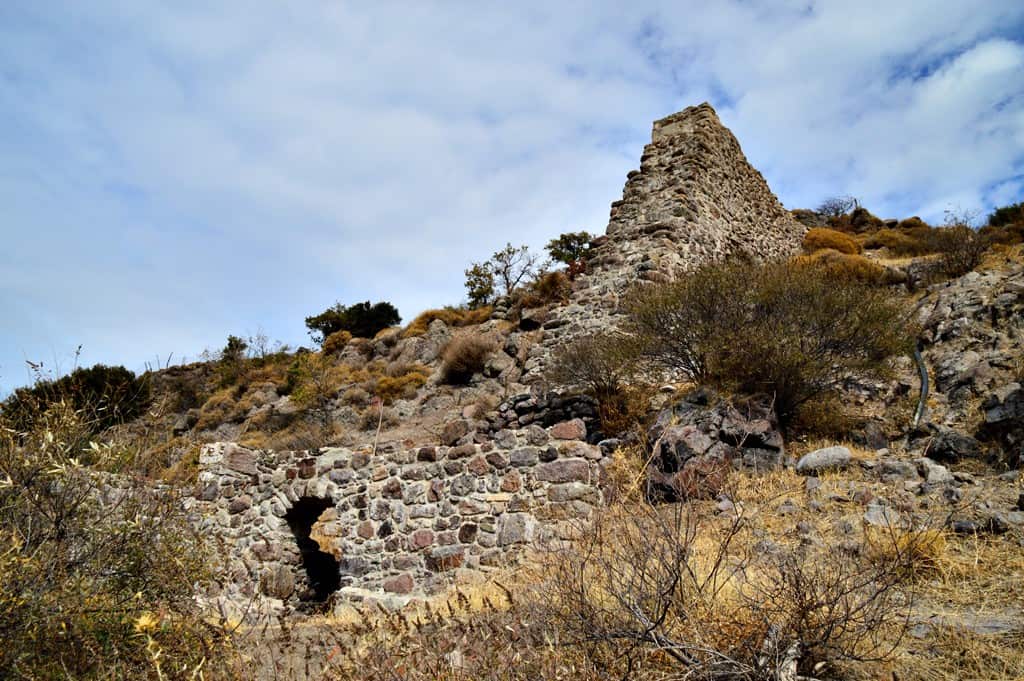 From the top you can see the valley of Ligona and the North Aegean blue.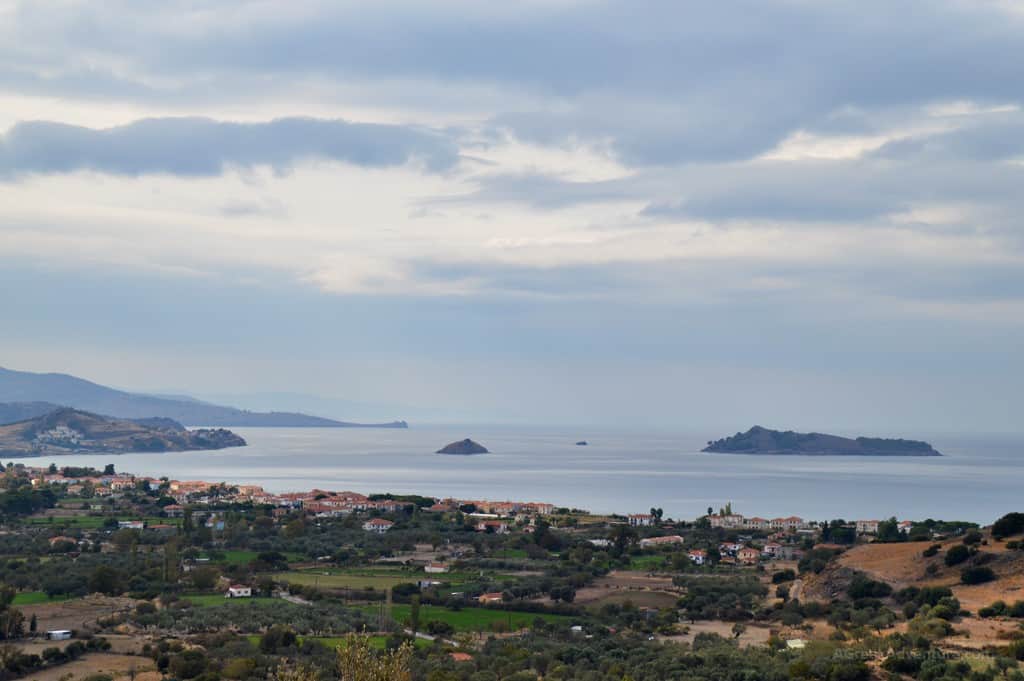 This hiking is recommended to those who want to have a relaxed walk and learn about the history of this area.
In total this was a rather splendid morning in Lesvos.
You can arrange and a have a long horseback riding tour, as this area has lots of places to visit with a horse. There are trips where you can ride for 6 hours long!
We would like to thank Ippos Horse Riding & Excursions for their great hospitality and ride.
Stand by for our experience in the famous village of Molyvos.
Share this!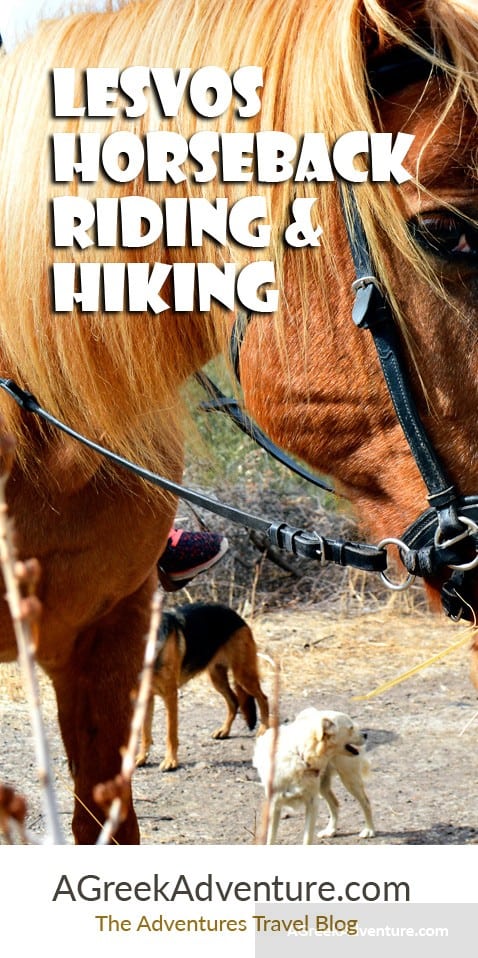 Disclosure: The trip was organized by the District of North Aegean Tourism department, along with a series of activities, accommodation and dining providers mentioned in our articles. Airplane tickets provided by Astra Airlines. As always, all posts are written according to our experience and opinion.