These 2 topics seem controversial when it comes to Tinos island, Greece. Yet, while the first one is the reason why thousands flock to the island every year (especially in August), the latter could be the additional hot thing. In that way Tinos may have another reason to be worldwide famous.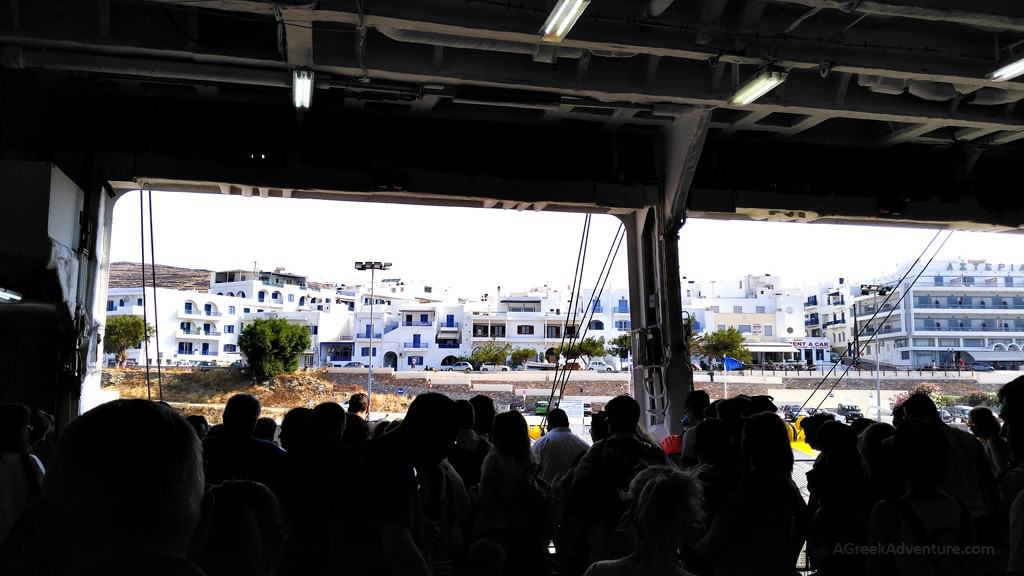 We have been to Tinos in the past and we wanted to visit this island once more for a weekend. We know that there are hiking paths but we didn't want to do this, this time. Instead, the things we discovered this time were much more and we are going to post a series of articles for the island of Tinos, which by the way is just 2 hours from Athens (Port of Rafina).
First of all: The Lady of Tinos island
You may also have heard it as the Virgin Mary church of Tinos. It is one of the most important religious hot points in Greece (others are Meteora, Proussos Monastery and many more). People come from all over the world to visit the church and pray to Virgin Mary for something they want in life. Many times their request is related to the healing of an ailment of their own or of something a loved one has.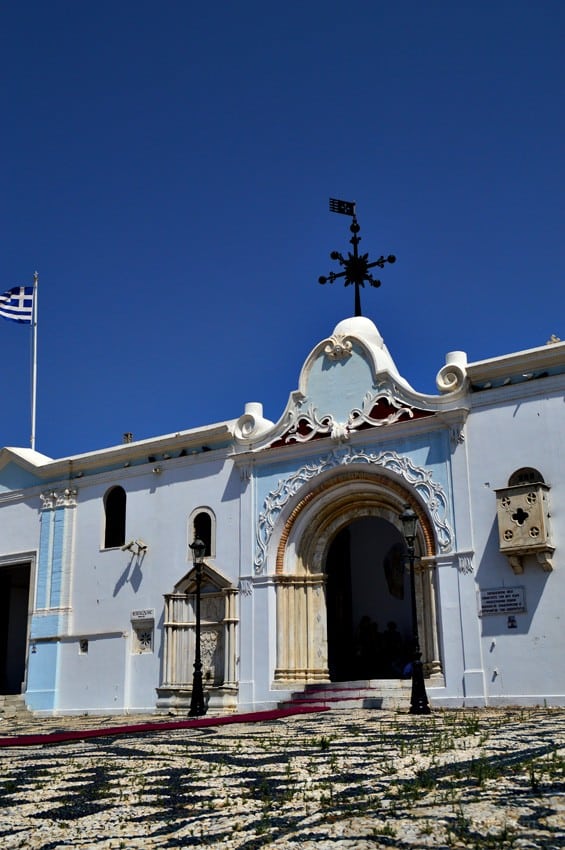 Maybe it is due to the extreme & combined will and praying and faith or due to divine intervention… Who knows… People pray here and provide offerings (called "Tama") hoping their wish will come to life.
The fact is that this place is very beautiful and serene.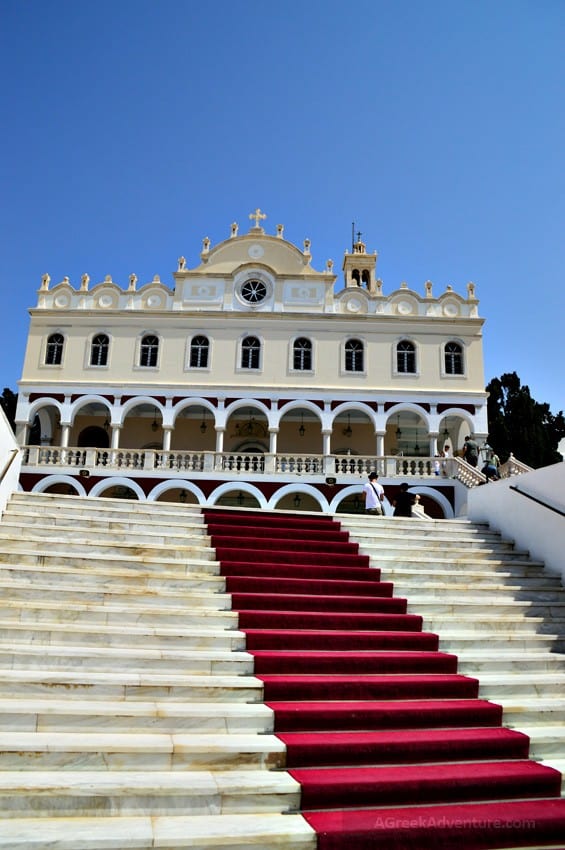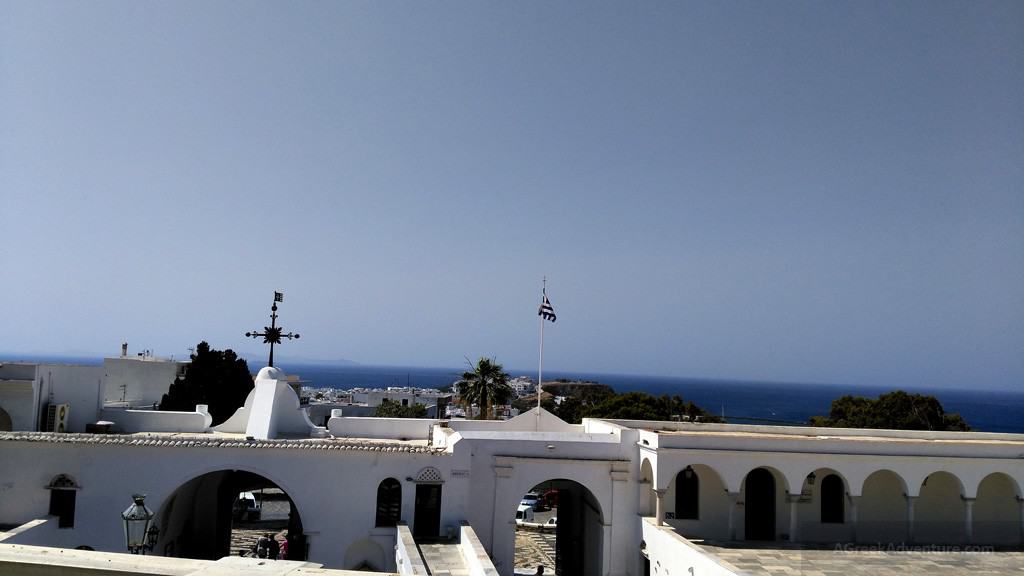 The interior of the church is filled up with thousands of small offerings, along with some of pretty big proportions. And what a visitor sees is not even the actual sum, since offerings are placed at the feet of the Lady of Tinos for many many years now.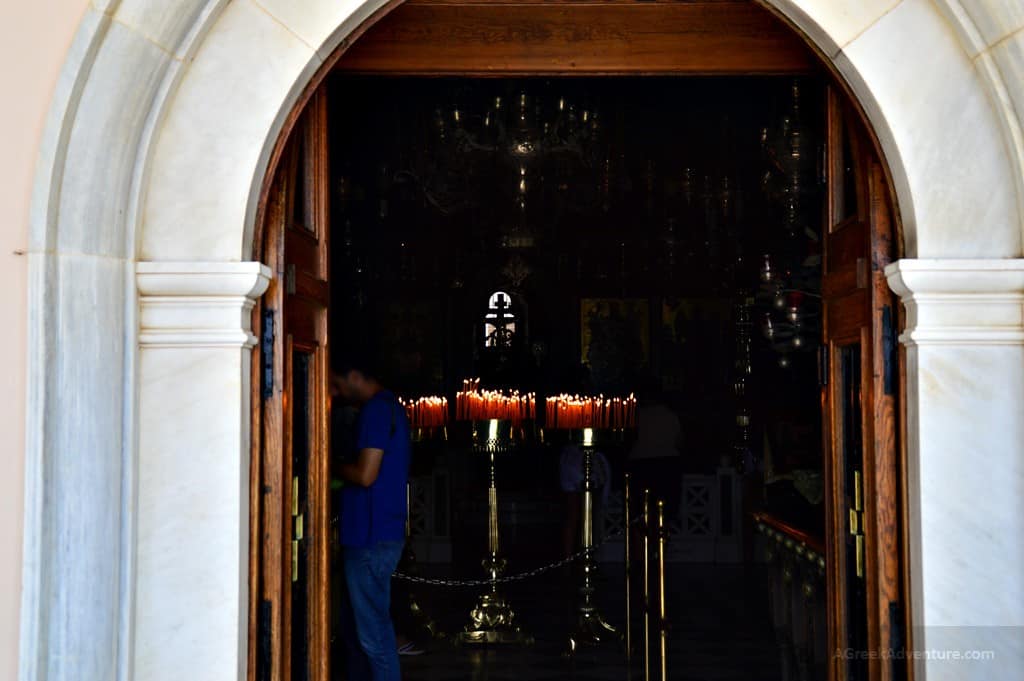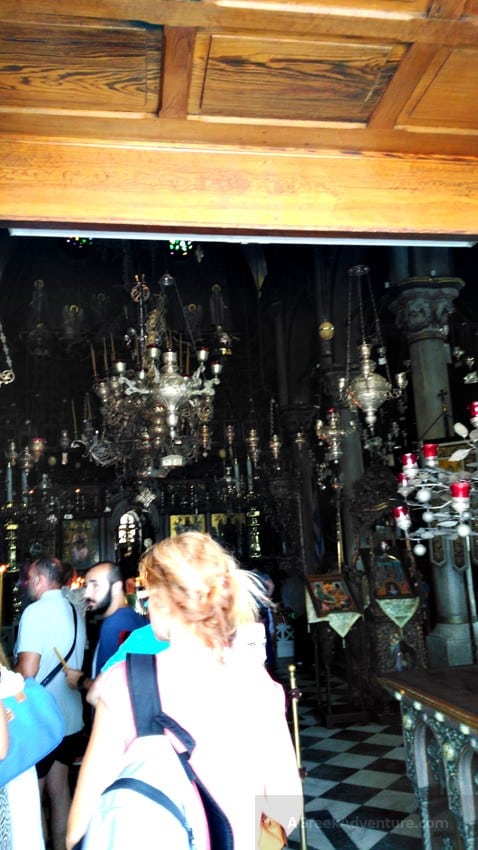 The whole town of Tinos is focused on this kind of religious tourism and religious artifacts and souvenirs are sold everywhere.
Even if you are not a highly religious person, you cannot stay unaffected by the energy this place beams. It is also related to some important markers of Greek history.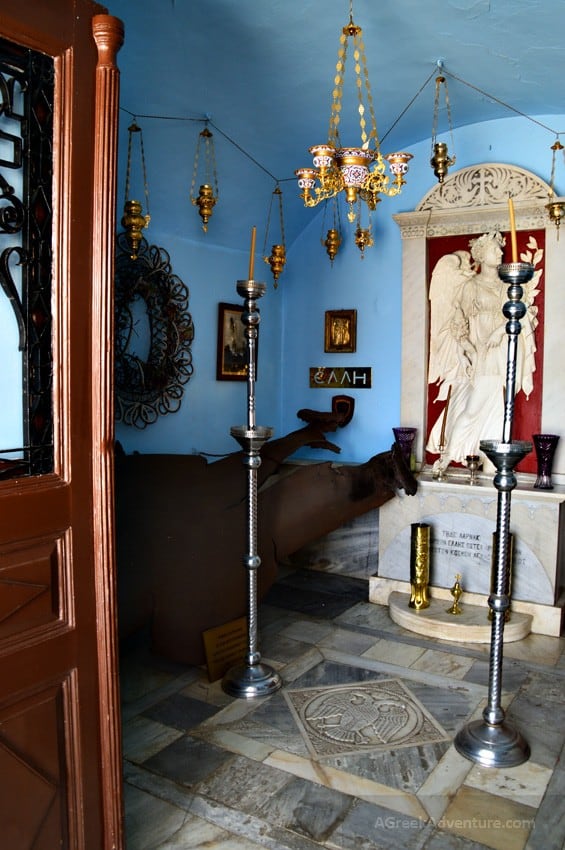 Of course the definite time of the year to visit the church is at 15th of August. Talking about huge crowds who come here to participate in the festivities.
Definitely worth spending some time there.
However, and since at summer time the island is quite hot, visitors must not neglect to taste new experiences that will tingle their day…
Then…: Nissos Beer of Tinos
By all means this reference is not an "advertising" but something that a visitor must taste while in Tinos. As the culinary part of a trip is also essential, it is good for you -the reader- to know that in Greece there are many local breweries that make tasteful beers!
In the last few years a big wave of creativity grew in Greece in many highly competitive markets. One of them is the refreshments and beer market. We were surprised to discover them in Athens and around Greece.
A beer named "Nissos" was one of them and we made it our goal to visit their facilities the next time we would be in the island (our goal is to visit all the places who make native Greek beers). After all -the Nissos brewery- is a visiting brewery, so you either make an appointment (better), or just drop-in. We dropped in…
Aggeliki, the person responsible there, saw us from the balcony of the brewery (yes… the balcony) and understood we wanted to visit the place. She invited us in and we happily sat around a big wooden table, in an area that looked like a bar.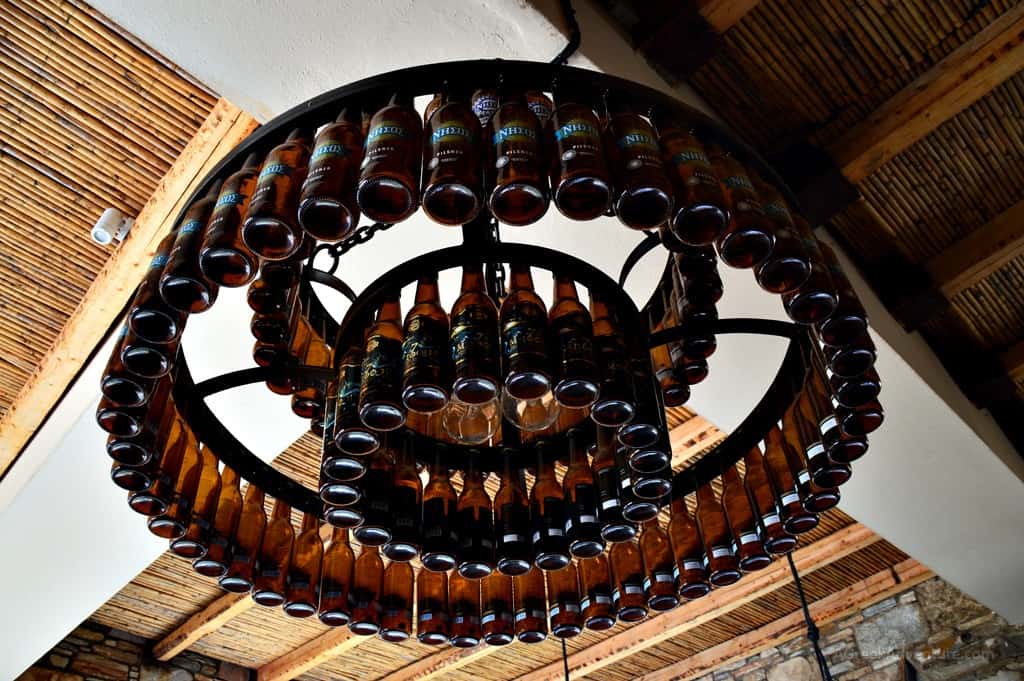 Aggeliki explained about the organic ingredients used in the production of this beer. Nissos, was the first Greek beer to be awarded a silver European Beer Star in 2014.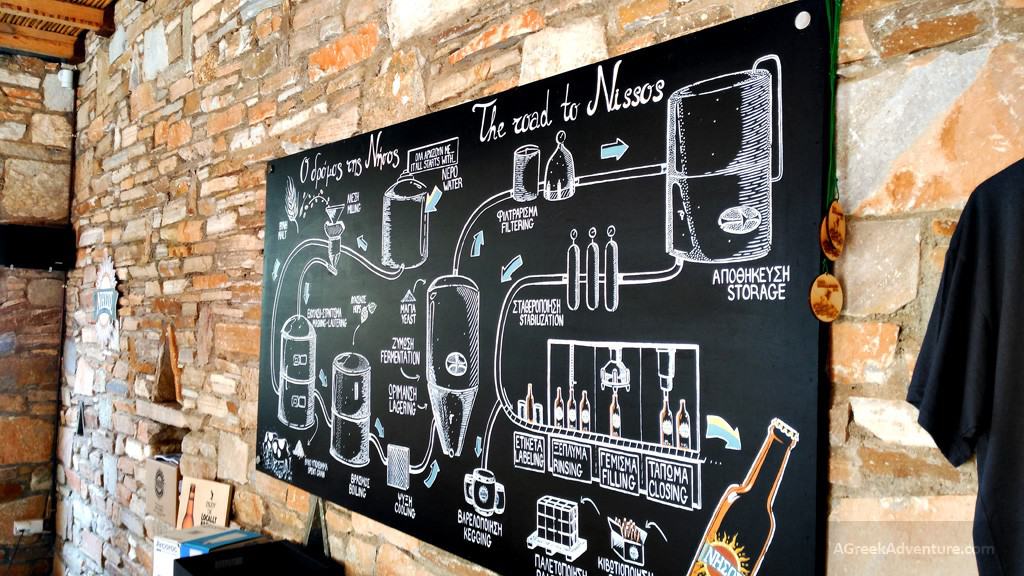 There we learned how beer is made and we had the opportunity to taste the Black version of Nissos (there is a Pilsner and Lager one too). Everything is made with ingredients from Greece. Nothing is imported, except the bottles.
Let us tell you that the Black one is amazingly powerful. You gotta taste it! It even has a strong name: 7 Beaufort.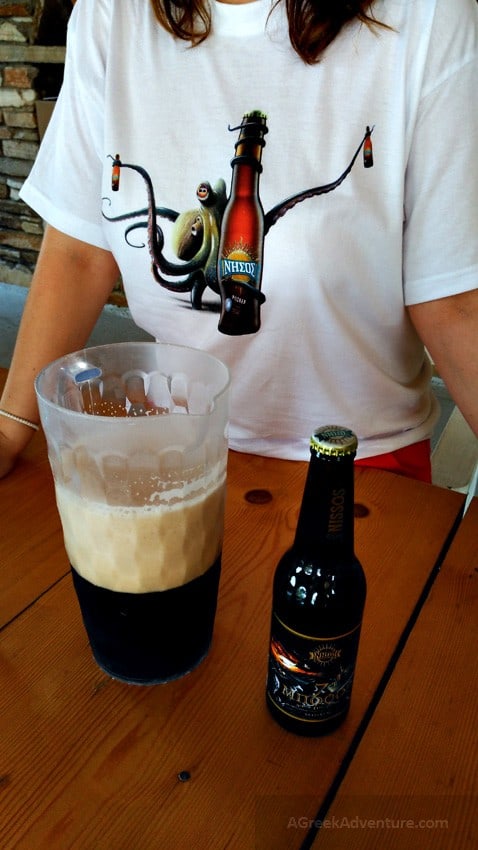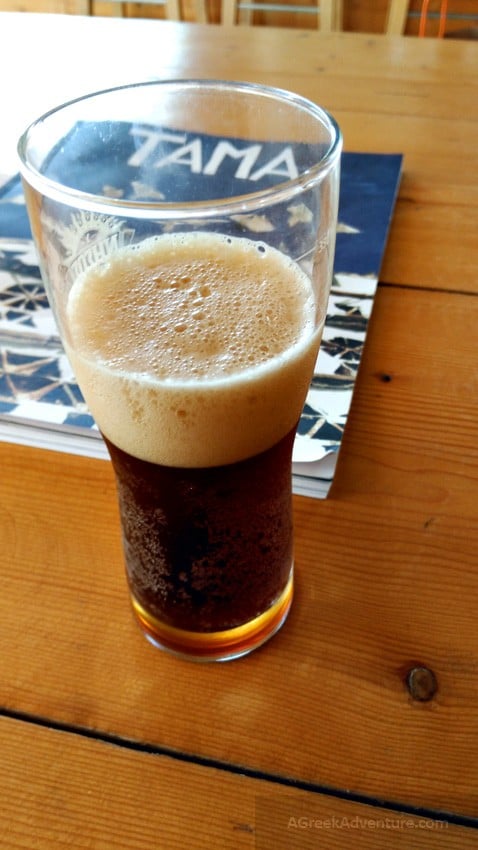 Following the great info we got, we were invited to go through the brewery and see the production of the beer as it happened.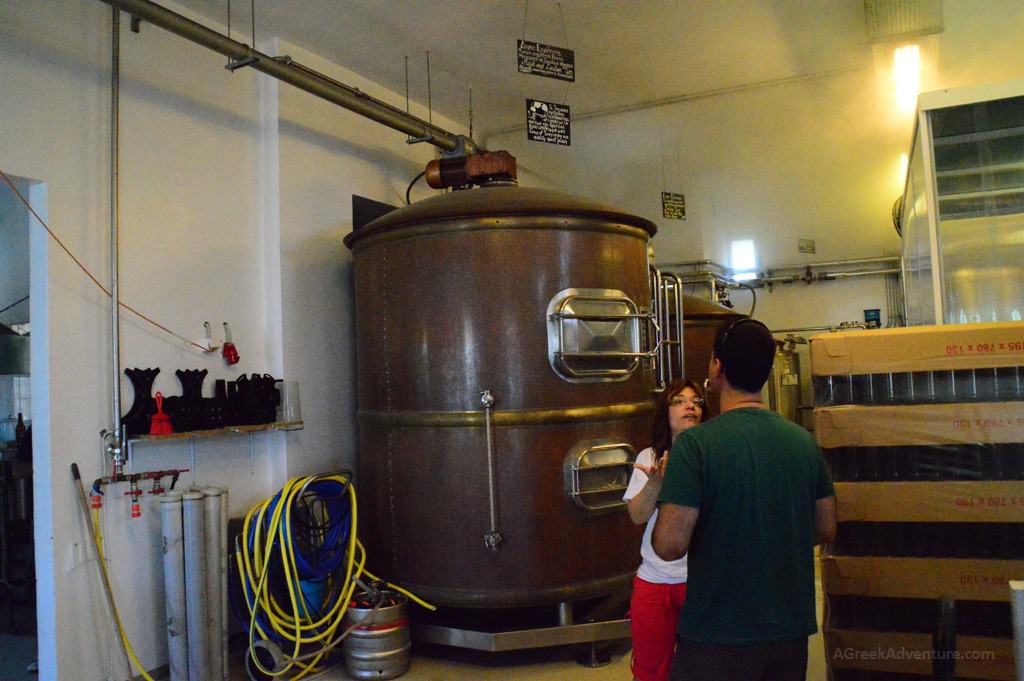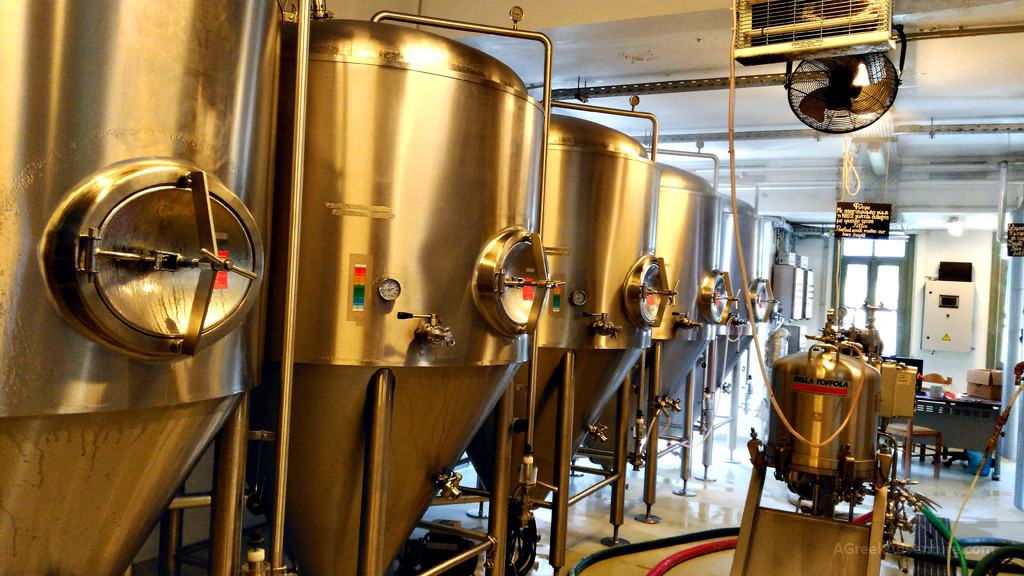 That was a great learning experience for us, along with the tasty part!
Check this cute detail. Over the boilers, such labels are providing interesting facts for what happens with the beer ingredients before and after the making. For example, you may not know that the remains of the malt are fed to cows and are an excellent and nutritional food for them.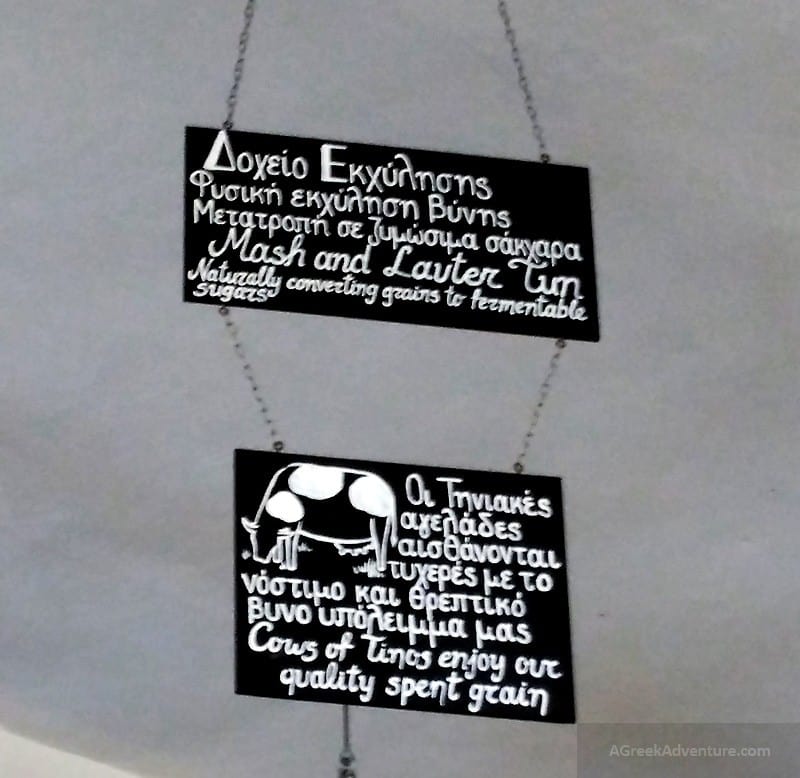 This is what we like in our trips. We want to learn something new every single time.
Well, we were 3 hours already in Tinos island and we visited the main religious hot point and a great refreshing product. It was time to explore things.
This means… going deeper in the mainland of Tinos. Stand by.