We have been before in the nearby area for different activities but never heard of Montanema Handmade Village. Deep into the forests of Agrafa, happened one of those trips that open up a new window in our minds.  
We thought we would simply have fun at a different type of hotel but Montanema is far from that. It is a complete experience in staying, hiking, eating, sleeping, bathing, relaxing. How rare is that to find it in one single place?
When we heard about Montanema, "Wow!" was one of our first reactions. Who build a whole village in that amazingly green area and we never heard of it before? You could get lost in these forests.
Well, the funny thing is that some guys did get lost quite some years ago while hiking and they saw a piece of land where they had the dream of building a village! And, yes you guessed it right, they actually made it true.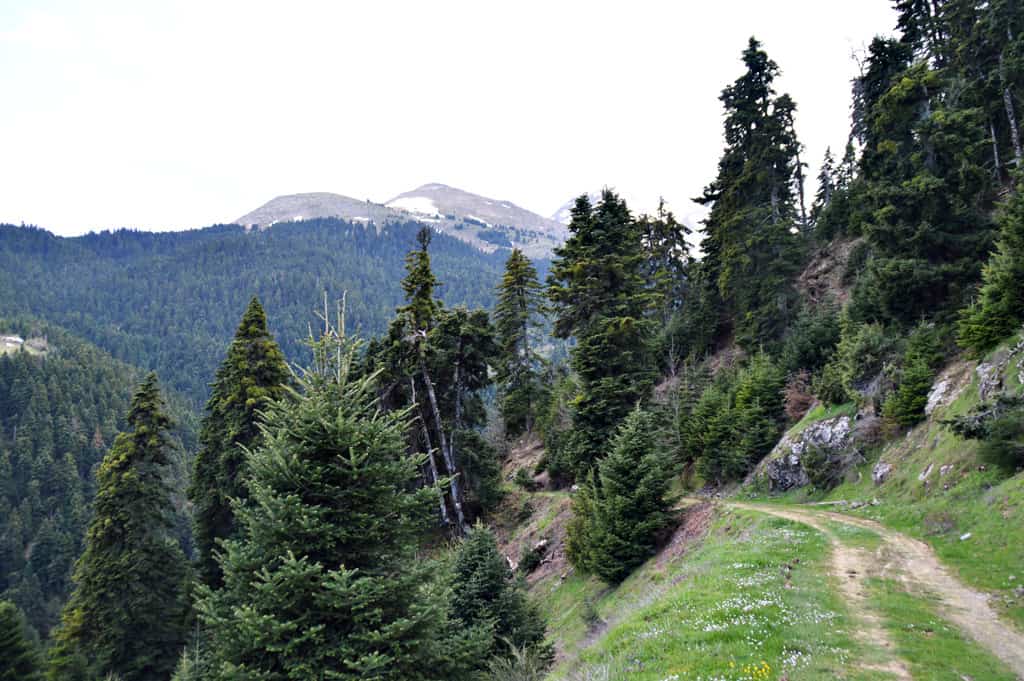 Around 15 years later the Montanema Handmade Village was a dream that came true for them. Oh, but they did more than that. They made something that is almost one with the whole surrounding area, by utilizing the resources that are available there.
Finding Montanema Handmade Village
Montanema is around 30 minutes from Karditsa and quite close to Neochori village. The road to get there is very good up until 2 km from the village. We drove there having no clue about where Montanema actually is until we saw some handmade signs!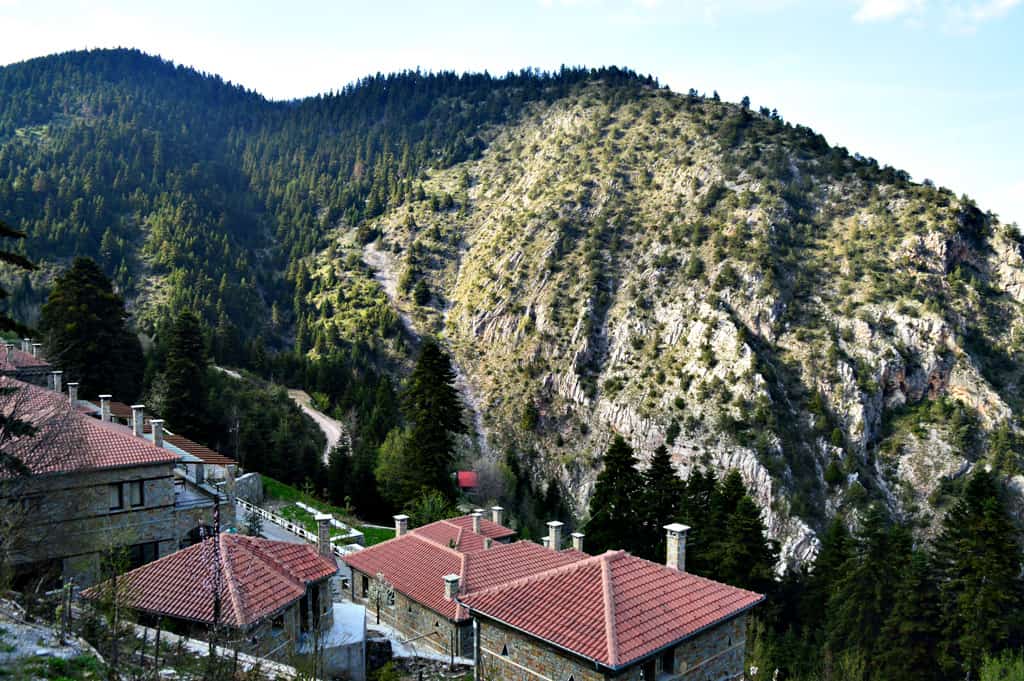 Suddenly we saw a sign pointing to a dirt road in front. We took that and drove slowly as the road -though short in distance- has some bumps and many small paddles.
However this was only for a very small part of the dirt road and we saw signs with directions every 500mt. We couldn't get lost as their website had even the coordinates to copy.
At some turn of the road we saw Montanema Handmade Village from the top! Here came a second "Wow!". We stopped the car to admire it and we noticed the quietness and peacefulness of the forest surrounding us. The village is close to Lake Plastira (Limni Plastira) too, which is another great attraction and location.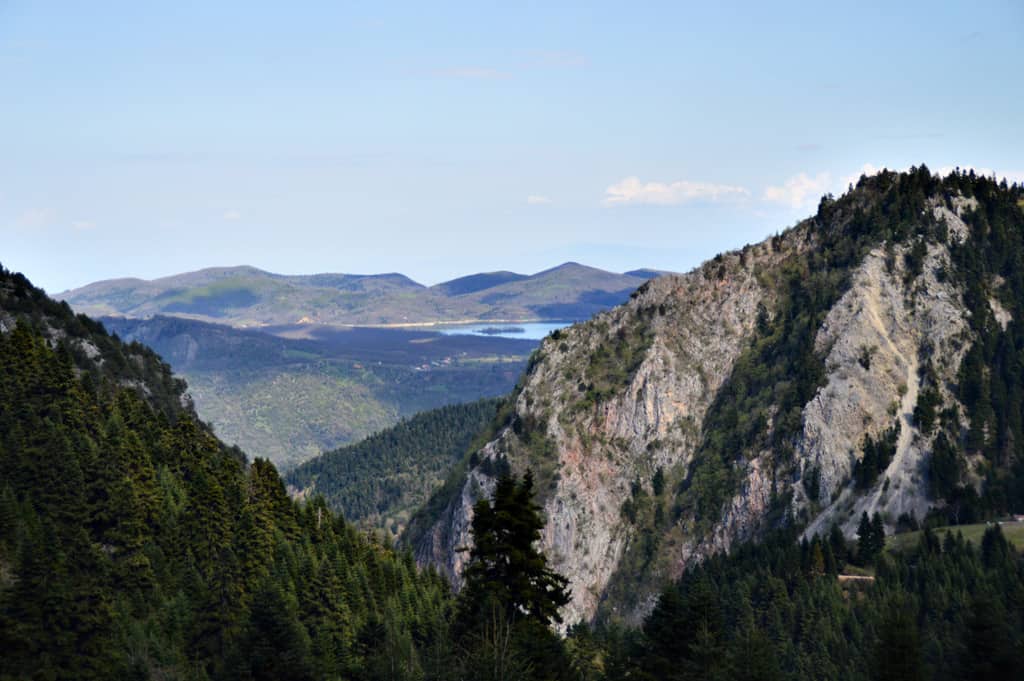 Montanema seemed like a secluded resort in the middle of nowhere, promising a peaceful 3 day experience. It was mysterious and alluring. It was green, lots of green and lots of waters were flowing all around, and we knew we would explore hiking paths and learn for the herbs of this mountain!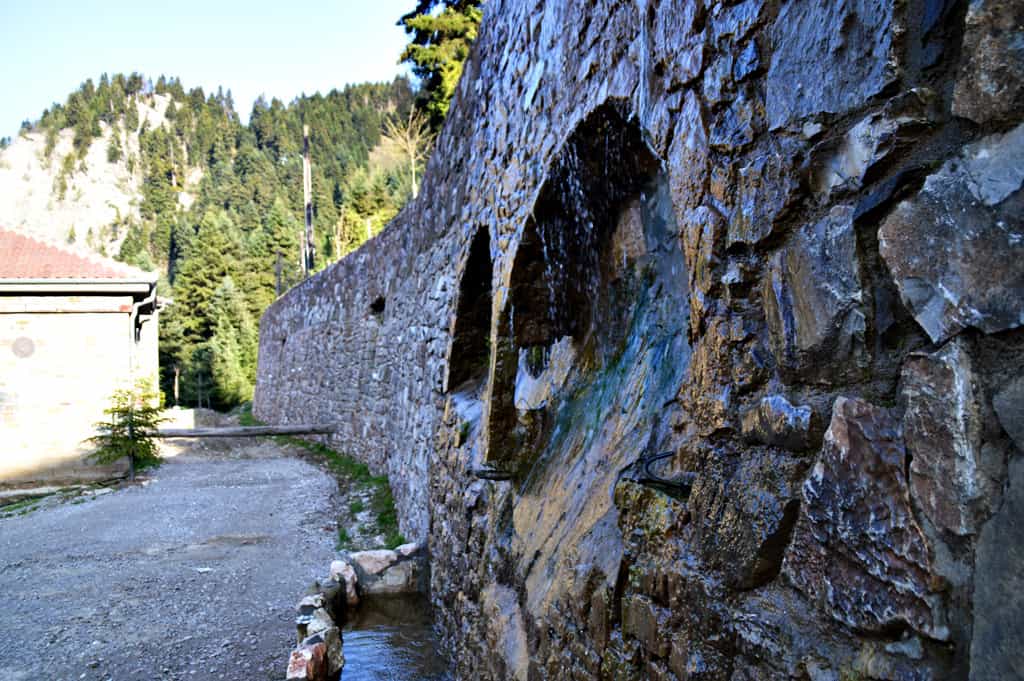 Exploring Montanema Handmade Village
The moment we arrived we were welcomed with the huge smiles of our hosts. I mean real deep and wide smiles of actually healthy looking people. We were not much tired (Montanema is less than 4 hours from Athens by car), but they showed us to our room! OK… we were expecting a room but there are not "plain" rooms in Montanema, only big houses! Even their small "rooms" are small "houses" with everything inside to be eco-friendly and designed along with the nature.
We opened the "welcome fridge" (as we like to call it) and saw bottled water, snacks and chocolates. At our disposal we had a complete functional kitchen with all the cutlery and complimentary (amounts) of coffee and tea. We had a fireplace in the living room and in the bedroom too!
Yeah right, like we would stay inside for tea as we were so much excited by this place! We quickly droped our bags and went out to catch the deeming light and see the exterior of the whole place.
After spending some moments of awe we quickly walked towards the main "lobby" area. Yeah, right if you want to say it like that, as this was another world by itself. We opened the door and found ourselves admiring what you see in these photos.
Whoever the decorator is, he/she/they deserve an applause for giving this special essence of the area in Montanema Handmade Village "lobby".
Our first dinner in Montanema Handmade Village
We were a bit hungry but we wanted to wait for the rest of the "crew" as we have landed in Montanema as part of Travel Bloggers Greece. What a happy "gang" we were there. You see, the whole team carries a multi cultural essence.
There is Eley and Kevin from China, Elena from Russia, Marianne from France and Celeste from Holland, Marissa from USA, Rebecca from UK, Chris and Mary (us of AGreekAdventure.com), Dimitrios and more.
A "gang", I tell you! A real multicultural open and happy "gang" who has one major thing in common. They stay in Greece, love Greece and write about Greece!
When everyone arrived we sat at the table and food was served! E-v-e-r-y-t-h-i-n-g was freshly made with organic materials, no chemical process involved.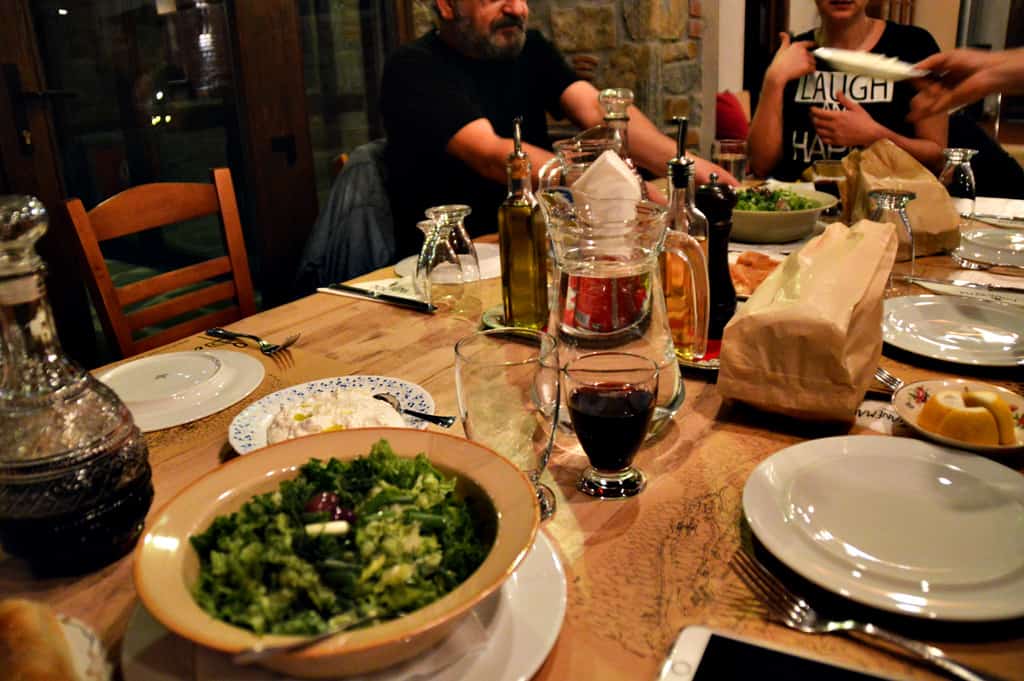 Our food was baked in a traditional wood oven!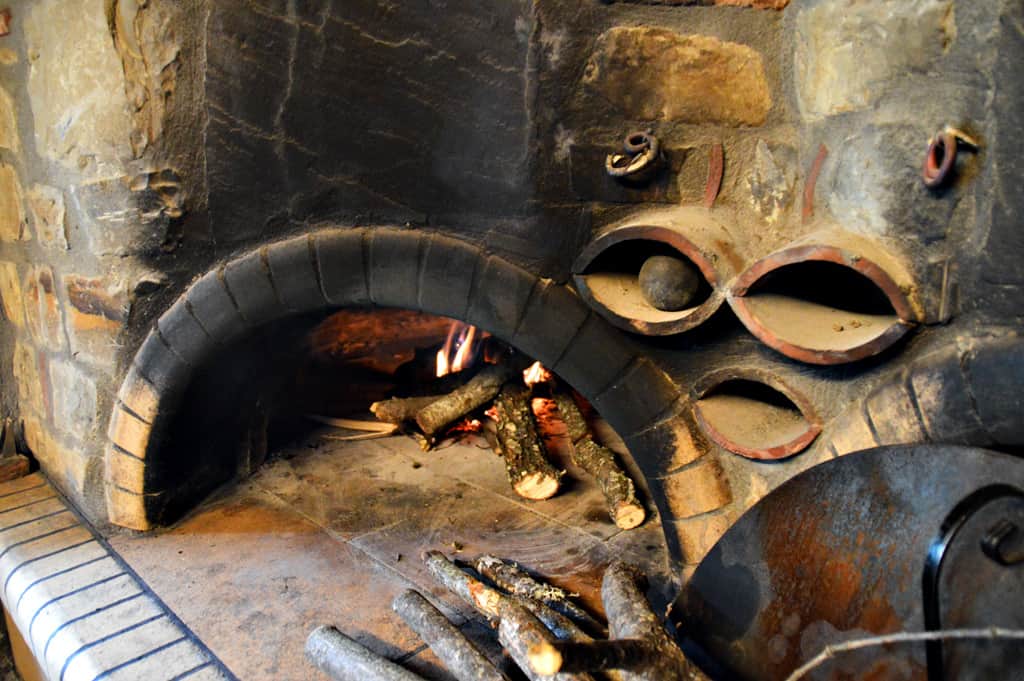 Oh, and the wine. The wine was an amazing local wine so rich in flavor and so light at the same time. Usually, neither me or Mary drink red wine, except maybe one glass, since even good quality bottled red wine gives us a bit of a headache after the first glass, but that wine was so tasteful we had around 3-4 glasses each and we felt great! What do they put in that stuff?!?!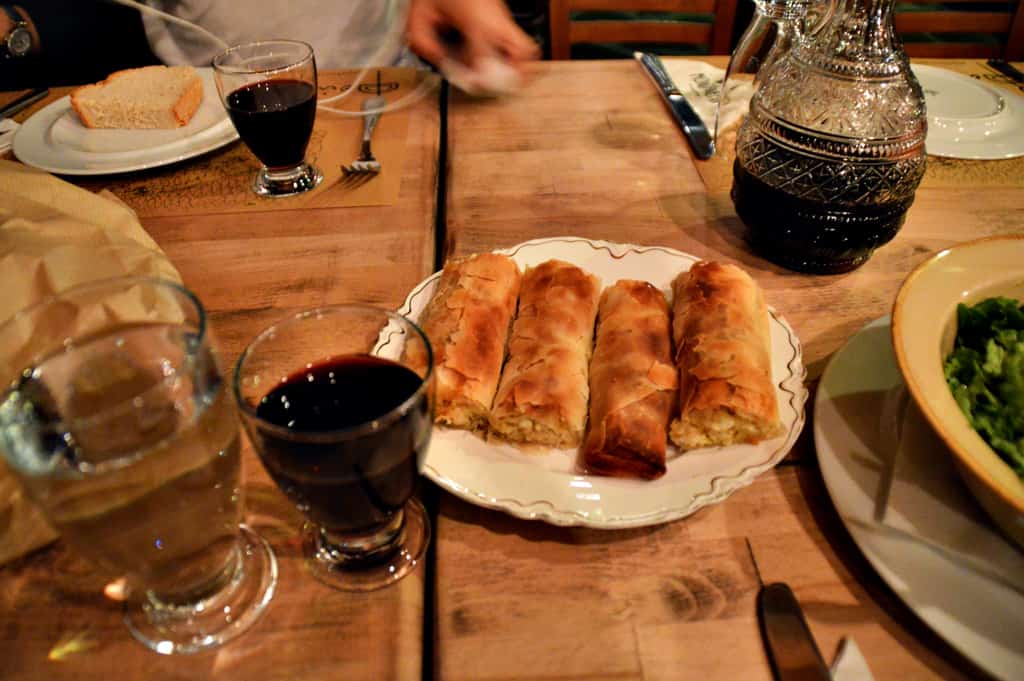 We had pork with baked potatoes that night. Imagine that I do not eat pork since I find it a bit not suitable for my taste. I literally emptied and licked the plate. I have never tasted such thing before.
In the meantime the jokes and fun was rising. We were exchanging stories from our travel life around Greece and other countries and how amazed we were from this place in the middle of the forest.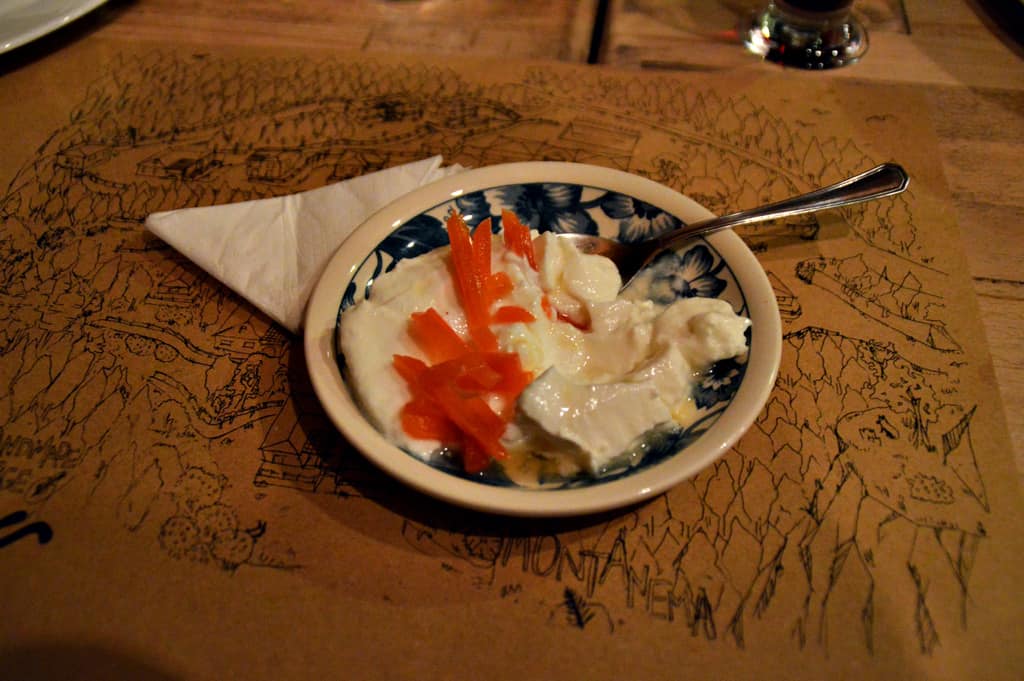 The time was passing by fast and at some point the desert was served which was even tastier. Original fresh yogurt along with carot sweet on top. The perfect ending in a great day!
Room serenity of Montanema Village
What if you had "magic" water? Whaaaat, you may ask. Yes, water that when you bathe in it you feel more relaxed, your skin gets smoother (without additional creams and lotions) and you feel rejuvenated too! Add organic soaps to that and towels and bed sheets from Egyptian linen…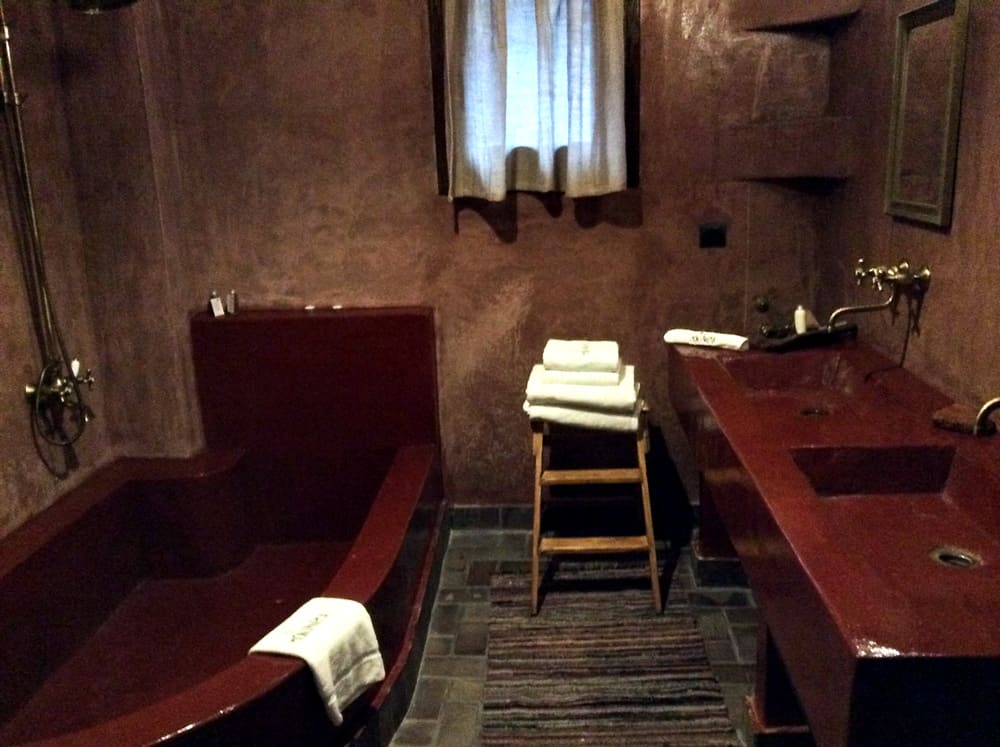 Well, you may say, that this is the sense of someone bathing into a river or spring water! Well, dear friend, this is what we had for shower water! The water in our room (both drinking and washing water) in Montanema comes from spring water! And we mean it flows in every single room and not merely in "some" rooms!
Never had this sense before! I know about hotels where they have special filters in showers (very expensive rooms) which filter the tap water into non-additives one but here, in Montanema, this is natural Greek spring water! Even the showers themselves are huge! They are not marble based baths and showers but big spaces where you feel like washing in a lake (at least we did).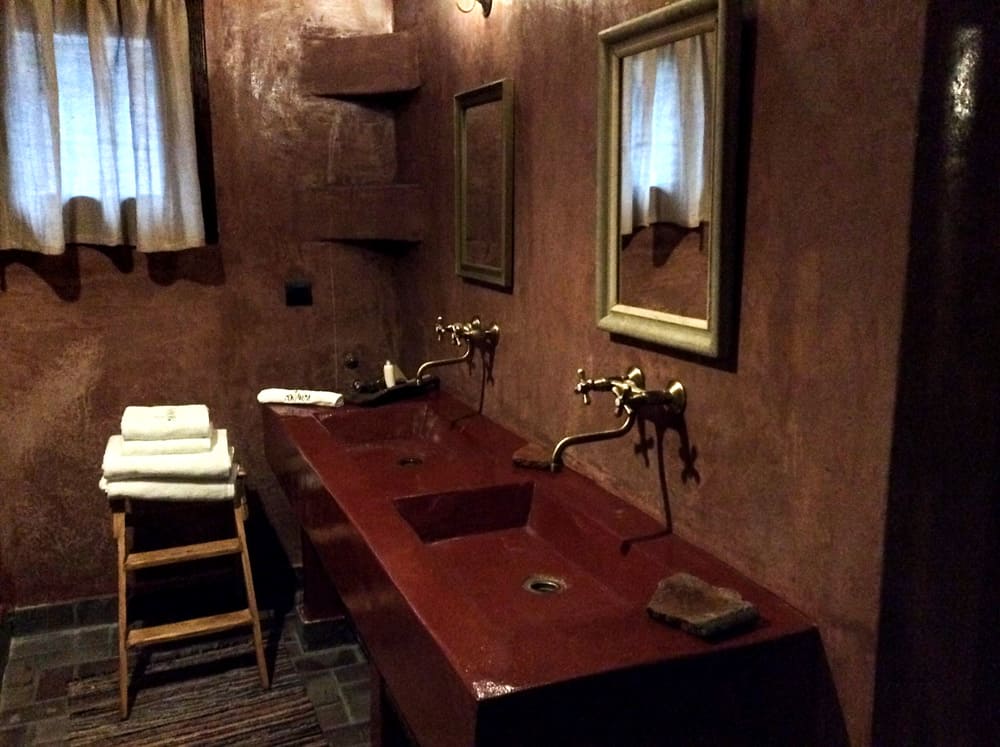 However that was just day one!
Wait to see what we did the next day. You will see amazing hiking paths, terrific breakfast, us milking goats and making Chilopites (Greek noodles) with completely organic materials.
Montanema Handmade Village has a wonderful website that resembles their philosophy a lot. Visit their website by clicking here.