The Greek Islands that are set within the Mediterranean are some of the most beautiful places to explore in all of Europe and even the whole world! The problem is there are about 6,000 of them in total in which only 227 of which are inhabited.
So, which Islands are the best for sea kayaking trips and which are better for single day trips? Read more below.
Before we get any further I will provide a necessary kayaking checklist for Greek kayaking tours.
For Day Trips
Rescue Sling
Spray Skirt (if going far)
Dry Bags
Whistle (necessary)
Good Quality Paddle
Bilge Pump
Floatation piece in your kayak (usually a piece of styrofoam)
A Snack
Lots of Fresh Bottled Water
Hat and Sunglasses
SunScreen
First Aid Kit
Camera (Optional)
If you do not have a kayak or don't want to invest in one just yet fear not! We will mention locations where you can rent a kayak and they will provide the necessary safety equipment for you.
For Multi Day Trips
Life Vest
Rescue Sling
Spray Skirt
A few Dry Bags
Whistle
First Aid Kit
Good Quality Lightweight paddle
Paddle Float
Bilge Pump
Repair Kit
Duct Tape
Water
Enough Food for the Trip (2 day trip 3 meals)
Snacks (like granola bars) in between meals
Sleeping Bag and Pillow
Compass
Signal Flare
Phone or walkie talkie and waterproof case
Broom (Optional)
Firewood
Flash Lights
Pocket Knife
Toiletries
Watch
Sunglasses, Sunscreen and a Jacket for Rain
Tent and necessary accessories
Tarp
Camera Gear (Optional)
Underwear, long and short sleeve shirts, synthetic socks, pants, bathing suits, hats
Water pail and pot as well as something to hold onto
Bug Spray, Bug Net (Optional)
Towels
Flash Lights, Lanterns spare batteries (battery powered or fire powered)
Head Lamp
Waterproof Matches
Folding Axe or saw and shovel
Utensils
Bag for Garbage
Camera/ Cell Phone
Lighters
Fishing Rod (Optional)
Tackle (Optional)
Fishing Licence (Should you fish)
Radio
For a Complete Guide check out this excellent resource we regularly check. This may seem like a very overwhelming list but it is always better to be over prepared than under prepared!
Now that we got all that out of the way let's get to the Top Sea Kayaking Destinations in the Greek Islands.
Best Day Trip / Rental Greek Kayaking Tours & Destinations
Santorini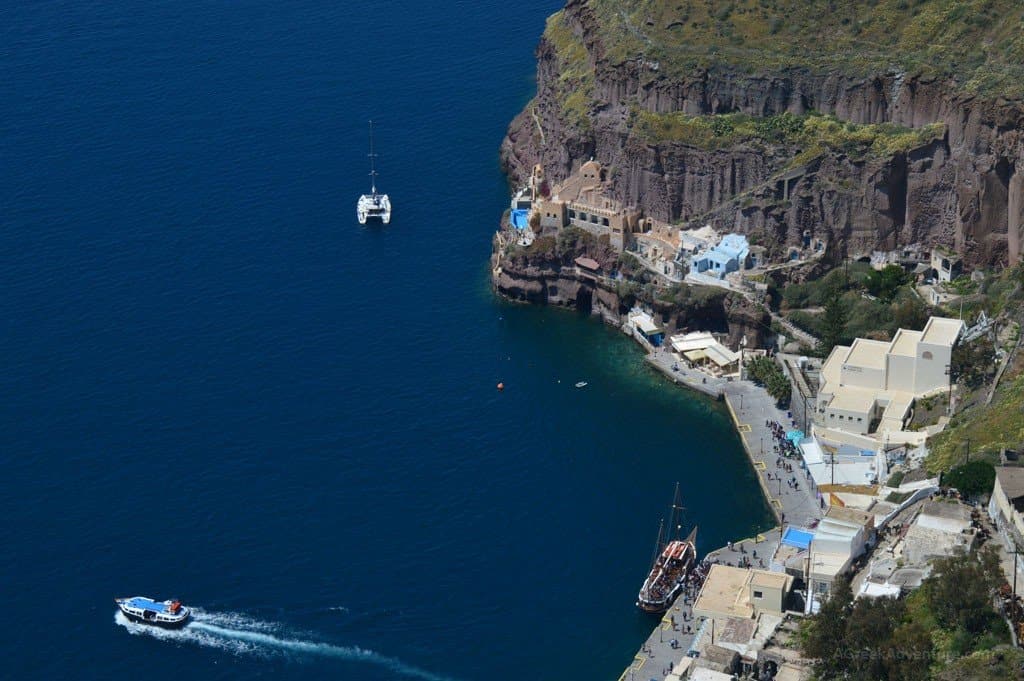 Santorini is a great destination to go if you want to rent a kayak and explore the many wonders of this island. There are many different tour options from different sea kayak companies that cater to all paddler levels.
There are many different routes that you paddle along that range from a half day to a full day of kayaking. Some worthwhile highlights include paddling by the volcano, snorkeling/ swimming in crystal clear waters as well as having a unique greek dinner should you go the full day route.
The most popular tours include South Discover (Half Day), Caldera Crossing (Full day) and Round the Lighthouse (Full Day)
Athens :To the Temple of Poseidon
While you are touring the mainland of Greece you will be paddling by a few Greek islands along the way. You will start by paddling along the Athenian Riviera to up along the coastline of the Saronic Gulf.
Between beaches you will stop and swim/ have a snack before seeing the Temple of Poseidon by kayak. You will also get to explore an ancient temple with entrance fees being included within your tour.
This experience is limited to a small group size of 10 or less to give it a more intimate feel and allows you to interact better with the tour guide.
Skopelos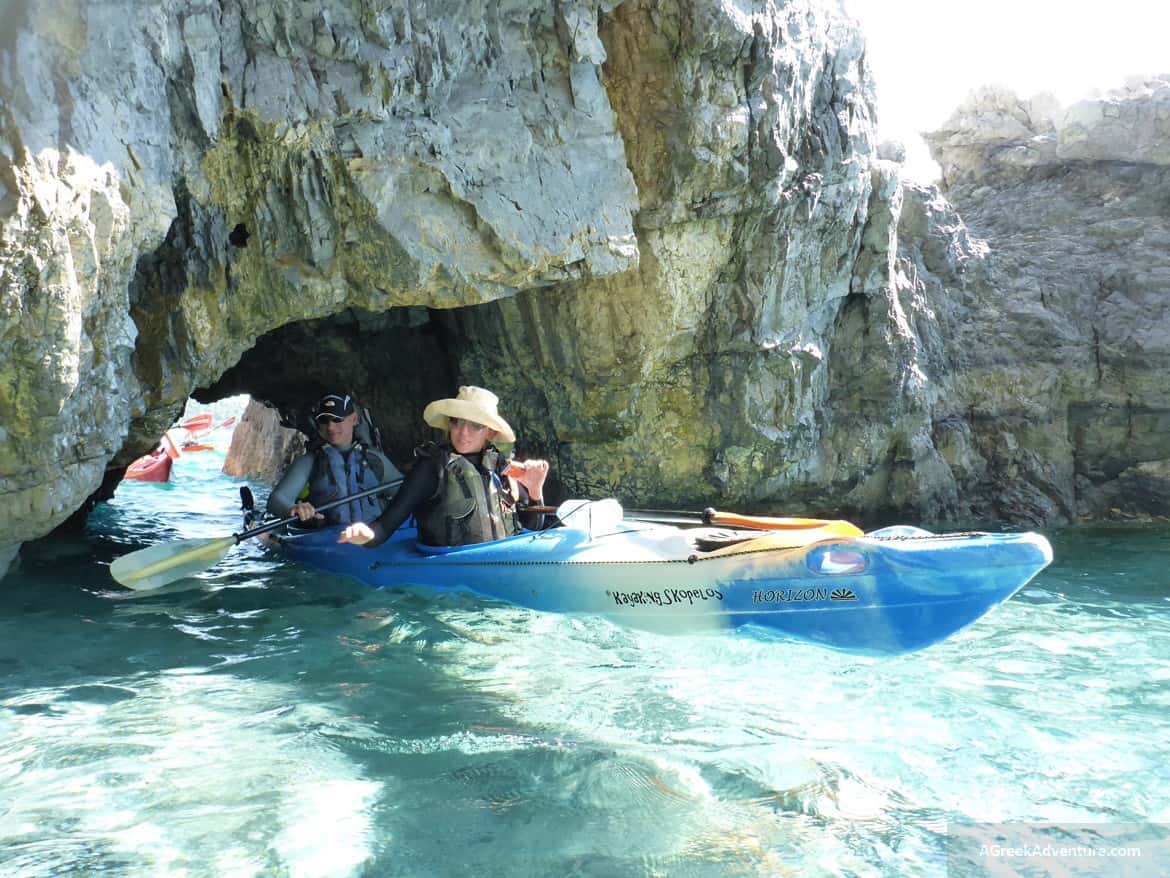 If you guys are avid readers of AGreekAdventure then I'm sure you have read about Chris and Mary's adventure to Skopelos.
Some highlights to this trip were a great beach breakfast, kayaking through caves, swimming through crystal clear waters and setting up camp and indulging in some fresh vegetables, pasta and Skopelos meat pie and desert!
This is a great kayaking trip for paddlers of all different levels who want to explore all the landscapes that Skopelos has to offer.
Top Guided Greek Kayaking Tours & for Multi Day Trips
Crete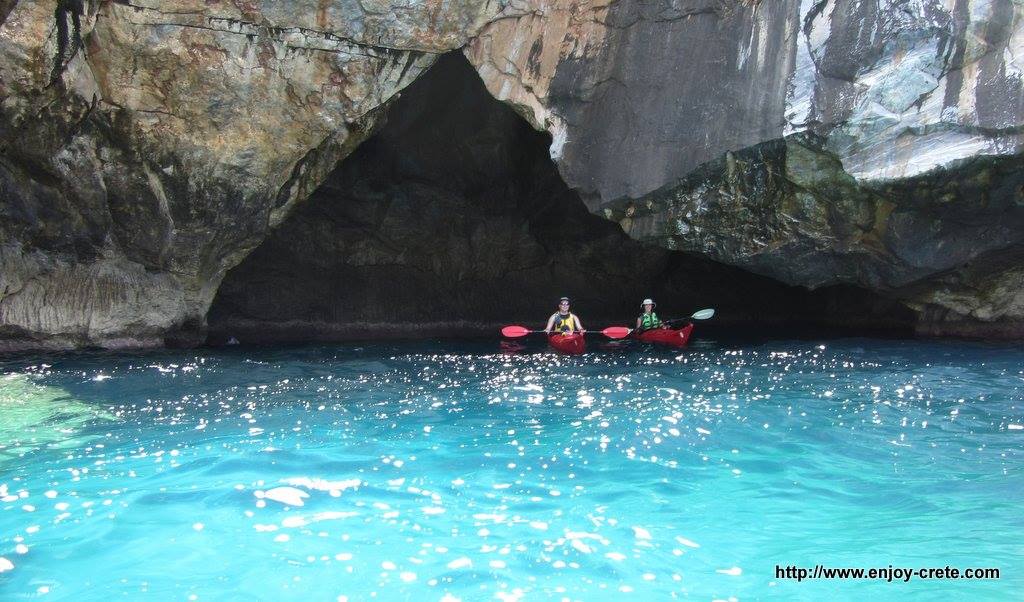 By far the biggest island in the Greek archipelago, Crete has something for just about every paddler as you can choose to do a guided day tour or be more adventurous and go on 10 day expedition! There are eight types of expeditions that you can choose from including:
Kayak West Crete: Advanced (10 Days)
Kayak South West: Easy (4 Days)
Kayak Eastern Crete: Advanced (8 Days)
Kayak South Crete: Intermediate (8 Days)
Kayak North Crete: Advanced (10 Days)
8 Days Multi Sport: Advanced (Includes Hiking Climbing, Sea Kayaking)
Kayak Sporades: Intermediate (6 Days)
Southern Central Crete: Intermediate (3 Days)
In the view of Stelios Asmargianakis who is one of the sea kayaking experts in Crete, it is a good idea to allow yourself to stray to Northern Crete. While Southern Crete is marketed to be the better location Northern Crete gives you many secluded beaches as well.
Some highlighted routes in the northern part of Crete include the Southern Chania region, where you paddle from Chora Sfakion and end up at Agia Roumeli, the Southern part of Rethymno region where you start at Plakias town and end up at Agios Pavlos beach. Finally if you enjoy some open ocean you can start at Kokkino Pirgos marina and head south west to Heraklion towards the Paksimadia islands.
Kefalonia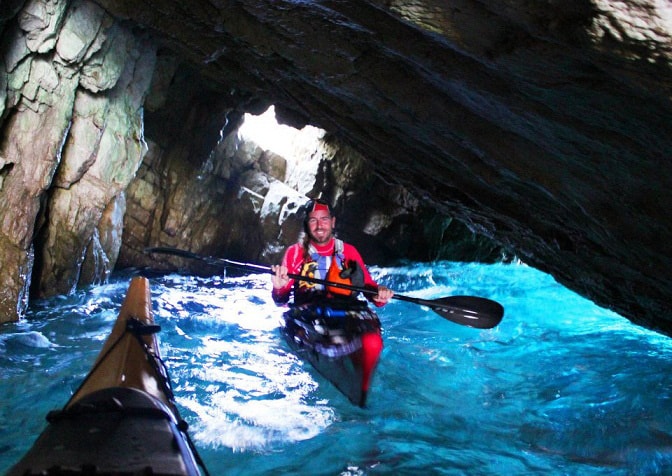 Kefalonia is one of the best sea kayaking destinations that has something for everyone in terms of multi day tours. Some of the things that are included in this 7 day sea kayaking tour includes:
11 Meals (4 Breakfasts, 4 Lunches and 3 BBQ's)
4 Over Nights at Apartments
Sea Kayaking Equipment
Snorkeling Equipment
Camping Gear (Minus Sleeping Bag)
Some highlights on this trip include paddling through fishing villages located in isthmus of Assos, the Aristocratic town of Fiskardo, Snorkelling in Afales bay,  visiting Kioni, and sampling unique Greek delicacies that each town has to offer. There is also a 12 Day circumnavigation the whole Kefalonian coastline as well as a 6 say self catered sea kayaking trip where food is not included.
Samos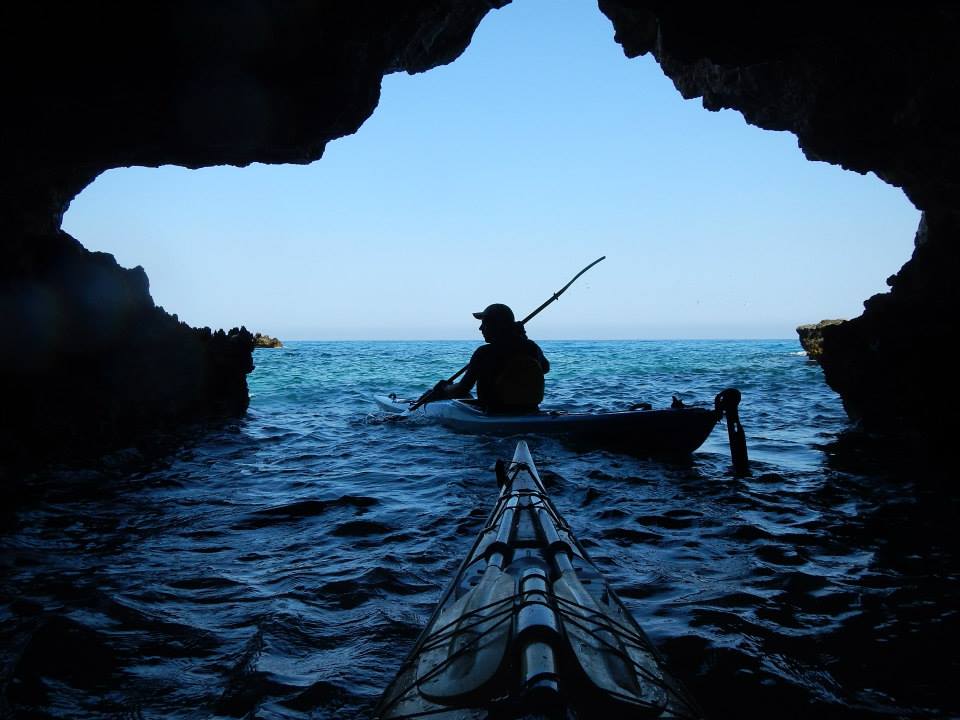 Samos offers folks a variety of day trips, extended day trips to Multi- Day Trips that combines pristine beaches with giant green mountains, waterfalls and everything in between. They also can arrange custom trips for exclusive kayaking that is idea for friends, families and cruise travellers. The multi Day trip is a duration of 5 days that takes you from Karlovasi to Ireo which is a total of 38 nautical miles. This trip is for more advanced paddlers as you are expected to paddle 9 miles per day. It includes:
Sea Kayak and Equipment
Qualified Guide
Almost all Meals
3 overnight stays at apartments
This is a great trip to take if you have some paddling experience already but want to hone your skill with more difficult conditions such as strong winds and consecutive hours paddling.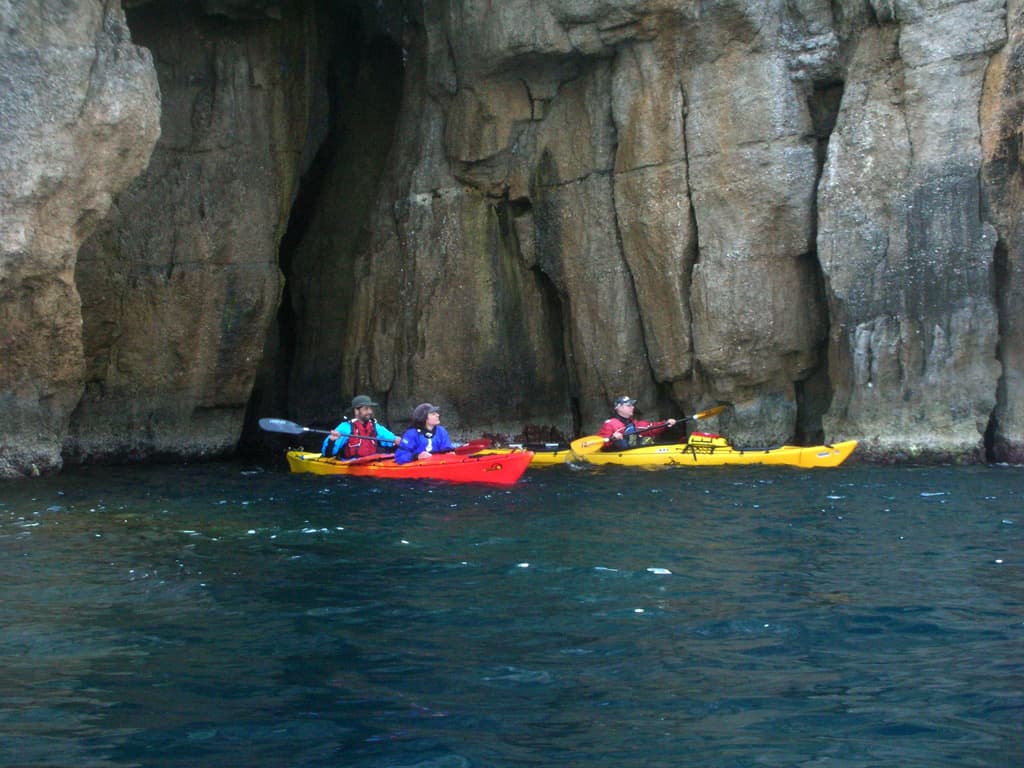 These locations are just the tip of the iceberg for Greek kayaking tours, as there are plenty more high quality destinations that deserve mentioning such as Messinia, Argolida and many others.