If you haven't read our other post about exploring Orini Nafpaktia mountains and nature (which starts after leaving Nafpaktos), then you should definitely do such.
We stayed at Xenios Chalet at Kato Chora, and every day we were gazing the village opposite to our accommodation. That village was Ano Chora (remember Kato means down and Ano means up, in Greek).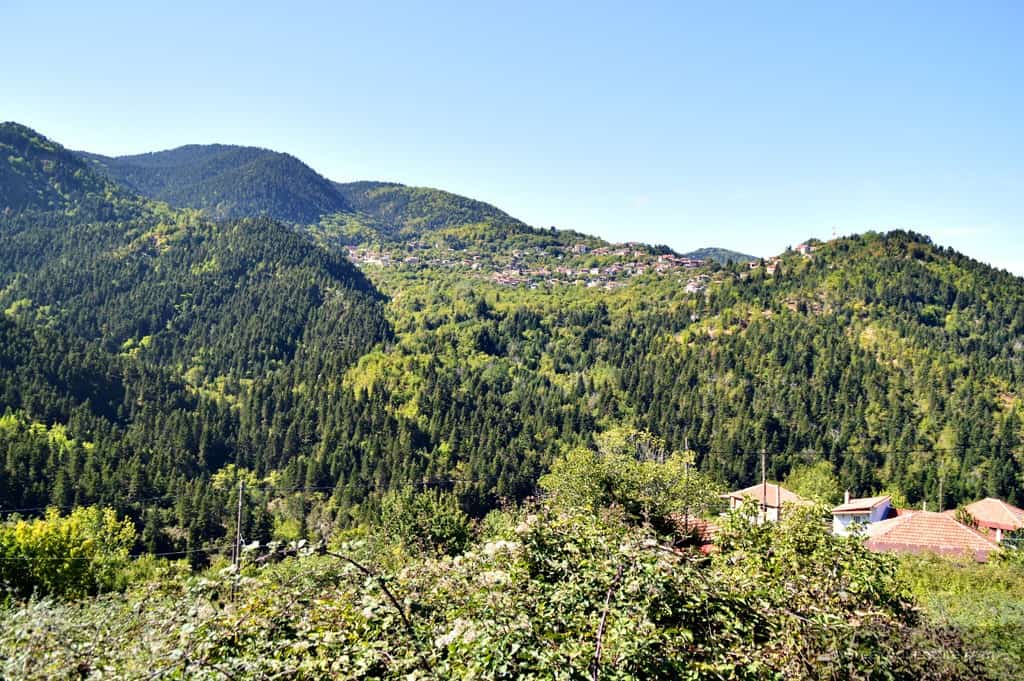 Nice view, right?
To go there you need to leave Kato Chora and take the road that drives through chestnut and pine trees. Short route, but a beautiful one. If you stay at Kato Chora you can even walk there and back.
Ano Chora Village
This is one of the typical small villages of the area. Simple, quiet chocked in green!
Of course…, there is always a big church at the village center.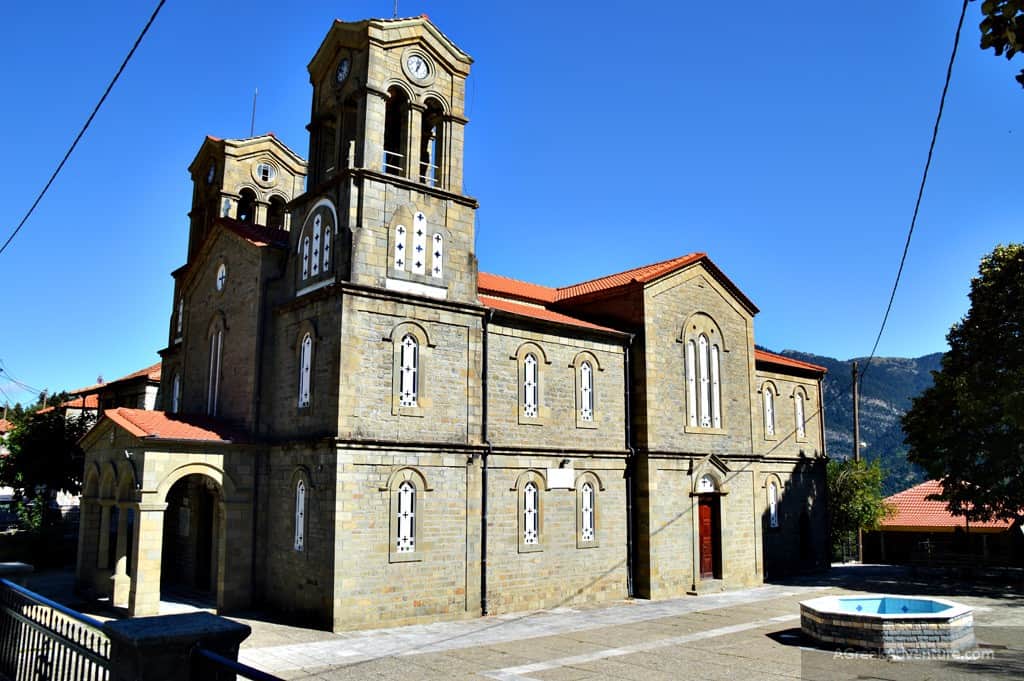 You may be surprised but this bus is very famous. Actually it is consider a monument. The reason is that this bus was the one which was transferring people up and down from Nafpaktos. Talking about lots of hours in narrow curvy roads, with snow, rain and all.
This bus even had a nick name. Hold on… it is "The Carnival". Yep.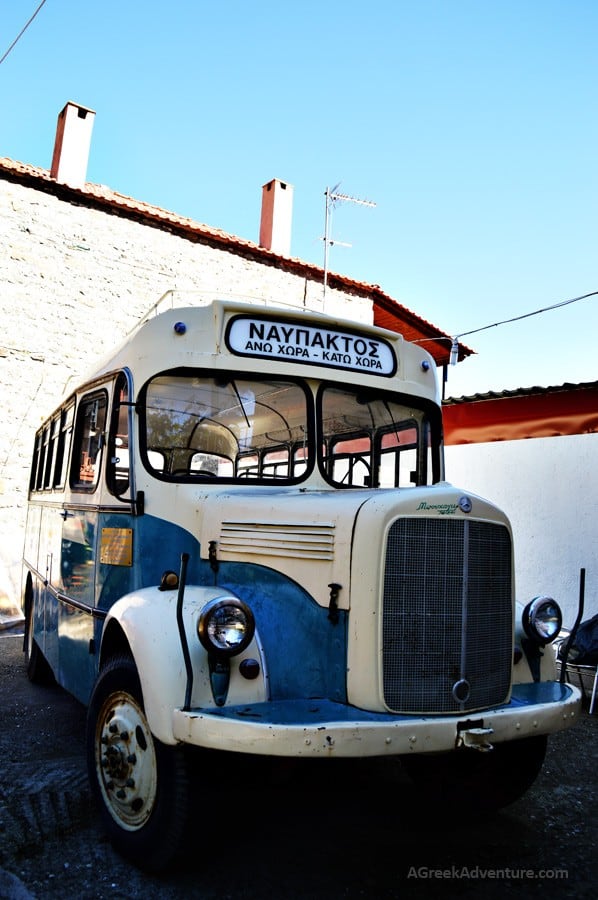 The bus owner, donated this bus to the village for the future generations to see how (tough) things were in the past.
Want a refreshment by the way? Here is a small square in Ano Chora where you can bath in sun and fresh air.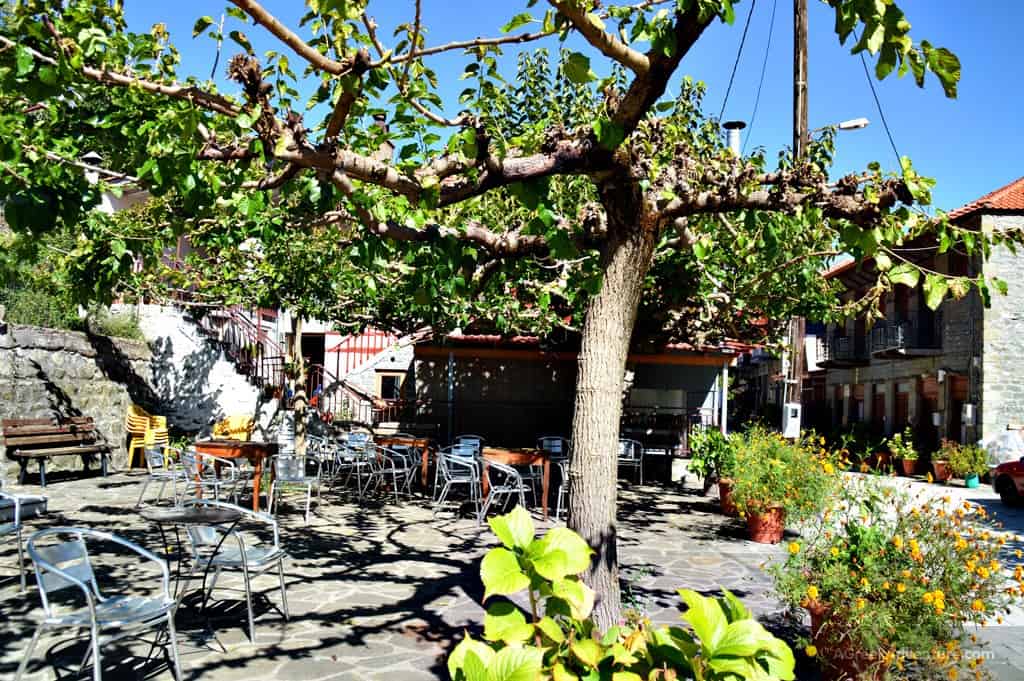 Well, we wanted to see more of this mountain so, we moved on.
The Monastery of Ampelakiotissa
Around 45 minutes driving from Ano Chora, there is a famous monastery. The Monastery of Ampelakiotissa.
It is a very beautiful monastery, situated at a magnificent place (as monasteries usually are), overseeing the village which carries the same name.
And of course there is a legend too…
Here is the main yard, from inside.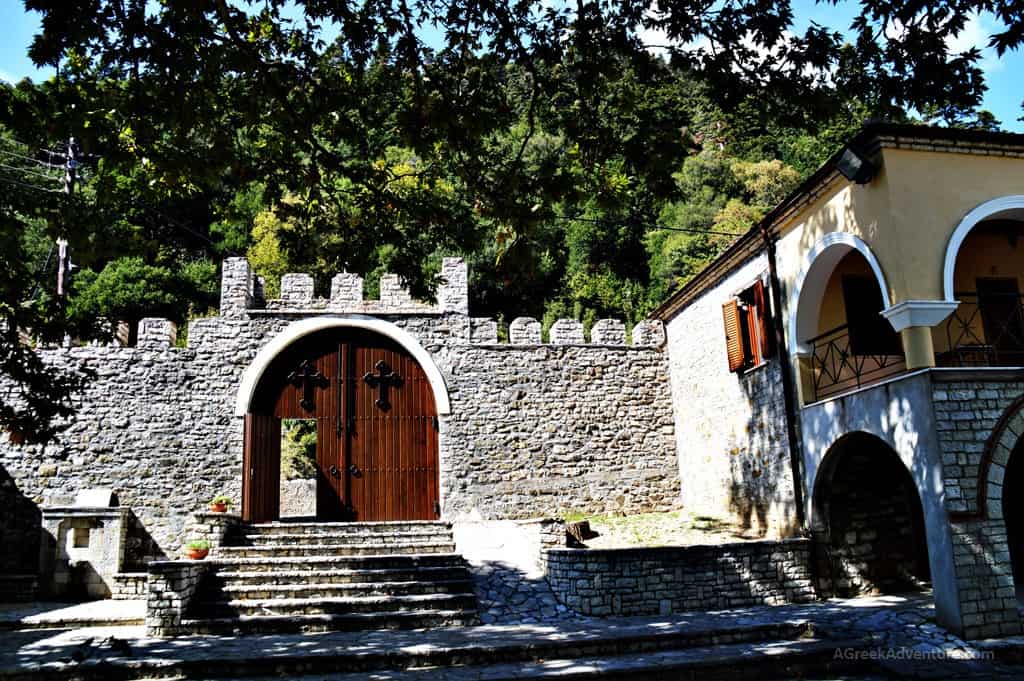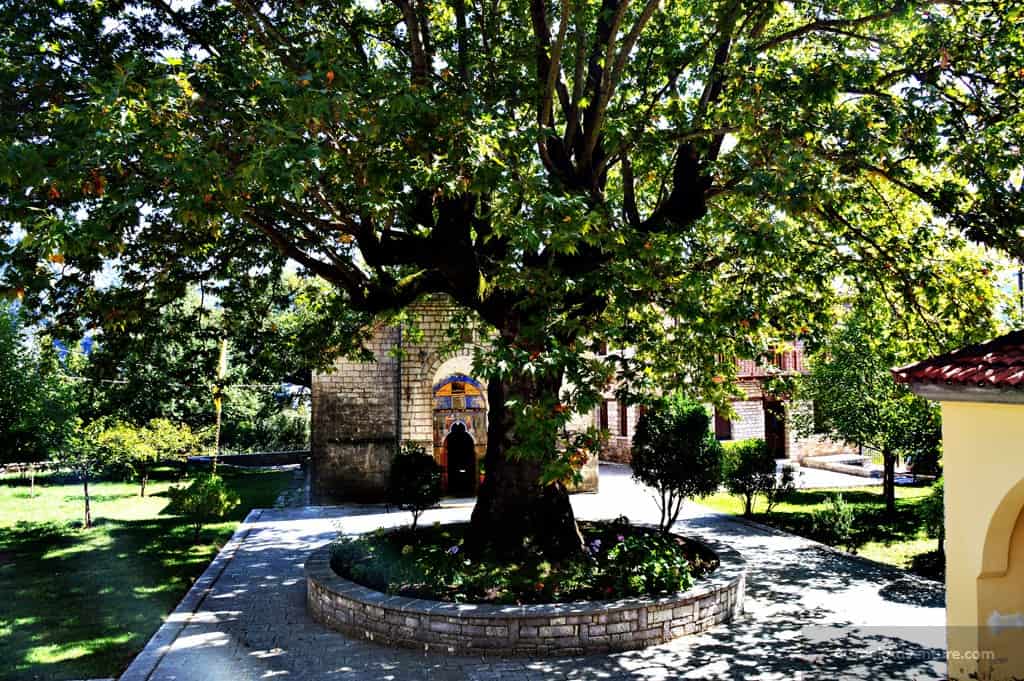 Here is the tree related to the miracle which is related to Virgin Mary in this area.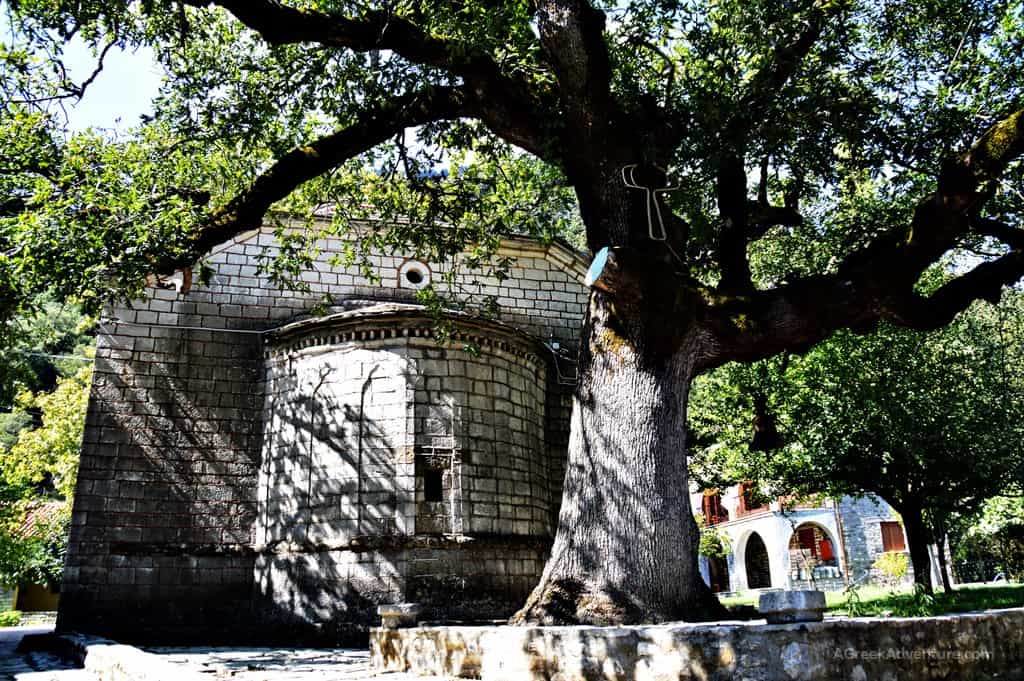 The story says that on this tree a picture of Virgin Mary was found by the villagers. The picture was thrown to a river 3 to 4 times by conquerors of this area. Legend says that every time the picture returned here.
At night time the shepherds from the mountain across saw a light, every single night. As they were curious (and a little scared) they reached this place to see what the light was about and they found the picture.
Until recently another relic was existing there. The hand of Saint Polikarpos. But it was stolen in 2014. The empty relic case is still exhibited there…
Great view, right?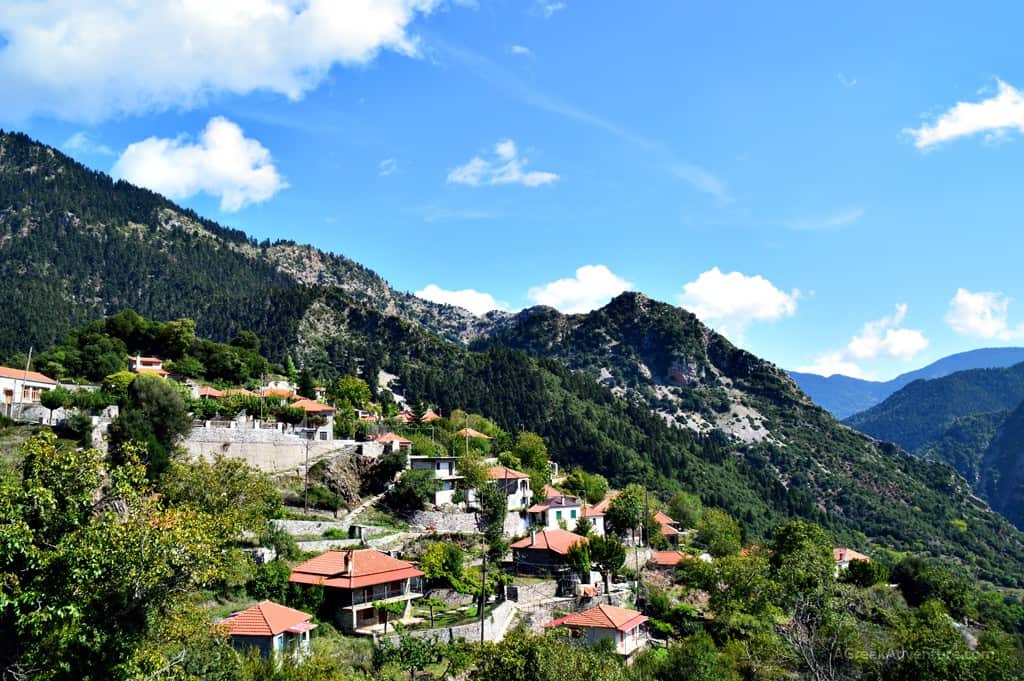 Leaving towards Evinos Dam and the village of Platanos
If you want to go to Platanos village from Ampelakiotissa you have 2 options. One is to drive back around 30 minutes and take the road that drives to Chomori and Platanos. I wouldn't suggest this one unless you have a 4wheel drive car. It is a dirt rocky country road.
In all cases driving all the distance back means lots of hours. We don't suggest that.
The other option you have is to take the road that exits Ampelakiotissa towards the top of the mountain.
This road is modified like that: The first 2-3 km is old asphalt road, the following 7km are paved with gravel and relatively easy to drive upon, then you have fresh asphalt road which in some parts is bit damaged but easy to drive through. Then it is asphalt all the way.
ETA to Platanos: 1.5 hour.
During our driving there we took a small detour to admire the Evinos Dam.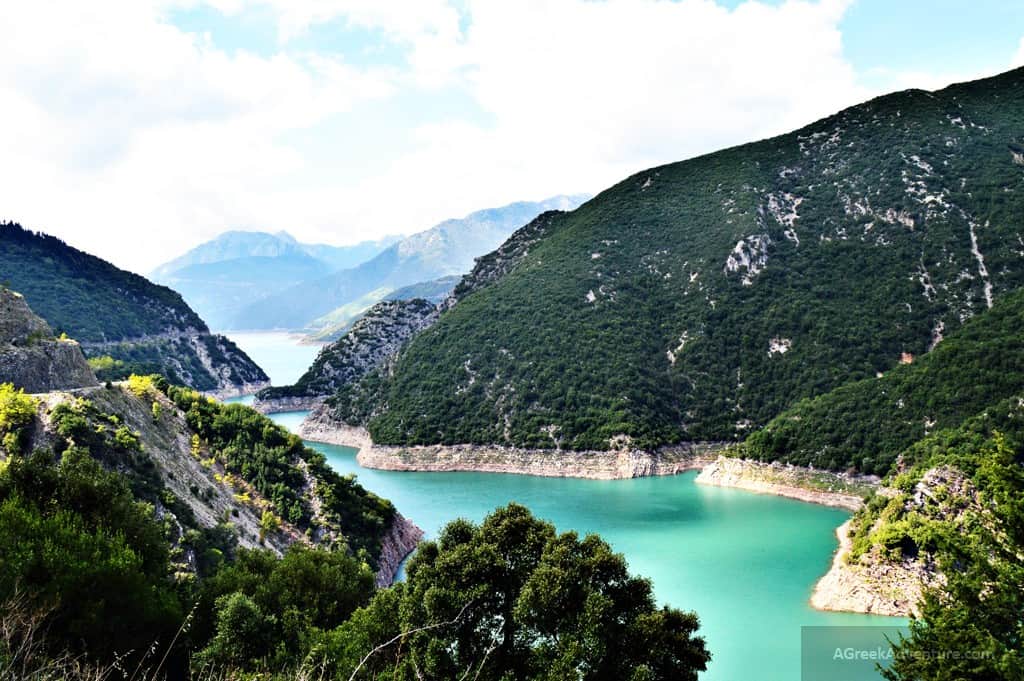 It is spectacular! The photo below was taken on top of Evinos Dam.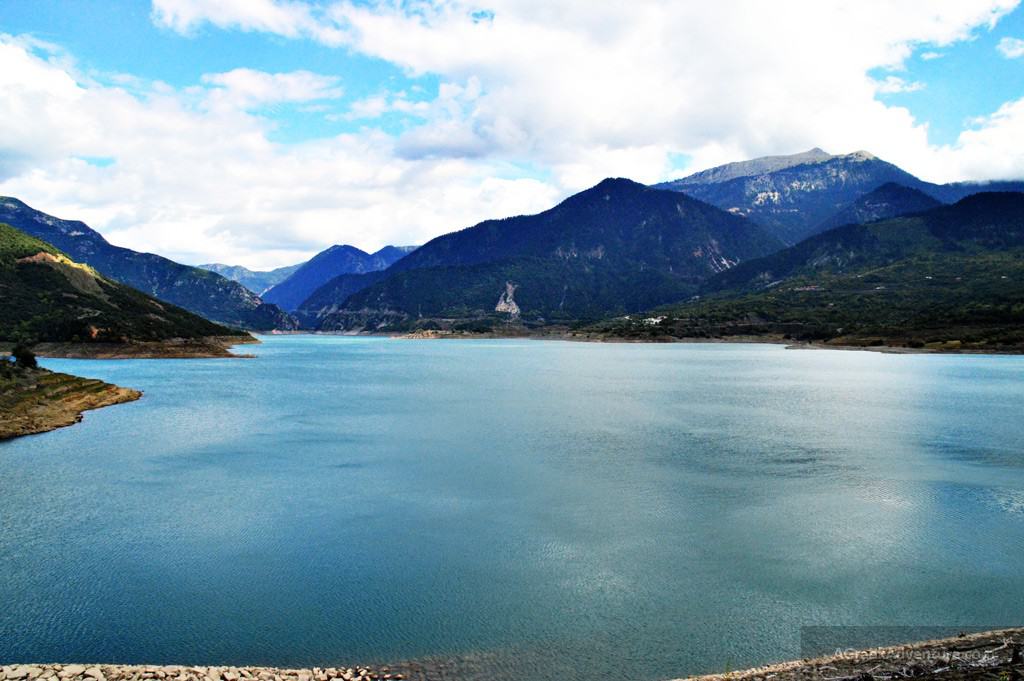 Leaving Evinos Dam, the route goes uphill through forests. I have been in that area many years ago. The colors at Autumn are amazing.
You know you are at the right route towards Platanos when you meet the Chani of Liolios place.
Then you meet the village of Platanos.
Before entering the village we suggest to stop at the church of Saint George. The church is not the thing here. It is the view. Just climb the stairs up and have a look.

The village of Platanos from another angle.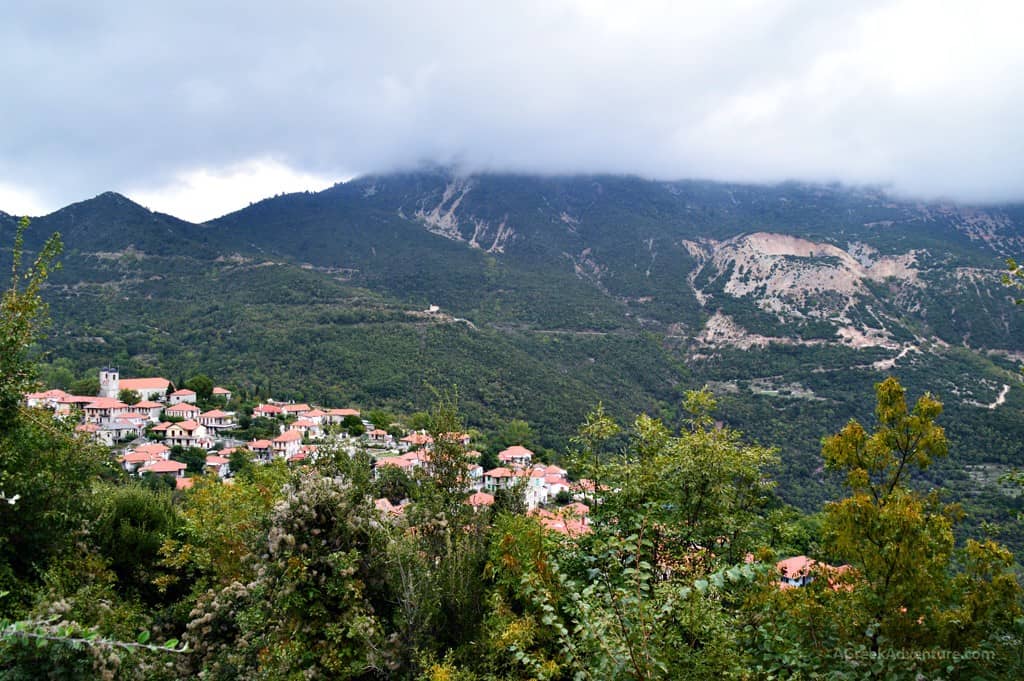 At the main square entrance you are welcomed by the statue of Georgios Karaiskakis. A hero of Greek Revolution of 1821.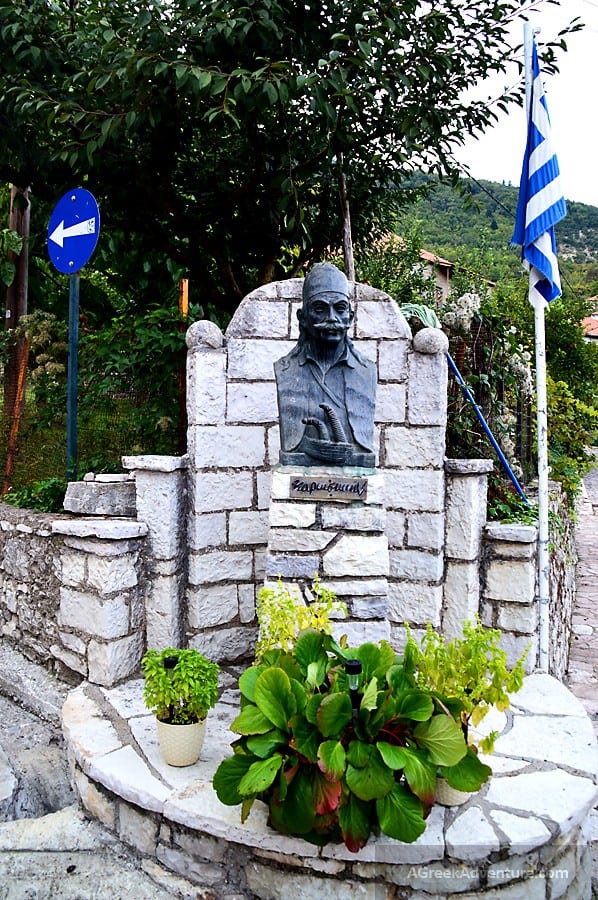 The main square is stone paved and emits a rather relaxing feeling. As usually, the village church is at the center.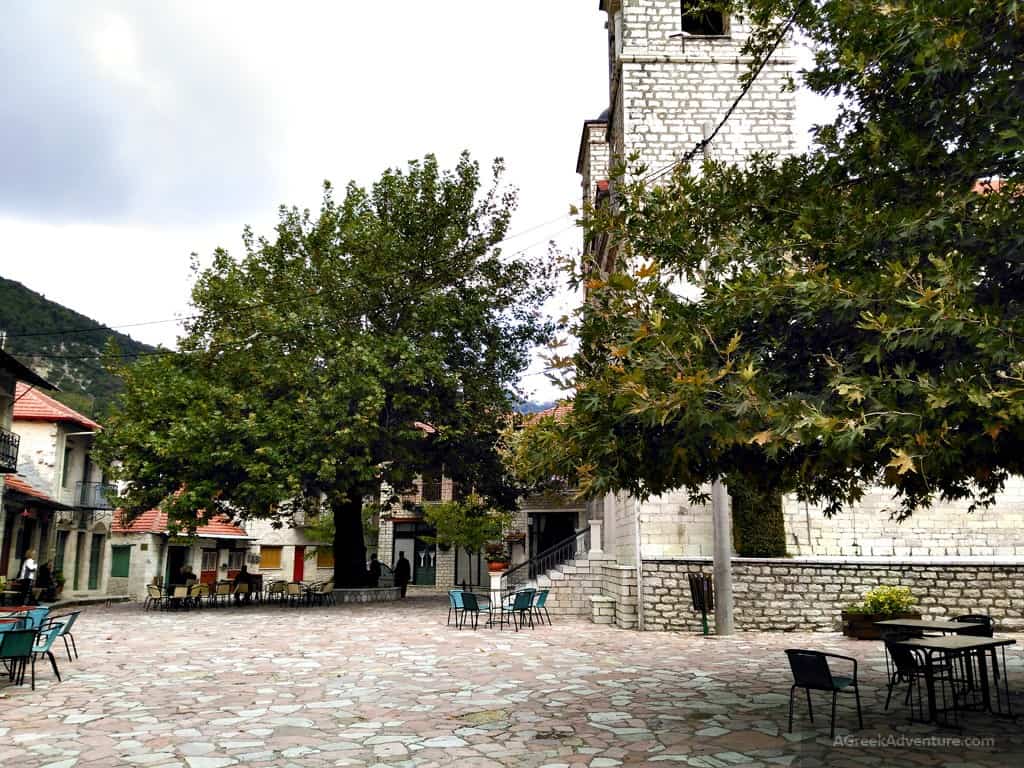 We were very hungry at that point but couldn't find a restaurant open, right there at the square. Yet, we had some prior information for the area, so we sought for a hotel restaurant called Ifigenia's Houses.
There we had a terrific meal.
The night was approaching though, and we had to drive back to Athens. So we took the road down towards Nafpaktos (around 1 hour), from where we drove passing through Galaxidi, Itea and finally Athens.
A very interesting and full of adventures and sightseeing weekend came to its end, yet -as we were driving- we were planning the next one.
Until next time, have fun!
Feel free to share this article with your friends. They deserve a good time too!