Here is our adventure hiking through Kampia Gorge on Chios. As you see, our stories about Chios island will keep on coming.
We would like to show you a gorge we walked through while we stayed at Spilia Guesthouses at Kardamila, Chios. Before that, we stayed at Volissos (yeap, go and read about it).
To be more accurate, on the same day we arrived at Kardamila, went for a swim at a very nice (and slightly cold sea) beach, and after all that we did the canyon too.
We wanted to take in all of what each area of the island has to offer.
Where we Stayed before Kampia Gorge
We landed at the village of Kardamila and we would stay there for a couple of days. Kardamila is less than an hour from Volissos, so driving is short and pleasant.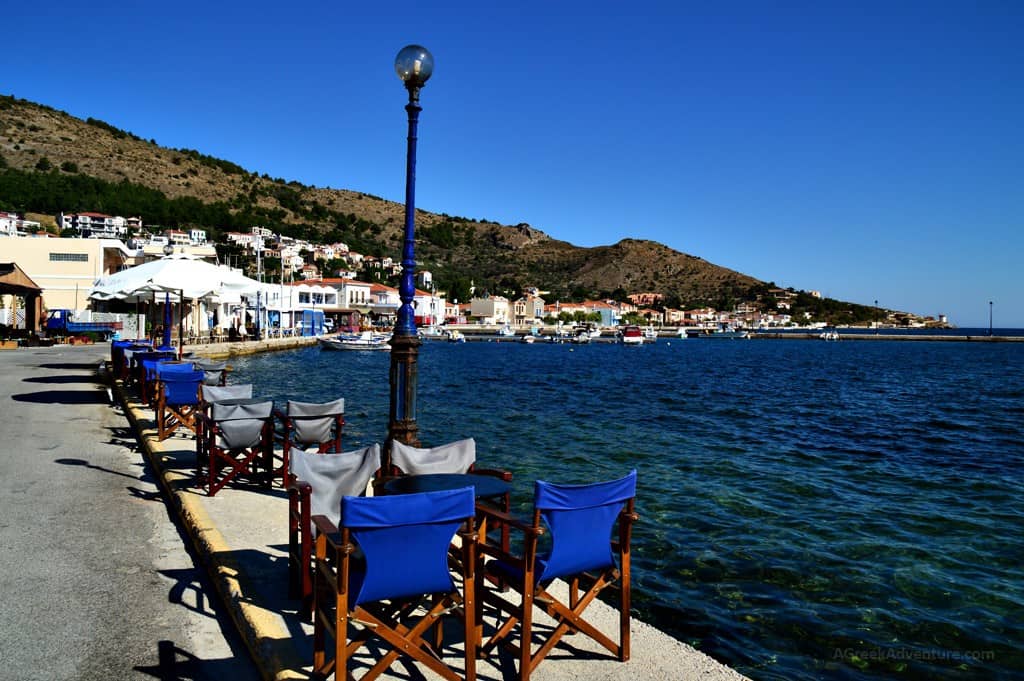 Kardamila is a very nice and quiet village by the beach. There is Upper (Ano) Kardamila and Lower Kardamila.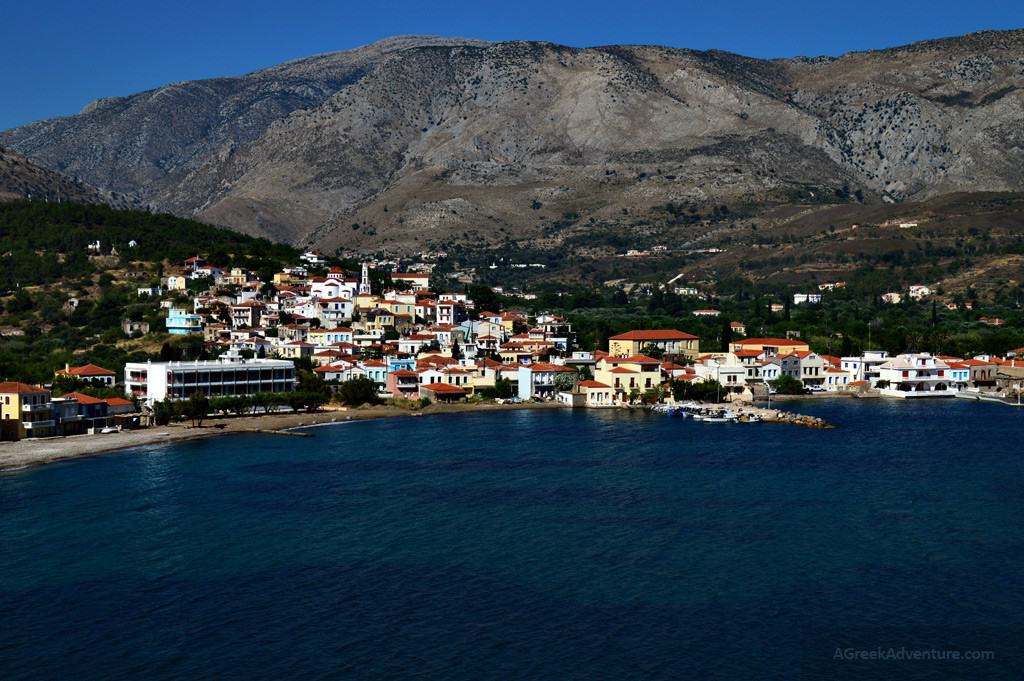 And here is the main square of Upper Kardamila. Lots of shade, a couple of taverns and some coffee houses. Very quite.
So, the guesthouses were we would stay, used to be a castle.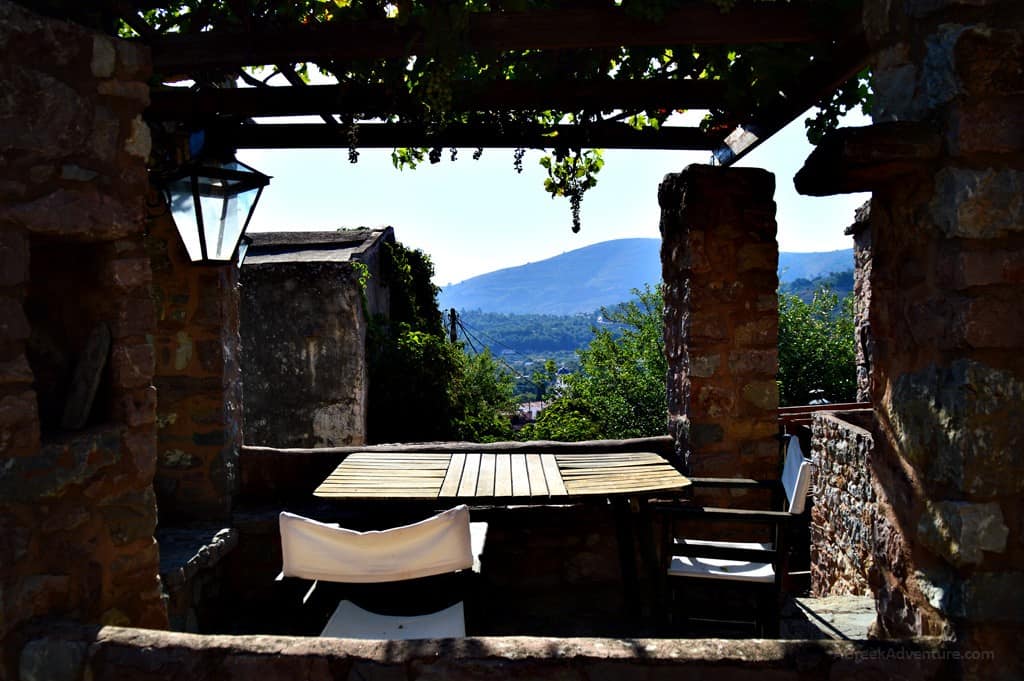 Kiki and Dimitris who run this place decorate it with furniture and items that are part of Dimitri's private collection.
Staying there is like living in a comfortable… museum, with all the amenities of a hotel.
Houses are big, comfortable, with great views and quite secluded.
You need a little bit of walking to get there (5 minutes) from where you park your car, but this place is special. This was our room!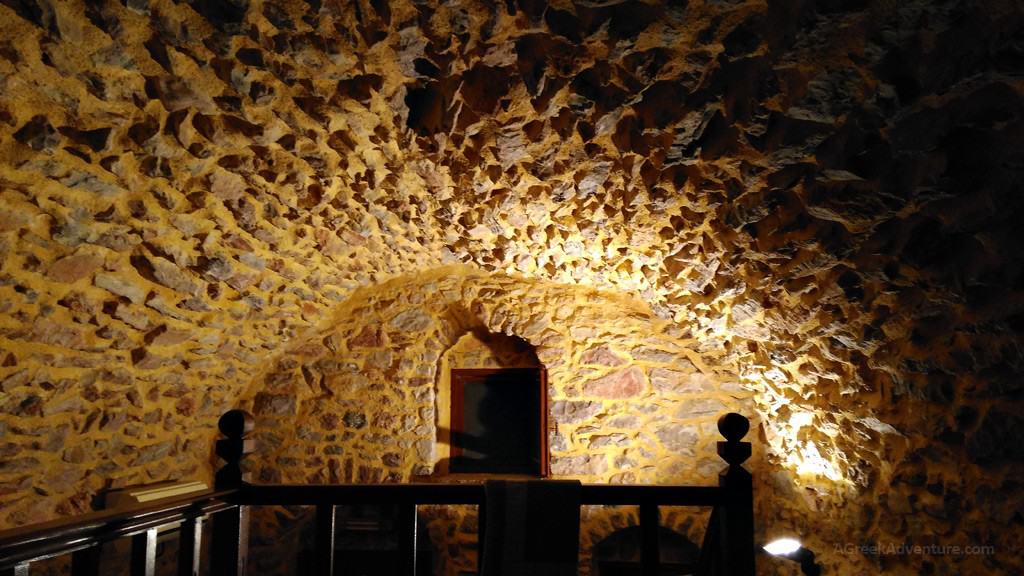 To the Beach of Nagos before Kampia Gorge
As mentioned we wanted to get out and explore the closest beach, in order to cool down and then to hike Kampia Gorge.
So, we landed here at Nagos beach.
A simple beach, where you approach it via a small "secret" path.
The water was very cool.
Exactly what we needed! We didn't want to leave from the beach but we were determined to do the gorge hiking.
So we went back to Spilia, took a shower and went out seeking the gorge entry point.
Hiking the Kampia Gorge, in Chios
Kampia is a simple village of Chios, which is known for its hiking along the gorge.
The hiking route ends to the beach.
So, anyone who feels hot has definitely a way to cool down, before going up again.
You need to be careful to find the Gorge entry from inside the village. There are 2 big labels showing that, yet the actual point is slightly tricky to locate it.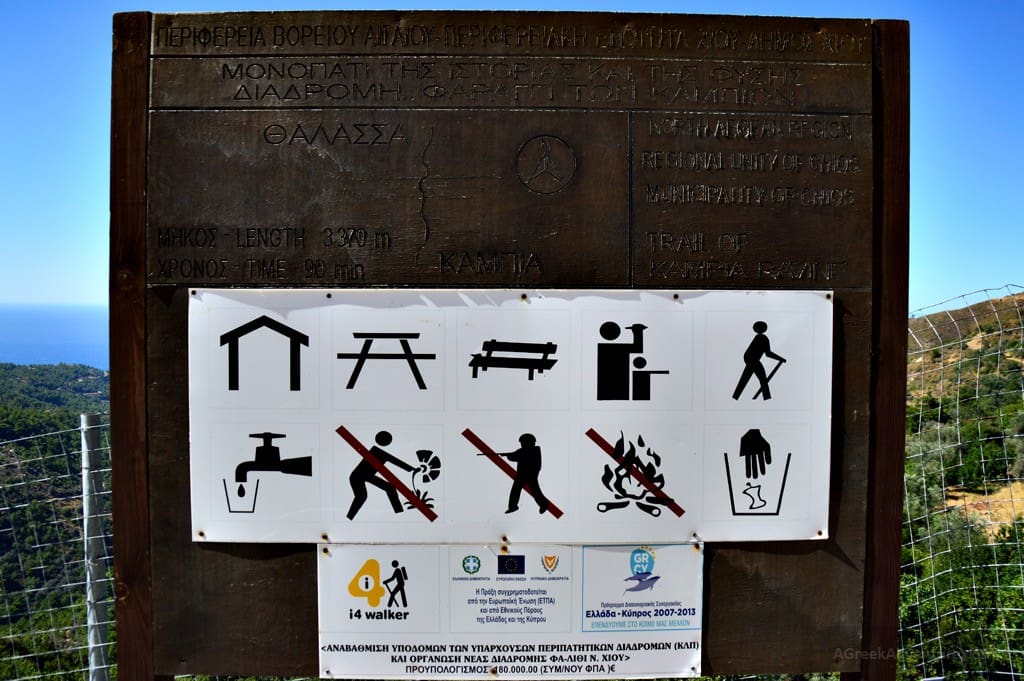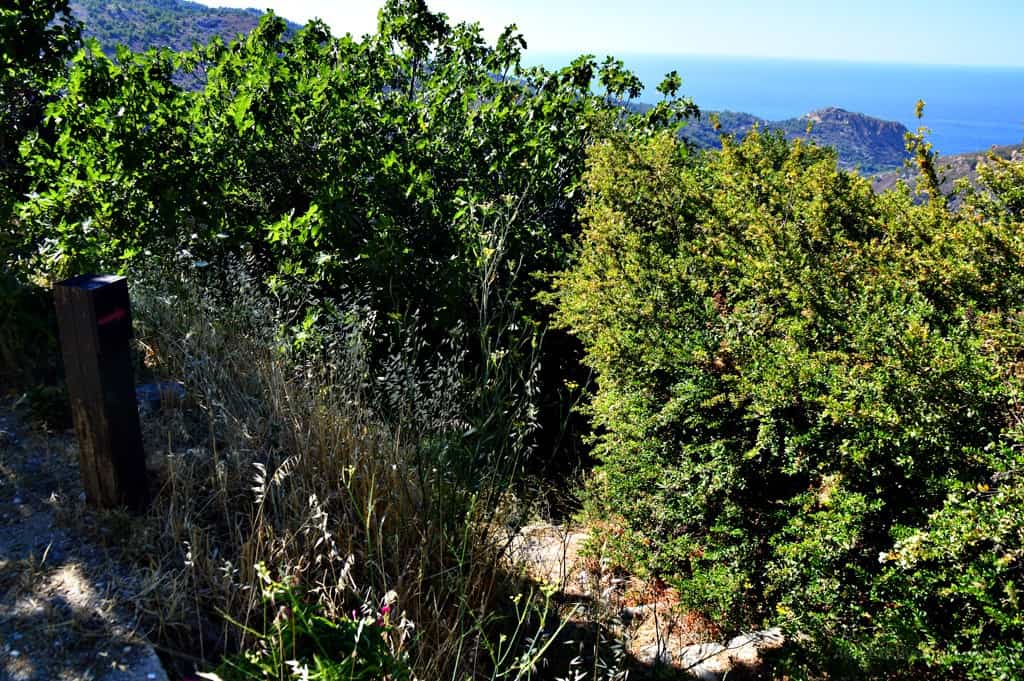 Either on your way down or after you return, you have to stop and admire the view from that location.
Going in…
This pear tree is at the entrance. Full with fruits.
We took a couple of ones (each) as a snack. Completely organic, we just cleaned it up on our shirt and ate it. We are still here to tell about it.
I love Greece for such.
It also reminds me of the cherries we ate like that, at one of Karpenisi villages; directly from the tree to our mouth. Same with figs and all kinds of free-hanging fruits.
The whole route is mostly under shade (around 85% of it) and was well marked during the period we were there.
We didn't have a guide and it was easy to find our way.
Make sure to have time.
The route, if you take it slowly can be 4 hours both ways. Add some beach time to that (if you like), some resting time too, plus time to simply stop and smell the flowers.
What we liked a lot was this thing. At many locations, there were signs labeling the flora of this area. This gorge is used for school trips too.
While doing this gorge, preferably wear long trousers or sweat pants (actually, you have to wear such in hiking anyway).
The reason?
Along the path, in different places, there are things like vines with thorns. Well, it is nature out there and you have to comply with nature.
The area has plenty of water too. It was mid-July when we were there and there were small rivers and such.
Along the route are small ponds and many small bridges. These are mostly used during the months where water is high enough.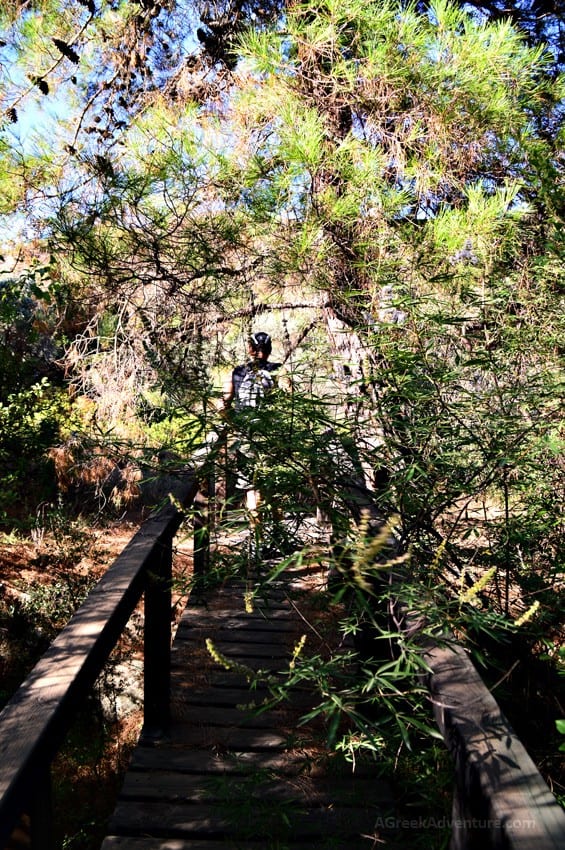 At the exit point and after 10 minutes walking you arrive at the beach!
There are some pretty beautiful churches there and it is a very nice resting and picnic place.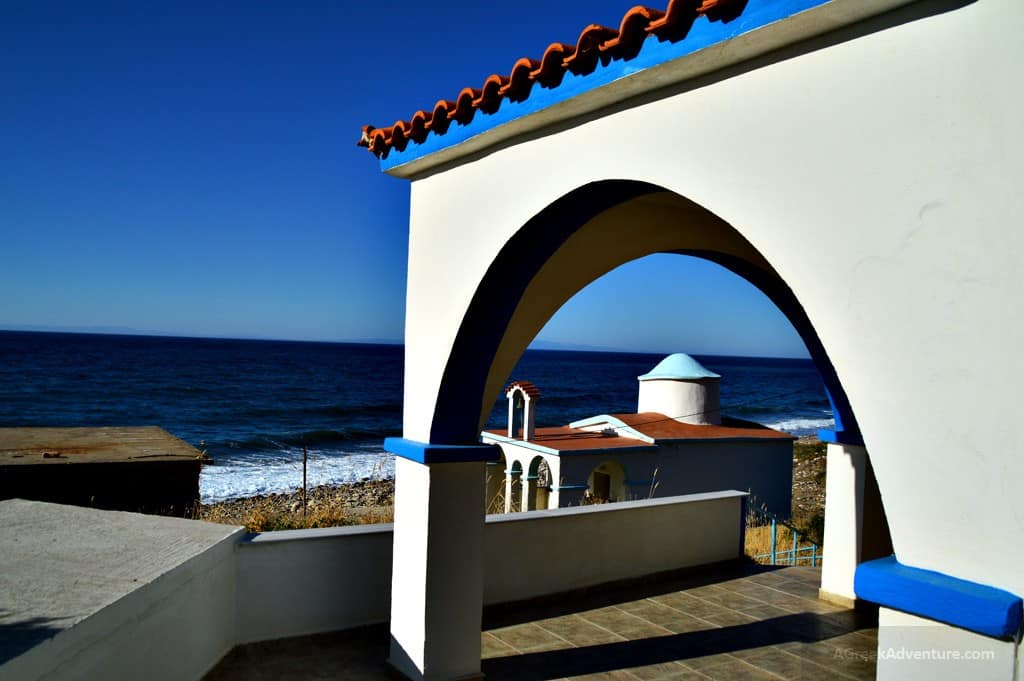 To go back you have 2 options.
Either to do the same route or walk the dirt roads at the left or the right of the gorge. We did the first one.
We went through the gorge again, so we are not very sure if these 2 roads land very close to the village.
And of course, we celebrated that by eating a couple of fruits, from the free-to-take pears tree at the gorge entrance.
By the way, did you notice the forest fairy in this photo?
It was nearly 20.30 and we were a bit tired. The next day we would prepare for a whole day sailing cruise.
Thus we went back to Spilia in Kardamila to get some rest in our beautiful room!
A special thank you for our trip to Kampia Gorge
We were very intrigued by the wealth of information and what someone can do in Chios island.
One thing led to another and 1 year later we landed on the island.
The trip was organized by North Aegean, Regional Unit of Chios office. A variety of sponsors provided their services, accommodation, and knowledge about the island of Chios. Transportation was sponsored by Hellenic Seaways!
Thank you all for this.
Kindly share this and make Chios known to the world!