You may have heard of Chios Island for their Easter customs with fireworks and all, and you may have heard them for the famous Chios Mastic.
Yet, is that all? Nope. Chios has great hiking trails and spectacular natural beauty.
Imagine sailing in the Aegean and making a stop at Chios. Here are a couple of trails you can actually try and have more beautiful experiences along the way.
Hiking Chios Island: Trails in the Amani area
The Amani area is in the north-west part of Chios Island. It is a remote virgin area, ideal for people who want to relax and enjoy the sea, nature and fresh food.
Follow the signed trails and visit the small sparsely-populated villages of the area where the locals will welcome you with a 'souma' (local spirit) drink.
Suggested Hiking Chios Trails: Amani area
Volissos – Malagkiotis Valley – Panagia Neromylon – Volissos
Location: Northwestern Chios
Type: An easy walk through the plain of Volissos. Circular trail.
Degree of difficulty: 1 – Easy
Length of route: 8.826 m
Time: About 2 hours and 30 min.
Drinking water along the way: Yes
Max. / Min. elevation: 140 m / 10 m
The difference in elevation: 130 m
Suggested starting point: Volissos Square
Natural environment: Plain with olive trees and woodland riparian vegetation.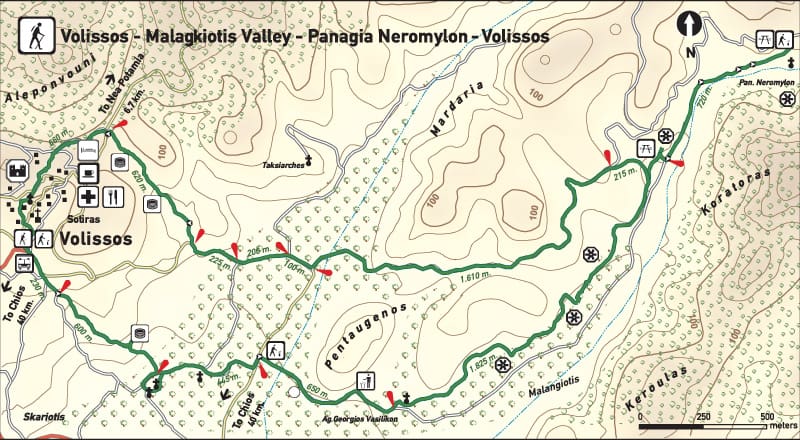 What to see around that Hiking Trail
Actually there is a good number of historical places. You will see:
The Church of Metamorfosi Sotiros in the center of Volissos
The area of Vasilika, site of the old Church of Agios Georgios. The church is closed because restoration work is in progress.
At a distance of 1.8 km. from Agios Georgios we encounter four water mills. At the fourth water mill, there is a resting area equipped with wooden seats. The first mill has been abandoned, but nevertheless, we can see the well-preserved sluice and mill race.
Τhe chapel of Panagia Loutron or Neromylon and the fifth water mill
The Castle of Volissos
The village of Volissos
The traditional village of Volissos is situated at about 40 km from Chios and it is built on the side of a tall and steep hill, at the top of which stands a medieval castle.
The Castle was built during the Byzantine period and in the mid-15th century, it was restored by the Genoese.
According to tradition, it is considered a project of General Velissarios (6th century), however, based on research is most possible that its construction dates back to the 11th century during a period of a general reorganization of the island. In the mid-15th century, the Castle was restored by the Genoese.
The visitor can stroll through the narrow streets and the picturesque stone buildings and then rest in the traditional cafes and restaurants.
Near the village, there is a small port, Limnia, which has been transformed into a fish boat shelter. It is a picturesque small port, with local fish taverns and also a nightlife hot spot that attracts both tourists and locals.
From Limnia, it is very easy to sail to Psara, where you can enjoy amazing lobster and seafood.
In the area there are many beautiful beaches like, Managros, a sandy beach and one of the longest beaches of the island, with a total area of 40.000 square metres, Limnnos, a long beach, with sand and small pebbles and Lefkathia, a small closed bay of exquisite beauty, between two small hills.
The visitor can find in those beaches chairs and umbrellas to rent as well as a variety of high-quality rooms and apartments, taverns and cafes.
Agios Giannis – Agio Galas
Location Northwestern: Chios
Type: Hiking on mountain footpath
Degree of difficulty: 1 – Easy
Length of route: 2.540 m
Time: About 45 min.
Drinking water along the way: Yes
Max. / Min. elevation: 400 m / 230 m
The difference in elevation: 160 m
Suggested starting point: Agios Giannis
Natural environment: Typical arid land in Amani, with low vegetation, Spanish broom (Spartium junceum) and oaks.
This hiking trail links the village of Agio Galas with the settlement of Agios Giannis, which has been abandoned since around 1960.
It includes important monuments of the island's cultural heritage and natural environment.
The Agio Galas Cave
The Agio Galas Cave is located at the north-western end of the island at a sixty-five-kilometer distance from the town of Chios, at the village of Agio Galas.
The village is actually built on a cliff and offers a unique view of the Aegean Sea and the historical Psara Island.
The cave has a special morphology and is a very important archaeological site.
The research has found evidence from the middle Neolithic era. Findings from the excavations can be seen at the exhibition of the Archaeological Museum of Chios.
Daily guided tours to the cave are offered from early May to late September from 11 a.m. to 7 a.m.
For more information, contact the administrative office (+30 22740 22004 or +30 697 2311019).
At the Agio Galas cave, there is a café, gift shop and exhibitions to visit, as well as a variety of activities. Click here for the Facebook page.
Other points of interest in the Amani Area:
Contact information for hiking tours and activities organizers:
Mr. Vasilis Ballas – Mastic Culture Ecotourism Activities
Mr. Giorgos Misetzis – Spitakia hotel, Avgonyma, Chios
Mr. Nikos Georgoulis – Polychoros "Agio Galas"
Masticulture, Ecotourism agency, Mr. Vasilis Ballas
Citrus Museum, Citrus Museum, and festival, Mr. Vagelis Xydas
Adventure Holidays, BlueSailing, Sailing – Boat rental – Kayak – Scuba diving, Mr. Nikos Kladias
Chios Yachting, Sailing – Boat rental –Excursions, Ms. Maroussa Mamma
Project Blue Yachting, Sailing Yacht Rental – Sailing Trips Organization, Mr. Michael Tetteris
Ector Yiourgis, Scuba diving School at Apothika Mesta – Sea Kayak, Mr. Hector Giourgis
Nikos Xatzigeorgiou, Hiking – Canyoning, Mr. Nikos Xatzigeorgiou
Triantafyllia Androulidaki, Windsurfing, Ms. Triantafyllia Androulidaki
Chios Scuba – Vagelis Kirithras Scuba Diving, Mr. Vagelis Kirithras
Misetzis George, Hiking, Mr. George Misetzis
Ioanna Loukaki, Wedding Organising, Ms. Ioanna Loukaki
ΦΕΟ Χίου – FEOX (Naturalism club of Chios), Climbing, canyoning, etc., Mr. Antonis Vorrias
Chios Marine – Travel Consultants & Maritime Services – Services to sailing boats – Trips with motorboat around Chios island – Alternative activities, Mr. Michael Karatzas, Mrs. Katerina Louizou
Chios Unexplored, Experiential Eco Breaks, Experiential Eco Breaks – scheduled tours, Mr. Isidoros Tsouros
Chios Cooking Lessons by RealChios.gr – If you want to know more about Chios and Mediterranean Greek cuisine, delve deeper into Greek food or just love cooking, then join one of the Chios cooking lessons prepared by RealChios.gr, Elias Siolis
More Chios info:
So there you are. Two great hiking trails for Chios Island where the 2nd one has the Galas Cave as a bonus. Do visit them and tell us your own experiences.
Credits: Photos are provided from the Regional Unit of Chios – Tourism Department & the Municipality of Psara, unless stated otherwise.