Even adventure travel bloggers need to switch off some times and relax. We did that in Pelion Greece, in a remote beautiful beach village. The name of it? Damouchari.
In that area, part of the Mamma Mia famous movie was filmed.
Our hotel room was great with a great view, in 3 minutes' walking distance from the beach. Of course, the beach was a bit wild…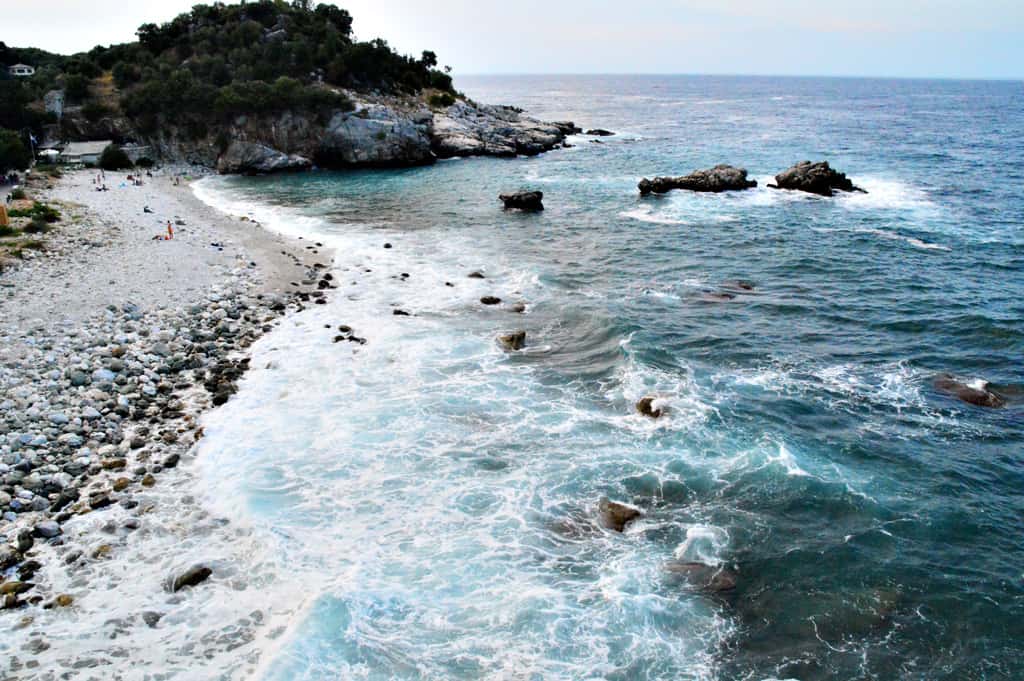 But it was so energizing and relaxing at the same time. Great waters.
That part of Damouchari also has a small port (for boats and sea kayaking).
People also swim there since when it has a bit of strong weather on the other side, there is calm.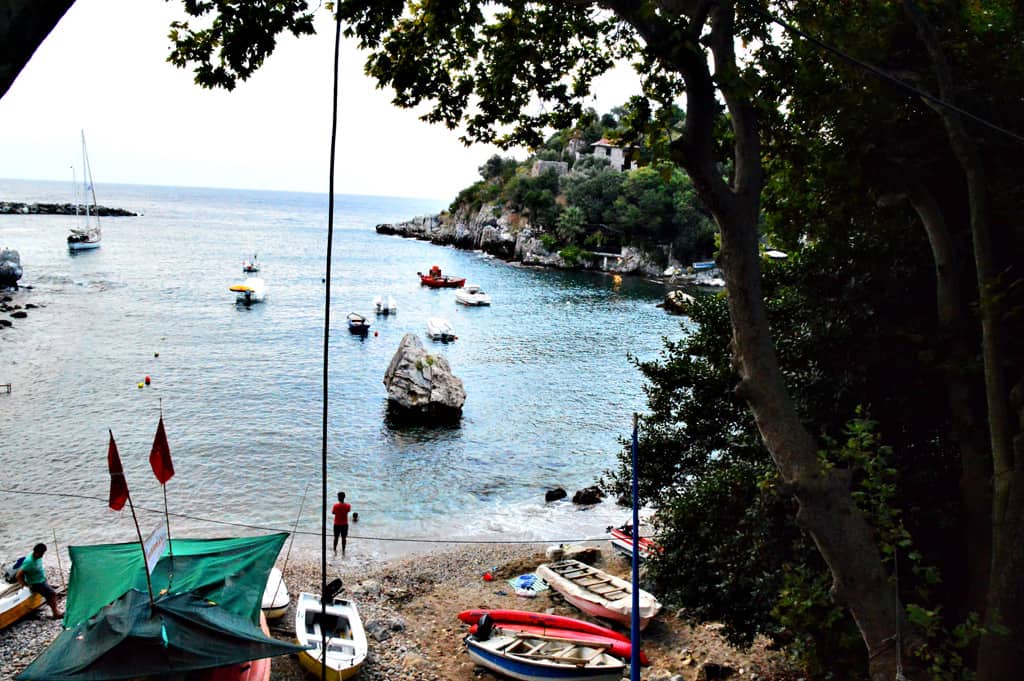 Around the harbor, there are some very nice taverns with great food and a tapas bar.
Care for a nice thing to hang around your neck? These 2 camps at the beach and provide their art to guests.
Here is the sunrise from our room! Fantastic!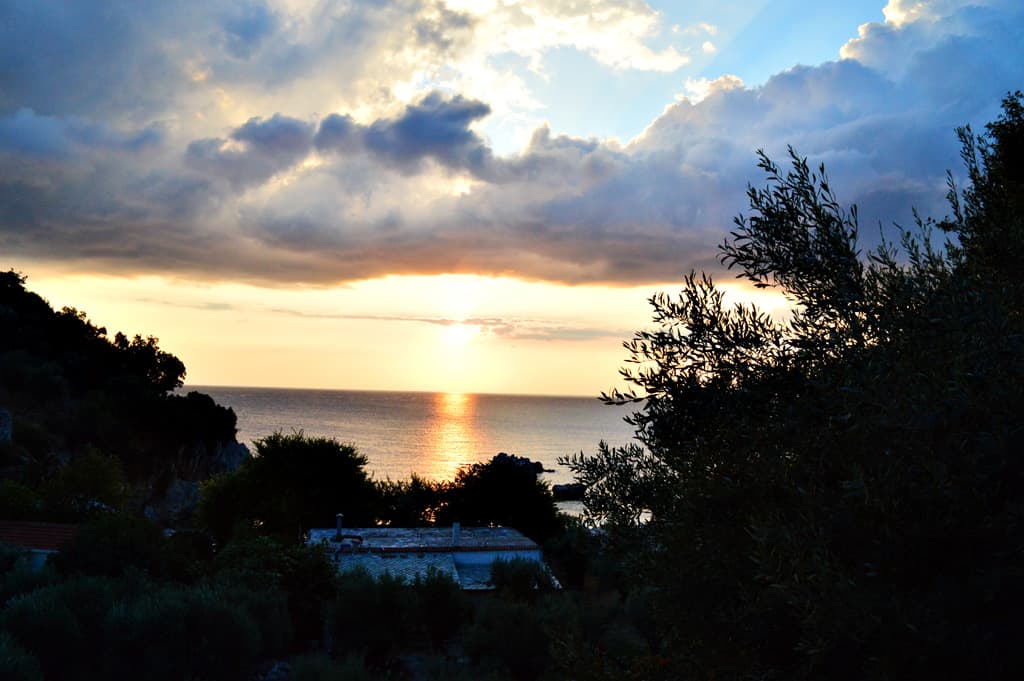 So this village of Damouchari at Pelion was great but the area is famous for other beautiful beaches. However, most are not the kind of huge, lengthy ones.
More Beaches of Pelion
Pelion has some wild waters to offer along with jungle-like green.
The whole mountain (also known as Mountain of Centaurs) is full of rivers, waterfalls, canyons and wild nature.
Not to mention, lots of apple trees for which Pelion is famous for.
So we took a ride to explore other beaches nearby Damouchari. Here is another famous one: Fakistra.
To go there you need to walk down a path that is inside the forest that leads to the beach. Even that route is great.
The beach is not very large but check it out.
Moving on from Fakistra we visited Mylopotamos beach.
Another well know beach is Papa Nero beach. This is one of the long ones.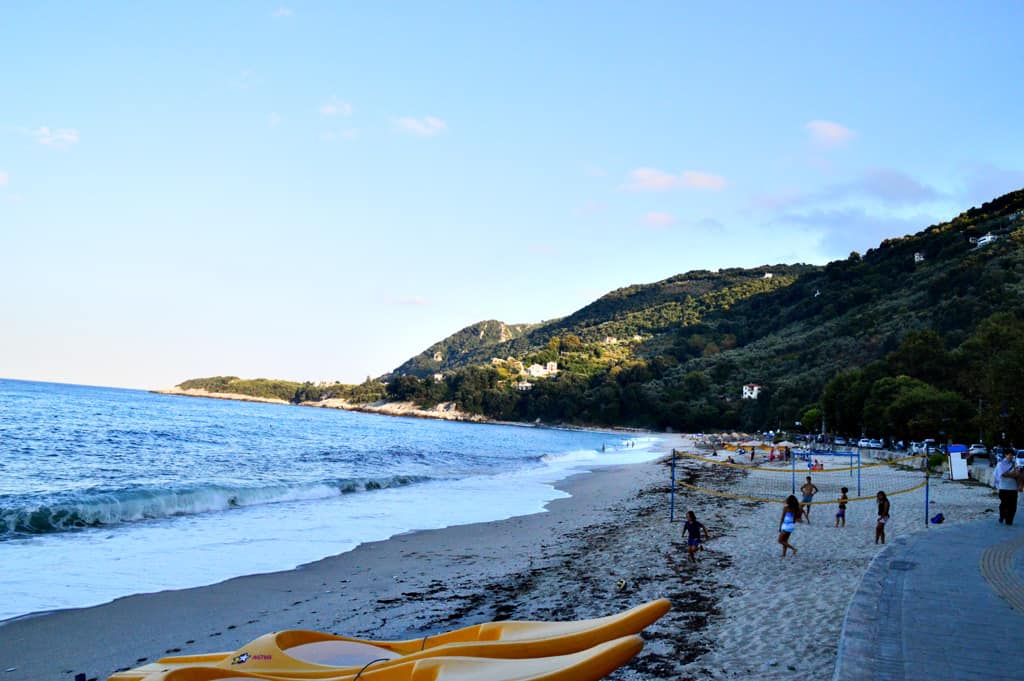 But the most famous one is of Ai Giannis (Saint John) beach. This beach has 2 sections. The first one is the sandy beach you see while in the village.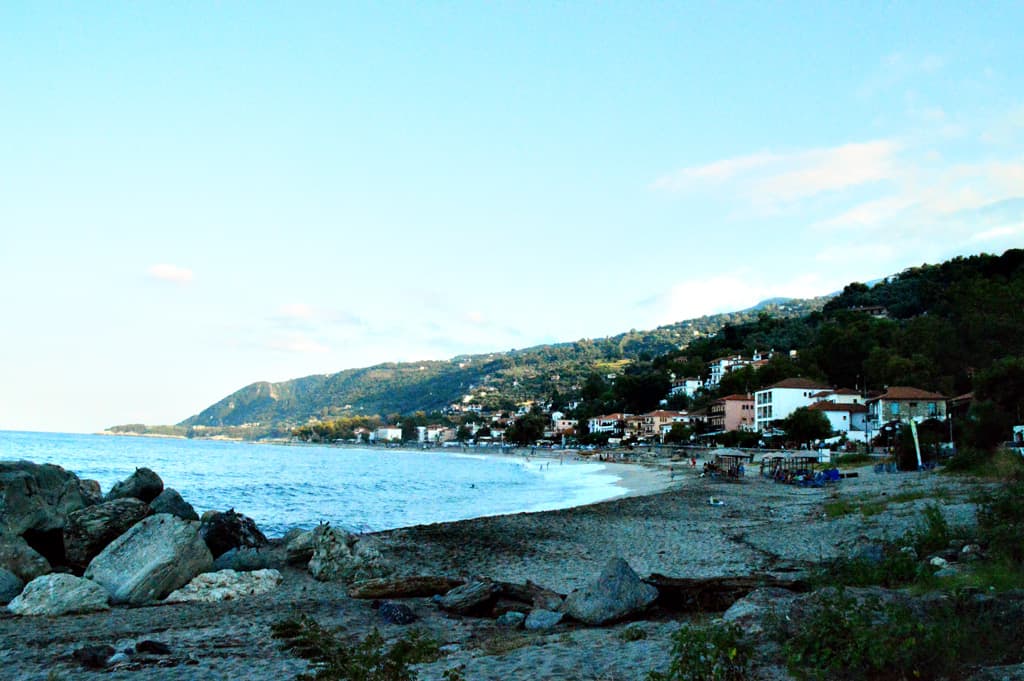 Yet, there is a second one that is around the corner, passing some big rocks that keep it hidden (less now, than it was in the past).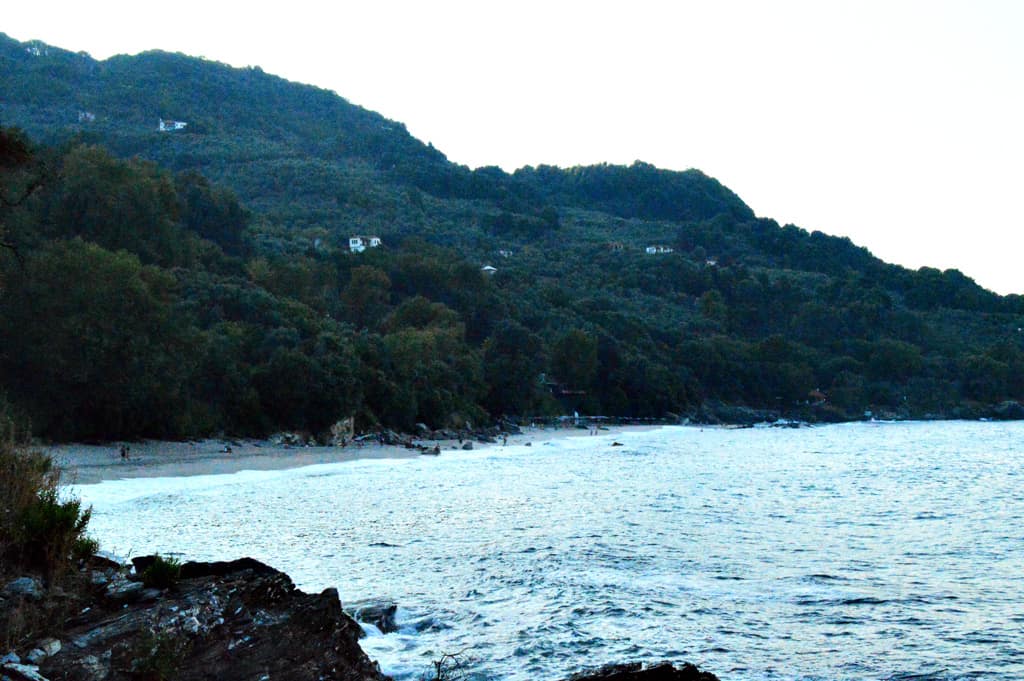 Finally, here is another one at Chorefto.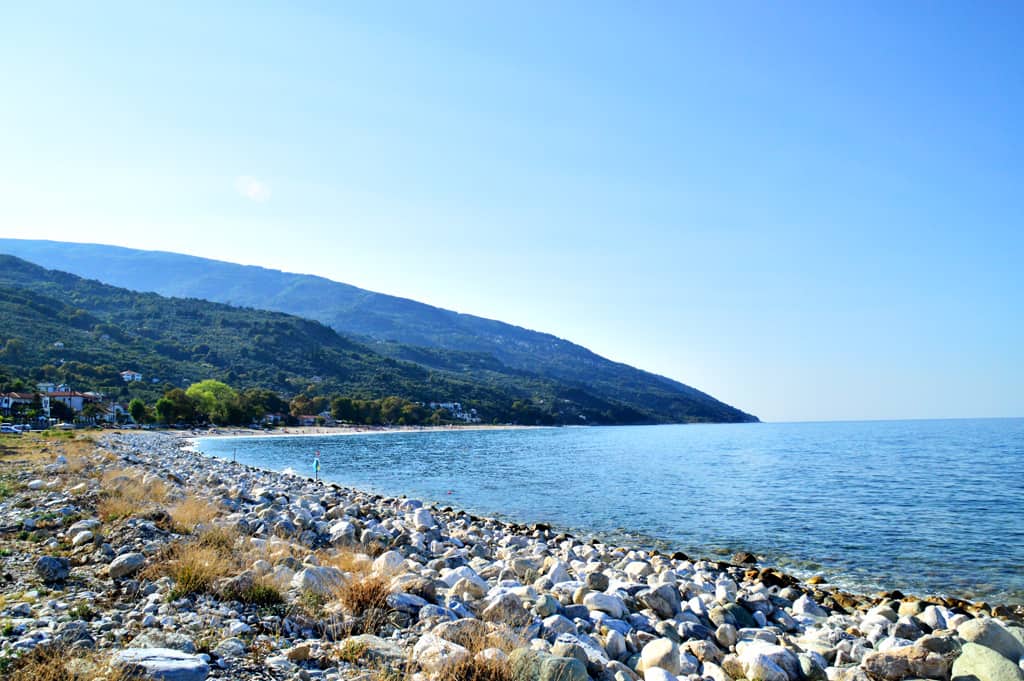 Near Damouchari villages of Pelion
The mountain of Pelion is also known for its -full of green- villages.
In the summertime, nature is orgasmic here.
See the square of Tsagarada village. This huge 300 years old plane tree brings shade to the whole huge square. Under its leaves you will see taverns, a cafe and people enjoying and relaxing.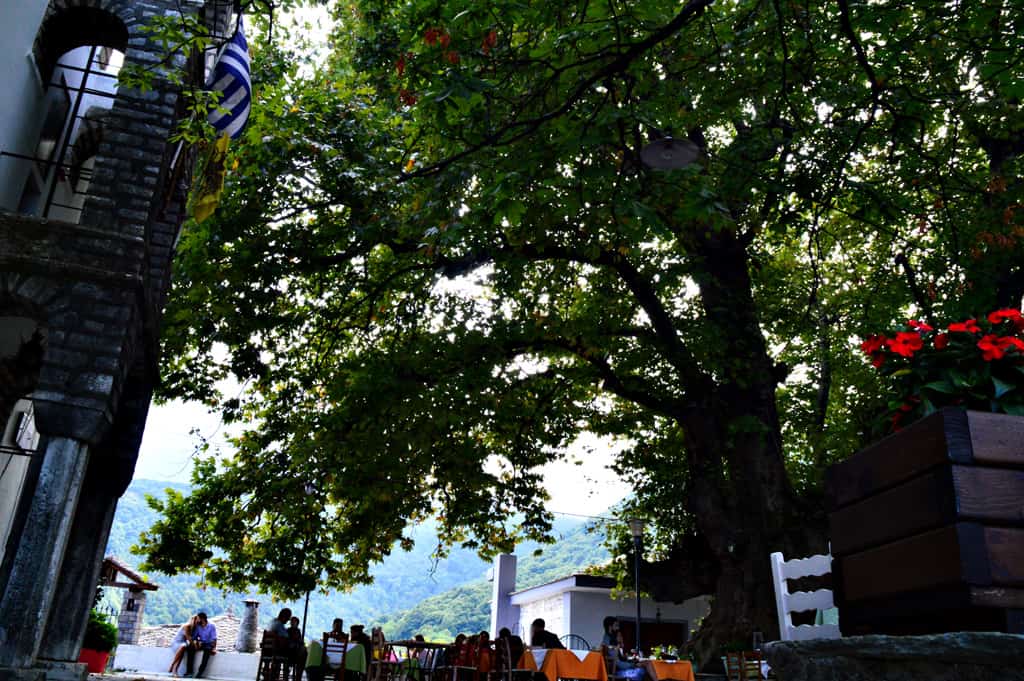 Take a look at the road towards Zagora. Almost all roads are covered like that.
Zagora is one of the typical villages of Pelion. Stone build houses, wonderful small coffee houses, excellent taverns, many forest paths to walk through.
Zagora hosts a museum that is connected with a person that paid a significant role at the preparation for the Greek Revolution in 1821. The name of the museum is "Rigas Ferraios".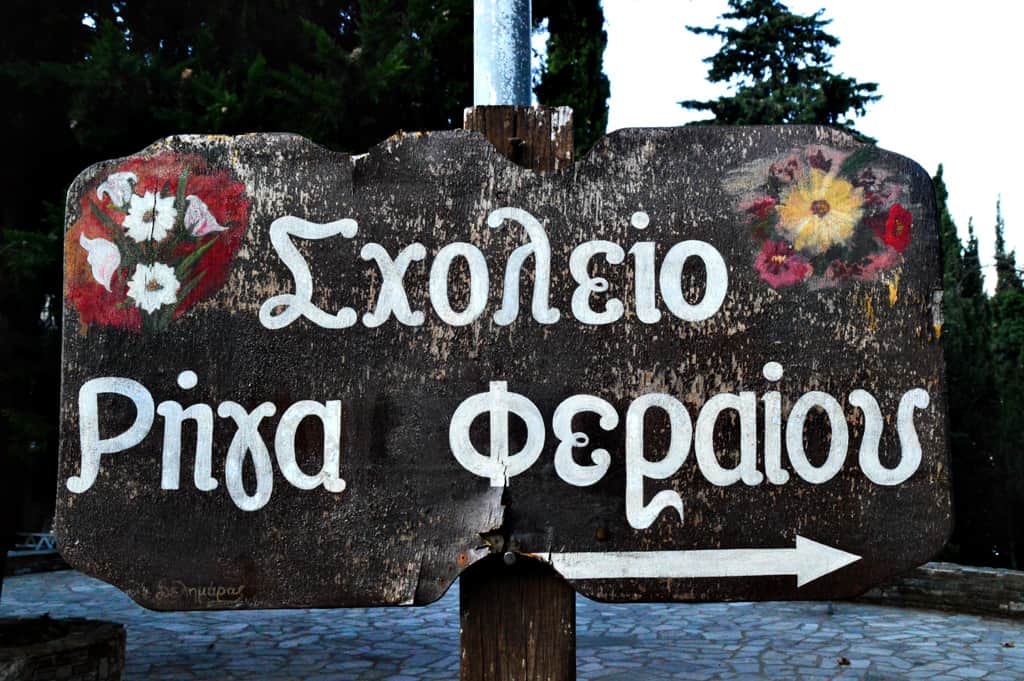 This is where this great person went to school up to the age of 15.
The place has been kept as a museum to show what kind of circumstances young people studied there. One can also read about other benefactors of Zagoria.
Greeks who became rich and famous while in Egypt and helped to raise the education level of this area.
The old train at Milies, Pelion
A visitor of Pelion will definitely be advised to visit the old station at Milies and learn about its history.
The station is still active and you can ride the train once per day for a beautiful trip that takes around 1.5 hours.
Milies is also famous for their taverns too.
We visited Milies at our last day at Pelion.
We were so sad to leave this amazing mountain that is full of myths and mystery, along with great places to have many adventure experiences.
But… until next time! We will back.