There are hundreds of things to do in Lesvos. We put together a list of 10 things to do in Lesvos island, so you can understand the variety.
We wrote many posts about things to do, and you can dive into them from here. However, we wanted to present a list of "snapshots."
Let's call it a kind of handpicked experiences where only locals will "pass the word" for them.
It was the second time we visited the island, and the first time we wrote about the many outdoor adventures we had there.
Read this travel guide along with our posts for Eressos, Molyvos, Sigri Natural History Museum, and Lesvos Petrified Forest, Horseback riding, rock climbing, and mountain bike, as well as sailing.
Here we go!
The Waterfall of Man'Katsa
This is a pretty lovely picnic area. You just walk no more than 700 meters from a dirt road, and you arrive there.
The waterfall is not directly visible, but you need to walk down a path to get there.
At the time we've been there water amount was not much, but we were informed that it is at least five times that. It is good to pay a visit.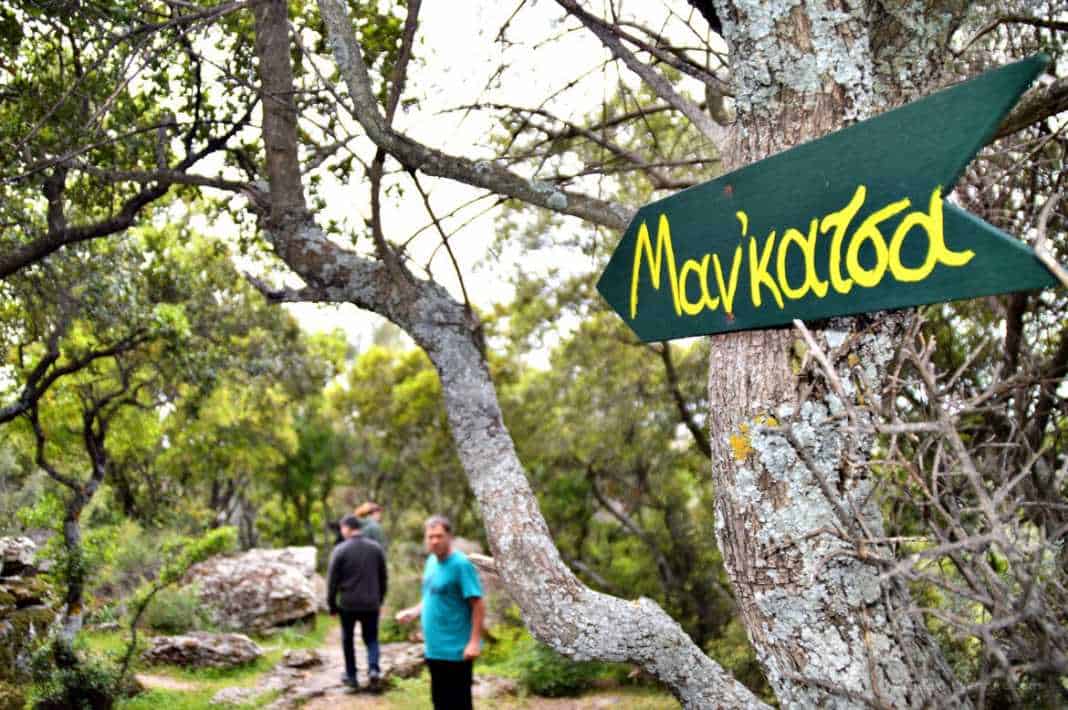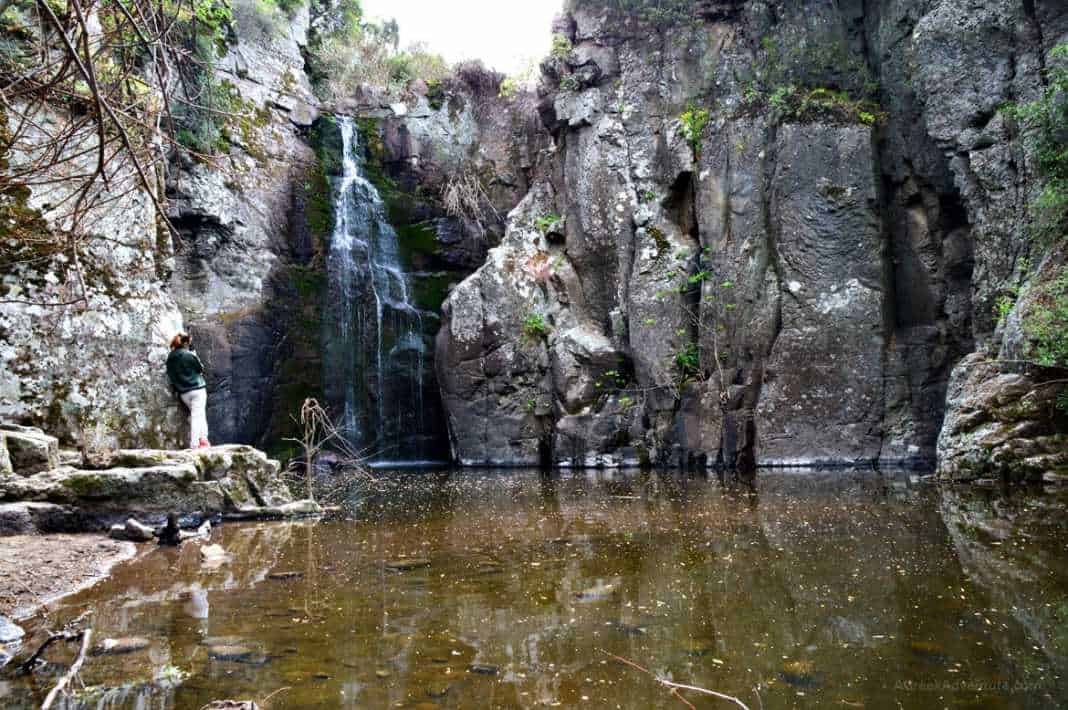 Man'Katsa is at 1500m from the intersection of Pedi – Aspropotamos, and 30 km North of Mytilini, on your way to Mantamados.
The Museum of Industrial Olive-Oil Production of Lesvos, at Agia Paraskevi
If you like museums that depict how traditional industries were in Greece, then this is one of them.
The museum is amazingly renovated, and people there are extremely helpful. We were provided with lots of info.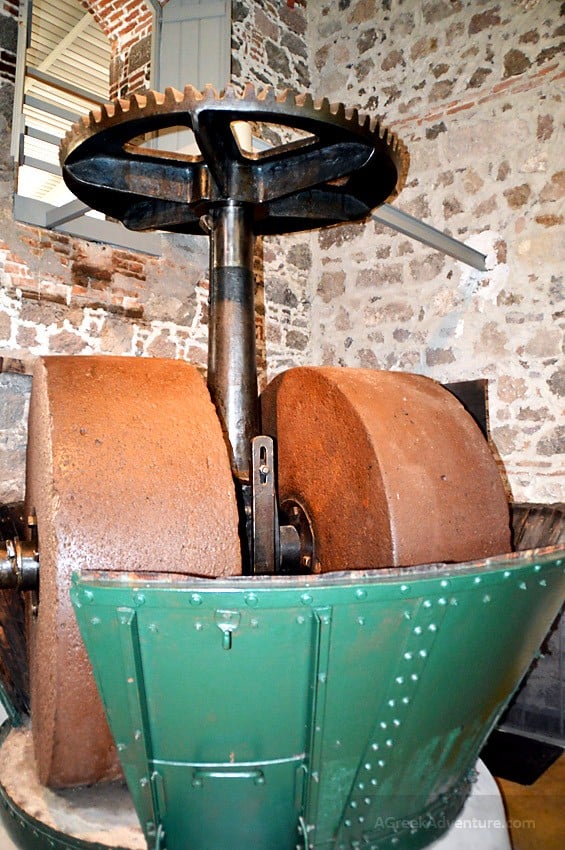 We went through the museum, where we found out that the original machines were properly maintained and also working.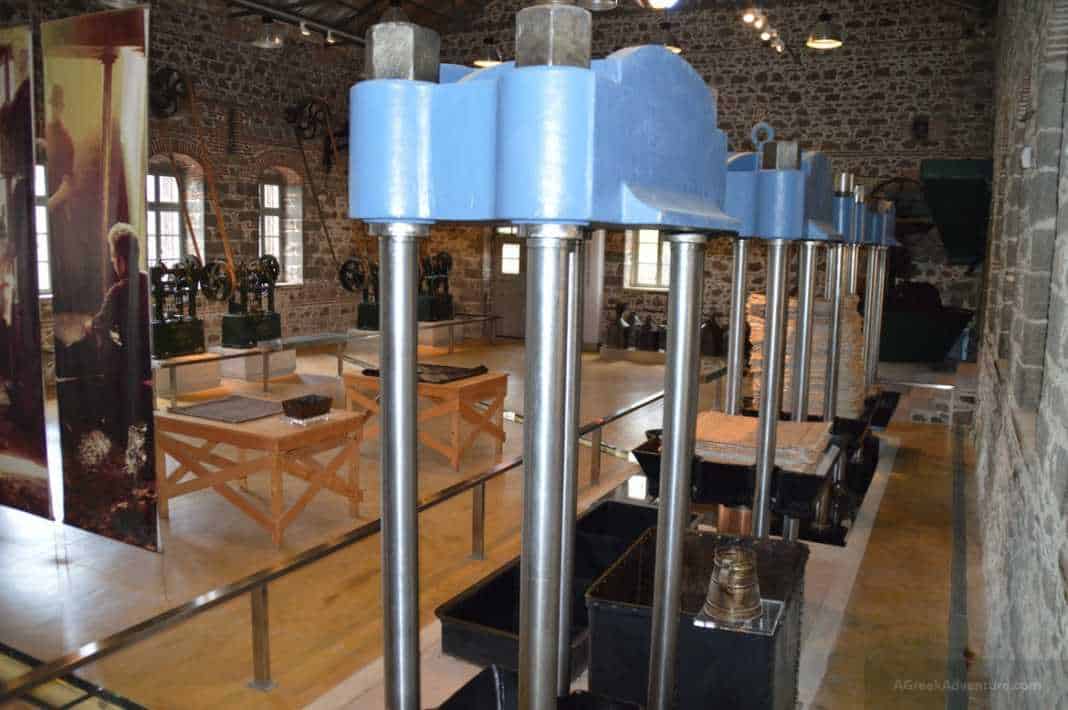 Of course, no oil production happens nowadays in that museum, but it was interesting to see the whole process of how oil was produced from olives.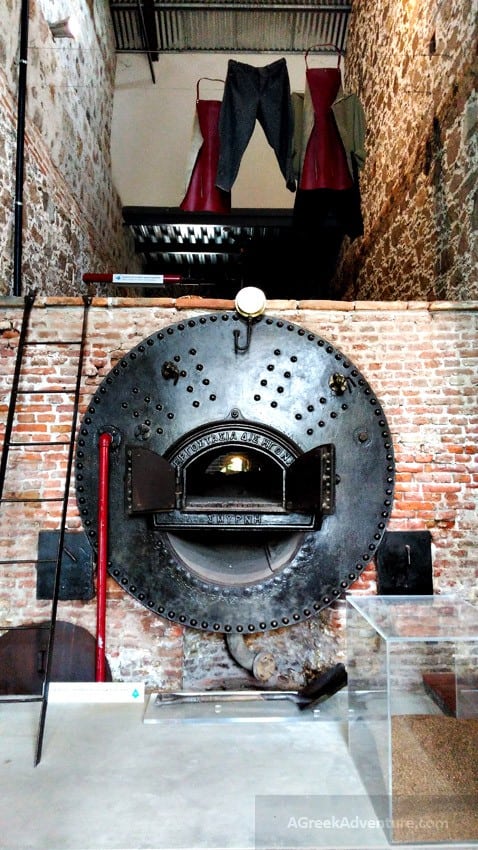 It was interesting to learn about the effort and work of people back then on how they produced so much with the means they had.
Learning pottery from Mr. Stelios Stamatis
This was the most laughing experience, in the sense that the person responsible for the pottery shop and workshop was one with great humor.
That was Mr. Stamatis, a pottery maker that learned his art from his father.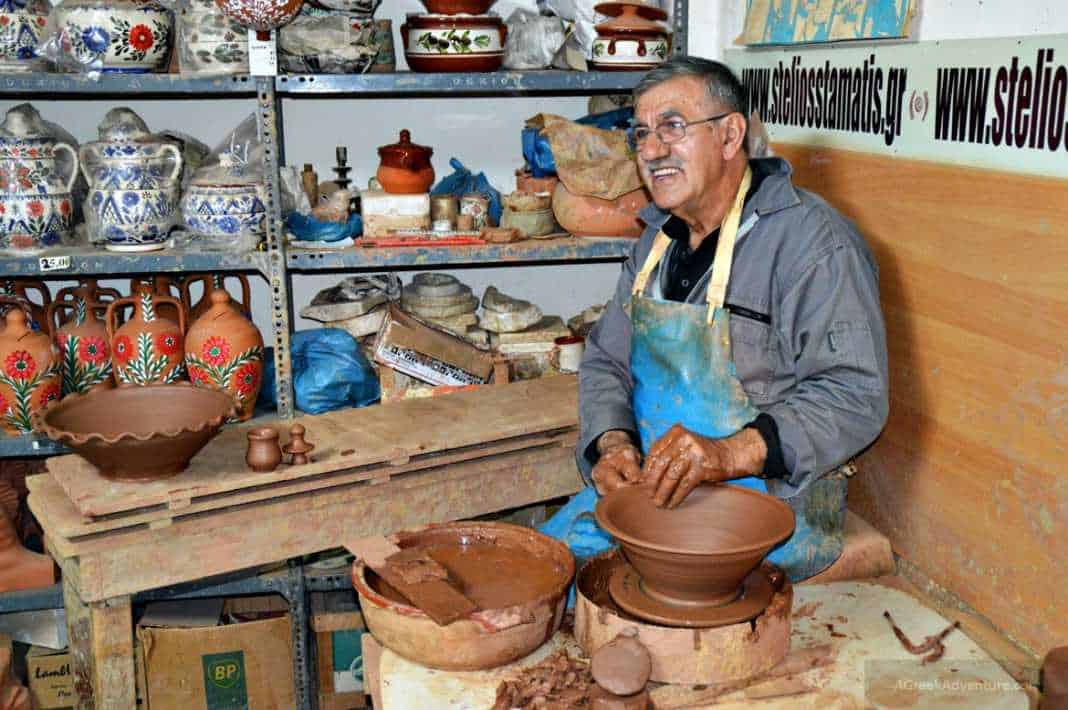 That person was enjoying his work, and this was beaming.
He spoke about it with so much love. Most of the things he said about how you make all these clay-based objects would also stand in a philosophy class.
His wife was responsible for painting beautiful patterns on each item.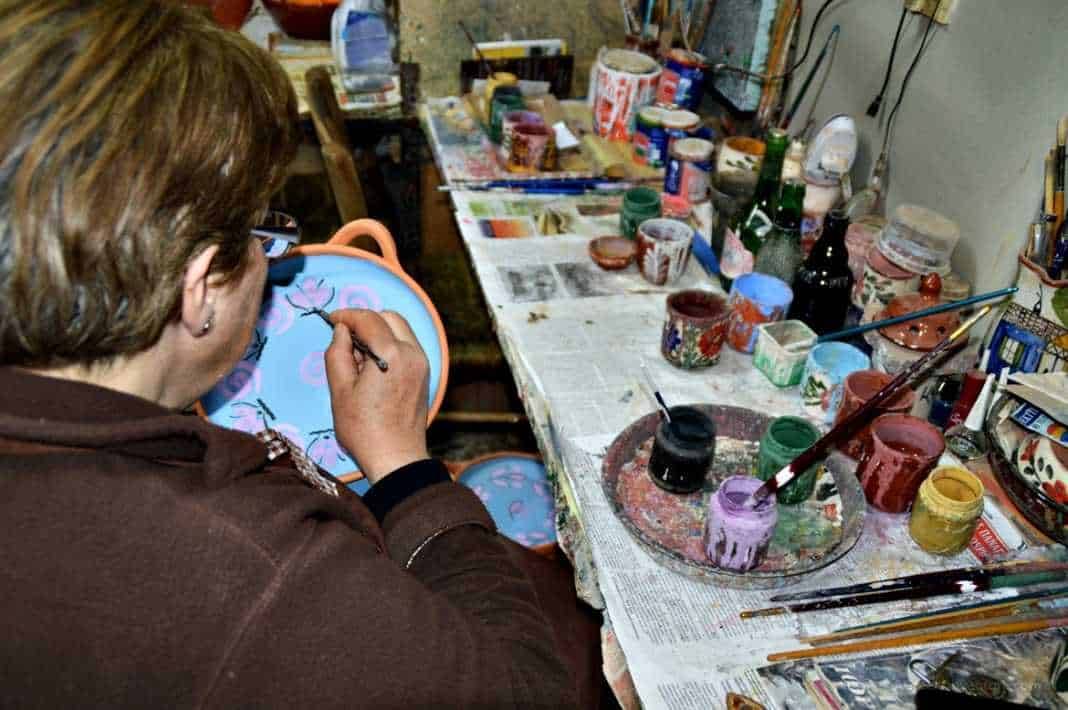 Mr. Stelios was showing how to make simple and/or complicated things, and at the same time, he spoke about gentleness, being centered, focus, enjoy, feel what you are doing, not pushing too much or too little.
Along with us was the daughter of a friend (Titos from Lesvos Ride), who jumped in and learned right there on the spot, how to make something beautiful out of clay.
We love it when we meet people who confront their work not just as a business but as a way of joy too.
Here is a video of him making art. You can see more videos on our YouTube channel.
The shop/workshop is inside Mantamados (around 1km from the entrance, coming from Mytilini).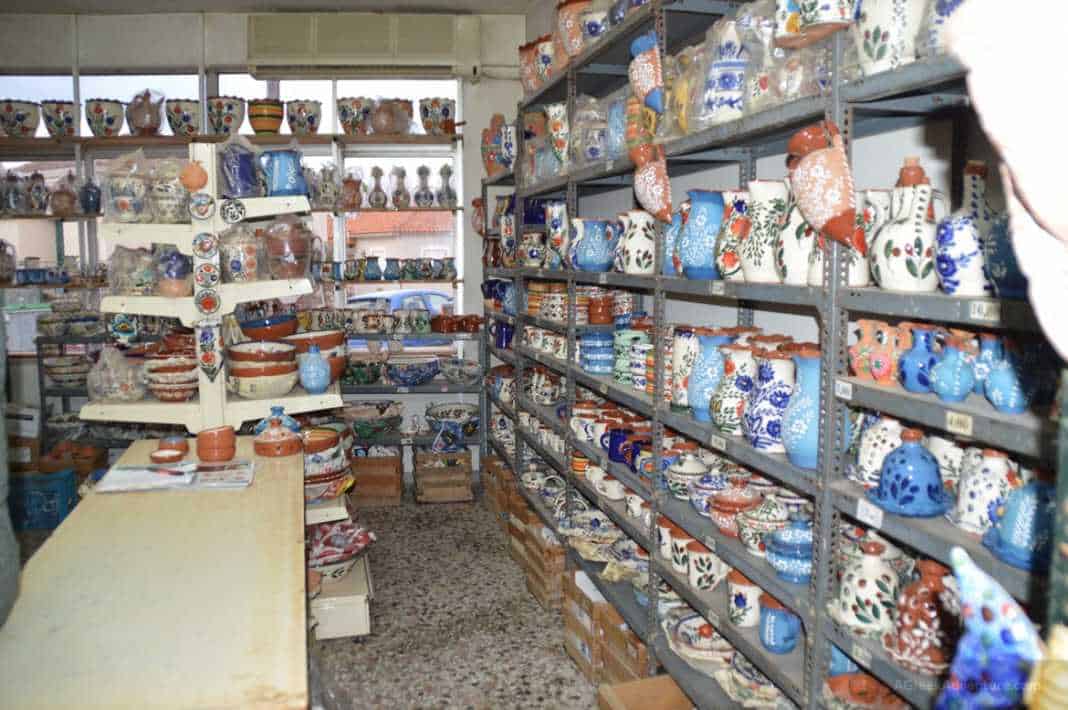 Skala Sykamnias or Sykamineas
This place is famous for mostly three things.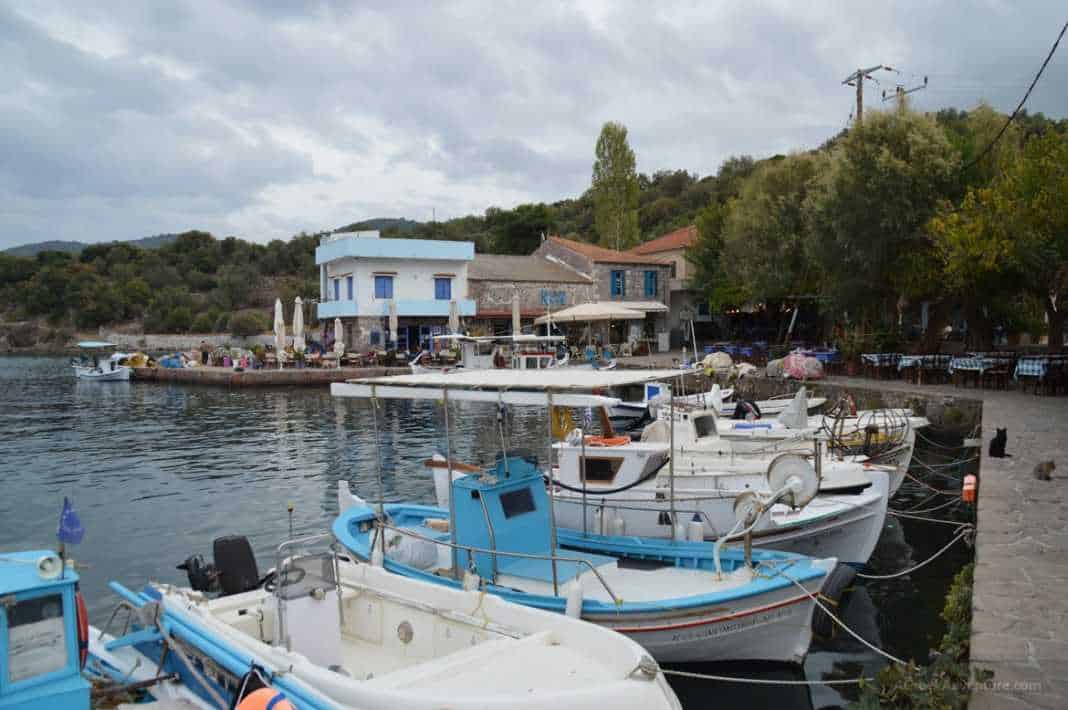 One of them is that it is near the location where refugees from Turkey were coming to shore before they were moved to another location.
An exclusive video (named as "Ode to Lesvos") has been made about this place, presenting the courage, bravery, and altruism of locals who helped all those people.
It is rather emotional, and you can watch it here:
The second reason is that this place is well known as the birthplace of Stratis Myrivillis (1890-1969), a hugely famous Greek writer.
The third reason is the food. There are many little taverns with excellent "mezedes" and ouzo.
We ate there, and we have to admit that the food is excellent. There is a tavern called "Mouria tou Myrivilli" (Mulberry of Myrivillis) and highly recommended.
Skala is at 31 kilometers distance from Mytilini, east of Molyvos, on the north side of the island.
The Church of Taxiarchis
That is one big eye-pleasing church that is -allegedly- related to many miracles.
Many army men (mostly pilots) come here and make offerings.
Taxiarchis is also famous to pilots of other countries (like from Turkey) who have claimed that they have seen him up in the skies above Greece.
The church is at Mantamados.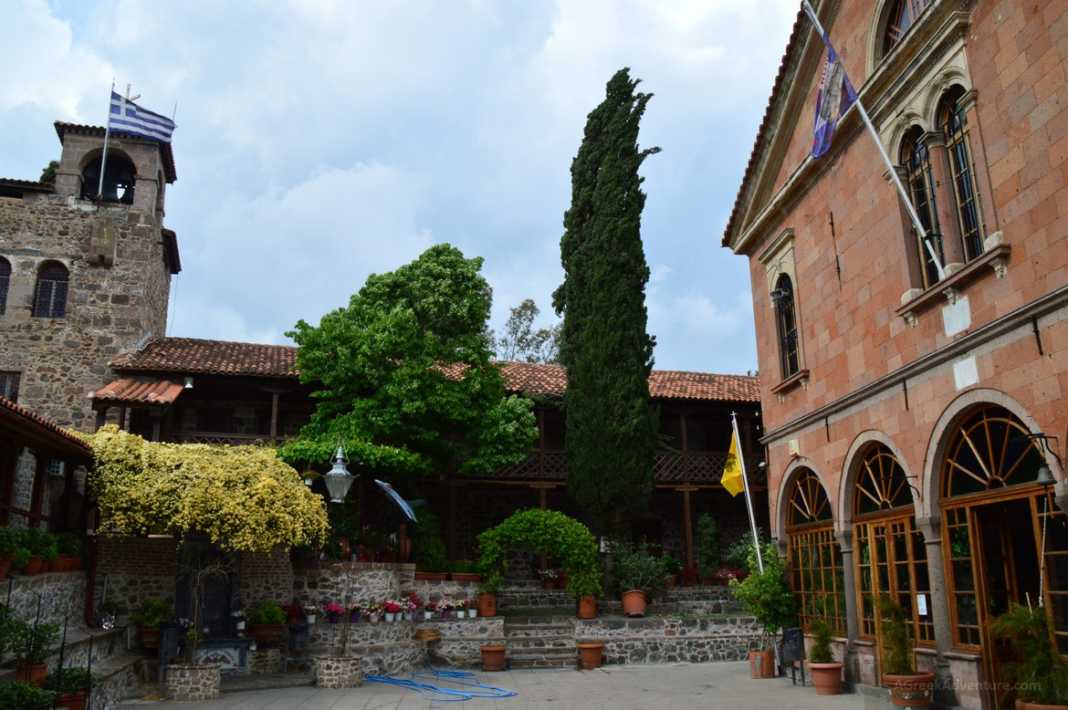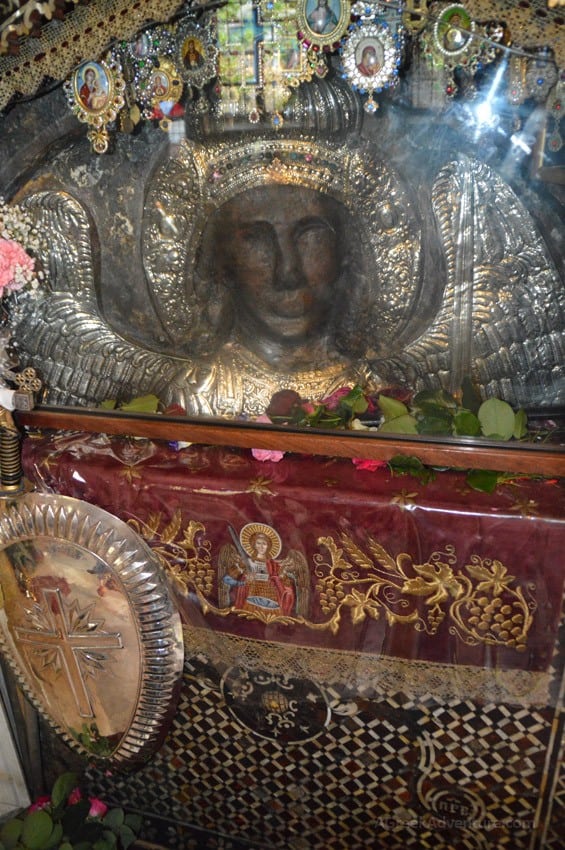 Taxiarchis is the patron saint and the guardian angel of Lesvos.
The church's inner yard and surroundings are very, very beautiful.
An old (maybe pagan) ritual revives every year here, that involves the sacrifice of a bull.
Best Things To Do in Lesvos: SPA's & Thermal Springs
There are more things to do in Lesvos than swimming in their beautiful beaches. The island is famous for its thermal springs and SPA's.
Therma Spa
A modern installation that also kept the old thermal spa building and added new facilities.
The installation is next to the sea, and the main indoor pool area is rather big and imposing.
Water comes from hot springs and has therapeutic properties.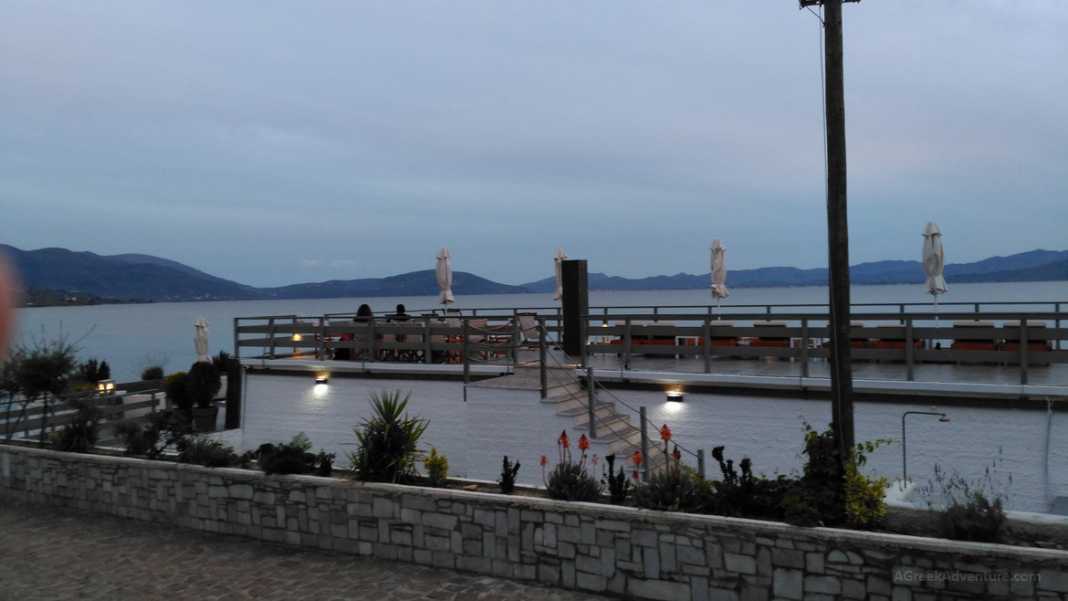 They also have outdoor pools aligned to the horizon and a separate modern cafe and juices bar.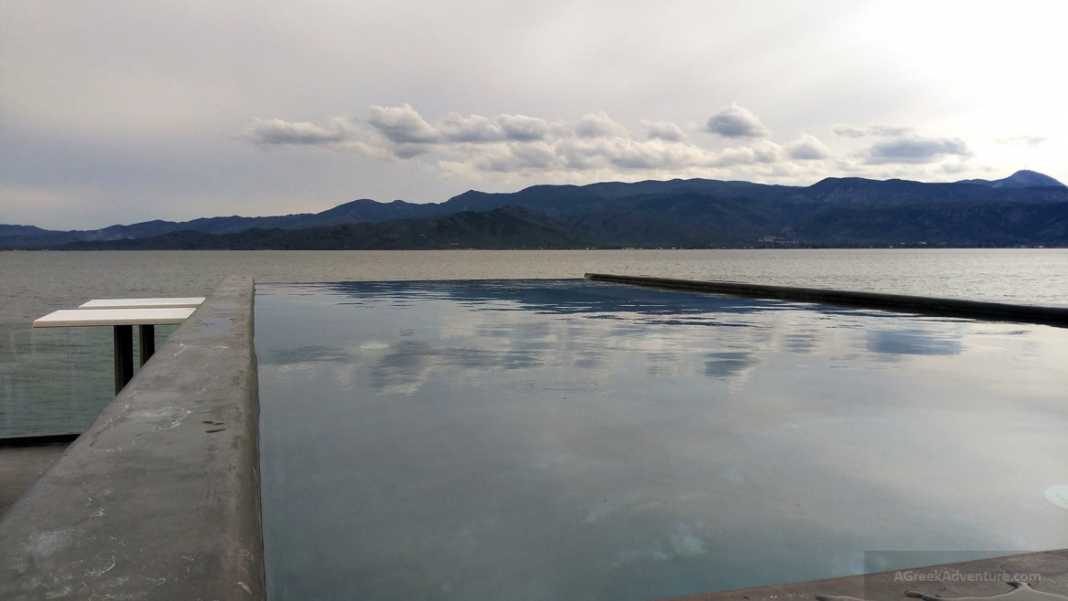 Many come here to spend the day and relax, as the place is near the city but isolated (easily approachable by car). So it is very serene.
The Spa is at the 7th Kilometer of Mytilene towards Kallonii.
Their services include massage, aromatherapy, reflexology, and many as such.
We tried the indoor thermal pool.
Tradition dictates separate pools for men and women.
The Eressian Hammam & Spa
This Hammam & Spa offers a unique wellness experience in Eressos.
The experience starts at the indoor and outdoor relaxation areas around the pool, where guests are offered tea and delights.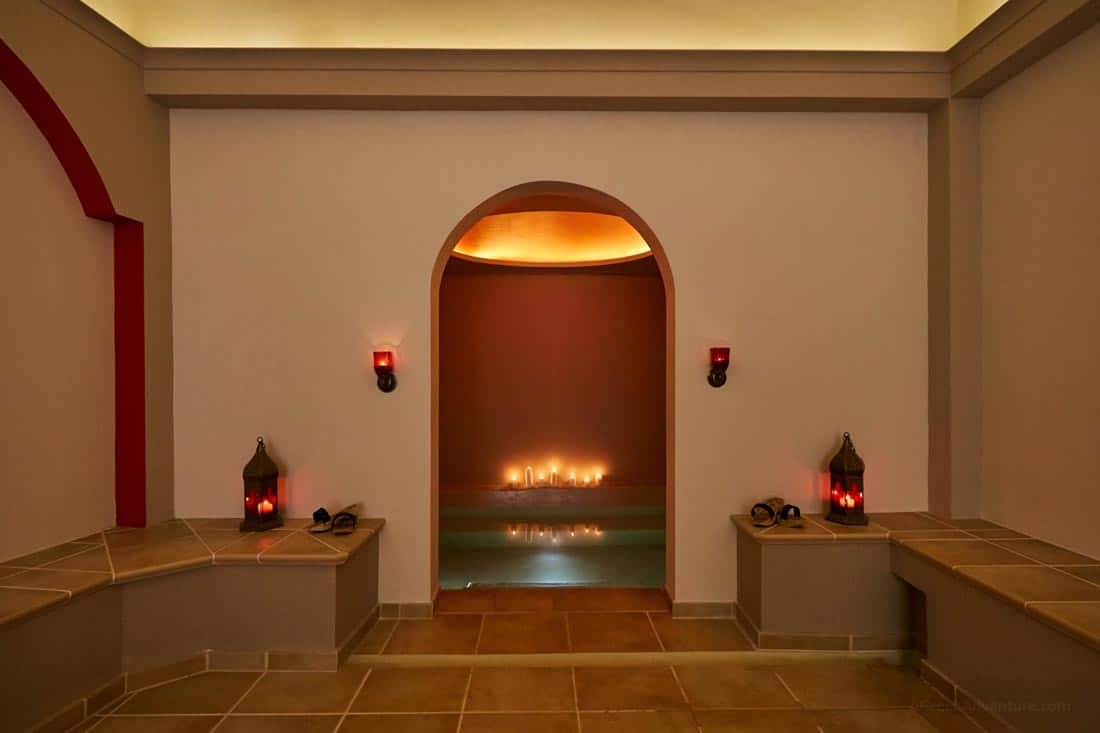 Guests then move to the fully equipped changing and shower rooms to prepare for the treatment of their choice.
Try "The Signature Hammam Experience," which starts at the Hammam "Wet" treatment area: a Hammam heated to 40°C / 104°F that includes a pool located indoors.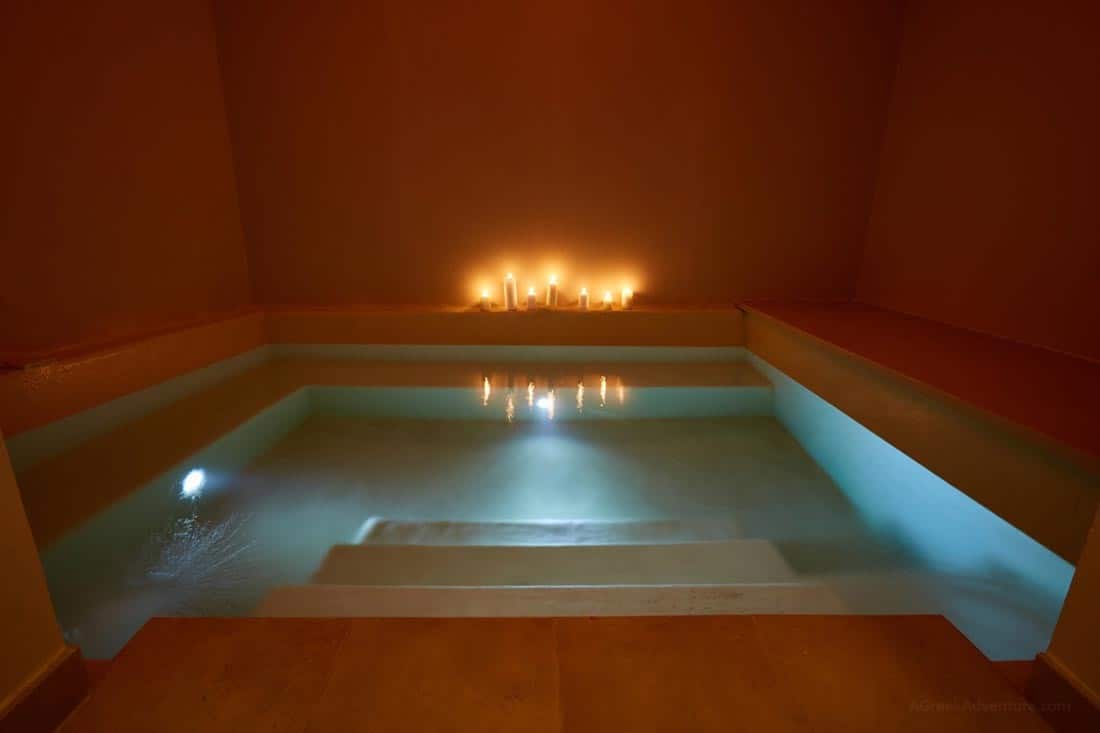 The heat and steam allow the pores to open and the body to be purified as the therapists perform the traditional scrub and foam bath: a cleansing experience.
Guests then join their therapists at the "Dry Room" for a relaxing Oil Massage that completes the very rejuvenating session.
Visit the Healing Springs of Eftalou
That is another modest small building which hosts another hot spring with healing properties. It is in the village of Eftalou, at 4.5 km for Molyvos.
The bath area is a 17th-century domed bathhouse with holes to allow the sun to come through.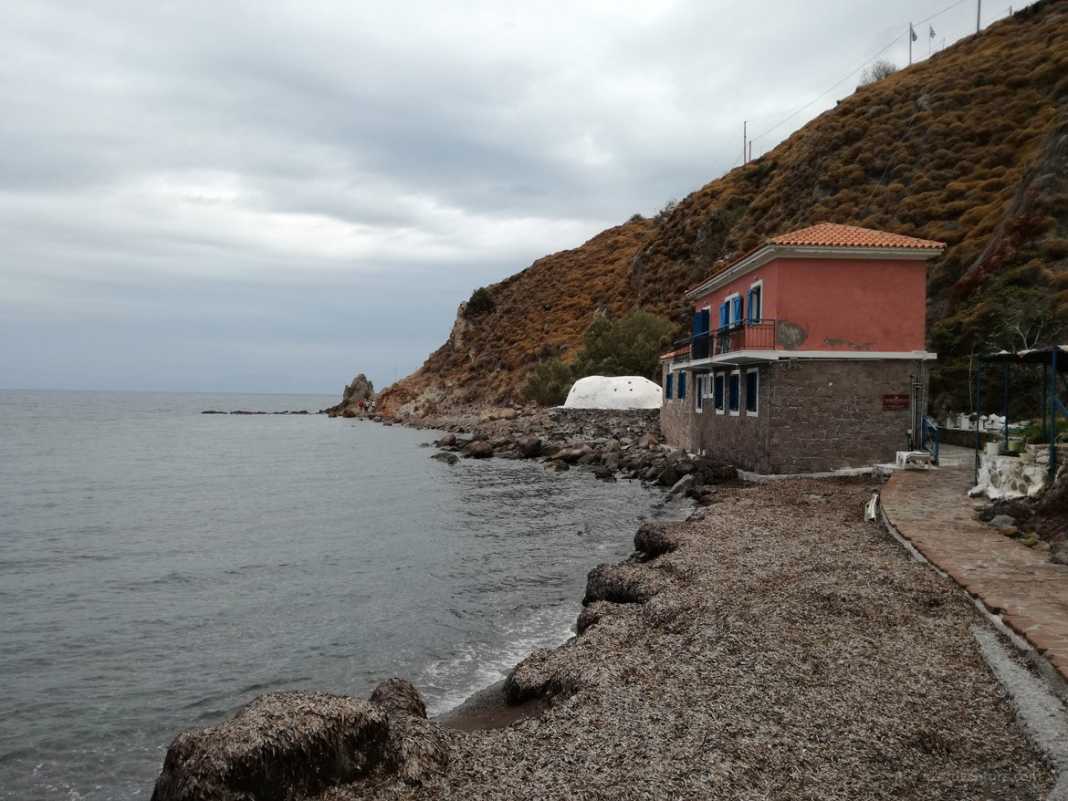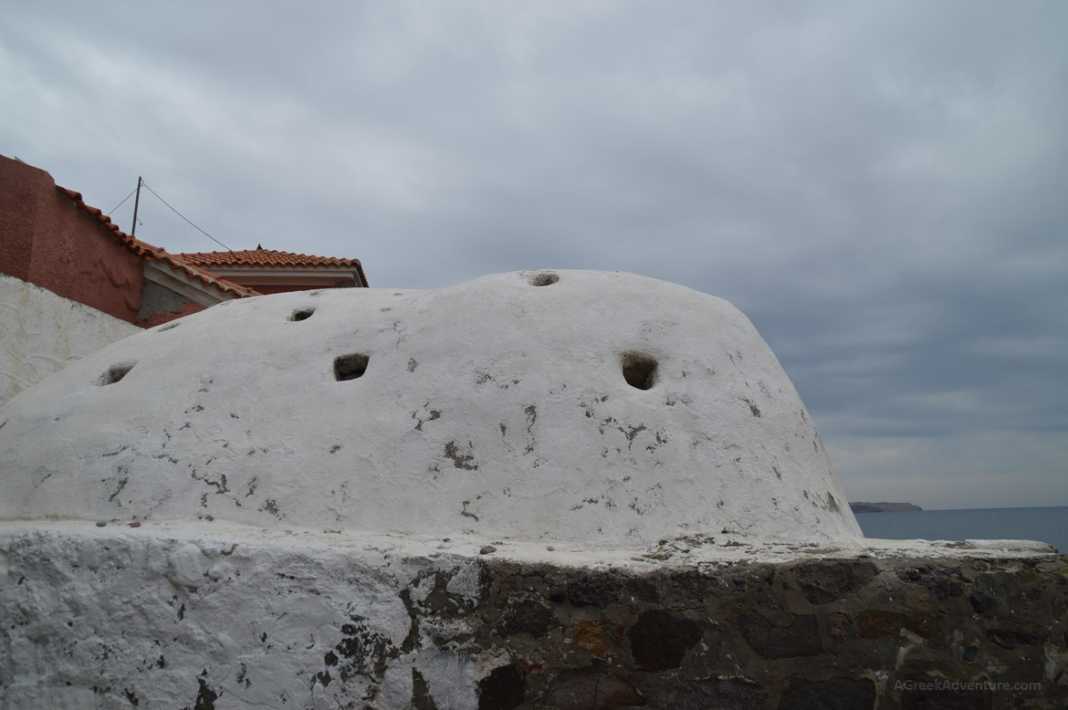 Eat any local fish that has "Pasto" before its actual name
Eat "pasto" mackerel, "pasto lakerda," "pasto"…. anything. The word "pasto" means fish that has been "baked" into salt only. It is otherwise known as "alipasto," meaning salted.
That "simple" thing is the main dish in many tables, especially when you eat/order "mezedes." It is the proper one for drinking "ouzo."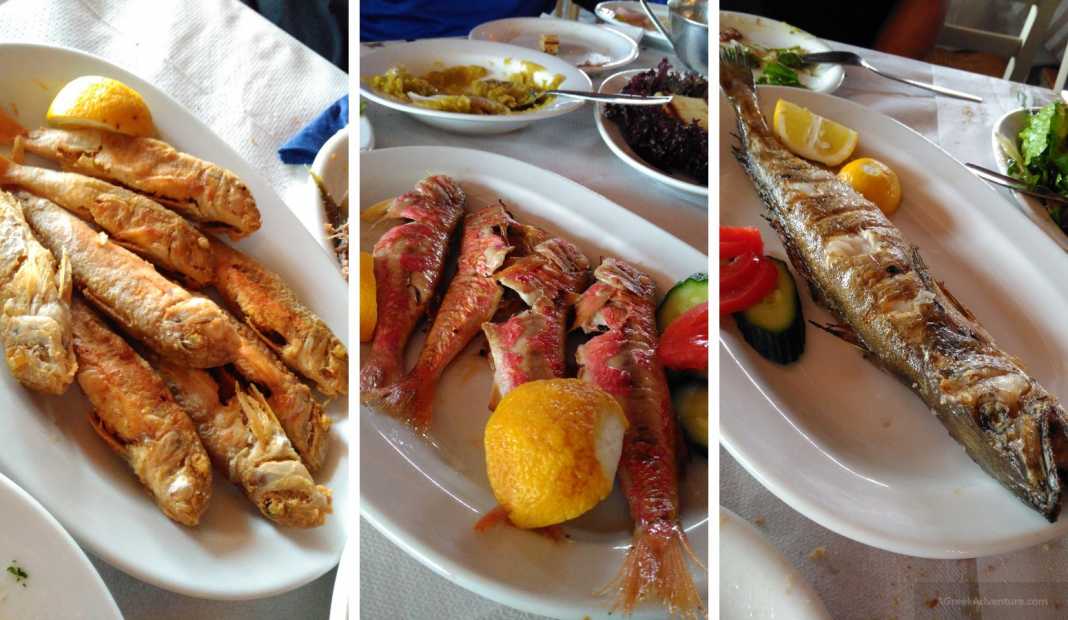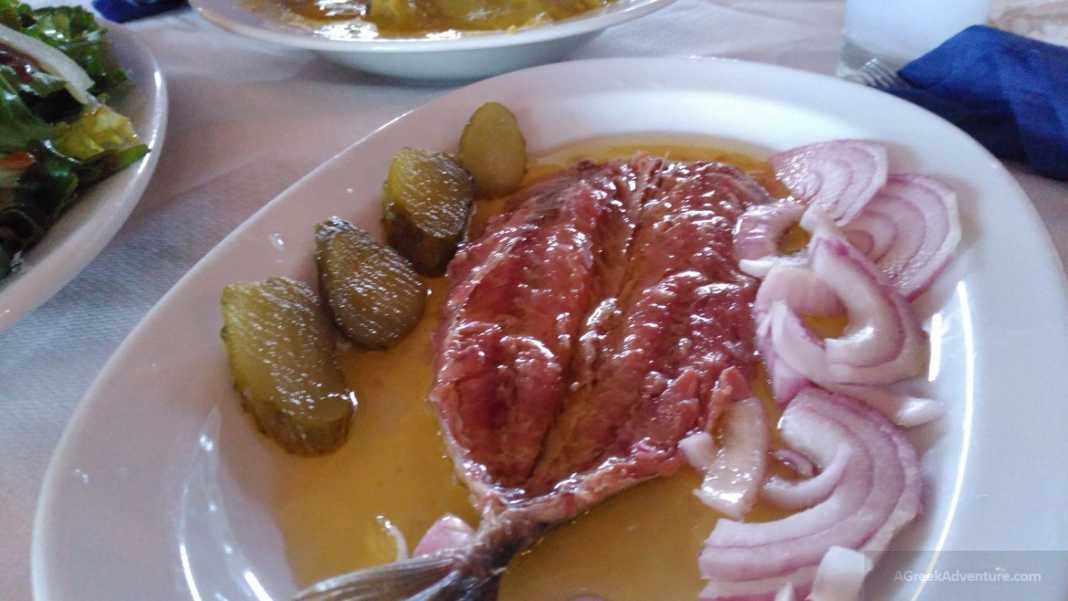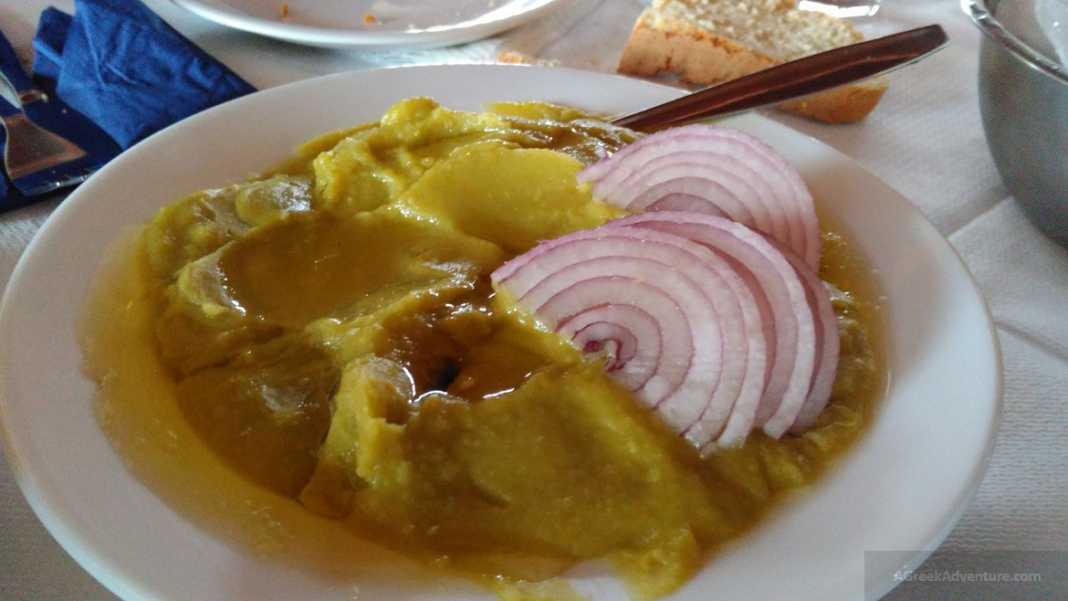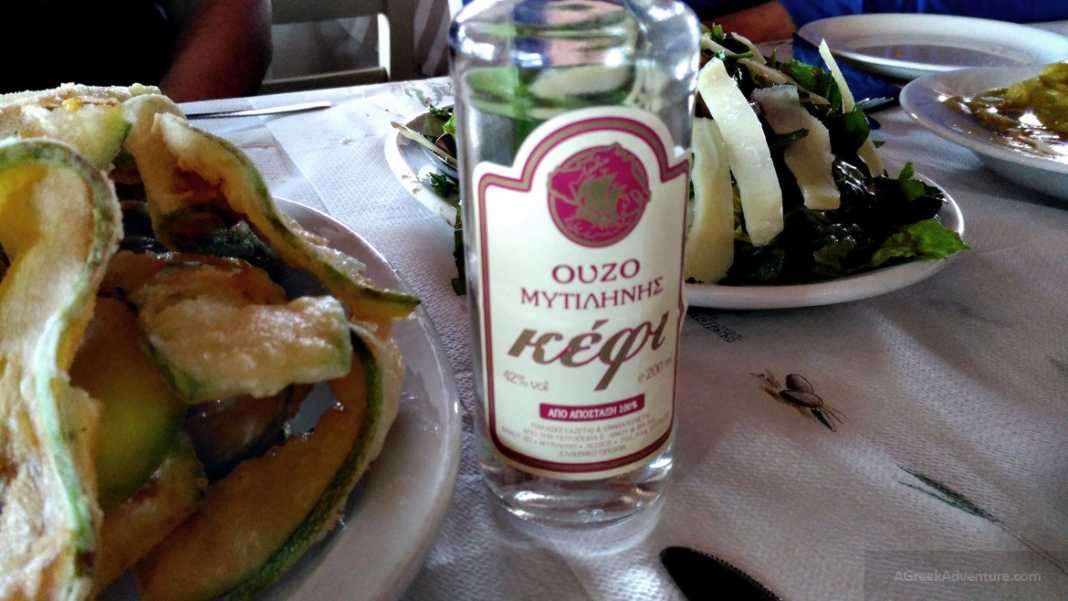 But don't stop there. Lesvos produces lots and lots of food.
Their fish is excellent, as well as their salads, Fava (comes from Lathouri plant).
Don't forget to eat their oil-cheese (Ladotyri) and taste the rather wide variety of Ouzo, of course.
Stay in a Tower
If you can, book one of the few rooms of the "Pyrgos of Mytilene" hotel.
It is in Mytilene. We stayed there, and it was a pretty lovely experience as we got one of the top rooms that provided a pretty beautiful view.
It was a round-shaped room, and that was pleasantly weird to stay in a circle-shaped room.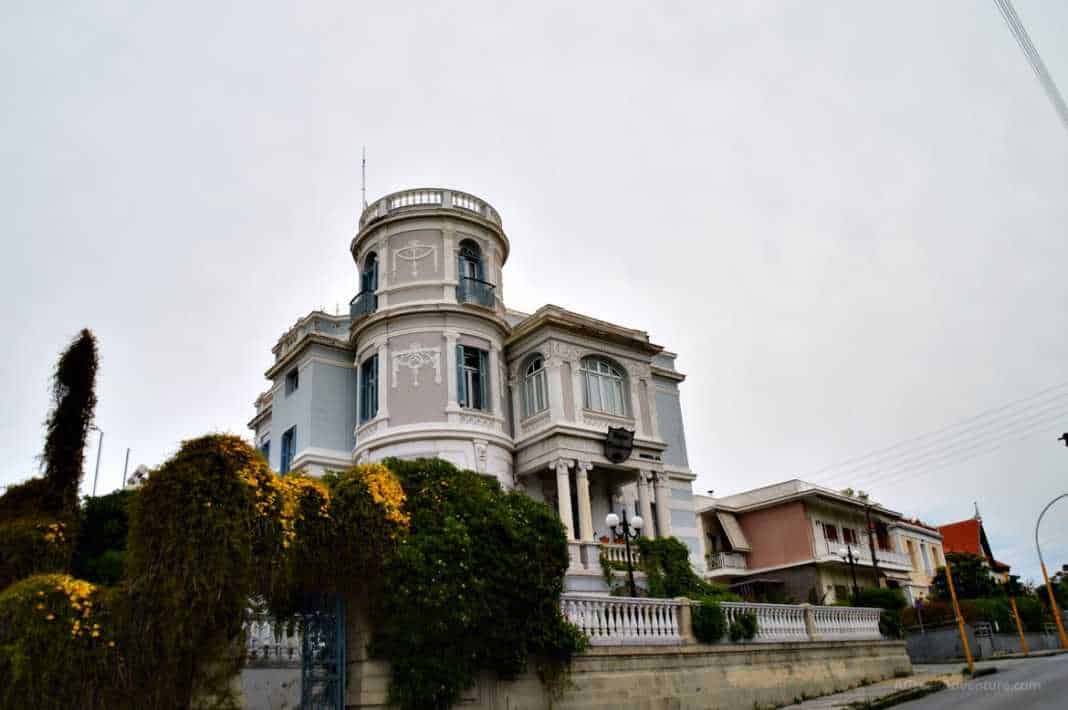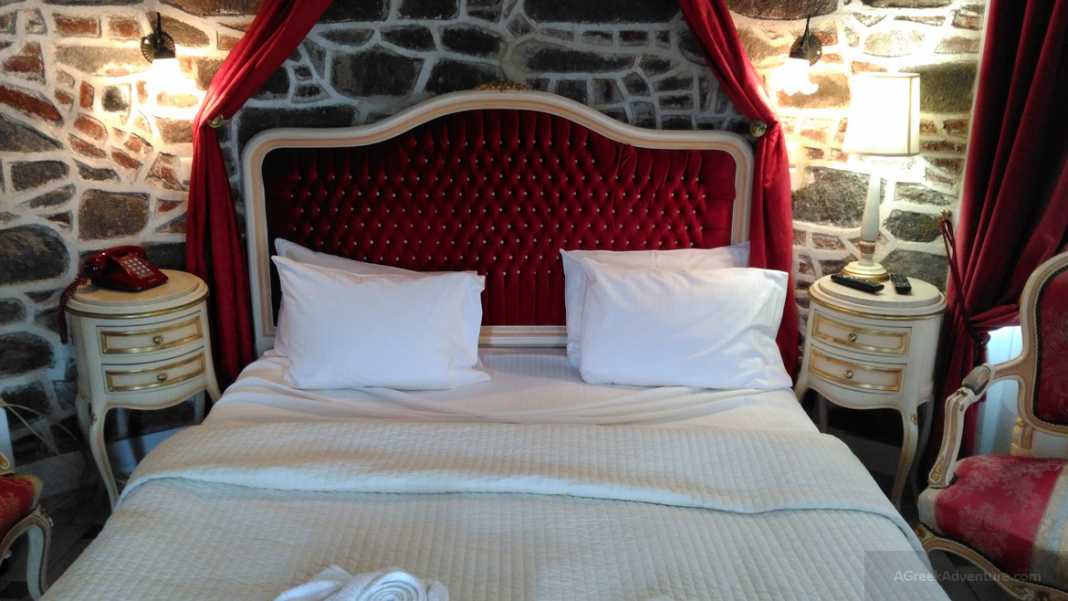 Their breakfast was had quite a variety.
Owners kept the original style and interior decoration of an old mansion, as Pyrgos was like that.
You feel and see the "old" aristocracy style everywhere.
So, here we complete our list with the 10 best things to do in Lesvos along with the hiking we had over Agiassos.
This trip was organized by Diageo and Johnie Walker.
An exceptional thanks belong to the whole North Aegean Prefecture team, who arranged many things for us to experience, as they did the last time we've been at the island.
Enjoy.